Equipment: Paintbrushes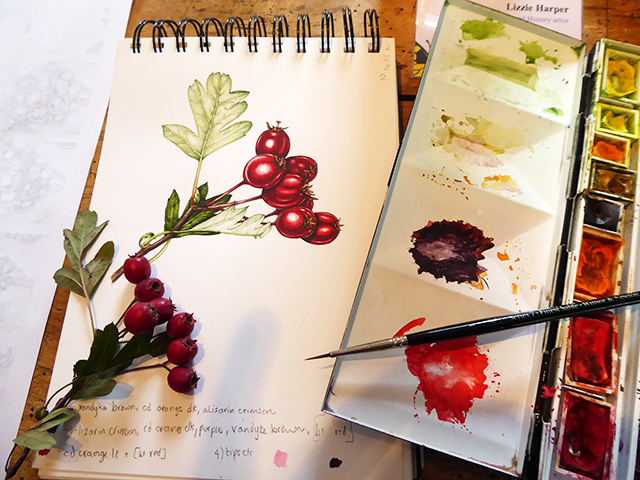 Equipment: Paintbrushes is another in the series about what tools I use when I illustrate; so feel free to check out my earlier blogs on what watercolour paper to use, the guest blog on waterproof inks, watercolour paints, pencils and erasers, and another on what science stuff you might need.
Paintbrushes
As with all of these posts, it's vital to stress that what equipment one uses is a very personal choice, and we often finesse our techniques according to the equipment and brands we use and like most.  I'd love people to add their own favourites in the "Comments" section at the end of this blog, then the post would serve as a much more balanced resource for artists starting out, or for established practitioners looking for new ideas.
There's also a section where I test several synthetic sable brushes, looking for an alternative to real sable ones.  There's a film of these trials on Youtube.
Illustrating Rowan Sorbus aucuparia
Paintbrushes
I absolutely love, and have always used, Winsor and Newton series 7 sable paintbrushes.  They're expensive, yes, but I'm yet to find another brush that comes close to their quality.  They hold plenty of paint.  Their points stay true and tiny.  They rarely shed, and when they do it's a discrete one hair at a time.  The paint on the handle doesn't peel or crack off and fall onto whatever you're doing.  The metal part (the ferrule) never rusts.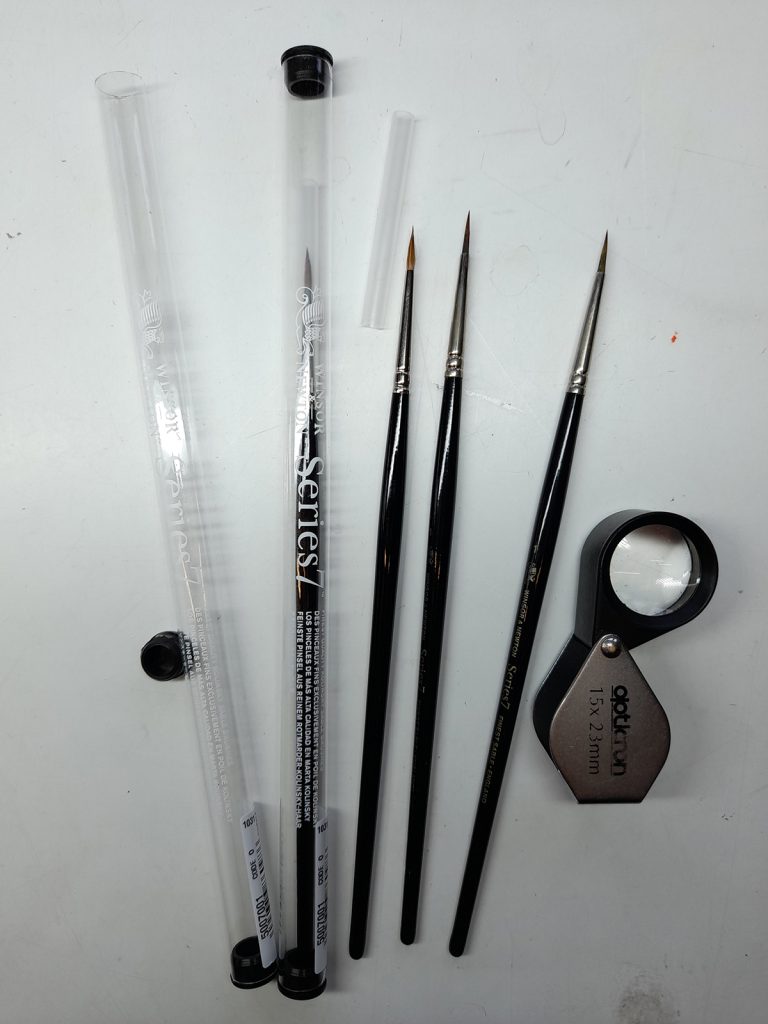 Series 7 brushes with another vital tool of the trade, a hand lens
You can get them in "Miniature Painting" and "Round"; I've tried both and tend to go for the round ones, simply because that's what I'm used to.
Size of paintbrush
Size-wise, I do almost all my illustrating with a number 1.  I have a stash of about 10 ready to go at any given time, and work through something like one every 6 weeks.  As I say, they don't shed much, but inevitably they do suffer from the wear and tear of daily hard use.  There's no need to dispose of these worn brushes, just use them for more detailed work.  After all, in effect they've turned into a smaller size 0!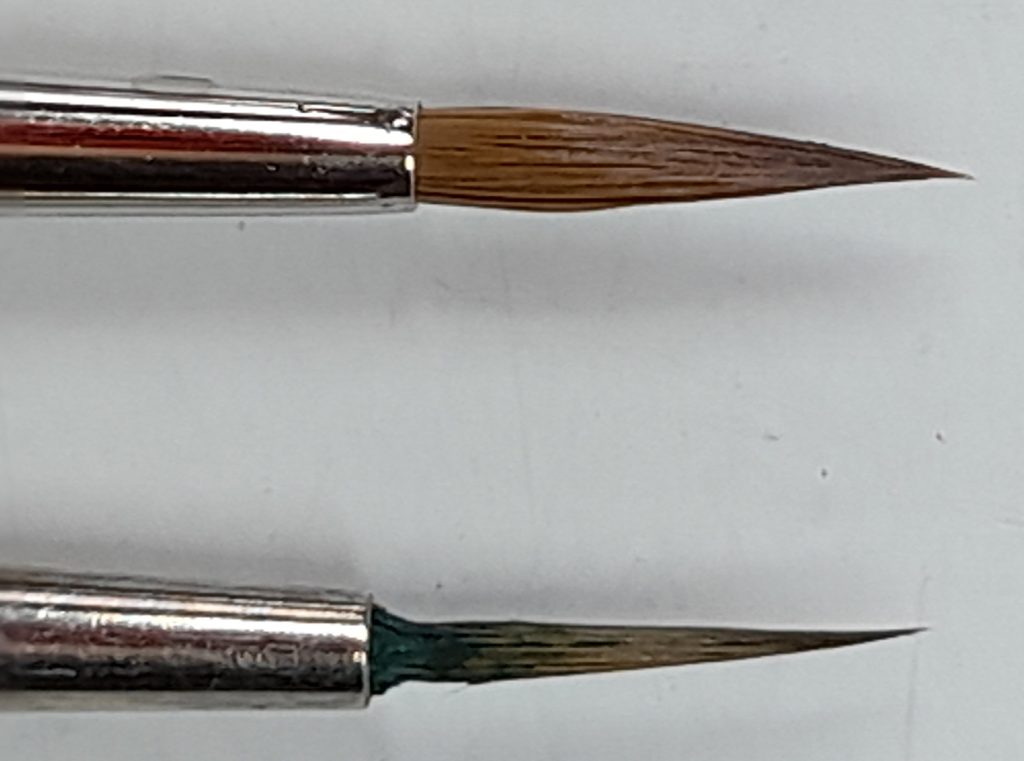 Comparison of two Number 1 paintbrushes; above is a new one, below is one I've been using for 4 weeks
I use the larger number 2 size for looser washes, and have a number 4 and a number 6 for when I do big washy backgrounds (in my landscapes).  These bigger brushes still have good points, and can hold loads of paint, so doing a big area of sky, forest, grass, or fields is possible.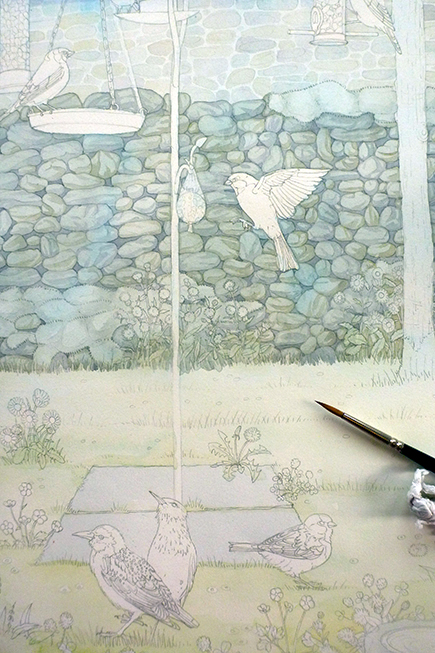 Using a number 4 brush for background washes
As well as my worn and thinned number 1 brushes, I also use the tiny 000 and 00 sizes for painting in almost invisible hairs, and details within flowers.  The tips of these are the ones that make people think you're almost mad to use them, but they're vital when getting the minutae down.  I used 00 brushes a lot when illustrating a series of mosses.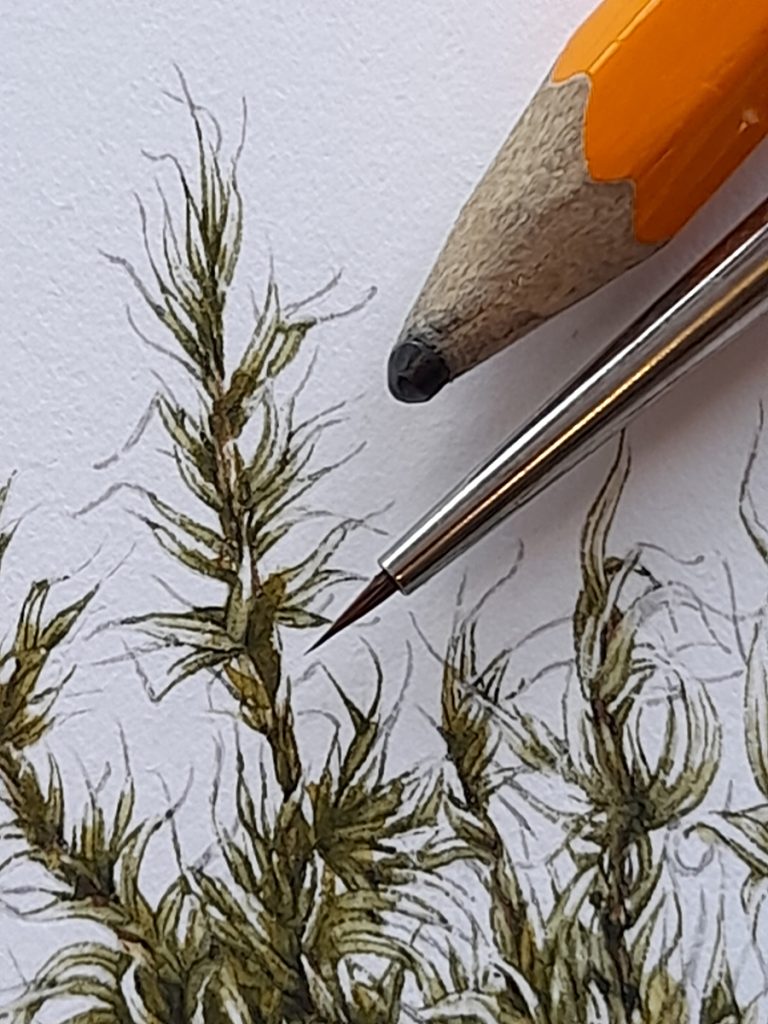 A 00 size brush alongside a pencil for scale, and illustration of Woolly fringe moss Racomitrium lanuginosum
Other brands
I know there are other brush brands out there, some of which I've tried and some which I haven't.  A lot of other botanical illustrators really like Rosemary brushes – they didn't work brilliantly for me, but they're probably worth trying.  They certainly are good quality, and are significantly cheaper than  Series 7.
I once had a comment questioning the ethics of using sable brushes, and it is true that these brushes are made of sable hair, a species similar to a pine marten.  As a vegetarian committed to all sorts of ecological and environmental causes, I would certainly appreciate having a top-quality, animal-free alternative brush, so if anyone knows of one, please leave a comment.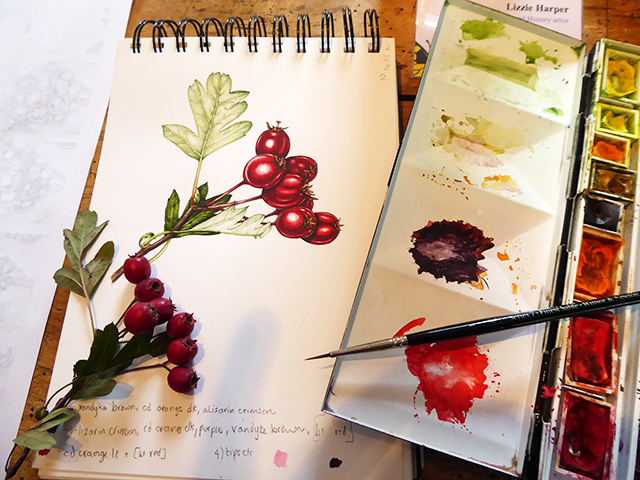 Completed sketchbook study of hawthorn berries Craetegus monogyna, completed with a well-worn Series 7 no. 1 brush
Synthetic alternatives to Sable
Having written this blog, and following very useful feedback from other illustrators, I decided to try out a handful of high quality synthetic sable brushes.  Not only are these more ethical for a vegetarian such as myself, but they're also a darned site cheaper!  I filmed these trials, here's a link.
All the brushes were round number 1 size.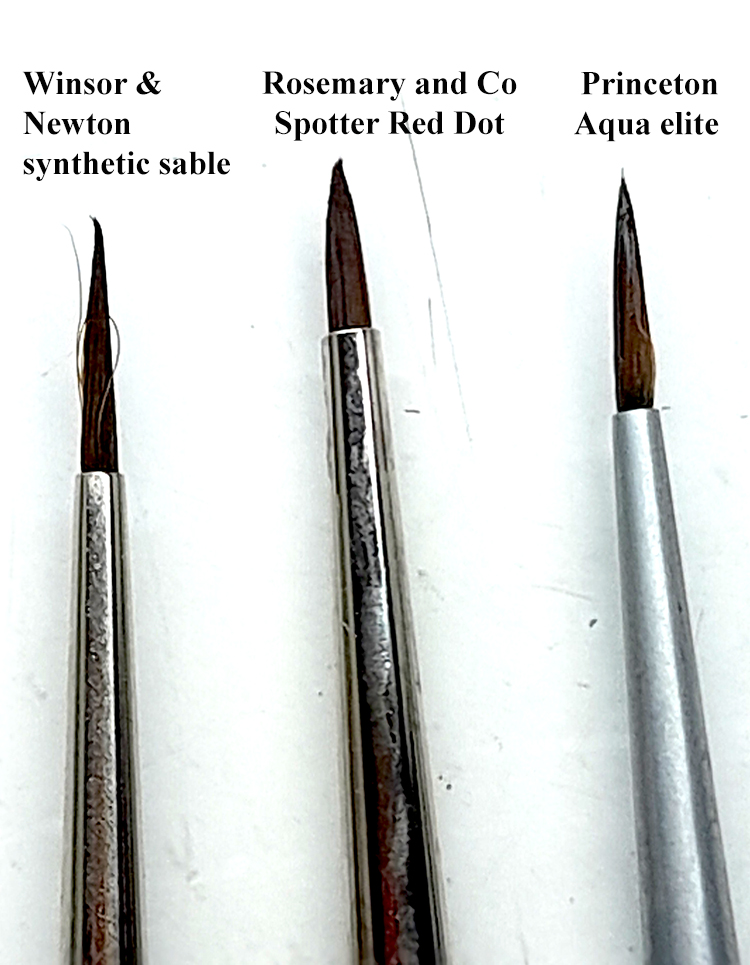 Comparing the points of the three new synthetic watercolour brushes.
The three brands I compared were Winsor & Newton synthetic sable, Rosemary and Co. Spotter Red Dot, and Princeton Aqua elite.  None were appalling, and one came close to equalling my beloved Series 7 brushes.
I was surprised that this brush looked scruffy on removal from its' tubing.  Working with it, although it did have a point and did hold paint, the brush was too long.  This meant I couldn't achieve the tight control I require.  The stray hairs didn't help sell the brush to me.  The handle was comfortable.  Price wise, I found them selling at £5.80 each, or on sale for £4.06.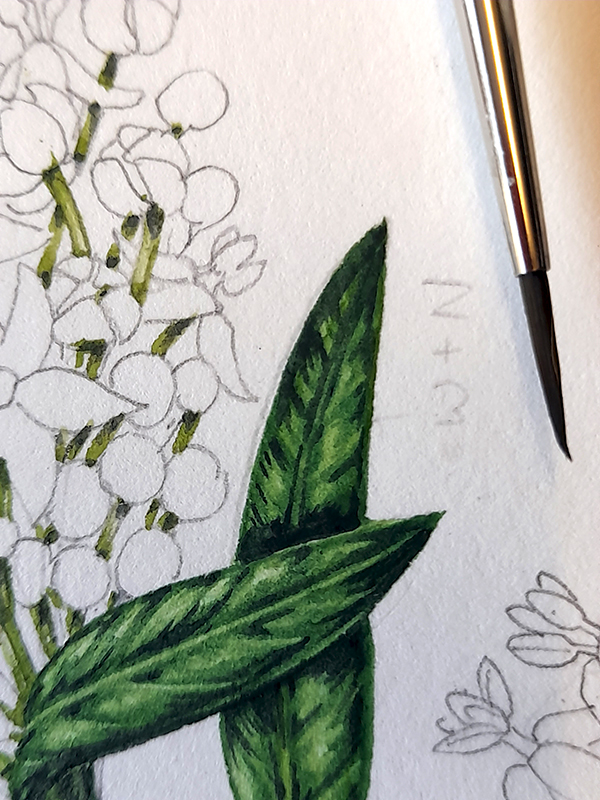 Close up of the Winsor & Newton synthetic sable brush, with the leaves I painted using it
The very tip of the brush also had a noticeable "hook" which made it hard to get that sharp point.  With the Series 7 brushes, if I roll them into a tip in the wet paint, the point is exquisite.  With this dowdier cousin, I couldn't get the frighteningly crisp point I look for.
This brush was definitely my favourite of the synthetics I trialled.  The brush shape didn't appeal at first – the point of the brush looks short and dumpy.  However, the point was very sharp, and it worked well in wet and dry paint.  it was only when using the brush with extremely wet and pale washes that the point held less well.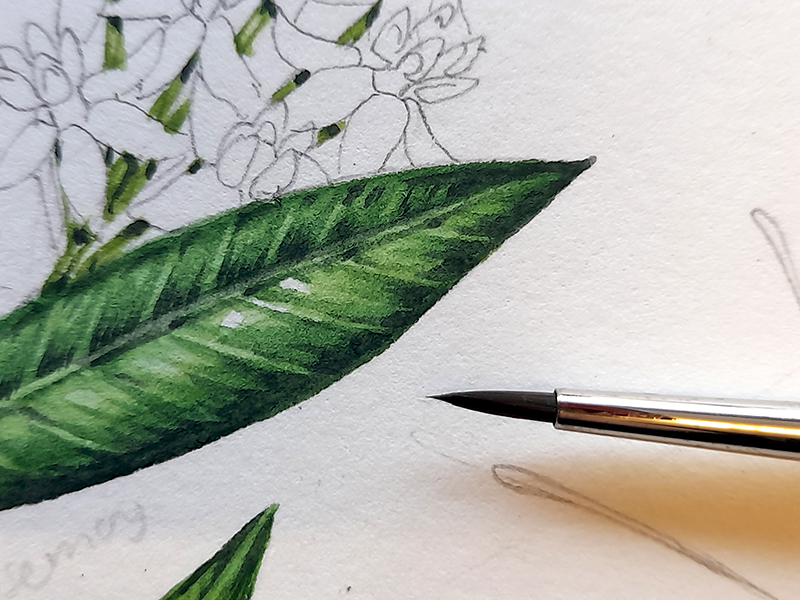 Close up of the Rosemary and Co Red Dot synthetic sable brush, with the leaves I painted using it
I was really impressed by this brush, and at a price point of £3.40 each they would be excellent alternatives to a Series 7 brush for those on a budget.
Were I to commit to getting sable out of my life, this is certainly a contender for a replacement.
The Princeton Aqua elite had a decent point.  Again, it was absolutely serviceable.  However, the brush felt like it had lateral compression.  It felt flattened, with the associated slight splaying of the point that a flattening brings.   I almost felt that the nib was too long.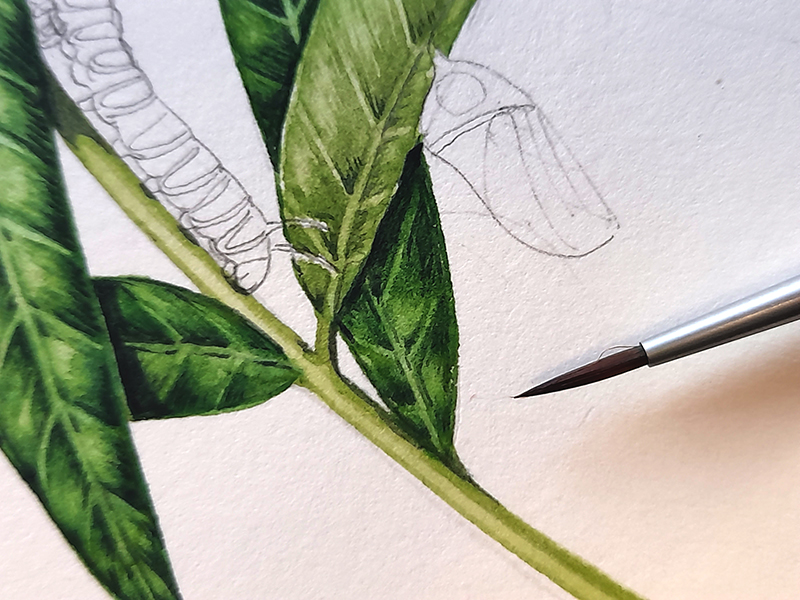 Close up of the Princeton Aqua elite synthetic sable brush, with the leaves I painted using it
This feeling of the brush being too long also made me feel uncomfortable using it.  I had to focus and concentrate to ensure I got the crisp lines I was after.  I felt slightly less control that I wanted.
However, as with all things, this could be because I'm used to a shorter-shaped brush.  These things are so very personal.
The price for this brush is £5.80; exactly the same as the Winsor & Newton synthetic sable.
Synthetics: Conclusion
Having tried all three brushes, I attempted finishing the test illustration with them.  It shows how very set in my ways I am that within half an hour I had reverted to the Series 7 brush.
Completed illustration (initially used as a synthetics brush comparison test piece)
These synthetic alternatives are all good.  the Rosemary & Co. brush is excellent.  If I were to commit to sable-free illustration, I'd certainly be investing in some of these Red dot brushes.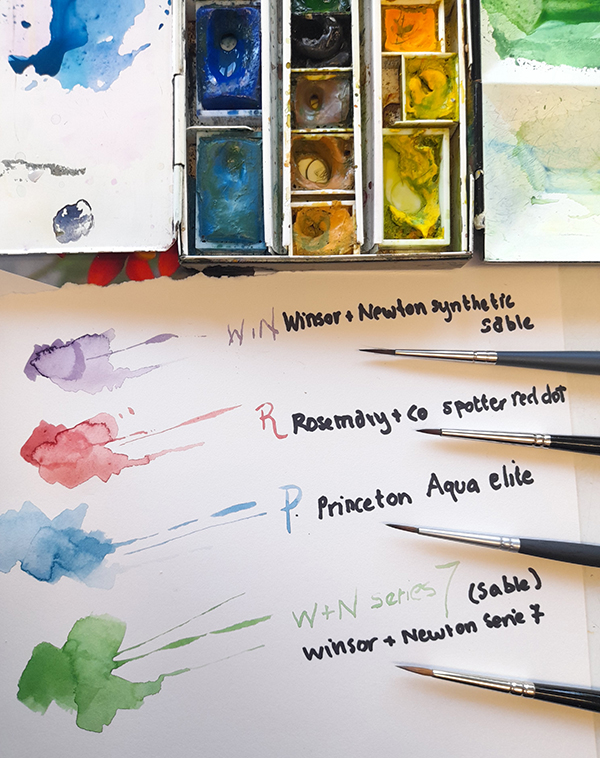 Comparison of synthetics and Series 7
Price wise, for anyone on a budget I will heartily reccommend these brushes.  One of my Series 7 brushes costs up to three times the price of one of these – a cool £17.10 cost price (2021 prices).  They can be got on sale for £11, but even at discount that's a much bigger outlay than for the £3.80 Rosemary one.
For much more detail on this comparison, do check out my Youtube film.
Zen Art Fineline Minature brushes: Trying out a freebie
I was recently sent a set of  ZenART fineline minature paintbrushes to try and review by the manafacturers.   Obviously, the company sent them to me for free, looking for a good review, and some decent social media feedback. I'm a little cynical, so I tried them without a great deal of conviction. It's important to have full disclosure about these things, I think…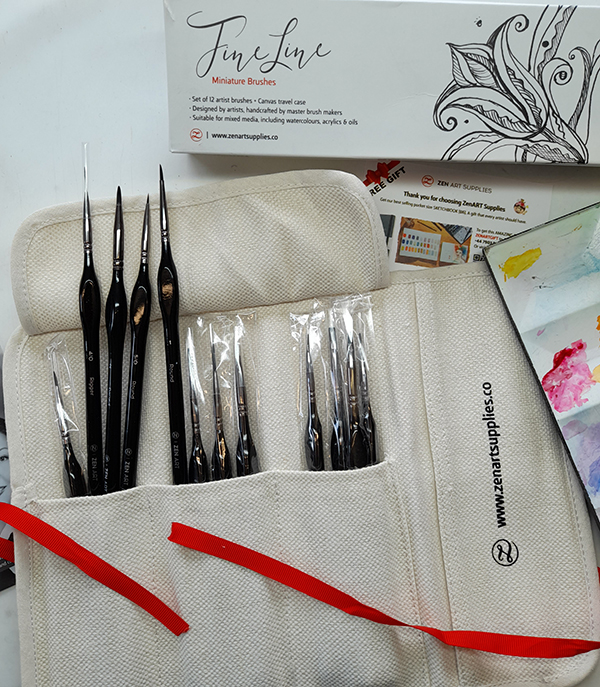 They came in a cardboard box, and inside is a lovely canvas carrying thingy, all bound in red ribbon. There's a great assortment; riggers, filberts, and angled brush, and several round ones. I only use round ones, so those are the ones I can speak for.
I'm surprised to say they were really good, and potentially a welcome alternative to my beloved Winsor & Newton series 7 brushes. They held their points, didn't splay, had decent wells to hold paint, and produced consistent tiny lines. The number 2 was good for pale top washes, holding lots of paint and having the required sharp point. Accuracy was good with the number 1 and the 5/0.
They are also synthetic, which is an excellent thing in terms of my feelings about using animal hair to make brushes.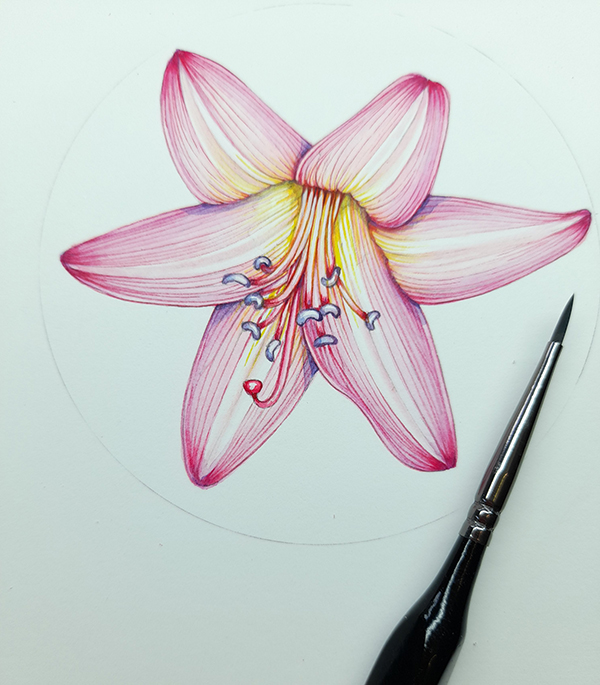 However, by the third of fourth day of use, the tips had become slightly blunted and weren't holding the crisp point I require.  In every other respect they remained really good; they didn't shed any hairs, rust, nor discolour.  The paint on the handle remained in place and didn't peel or crack.  For me, the loss of tip is a deal breaker.  I would suggest folks who don't need such a precision-perfect tip could do a lot worse than go for these (very reasonably priced) brushes, but if you need a very crisp point then for me, they haven't made the cut.  But definitely worth a try.#
Synthetic brushes: A hint to help fix hooked tips
This tip has come in from Rebecca, who left this suggestion in the comments section.  Many thanks for sharing it with us.  "Hooks that develop on synthetic bristles can often be remedied by dipping the bristles about half way into a cup of water taken off the boil. Take care not to get the ferrule or upper bristles wet with water this hot or it may affect the glue. The timing varies from 10-30 seconds based on the brand and size. Gently reshape the tip on your thumbnail after heating. While I don't expect that is an annoyance one would want to deal with during a long painting session, it will at least restore the brush to a usable condition for lighter tasks."
Conclusion
So there you are.  The easiest of all these equipment blogs.  What paintbrush do I use?  A Winsor and Newton Series 7, size 1.  And no, they don't pay me or give me free brushes to say this (however, if someone working for the company is out there and has a whole load of brushes they want to get rid of….?)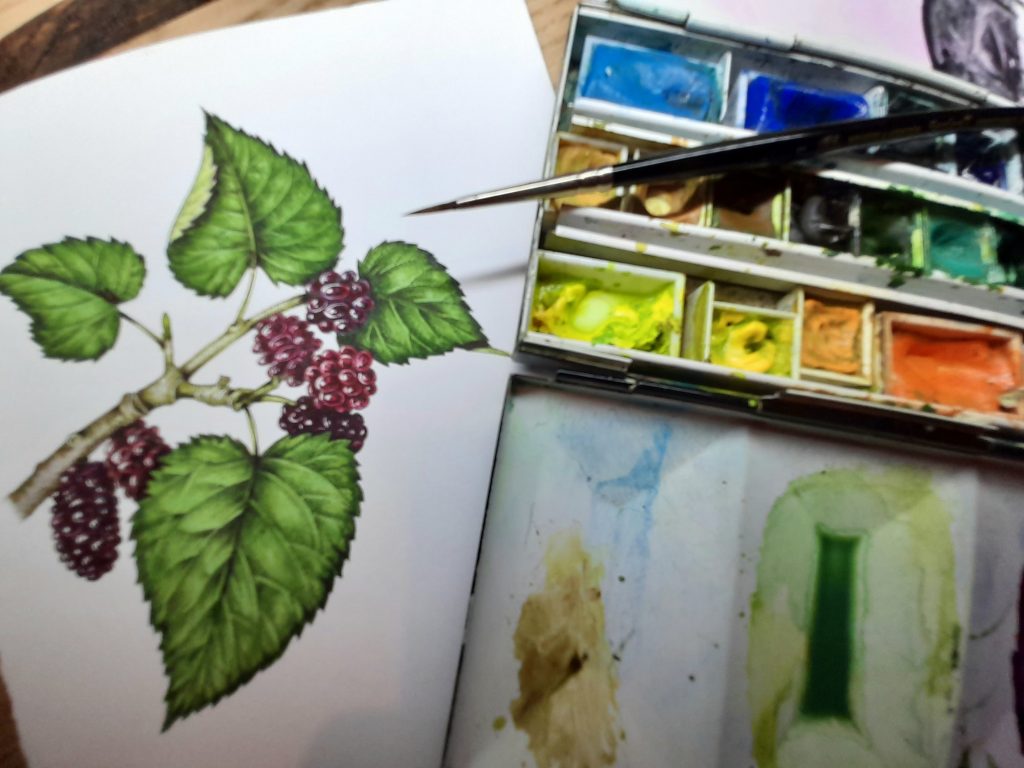 Mulberry Morus nigra with paintbox and Series 7 brush
Other alternatives are the Rosemary brushes (which some people adore) and the Zen art minature fineliner brushes reviewed above, both of which are a lot cheaper that W&N.  But thus far I'm still to find a real potential replacement for my Series 7s.
You can order these brushes direct from Winsor and Newton, or from your local art shop.  If that's not possible, look for good online art suppliers like Jackson's, Cass Art, London Graphics Centre, or Ken Bromley.  In the US I believe Dick Blick  to be a good art store.