Frequently Asked Questions, Equipment, and Reference books
Here are some questions I'm often asked by illustration students and interested individuals.  If you're doing research and want to quote these answers, that's totally fine, just credit me.  Thanks.
Feel free to email me on info@lizzieharper.co.uk if you can't find your answer below, I'll do my best to get back to you.
For an in depth overview which covers answers to many of these queries, please check out the Natural Reality: Lets Go podcast which discusses my career, materials, inspirations, how to start out, and love of all things natural history.
Why do you feel botanical illustration is important in the modern era?
Botanical illustration is as relevant as it ever was. This is because illustrations can convey information in a way that photos can't. You can exaggerate and clarify species specific details. Make clean and easily decipherable cross sections to I.d. with. You can show flowers and fruit simultaneously, impossible in reality and photography.  For more on this, please take a look at this link from BBC Wildlife Magazine (you have to sign up to Press Reader, but that's free).  Also, Anne Bebbington's blog is of note.
Do you prefer to draw from life or from a photograph?
Drawing from life is much easier than drawing from photos. You can rotate and dissect a specimen to see How it works. You can turn a leaf upside down to look for detail. Get it under the dissecting microscope to figure out shape and structure. Most importantly, you get a feel for the growth form of a plant when you have a few specimens there, more than you do by looking at innumerable photos. Working from life also allows you to colour match properly.
Saying that,if you're out of season you may have to work from photo ref. That's fine, it's just harder. I've written a blog on it.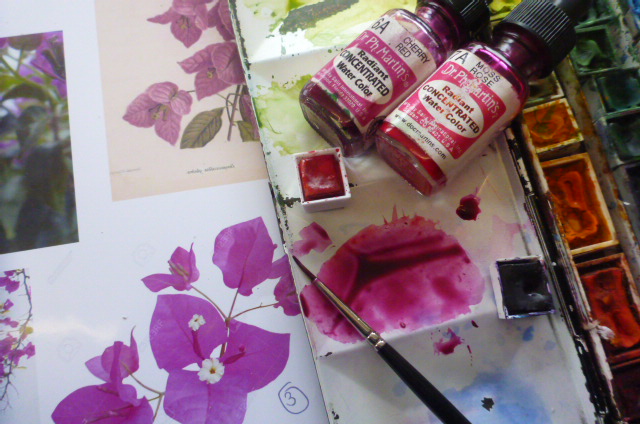 Can you capture more detail
with a drawing or photography?
I don't think it's an either or. I could never capture the detail you find in an SEM of a pollen grain. A detailed photo of the network of veins on a leaf can be far superior to an illustration. But illustration s can exemplify and clarify. I think the two disciplines perfectly complement one another, bringing different strengths to the job.
Both can provide excellent detail. A photo of a thistle head may be more detailed than an illustration. A cross section of a poppy seedhead may be clearer and more detailed if rendered in pen an ink than if photographed.
For me, it's far easier to see details of a magnified image, or something intricate like the antennae of a midge from an illustration.
It also depends on the skill sets of the illustrator / photographer!
How is photography beneficial to your work?
When I can't get my hands on a plant or animal, photos are incredibly valuable. Working from several sources, you can piece together information on species which aren't local, are too rare to find or collect, or are out of season. It would be impossible without photos, and scans/photos of herbarium specimens.
They're similarly vital when illustrating animals; more so. I liaise with photographers who allow me to work from their photos, this ensures I'm not infringing copyright (as I have their permission) and allows me to paint …and them to crawl about in bushes with their cameras!
Things to be aware of are perpetuating false info by not cross checking your photo ref, getting colours wrong due to odd effects on photos, and the tricky part of needing to get the feel / growth habit of a plant or animal.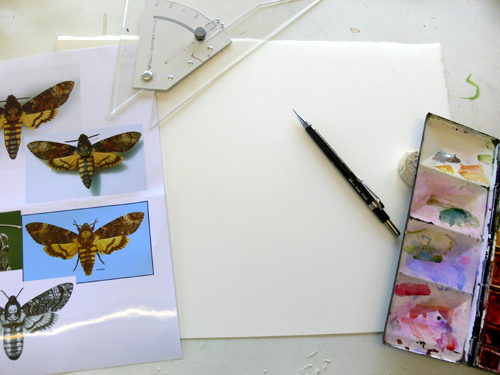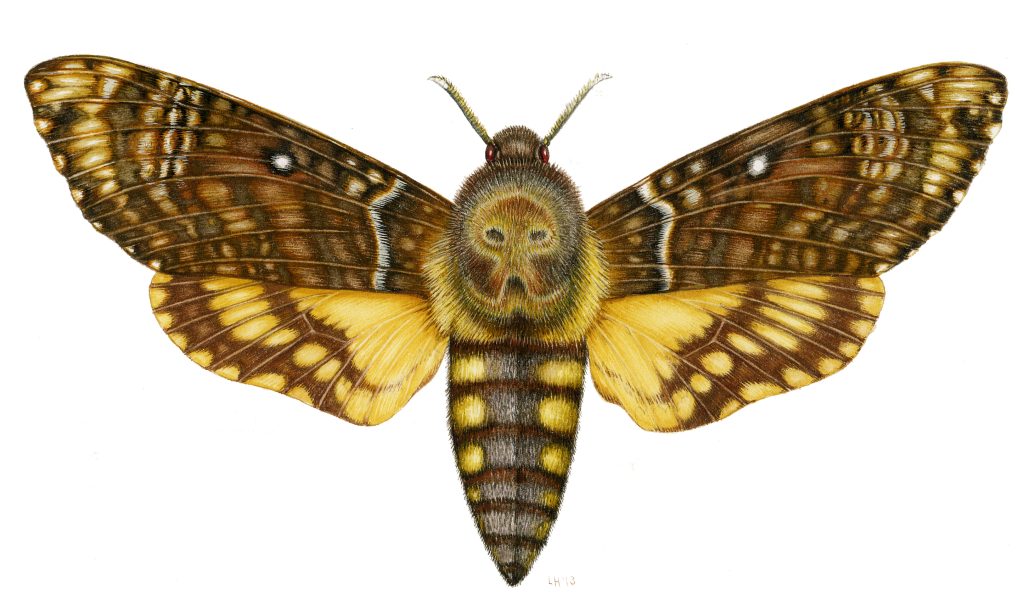 What drove you to become a botanical/natural history illustrator?
I got a zoology degree but was dissatisfied with the way anything could be proved "true" if you used the right statistical analysis. Illustrating in the lab was clearer. Here is a specimen. Here are its structures. Draw the structures and learn how form fits function.
I've always loved art and drawing, so migrating from one discipline to the other felt natural, it was an easy shift.
Even in childhood I was blown away by and fascinated with the colours and forms of nature. This has continued, and still inspires me. The perfect designs that have evolved, the diverse and often almost impossible colours, the obscure and seemingly insane things we see in the natural world… It all delights me and fills me with awe.
Its my passion, and remains so. I'm incredibly lucky to be able to earn my living by being deeply obsessed by nature, and by getting to learn new things about the natural world with every commission.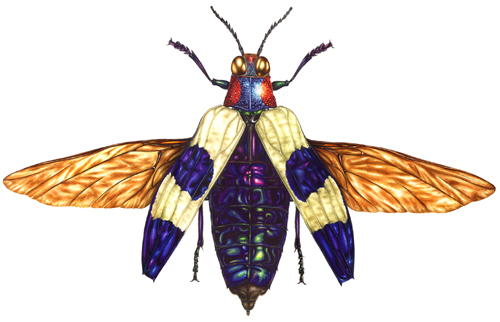 Do you have any advice for someone starting out as an illustrator?
Yes!  Loads of it.  In fact, I wrote a blog with links to lots of the resources I've found useful over the years.
There's also an article giving an overview of my career and how I started out available on "How I got the Job".
How did you go about becoming a natural history illustrator?
I got my Zoology degree and then did 2 years HND natural history illustration at Bournemouth & Poole College of Art & Design.  There I learnt the discipline of getting up and illustrating 9-5 every day, treating illustration like a job and avoiding all the nonsense about inspiration and muses.  This was really useful.
Once done with that, I took on two or three unpaid jobs with recognized organisations (Natural England, the Wildlife Trusts, BTCV) so I had published illustrations in my portfolio.  I also contacted literally hundreds of non-fiction publishers with samples, using the Artists and Writers Yearbook as a source of info.  Now Id suggest getting the Editorial Directory from the AOI.  It's simpler now, you can use email and mail chimp to contact potential employees.
Clients will always want to see your work in context, so ensure you have samples showing this in your folio.  Have an online folio (such as those at the Directory of Illustration or Association of Illustrators), and treat your instagram profile as another portfolio.
After the first few jobs, and working part time in a book shop for a couple of years to pay the bills, it became a matter of keeping up the marketing, and keeping in contact with past clients in the hope of working with them again.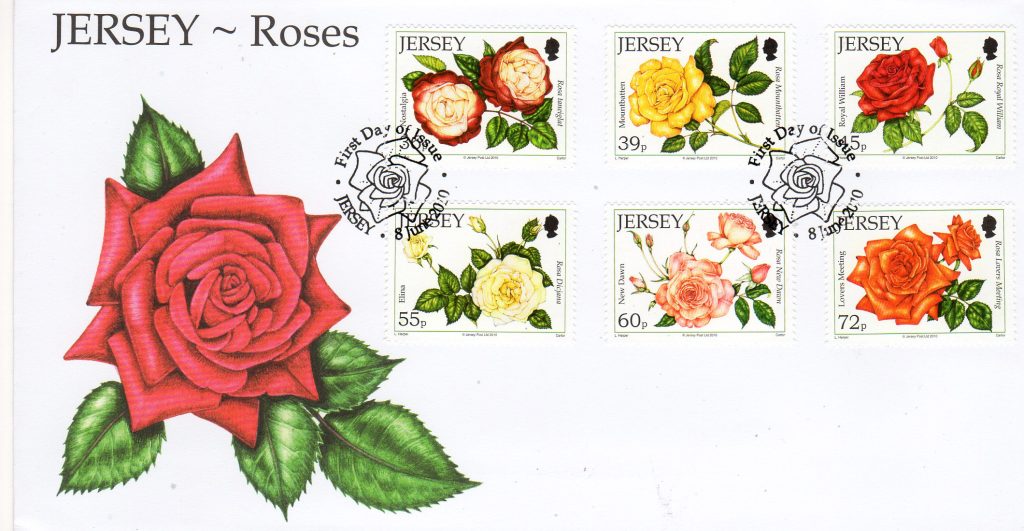 How did you perfect your skill and promote your work?
Because I (and most illustrators) draw and paint every day you inevitably improve.  And speed up.  It's all down to practice, and staying inspired and excited by the subjects that you illustrate.  I believe a passion for nature comes through in finished illustrations.
Promotion is done using illustration directories (see above), attending events such as the London Book Fair, sending out physical cards once a year to my list of clients, producing a mail-chimp newsletter four times a year, having exhibitions, and doing plenty on various social media platforms.  I also work at trying to improve SEO so my website will creep up the rankings if someone looks for "botanical illustration" or "natural history illustration".
Marketing probably takes up about 50% of my time.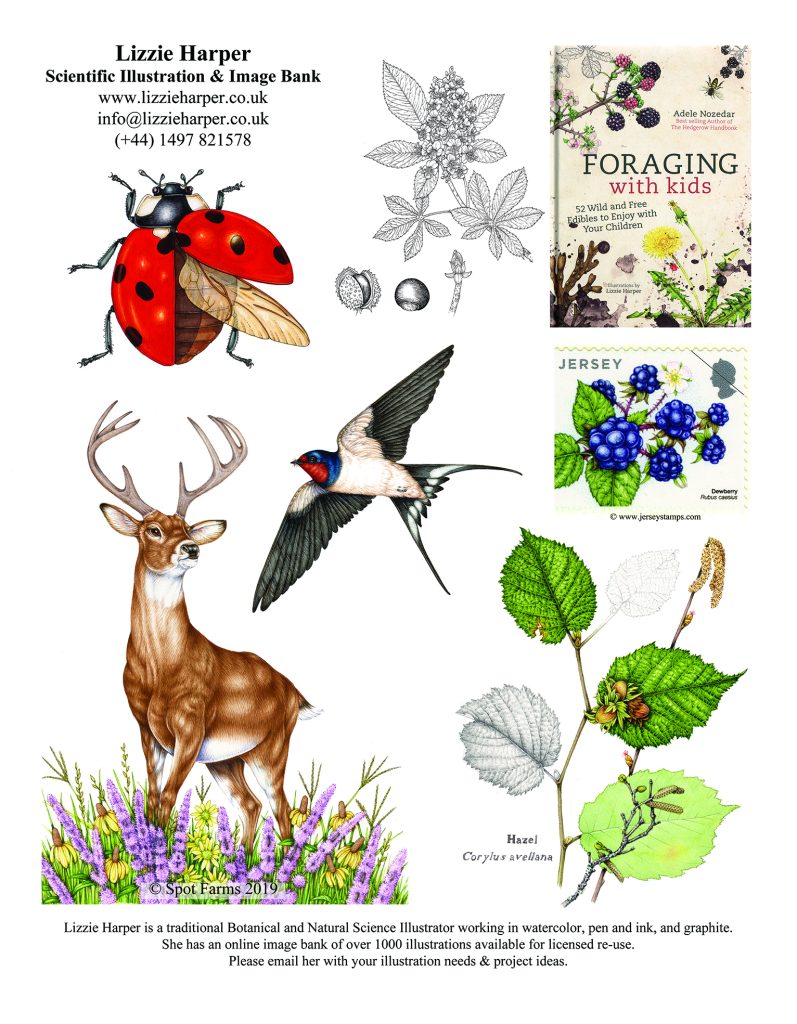 What is a typical working day for you?
I get to my studio at 8.15ish.  I'm not very disciplined about stopping for lunch, but like to get my head down and get on with work.
First I'll check emails, sort out anything outstanding on my website, then post anything that needs doing on social media platforms.  I also do paperwork; things like invoices, balancing the books, following up enquiries, and putting together price estimates and contracts.  Marketing tends to happen early in the day too; I like to get the "boring" stuff done first, then the decks are clear for illustrating.
Next, if I'm lucky, I can get on with painting or drawing.  I turn on BBC Radio 6 or the BBC World service, or any number of Podcasts, and work through whatever jobs I have waiting.  Today it's a sprig of rowan.  I finish work around 6.30 or 7pm.  After, if there's a lot on, I'll go back to the studio around 9pm and work til 11ish.  If there are deadlines looming I'll work til 2 or 3am, but I'm trying to avoid doing this as it's not much fun!
The flip side of this is that I can take time off whenever the work allows, and work whatever hours I choose.  I ring fence school holidays as much as possible.
The problem with being self employed is not procrastination, but knowing when to stop…
Add to this planning and teaching workshops, making little films for social media platforms, and doing art exhibitions and residencies.  It makes for a busy and rather wonderful tapestry of a working life.  I consider myself incredibly lucky to be able to earn my living doing something I love.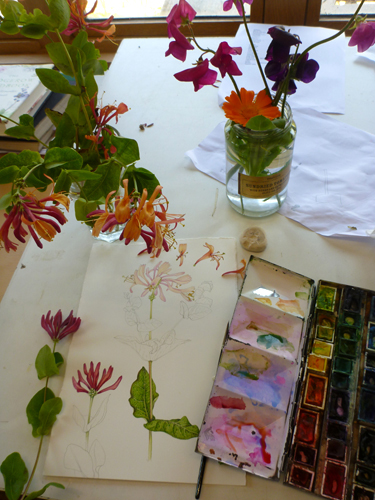 How do you decide what parts of your sketchbook studies to colour?
To be honest, the partially completed sketches are just something I came up with because I never seemed to have time to finish the entire thing in the field!  So my rule of thumb is to get down as much info in the sketchbook as is needed to reproduce the plant as a completed illustration at a later date.  That's also why I make notes on the colour mixes as I go along – so I can reproduce the same hues back in the studio.
But in general I'd just say, do as much as you feel you need.  Or as much as inspires you.  I tend to include a tonal study of one leaf, a colour study of one leaf and a portion of stem, a colour study of one flower (with colour notes on variations if needed), and a line drawing of a habit sketch, showing the overall shape of the growing plant.  I'll also include details on individual florets and cross sections of fruit.  Remember to make written notes too, and to record the date and the precise location of the plant you're illustrating.  It's not a set of rules though, just whatever works for you.
I wrote a blog about why these sketchbooks are so useful for me.  Click here for a gallery of my sketchbook studies.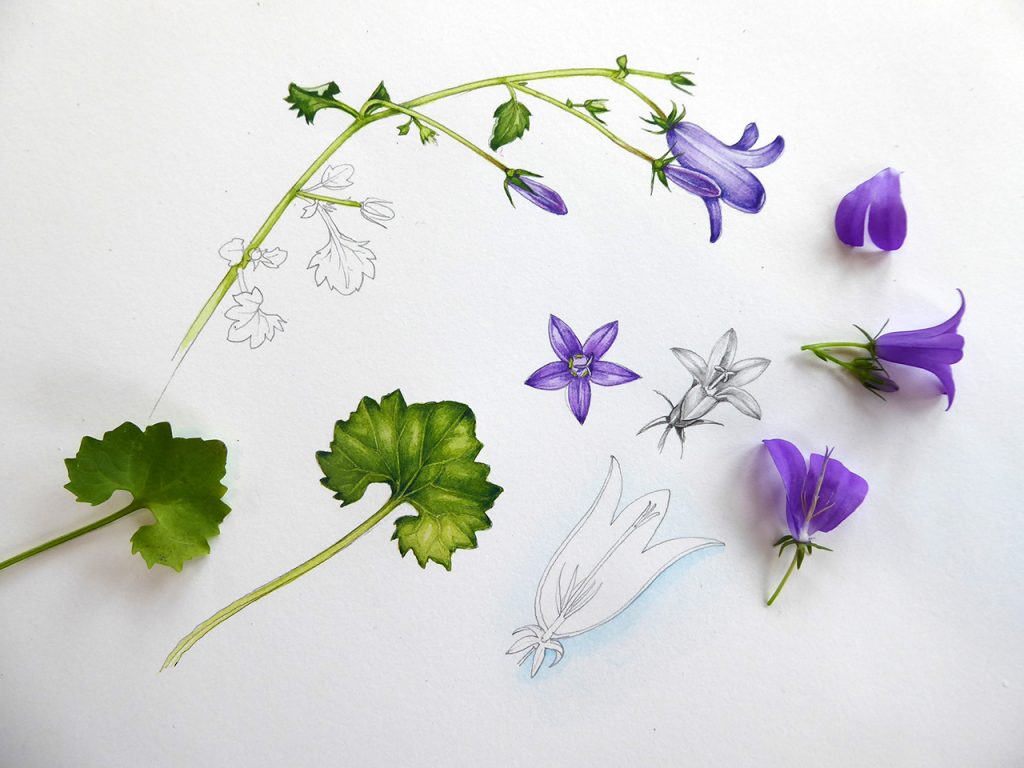 What reference books would you reccommend?
A very good book to invest in is "Understanding the Flowering Plants: A practical guide for botanical illustrations" by Anne Bebbington. It is massively helpful in terms of explaining illustration techniques and some of the finer points of botany and nomenclature.
I also love "The Cambridge Glossary of Botanical Terms" by Hickey and King and "Common Families of Flowering Plants" by Hickey & King; again, they help with the botany!
My go-to plant i.d books are "Flora of the British Isles" by Clapham, Tutin and Moore; "New Flora of the British Isles" by Stace; "Collins British Wild Flower Guide" by David Streeter; and "The Wild Flowers of the British Isles" by Garrard and Streeter (out of print, but available from 2nd hand bookshops).  For illustrations of British Flora, nothing can beat "Drawings of British Plants" by Stella Ross-Craig (currently out of print, I love and have managed to gather up all 30+ volumes!)
A few good websites to visit to find photos of wildflowers:
http://www.plantillustrations.org/
http://www.plantsoftheworldonline.org/
https://www.naturespot.org.uk/
https://wildflowerfinder.org.uk/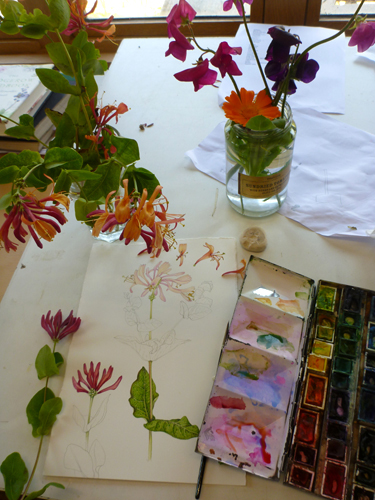 What materials do you use?
There's a whole section of blogs discussing this, which might be worth a look
Pencils
I use a mechanical pencil, like the Pentel P205.  I like an HB or an H lead, 0.3mm.  I favour soft, natural rubbers like those made by Factis.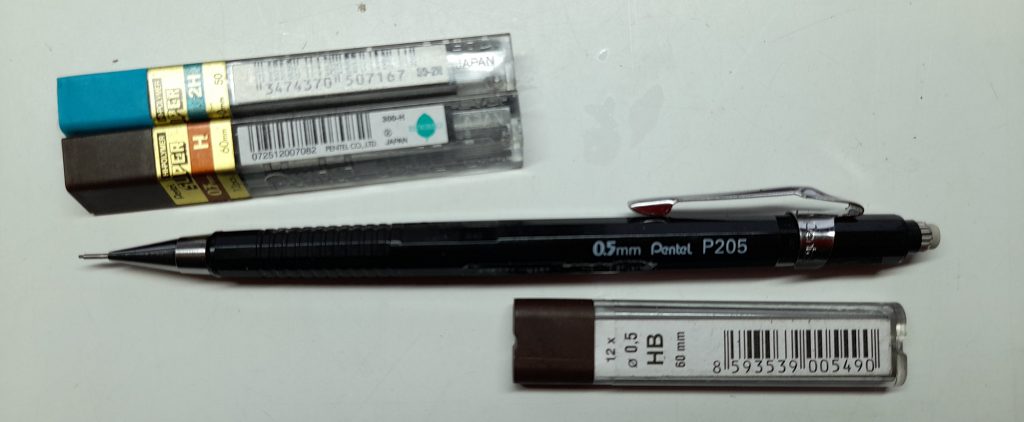 Pens
Ink pens can be anything with permanent, waterproof ink and an 0.05 to 0.5mm nib.  I quite like the Unipin range.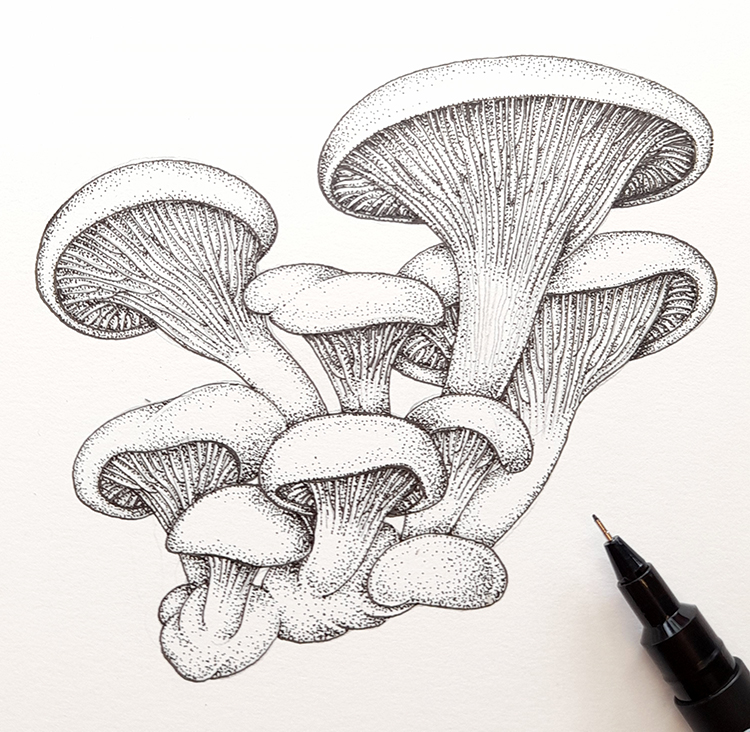 Brushes
Brushes wise, if I'm using sable it's always a Winsor & Newton series 7.  My default size is a no.1, but I'll use a no. 5 for big washes, and something as small as a 000 for hairs on stems.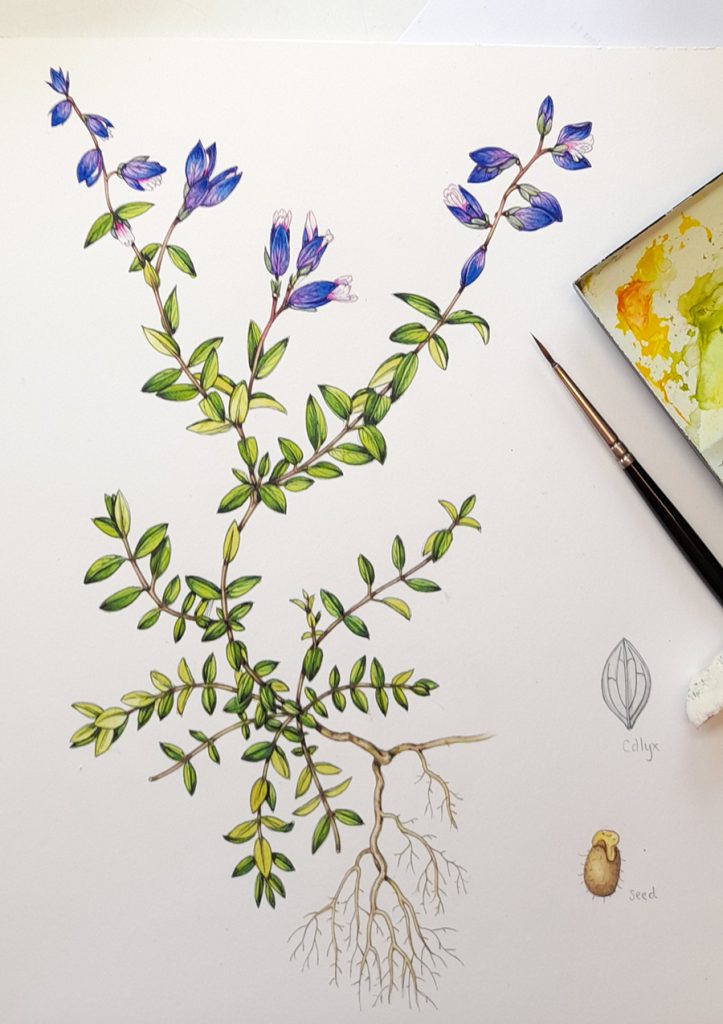 However, I'm also trying to use more ethical synthetic alternatives.  I like Princeton Neptune round (Series 4570),  Princeton Velvet touch range,  Escoda Prado Tame synthetic, and Escoda Perla White Toray synthetic.  There's a playlist of my brushes tests and reviews of over 20 synthetics on my Youtube channel.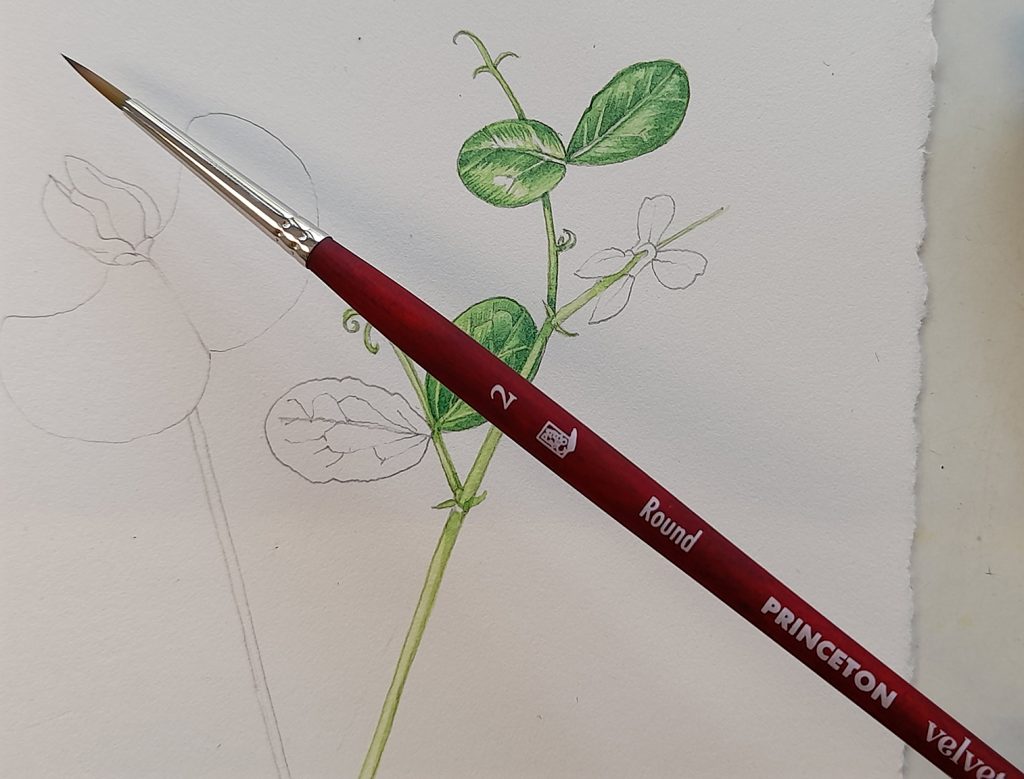 Paints
I like Winsor & Newton watercolours, and use their Permanent white gouache to cover up mistakes!   For an extra boost of colour, nothing beats Dr Martin's PH inks.  These are light-fast as well as bright, and can be mixed in with watercolours.
Paper
Watercolour paper has to be Hot Press, and I no longer use Fabriano (for more on this see the paper comparison films below, or check on my three linked blogs, or visit Jackson Art's page).  I now use Fluid 100 , Stonehenge Aqua, (both now available in the UK) or, at a push, Arches HP.