Beautiful Bryophytes: Botanical moss illustrations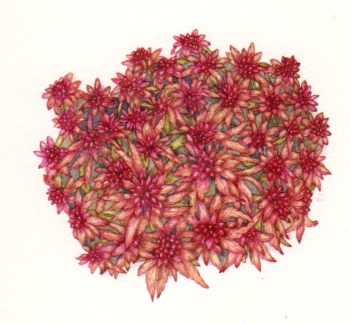 I've been working on lots of botanical illustrations for the Field Studies Council recently.   A lot of the plants on the list of heathland species are bryophytes, beautiful mosses.
I'm lucky enough to have had an enormous amount of help assembling species to work with (see my blog) and have been working on the painted finals over the past few weeks.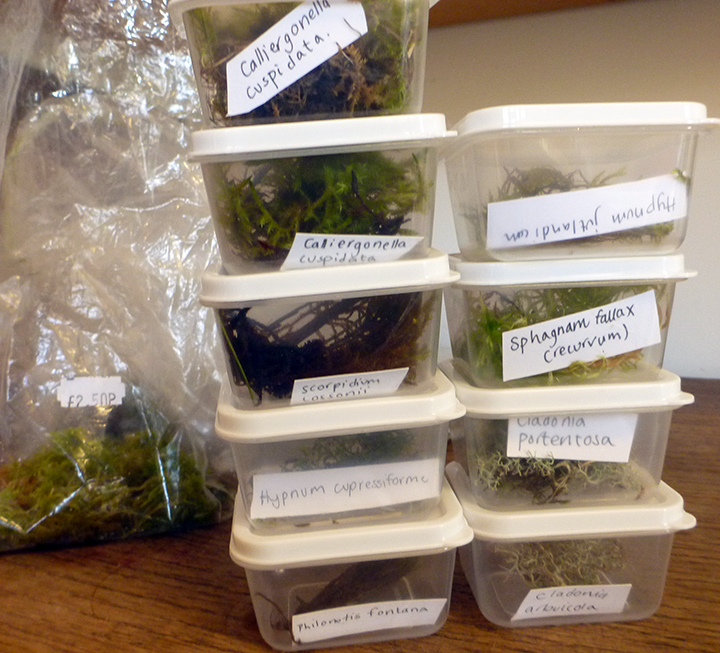 Moss specimens in storage
Below is a gallery of some of the moss illustrations I've completed so far for this job.  This blog is more of a "what I've been up to" posting than a mossy step by step, or blog on moss anatomy (although I've written blogs on both of these topics in the past.)
The Process of illustrating tiny Bryophytes
With all these mosses, I worked tiny – each illustration is about 10cm square.  I use 000 Winsor and Newton Series 7 brushes on Fabriano Classico hot press paper (a side note here, this used to be my paper of choice but recent alterations in manafacturing means the paper is now much more absorbent and far less crisp.  I'm trying out alternatives such as Arches and Moulin du Roy, we'll have to see what I can replace it with!)
I'm very short sighted, so am painting the detail with one contact lens out (for getting lost in the minuatae of each leaf) and one contact lens in (so I can mix paint and see where the water pot is!).  Although somewhat disconcerting and dizzying, this approach seems to be working out well thus far.
One of the first mosses I painted was the bright green Fountain apple moss, Philonotis fontana.  It was a straight forward specimen, simple to see individual areas of the moss, and fun to get involved in the tousled mass of hairs at the base of the shoots.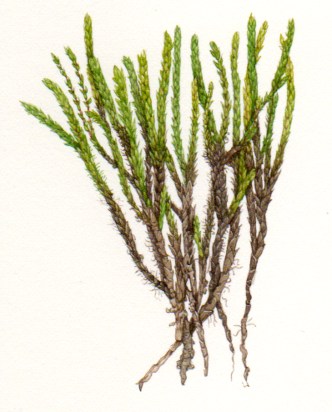 Fountain apple moss, Philonotis fontana
Difficult Bryophytes: Heathland plait moss
I had a lot of trouble getting the pencil rough of the Heath Plait Moss, Hypnum jutlandicum correct.  Somehow my specimens and my drawing failed to capture the right feel of the plant.  I got the go-head, but still am less pleased with the final of this species than of some of the others on the list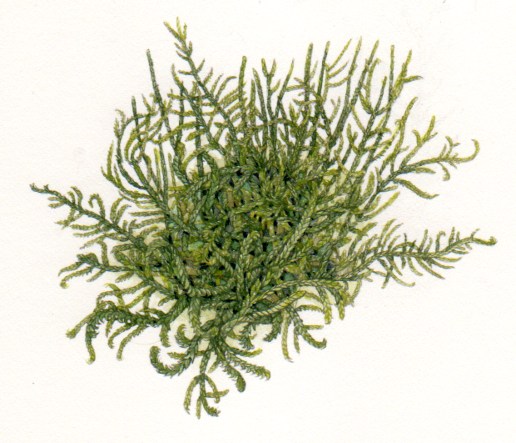 Heath Plait Moss Hypnum jutlandicum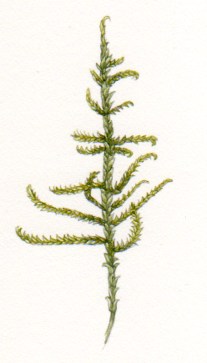 The detail of Hypnum jutlandicum was a little more satisfying.
Pointed spear moss
Pointed Spear moss, Calliergonella cuspidata, was a joy to paint.  The tip of each shoot is decidedly pointy (hence the name), and the whole plant is a refreshing bright green.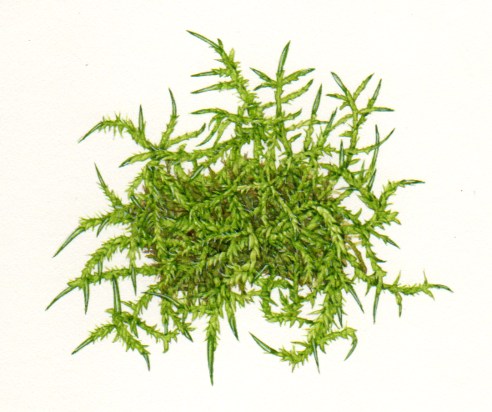 Pointed Spear moss Calliergonella cuspidata
Wooly fringe moss
The easiest moss to paint thus far has definitely been the instantly recognisable Wooly Fringe moss, Racomitrium langionosum.  This species has long, clear toothed apexes to each leaf, which make it look like the moss clump has grown a luxurious white fur coat.  Since white in watercolour painting comes from leaving the paper blank, this was an easy effect to achieve, and the moss illustration felt like it had a lovely flow as I completed it.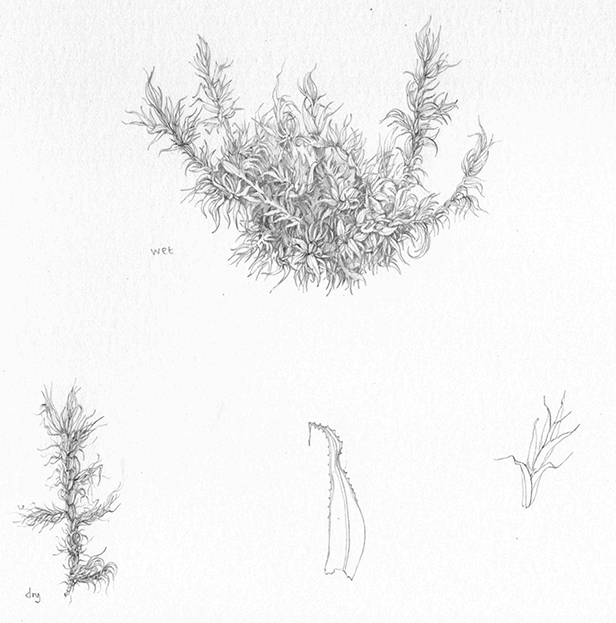 Pencil rough of Wooly Fringe moss, Racomitrium langionosum
The final was interesting mainly in trying to get the correct shade of green, greyish and yellow, but not too brown.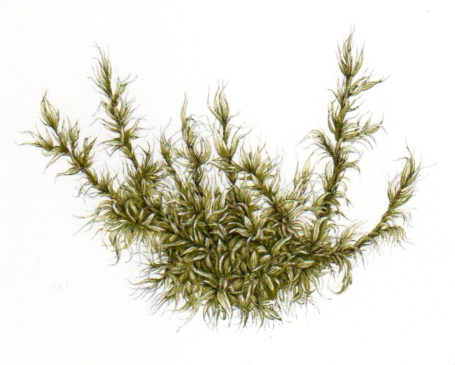 Wooly Fringe moss Racomitrium langionosum.
Sphagnum mosses
Next came the Sphagnum mosses, a law unto themselves.  these glorious bog and wetland byrophytes are like cushions, highly absorbent, and sumptuous, often blanketing swathes of upland.  I love them especially because they gave me the chance to use all sorts of magenta, pink, and crimosn colours that I normally only break out for the blousier flowering plants, or the occassional stem.  The entire plant of the Megallanic Bog Moss Spahgnum magellicum is a wine-red crimson, what a treat.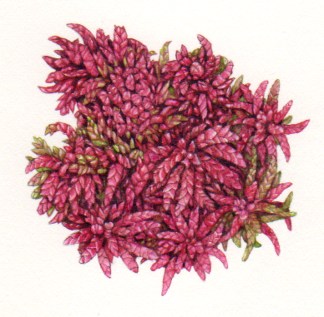 Megallanic Bog Moss Spahgnum magellicum
The Sphagnum mosses involved extra work, not only the habit illustration from above and details of individual shoots and leaves (showing how they attach to the stem), but also a side view.  Teasing out a few shoots from the mass for this was a touch tricky, but rewarding, I love how the green tinge appears in the areas hidden from the light.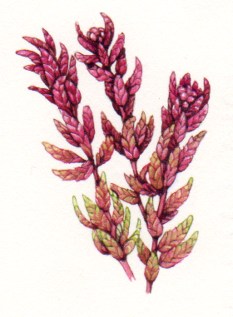 Detailed side view of Megallanic Bog Moss Spahgnum magellicum
Another Sphagnum moss tinged with red is Spahgnum capillifolium rubellum.  Again, painting this beauty was a joy.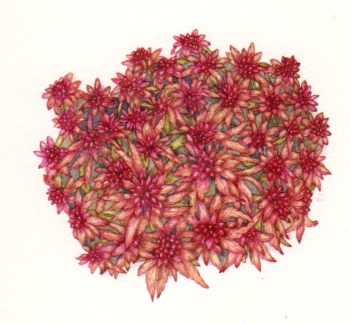 Spahgnum capillifolium rubellum
Painting the individual shoot and side view of this moss was a treat, gentle gradations from green through pink the a dark crimson.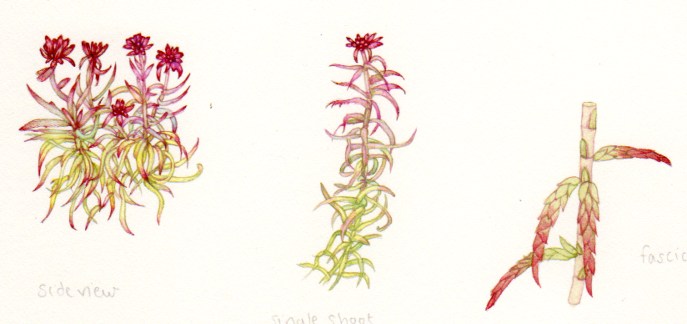 Spahgnum capillifolium rubellum details
Not all Sphagnum mosses are tinged pink, one of the others on the list, the Soft Bog Moss Sphagnum tenellum is a tiny little moss, all green and golden.  It has been the most detailed moss to paint, but a treasure of a plant.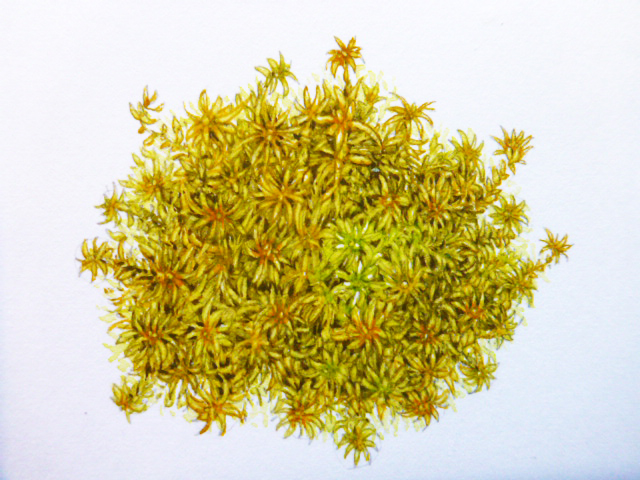 Soft Bog Moss Sphagnum tenellum
To show what I mean when I mention the additional details, here is the same moss with all it's associated visual information.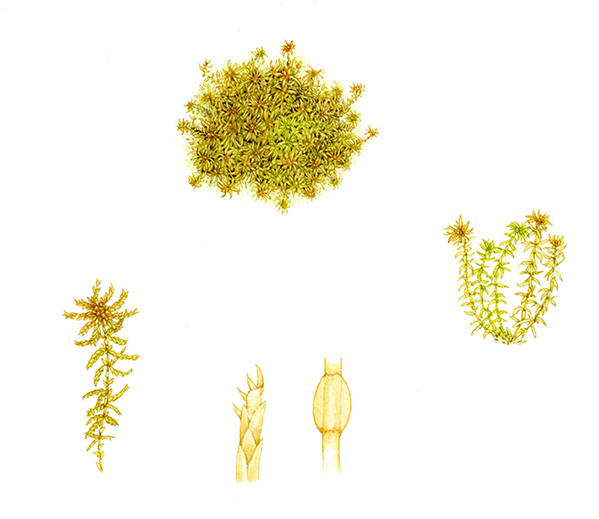 Soft Bog Moss Sphagnum tenellum with diagnostic details.
For a detailed step by step on how I tackled this lovely golden Spahgnum, please check out my blog.
Bryophytes still needing to be illustrated
There are a handful more mosses to do; two are still being scrutinized at rough stage by the botanists at The Field Studies Council, two are in the "to do" pile, and one is mid painting as we speak.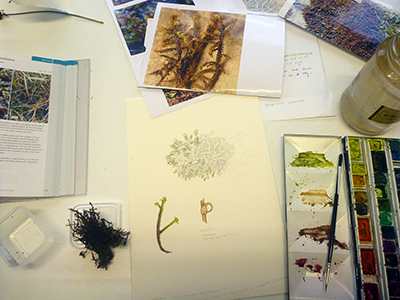 Moss painting in progress, the Rusty Hook Moss Scorpoides revolvens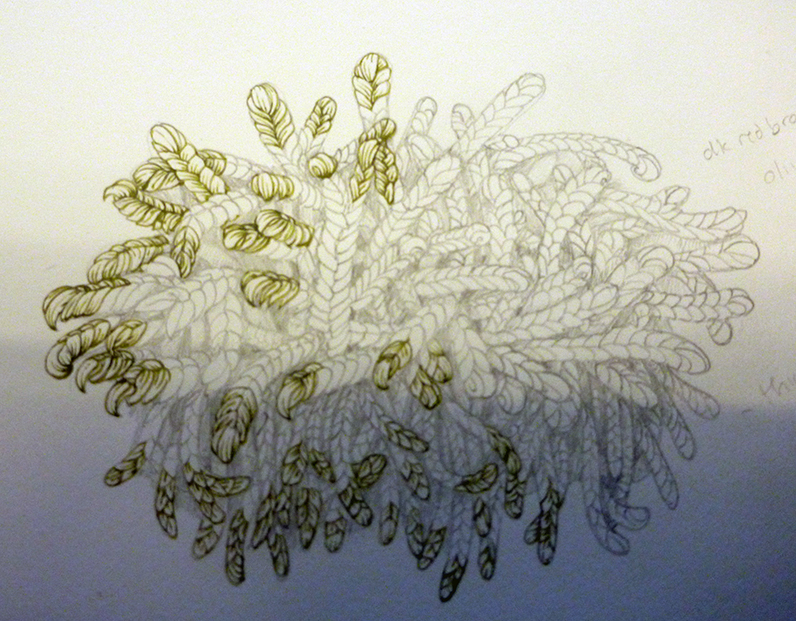 Detail of olive green leaf tips of Rusty Hook Moss Scorpoides revolvens, the rest is a dark red brown.
I am loving these mosses, they are one the toughest challenges I've ever had; the combination of a need for absolute botanical accuracy, the minute scale, and the importance of correct colour is exhausting, in the best possible way.  Each moss final takes three or four times as long as the more conventional flowering plants I take, and I know that to many the finals illustrations aren't nearly as appealing as a poppy or a heather might be.  However, I am loving pushing myself, and am falling hook line and sinker for all things mossy.