Illustrating lower plants in a churchyard
Natural history subjects to draw and paint abound.  Many relish the tranquility of the British churchyard.  The Field Studies Council know this, and have recently commissioned my botanical illustrations for a fold out chart.
Lower plants love the damp stone of a churchyard.  You find many ferns across the UK in churchyards and cemeteries, including this Hart's tongue.
Churchyard ferns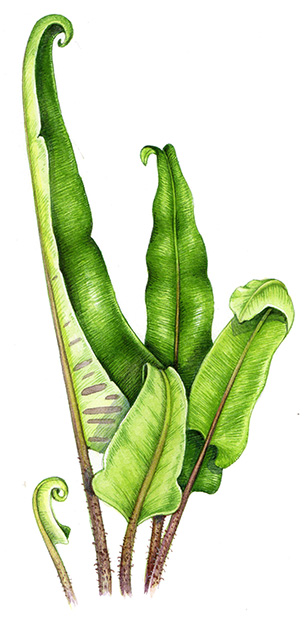 Hart's Tongue fern Asplenium scolopendrium
In amongst the nooks and crannies of a churchyard wall you can find lots of lower plants; mosses, lichens, and the Common polypody fern.  Although there's some regional variation depending on habitat, many of these species are ubiquitous.
Maidenhair Spleenwort Asplenium trichomanes is a case in point.  Within two minutes of printing off the species list from FSC  I'd found a maidenhair spleenwort in the churchyard wall opposite my home.  It has to be said that St. Marys Church in Hay on Wye is a wonderful old site. But it still delights me to find almost all the species I had to illustrate by just crossing the road.
Hard fern is almost certainly lurking there too, but as I'd painted it for another organisation many years ago, FSC didn't need a new illustration.  They were happy to re-use it.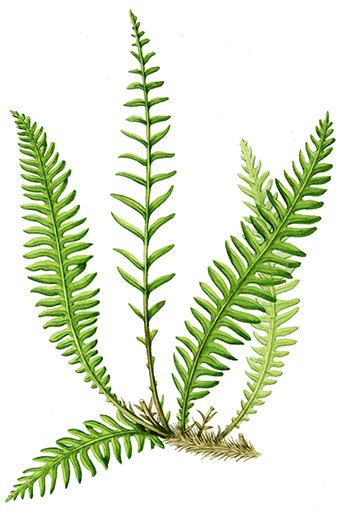 Hard fern Blechnum spicant
Churchyard mosses
The last lower plant needing illustrating was a moss typical of churchyards and gravestones.  Now I'm no expert on moss identification.  It took some time to find the distinguishing features of two of the commoner wall mosses, Grimmea pulvinata and Tortula muralis.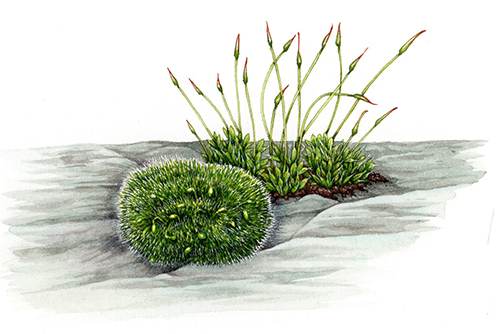 Graveyard mosses Grimmea pulvinata and Tortula muralis
I look forward to seeing the chart once produced.  I plan to wander round my own local churchyard when spring comes, seeing what multitude of other plants and animals I can spot.
In fact, graveyards are so highly regarded for their wildlife variety and sanctuary that charities such as Caring for God's Acre focus exclusively on this aspect of British wildlife.  And having had a swift look round my own churchyard, I completely understand why!
Next week I'll be blogging about illustrating Higher Plants in the churchyard.