Illustrating higher plants in a graveyard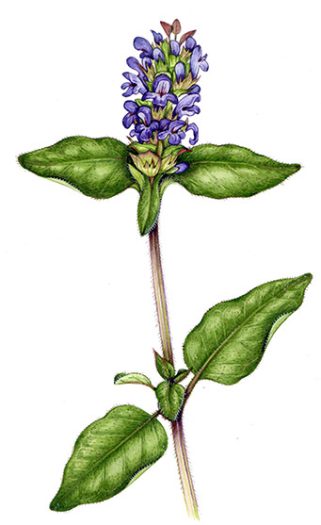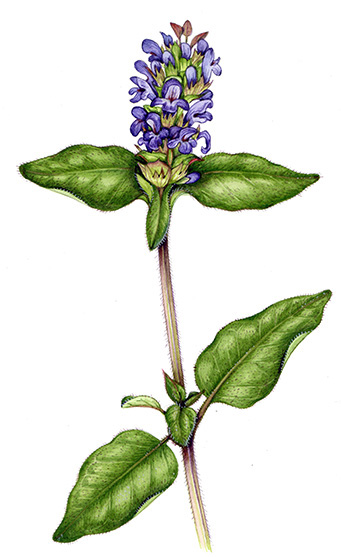 I've recently been working on natural history illustrations for The Field Studies Councils publications department, in this case for a fold out chart of plants commonly found in British graveyards.  Last week I took a look at some of the lower plants we can expect to find in our local graveyard; this week it's the turn of the higher plants.
There are tons of these, and lots are incredibly beautiful and gaudy.  Among these is the Meadow Cranesbill.  This is one of my favourite British flowers, because of its violent purple colour.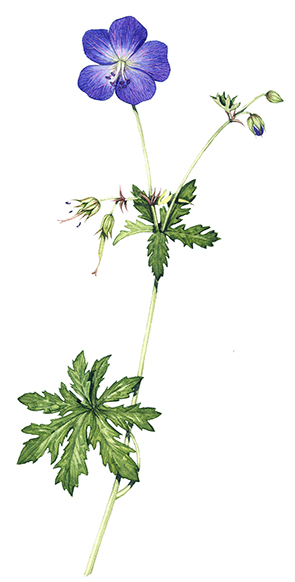 Being January, I had neither hope nor expectation of finding this beauty.  Luckily I'd painted one a while ago for The Bumper Book of Nature by Stephen Moss, and FSC were happy to re-use it.
Plants in my local graveyard in January!
A plant which I could readily lay my hands on at my local churchyard was the yew Taxus baccata. No longer in berry, true, but easy to find and looking rather fine in the January gloom.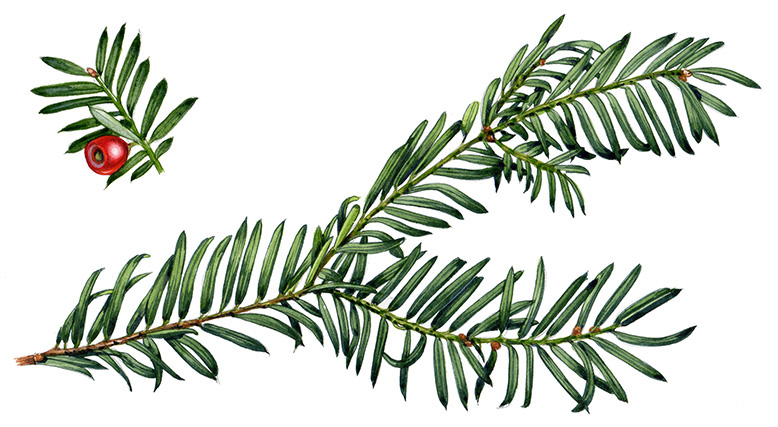 Yew Taxus baccata
Another plant on the list was not only growing in the churchyard wall opposite my house, but was also in flower.  Although this feels unusual, it reflects the lastest findings of the BSBI Plant Hunt survey.  This found more than 300 British plants in flower on new year's day 2015.  Around 30 plants were flowering at the same time 50 years ago.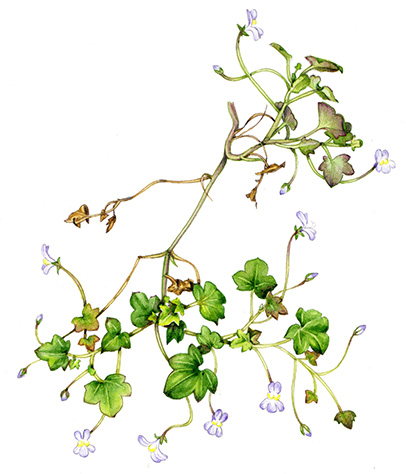 ivy-leaved toadflax Cymbalaria muralis
Plants not in flower in the graveyard
A plant I know grows in St. Mary's Church in Hay on Wye (opposite my home) is the Birds foot trefoil Lotus corniculatus.   There's no way this would even show leaves at this time of year, so FSC re-used my earlier illustration.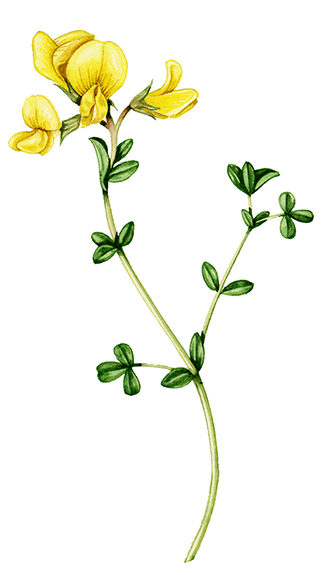 Birds foot trefoil Lotus corniculatus
New illustrations
One of the plants on the list is Biting Stonecrop Sedum acre.  I haven't seen this one growing over the road, so I shall go and search for it in the summer.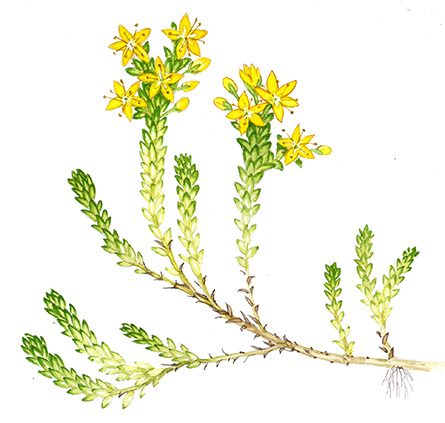 Biting Stonecrop Sedum acre
Despite a thorough look, I couldn't find Pennywort Umbilicus ruprestris either. This is a plant I associate more with coastal areas, so perhaps that explains its' absence from Hay on Wye.  Irritatingly it was absolutely everywhere when I went to Devon.  This was just days after completing the illustration from reference and photos.  Nothing like forward planning.  It's edible, so I crunched on several pennywort leaves to soothe my disappointment…

Pennywort Umbilicus ruprestris
One of my favourite British plants was on the list, Self-heal Prunella vulgaris.  Again, this wasn't out (I know it flourishes in our local graveyard and in Hay on Wye cemetery) but I had all the detailed notes I needed to reconstruct it from my sketchbook.  Keeping a botanical sketchbook has got me out of trouble on more than one occasion, and it was lovely to be able to use such a tailor-made and reliable source!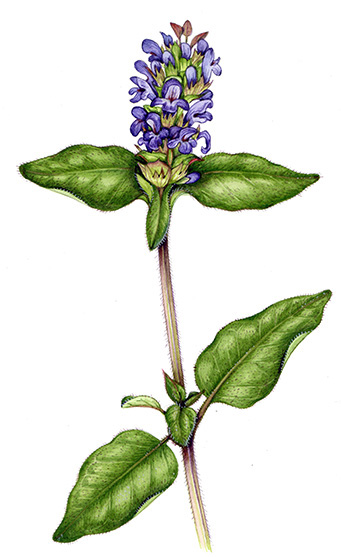 Self-heal Prunella vulgaris
The most evidently prolific plant in our churchyard is the Forget me not, Myosotis.  This species didn't make the FSC list, which first suprised me, and then made me really happy.  It meant the amazing pale blue clouds of flowers that festoon the graves in April and May might just be a bit unusual, and yet another thing that makes Hay on Wye a slightly different and a truly fabulous place to live and work.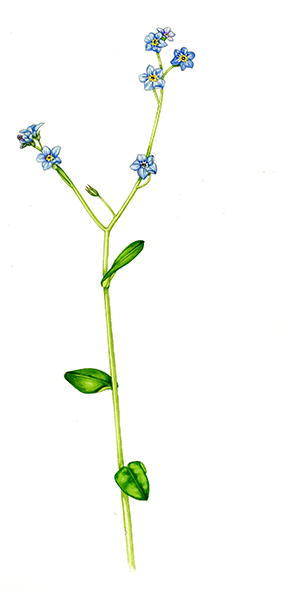 Forget me not Myosotis sylvatica
Other species listed by FSC include Ladies bedstraw, eyebright, cowslip, primrose, scabious, snowdrop…  It's a long list and I cant wait to see them all together in the soon-to-be-published FSC fold out chart.