Pembrokeshire coastal animals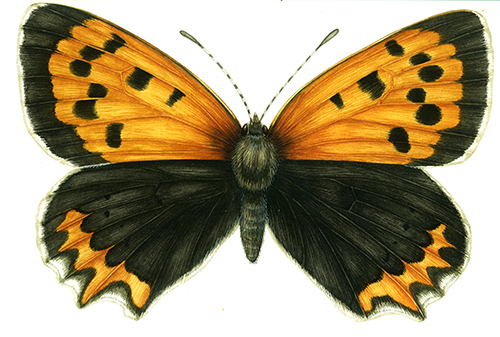 Last week my blog was on flower and plant treats available on a weekend trip to Pembrokeshire.  This week it's the turn of the animals.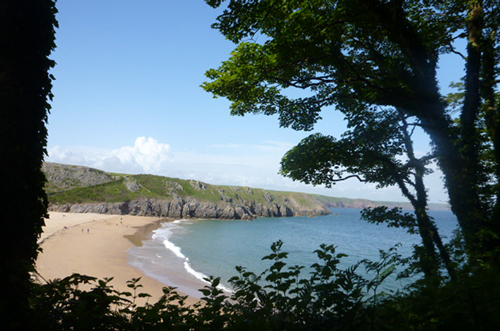 Bosherston beach, Stackpole, Pembrokeshire
Animals of the Coastal Path: Beetles
The first treat, on a sandy path facing the sun, were Green tiger beetles.  I love these fierce animals.  They scuttle at high speed, hunt like the ferocious predators they are, and patrol their stretch of bare earth.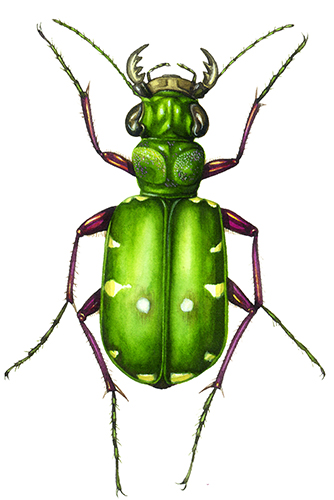 Green tiger beetle (Cicindela campestris)
I was blown away by a beetle I've not really noticed before, although there seemed to be one in every hawksbit flower I looked at.  It's an extraordinary metallic green, with swollen femurs, and wing cases that taper and don't fully meet.  You see a glimpse of the wings below.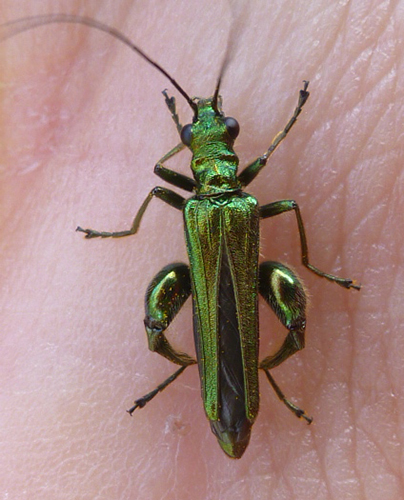 Swollen leg beetle (Oncomera nobilis)
Turns out it's an animal called the Swollen leg Beetle (but of course).  Note the "Oedema" or swelling in the latin name.  I shall DEFINITELY be painting this beetle.
There were ladybirds galore in the patches of saxifrage, and red campion.  This one's a seven-spot, but I also saw the two-spot (Adalia bipunctata).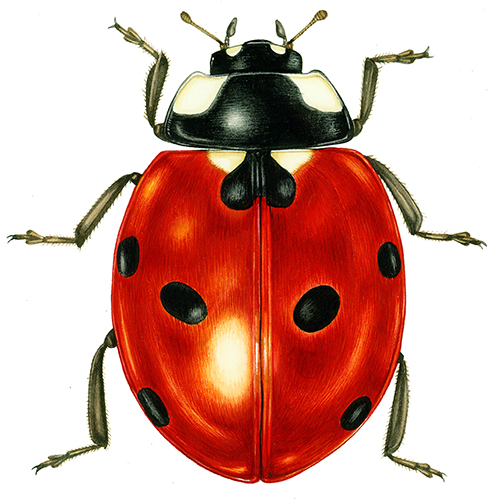 Seven-spot ladybird (Coccinella 7-punctata)
Animals of the Coastal path: Damselflies and crickets
I saw an abundance of baby grasshoppers and crickets amongst the grasses on the dunes; and, a long way from any water, a lone Common blue damselfly amongst the bracken.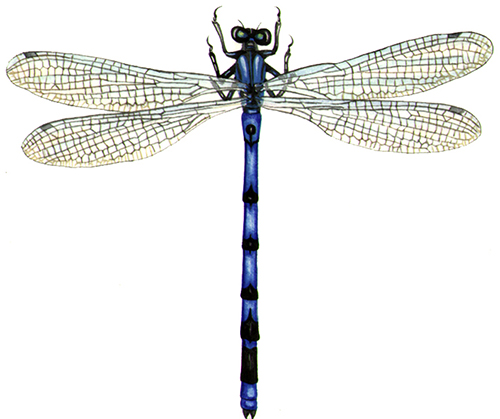 Animals of the Coastal Path: Butterflies
The Pembrokeshire Coastal Path is a also a great hunting ground for butterflies. I spotted Large whites ) and a beaten up Peacock butterfly which had certainly survived the winter in hibernation.  There was a Red admiral, a Wall Brown butterfly,  and the Gatekeeper. Small tortoiseshells, and the beautiful Common blue also put in an appearance.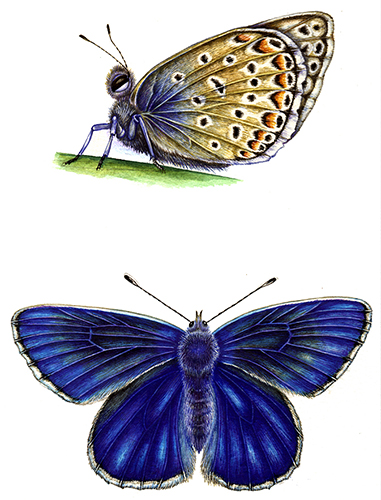 Common blue butterfly (Polyommatus icarus)
Burnet moths fluttered amongst the dunes, and the beautiful Speckled wood butterfly was ubiquitous.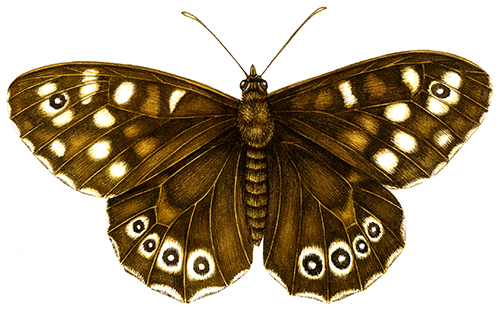 Speckled wood butterfly (Pararge aegeria)
There's a  blog with more information on these lovely animals.  Butterflies are found here in such profusion that it's sometimes referrred to as the "Butterfly Coast".  This one was a common species in a hay meadow a little further inland.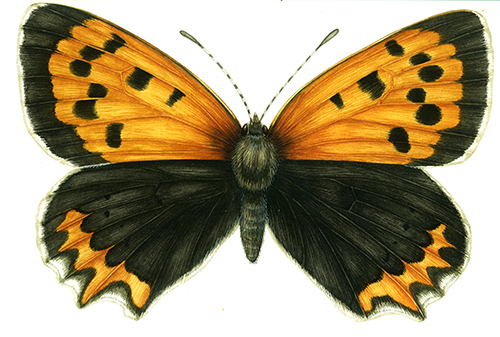 Small copper butterfly (Lycaena phlaeas)
Animals of the Coastal path: Birds and reptiles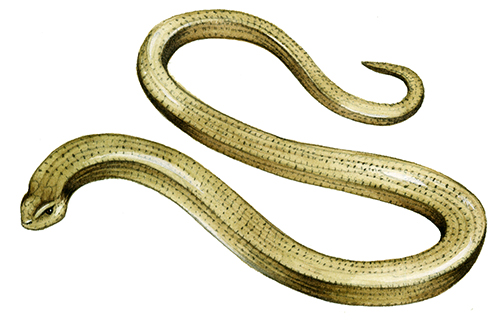 Slow worm (Anguis fragilis)
Many people go to Pembrokeshire for the coastal birds, and with good reason.  Just a short boat ride across the sea lies Skomer island where hundreds of puffins, shearwaters, cormorant, and guillemots nest.  Grassholm, also close, has the third largest colony of gannets in the UK, over 39,000 breeding pairs.  Even on the cliffs of the mainland we saw rafts of razorbills, and pairs crammed onto their nests, precarious on stony ridges above the sea below.  I saw my first pair of choughs!  Delighted.
Animals of the coastal path: Hoverflies and bees
My favourite wildlife spot though, has to be the bumble-bee mimic,.  This hoverfly was busy pretending to be a bee; the form V. bombylans bombylans mimics the red-tailed bumble while V. bombylans plumata has a white abdomen and closely resembles the white-tailed bumble bee.  Again, another animal to paint.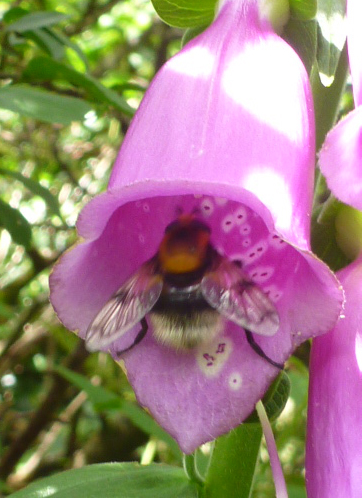 Hoverfly (Volucella bombylans v. plumata)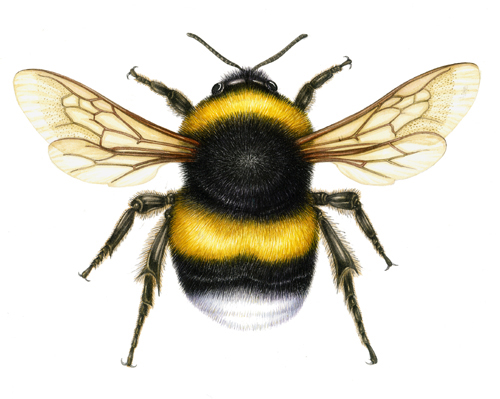 It was such a happy day; wandering amongst the flowers and wildlife in the sun and the wind.  If anyone is looking for a dramatic, almost empty, gorgeous place to visit; that is peppered with wildlife and beauty, look no further.  The Pembrokeshire Coastal path awaits you….