Pembrokeshire coastal plants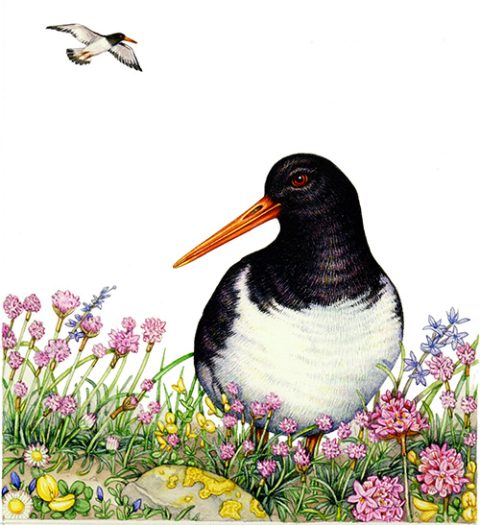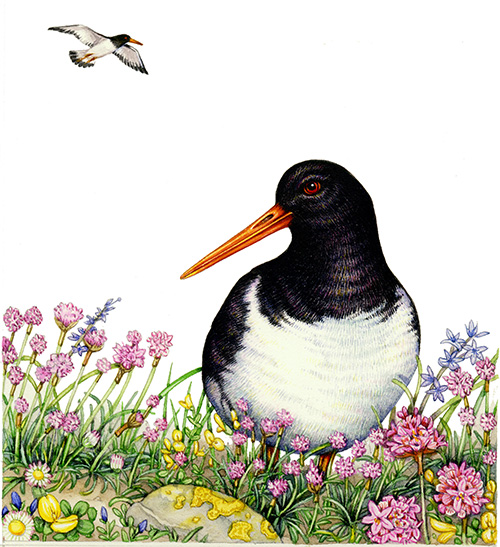 Walking on the Coastal path in Pembrokeshire makes for a wonderful break.  Natural history illustrators go on holiday too.  This is where they find their inspiration.  I was just treated to a glorious weekend of walking, and looking at the coastal flowers.
The Pembrokeshire Coastal Path
We walk from Manorbier to Barafundle beach.  This stretch is gorgeous, taking in empty golden beaches and vertiginous cliffs.  It's also varied.  You can see the coastal path weaving over sandstone and dunes.  The second half is among limestome clifftops.  There are at least two totally different habitats and associated plant species.
Coastal flowers in the sandstone
In the sandstone there are remnants of bluebells.  Tall sorrel and gorse with golden flowers, smelling of coconut, are in bloom.   Purple Bell heather is out.  Tiny flashes of blue come from the milkworts.  Clumps of foxglove stand purple against the sea and the bracken, each with a few bumble bees popping in and out of the tubular flowers. We find beautiful pink seaside centaury.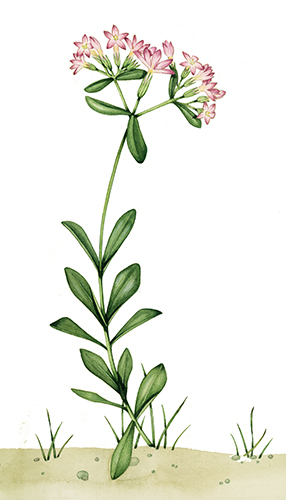 Seaside centaury (Centaurium littorale)
Sandstone habitat inland
A little way in from the coast, you find red ant hills topped with clusters of white saxifrage.    Greater knapweed and gorgeous Yorkshire fog grass grow here. In the little streams winding to the sea are yellow flag, water mint, and clouds of umbelliferae.
Sand dunes
We pass an area of dunes where six-spot burnet moths flutter up, flashing their scarlet and black wings.   The ground is covered in pale yellow Burnet rose and musk storksbill.  Binding round are the shell-pink blooms of the Sea bindweed .  I make a mental note to study and illustrate the rose and storkbill soon.
The aptly named pyramidal orchid are out in profusion.

Pyramidal orchid (Anacamptis pyramidalis)
Ivy Broomrape
I find a plant which is new to me.  It looks parasitic, as it isn't green and photosynthesising.  My trusty Collins Flower Guide helps me i.d. the Ivy broomrape. I shall make a full illustration and study of it soon.  It parasitizes ivy on coastal dunes, hence the lack of chlorophyll.  (Yet another amazing parasite; it would qualify for inclusion in my blog on parasites…)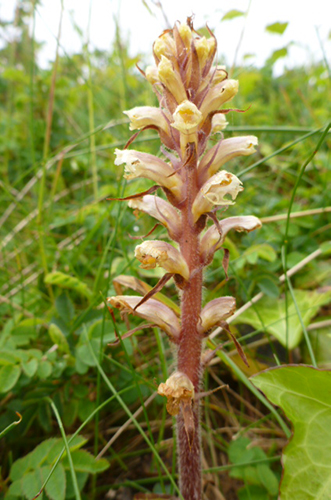 Ivy broomrape (Orobanche hederae)
Flowers of Limestone habitats
Suddenly, the path crosses to limestone and everything is different.  The grass on the towering grey cliffs is cropped, with daisies spangling the turf and buttercups filling every hollow.  The cliff tops are frosted pink with thrift. Limestone is garlanded a glowing gold from the lichen.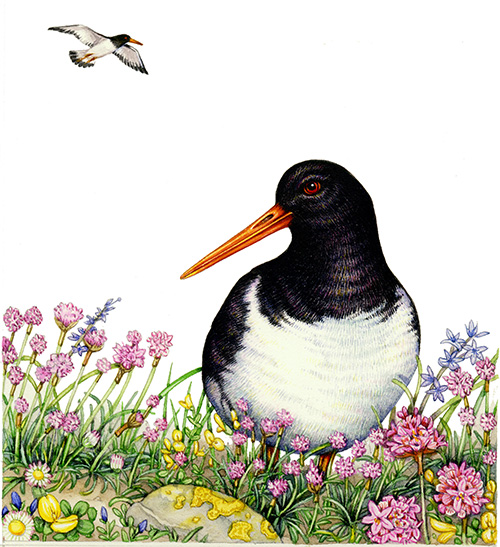 This habitat is shown in this private commission I did of oystercatchers on the cliff-tops in Pembrokeshire. (Click for a blog on this). It shows a limestone habitat.  Although the plant species are representative; a commoner bird would be a razorbill, a chough, or a puffin.
Colours of the cliff tops
All over the cliffs sorrel  grows, and its tiny red flowers make the grass scarlet. in this profusion, tall and erect, stand clumps of Vipers bugloss.  The blue of these petals is probably my favourite colour on earth.

Vipers bugloss (Echium vulgare)
It also happens to be one of the flowers I painted for the Collins flower guide, so it's good to see I got it right!
Throughout, the cliffs are starred with the deep yellow of birds foot trefoil.  This ensures a good supply of blue butterflies flitting through the summery coastal sky.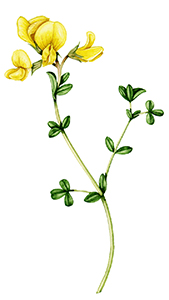 Birds foot trefoil (Lotus corniculatus)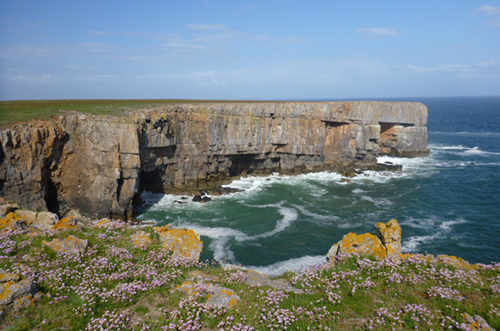 Clifftop scenery
Cliffs covered with thrift, near Freshwater east beach, Pembrokeshire
Next weeks blog will consider some of the amazing insects and other animals we see.  It's not called "The Butterfly Coast" for nothing!