Oystercatcher natural history illustration, Christmas cards, a hairbrush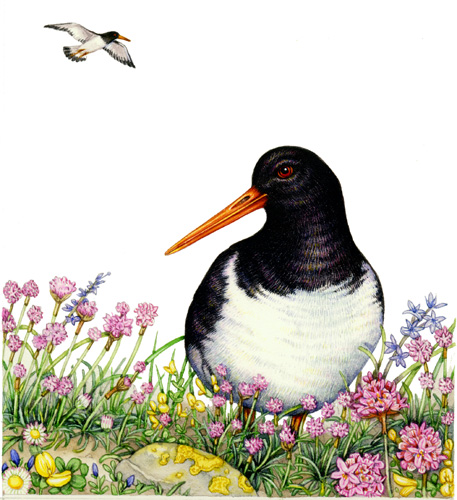 This week was all about using time effectively.  It's something of an art-form, and has to be done often and with little warning.  It happens when there's a lot of natural history illustration work on, but you end up with time on your hands as you wait for feedback and "go-aheads" from clients before getting to work.
A painted hairbrush
I decided to get all my Christmas stuff done.  First up was a hairbrush that I decorated for my sister with a natural history illustration of Snakeshead fritillary.
Painting decoratively is a pleasing change, and a good opportunity to work in acrylic paints instead of watercolour.  It's so much easier to fix mistakes when you can simply re-paint on top of what you've done.
Oystercatcher natural history illustration
Then a diary cover illustration for my father.  I never know what to put on these, when confronted with a panoply of choice (any plant, any animal) I feel paralysed.  This year it's fortunate that I have a few species I'd like to add to my online image bank, so I chose one of these.  Instead of simply painting the oystercatcher and associated limestone-cliff vegetation, I filmed it at three stages and discussed the process.  I was really pleased with the finished painting, especially with the flowers at the bird's feet.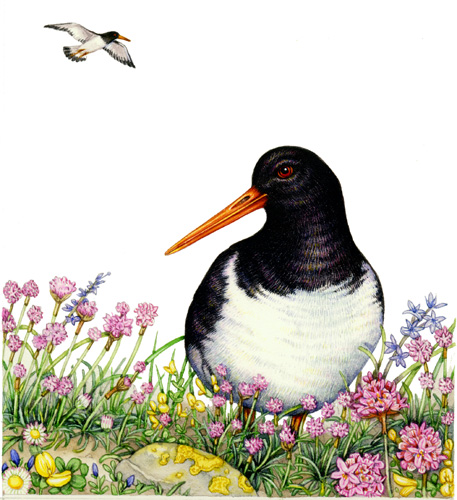 Here's a Youtube video of the oystercatcher illustration:
Christmas cards
Still waiting for go-aheads and tweaks to roughs, I got round to doing a lino-cut for my personal Christmas card.  It's a different invertebrate every year, and this year it's an ichneumon wasp.

Finally, I sent out some marketing campaigns from a rather handy company called Bikini-lists, and then prepared some images and text as the Association of Illustrators want me to be a featured artist on their portfolio site for December.
On Friday I was asked to tweak a rough, and I'm hopeful this week I'll be able to get on with my illustrations again, although I also have other commitments.  Although the waiting for feedback is an integral and sometimes irritating part of being an illustrator, at least this week I feel I've used the "dead time" efficiently.