Grasses workshop, a poppy, and a stonechat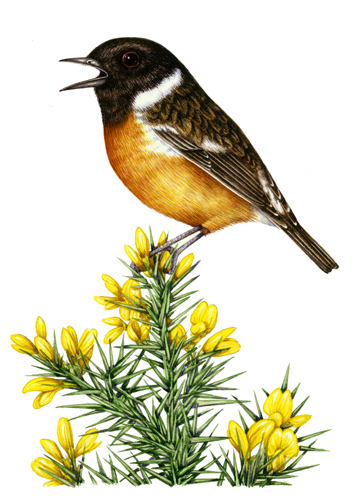 Grasses Botanical illustration workshop
The grasses workshop with Hereford Botanical Art Group went really well.  There were 15 students, all experienced and informed, and most importantly enthusiastic.  Having scoured wasteland and hedgerows, and begged for supplies from a farmer friend; I'd collated rather a fine of late flowering grasses.  Rye grass, wheat, Cock's foot, wild oat, Yorkshire fog…
I also had some dried grasses on hand.  Instead of being appalled when confronted with this bundle of biomass, the students set to and executed some excellent pencil observational drawings of three different species.  I'd given them a brief overview of grass anatomy, and later did a swift demonstration showing how to get detail in colour without making the watercolour "heavy" on the page (basically draw in the parallel veins then put a very pale green wash over the top before working into the shadows).  Despite some of them being excellent botanical illustrators in their own right, and a fully fledged botanist in the back row; I think they learnt something new about grasses from the day, and hope that they enjoyed it as much as I did.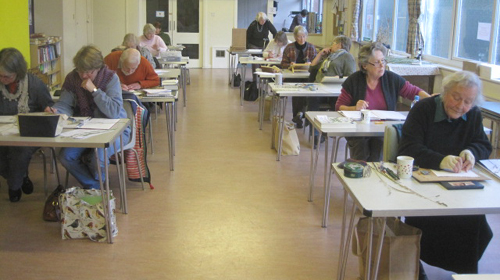 Stonechat
Working for Antenna Creative involved producing a couple of roughs, one very straight forward (a stonechat on gorse) which I finished soon after.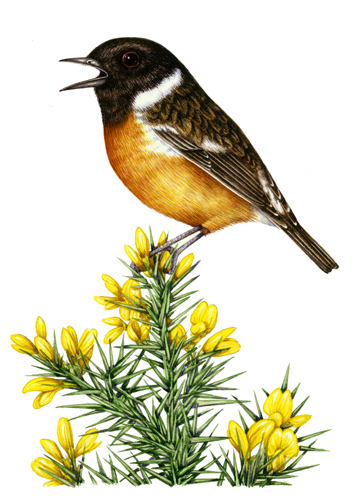 he second is of a lizard in rock-roses, quaking grass (one of my favourite grasses), orchid, and dropwort.  The shape of this image is pre-ordained by the layout where it'll be used; and getting all the species in the shape and correctly in proportion to each other was hard.  I tried to get round it by having the larger species right in the foreground, but we'll see what the client thinks.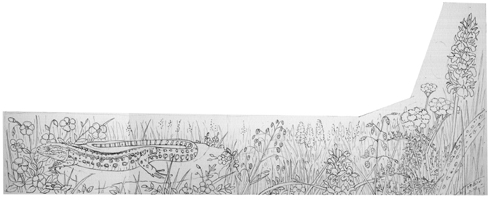 Re-use of my illustrations
I had an enormous "shopping list" of 47 species that a local graphic designer wants to use on a project in Ireland; amazingly I already had 40 of the species completed, so directed him to my image library where he can download and buy them through Paypal.  That still leaves seven species that may need painting, so we'll see whether or not these get commissioned.
I'm also brainstorming for a wildlife trail my friend is setting up on her lovely Cosy Under Canvas campsite; and coming up with ideas for outdoor nature classroom activities with another friend from Radnorshire Wildlife Trust.  I love having the chance to think about subjects linked to what I do, but which don't directly involve me illustrating.
Poppy
Then I did a California poppy for a birthday card, and am trying to find time to paint various Christmas presents for family members.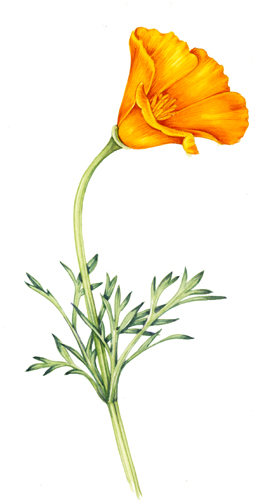 What with this, design work for a Russian company, running a friendly local group discussing Social Media, and getting my promotional Christmas cards printed it's been quite a busy week.  Now I need to go and pick up those Christmas cards from Brecon before chasing after feedback on a completed landscape rough, and getting one of my paintings made into a jigsaw as a gift for the client who commissioned it…