Natural History Illustration: Current projects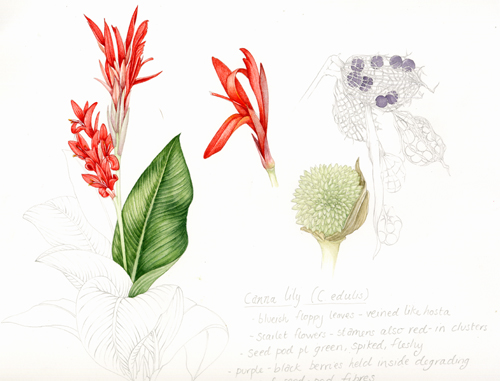 The last few weeks have been busy with botanical illustration projects, scientific illustrations, and diagrams.  There has also been the inevitable swirl of Christmas cards, school carol concerts, buying wrapping paper, and figuring out which relatives we'll descend on, and when.
Invented animal: Projects you worry about
The most peculiar commission was for an invented animal, a Yabra.  This creature had to be a mix of a yak and a zebra, and the client was keen for the yak part to look like the illustration I did for ZSL Whipsnade.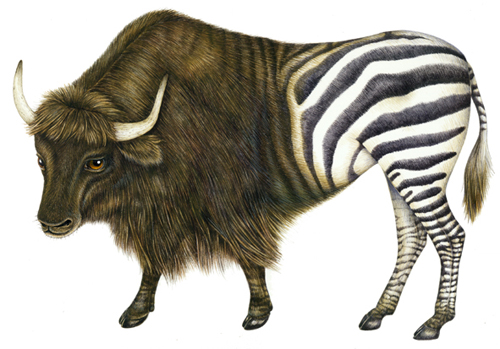 I had a lot of trouble trying to make the transition look natural, and then decided putting stripes under the yak fur and yak fur further along the belly might help.  I still think the creature looks very odd (and very sad) but I think I satisfied the brief.  The client is from a Canadian group called (you guessed it ) Yabra, and were more than generous with their response.  The yabra will feature on the album cover of their first release, and hopefully also on T-shirts and other merchandise.
Bonsai trees
Next, there was the test piece for some work I'm doing for Dorling Kindersely/ Penguin Books.  It's a book about bonsai trees, and they've been excellent at providing accurate reference and good feedback.  Initially, we had to decide what medium to use, so I completed a test piece for them; one in pen and ink and colour, the other pure watercolour.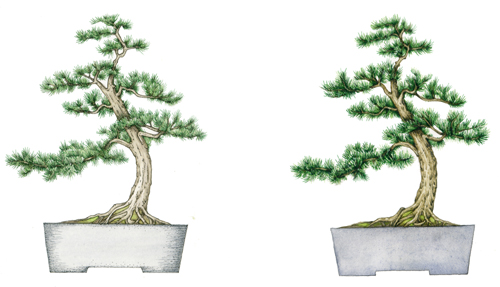 They chose the pen and ink with light watercolour wash on top, and I think they're right.  There are a lot of different bonsai styles to illustrate, so its lucky we've found a style I like working in and which is comparatively quick.
Sketchbook illustrations
There's also the ongoing sketchbook style illustrations for The Cultivated Forager (follow-up to The Hedgerow Handbook by Adele Nozedar). All the plants I'm drawing (or have drawn) for these projects are common in British and American gardens.   Aall are edible in some form or other.  I've done the quince, mahonia, Canna Lily and Pyracantha this month; the last two are pictured below.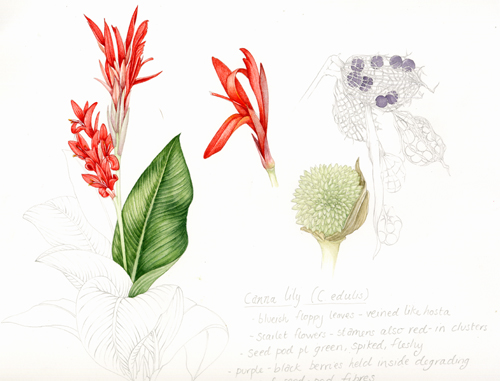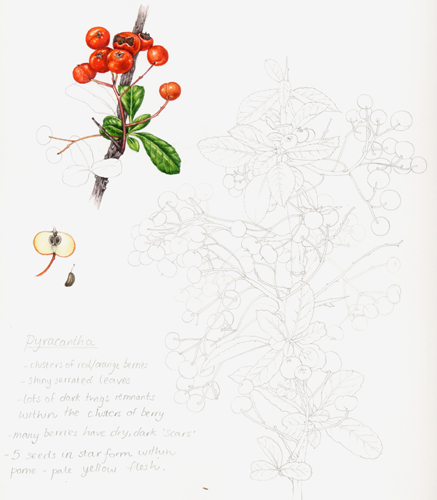 Christmas projects
It being December, I also had to collate the addresses of my clients, and produce my annual Christmas card.  I used a very good and friendly local company, Old Forest Arts, and chose my illustration of a Goldcrest as this year's image.  Here's hoping it drums up some business over the coming year!
To all of you who take the time to read my blog, thank you very very much; and here's wishing you a very happy Christmas and a lovely new year and 2014.