Natural History Illustration for decoration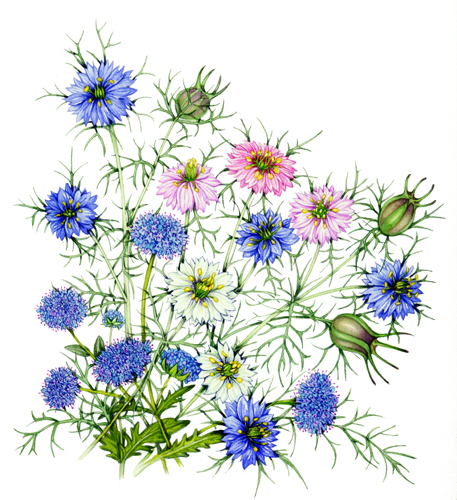 One of the treats of being a scientific illustrator is that you can use your skills in a less exacting manner when the opportunity arises.  This can be useful for jobs which want to use natural history illustration for decoration, as a way of creating gifts or mementos, and as a means to decorate your own home.
Natural History Illustration for Decoration: Plate design
Many years ago, I was asked to paint a prototype plate design for Bradford Exchange.  The brief included specification to "reduce the size of the butterfly bodies as most people only like their wings" and to "only really paint the flowers as the leaves aren't so interesting", which I duly did (despite fervent disagreement on both counts).  The scope to be inventive rather than scientifically precise felt peculiar, but not unpleasant.  Since then, I've often done more decorative work, as the need arises.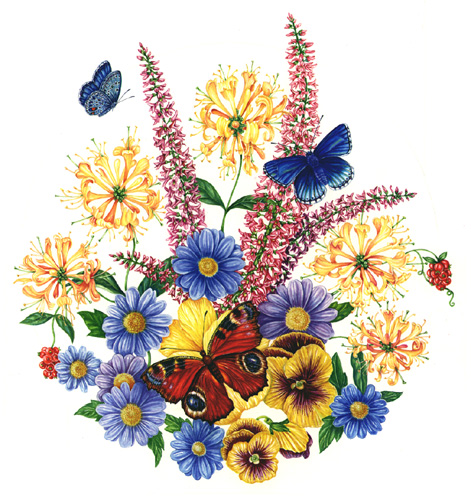 Natural History Illustration for Decoration: Murals
Another job which required as much imagination as scientific accuracy was painting a mural on a nursery wall.  The medium was acrylic, which I enjoy despite having misgivings about the "smooth" appearance of the finished artworks, and I had complete freedom within the client's brief to "paint a jungle".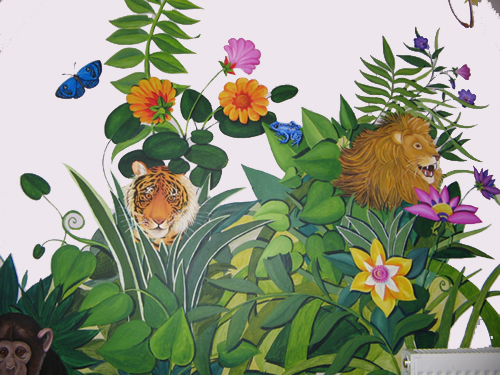 Here's a detail; I tried to ensure various animals were at heights and places where the children could interact with them (as here).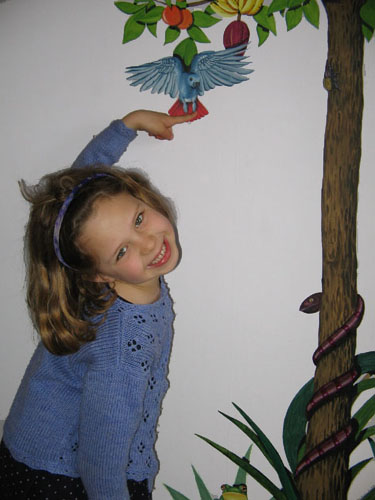 Natural History Illustration for Decoration: Wedding Stationary
Weddings are occasions when being able to paint botanical subjects seems to become popular; there are several friends who've asked me to paint floral subjects for their wedding invitations.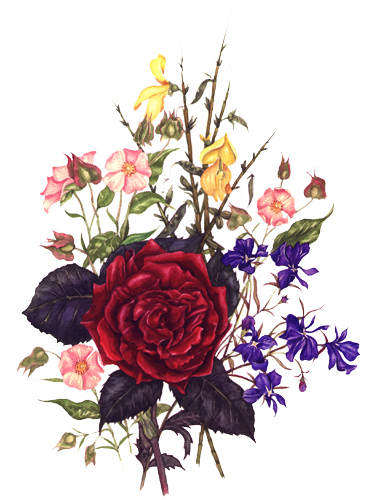 The benefit of this is that you can also give them the original artwork as a wedding gift, instead of making do by giving the happy pair a toaster.
The bouquet below was a treat to work on as I've not painted love-in-a-mist (Nigella) before, and since I couldn't lay my hands on any in leaf I could bend the botanical truth somewhat; this is something I'd never be able to do if I working on a scientific illustration.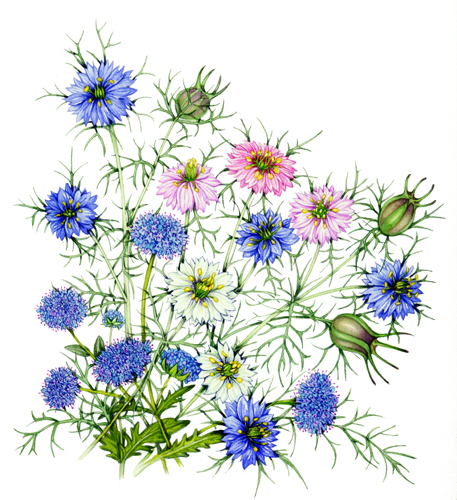 Natural History Illustration for Decoration: Celebrating a Birth
To celebrate the birth of various small and new family members, I got into the habit of doing each a simplified image based on the first letter of their name.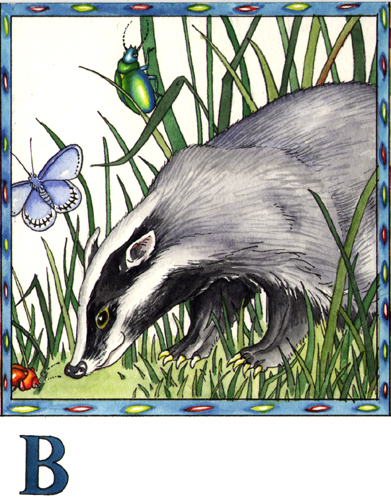 The challenge was to get several species beginning with that letter into the illustration, and I enjoyed doing them enormously.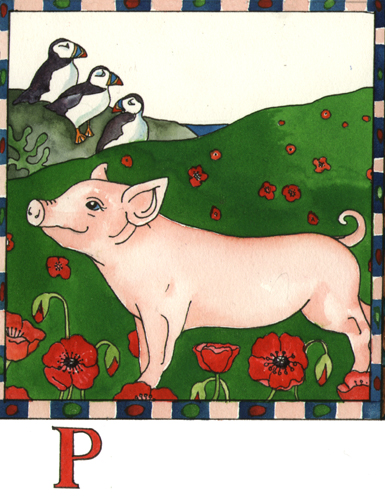 Natural History Illustration for Decoration: Gifts
Illustrating a gift for someone is also something I enjoy doing; the selection of tits in this scots pine are unlikely to gather like this in reality, and these flowers would never grow in the shadow of a conifer.  However, it combined various subjects that my father likes into one painting, and was a present I was pleased to give him.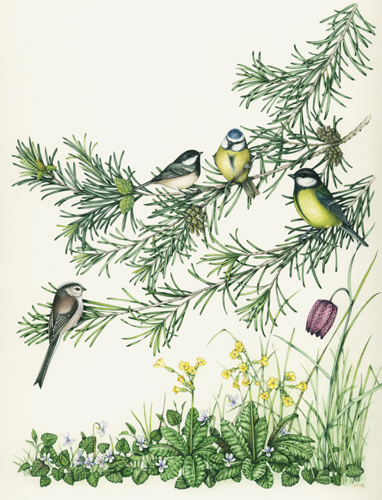 My sister has made it clear she no longer has any wall space left for my paintings (which I sometimes give as presents) so I painted her a hairbrush instead.  She seemed happy enough, and it was great fun to do.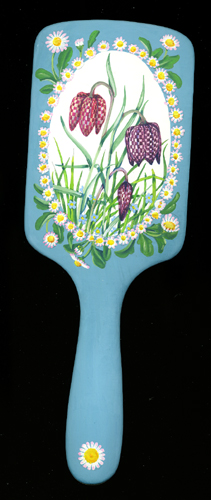 Natural History Illustration for decoration: Around the house
As a freelancer, I often have stretches of time when I'm waiting for a new job to come in, or when I'm waiting for feedback on roughs.  Instead of wasting these stretches, I sometimes apply myself to the business of improving my home.  We have flowers on the staircase, a painted toybox and CD rack, decorated mirrors, and I had a marvelous time sprawled on the bathroom floor painting the side panel of our bath like a coral reef.

I enjoy this decorative approach based on natural history illustration, and like the freedom of not having to ensure all minutae are biologically accurate.  However, I sometimes find it a little hard to look on these illustratons as "real work"; and certainly find it easier to take both myself and my work seriously when I'm operating as a scientific rather than decorative illustrator.  Saying that, natural history illustration as decoration can be handy for greetings cards and gift wrap too: look out for part 2 of this blog in a couple of weeks.