Rushes: An Introduction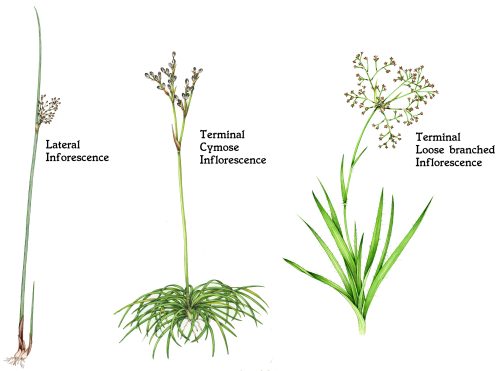 Having recently written blogs about the anatomy of grasses and sedges; this week I'll be examining rushes.  As with the Cyperaceae and Graminaceae, these common and beautiful plants are frequently overlooked.  Many seem to favour of wild flowers with florid petals and bright colours.  However, rushes deserve a closer look.
Hairy Wood rush Luzula pilosa
Anatomy of Rushes:  Overview of the Plant
Rushes are erect perennial herbs.  They have slender un-jointed cylindrical stems (or culms).  Rush stems are always round in cross section. They tend to grow straight and to be tufted in habit.  Although frequently grouped with grasses and sedges, they have a lot in common with the tulip and lily families, which are close relatives.
They often have creeping rhizomes.  Rushes will have few (if any) stem leaves.  If leaves are present they tend to be clustered around the base of the plant.  They can closely resemble the stem.  Leaves are cylindrical, channelled, or grass-like.  They have a sheathing base that clasps the stem.  In some rushes basal scales have replaced leaves.  Here, the stems take over the job of the leaves, photosynthesizing in their absence.
They have a flowering head, or inflorescence.  This may have an involucral bract directly below.
They produce fruits called capsules.
Rushes tend to favour woodland or damp habitats.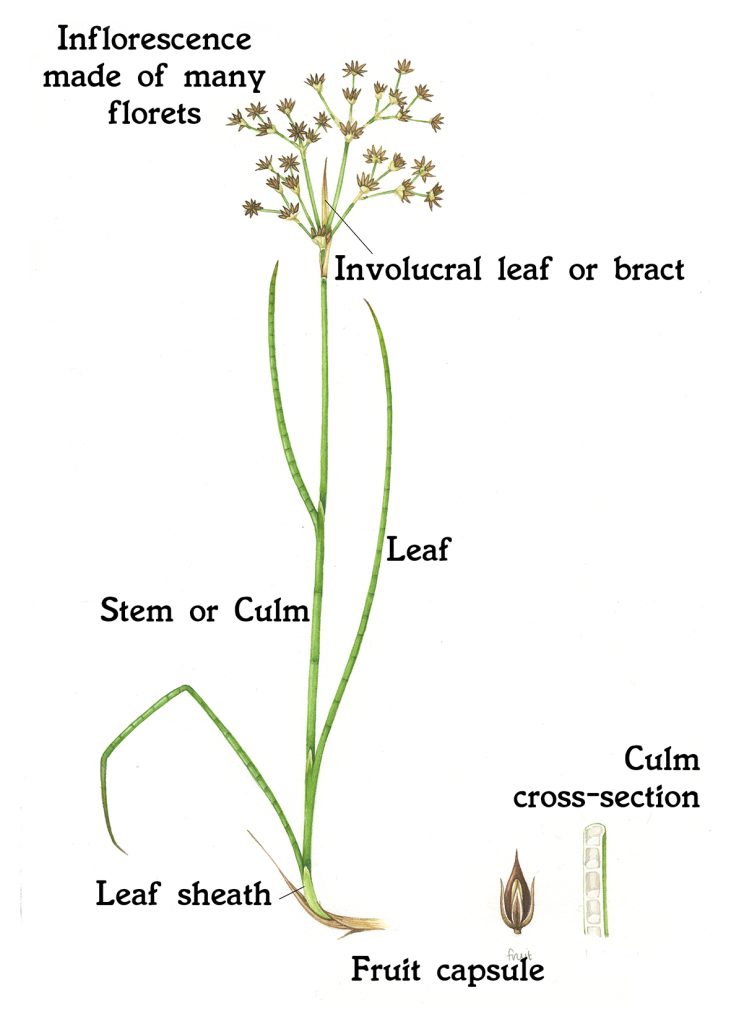 Anatomy based on the Sharp-flowered rush Juncus Acutiflorus.
Capsules
Rush capsules consist of three valves which open to release seeds.  Each capsule is enclosed by six papery perianth segments.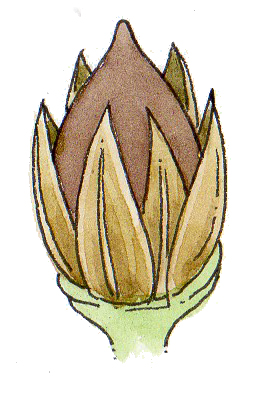 Diagram of a rush capsule, surrounded by perianth segments.
These capsules, and the perianth segments surrounding them, vary from species to species.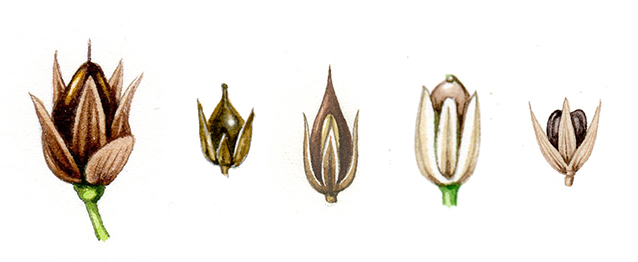 A variety of rush capsules from different species
Rush flowers
Rush flowers are bisexual and small.  They cluster and crowd together in one terminal inflorescence.  Sometimes these inflorescences look lateral, coming out of the side of the rush culm.  The flowers are wind-pollinated, so tend to be small and green, brown, or yellowish.  There's no need for bright colours to attract pollinators.
They can be produced in a lateral inflorescence (as with the Hard rush Juncus inflexus), or a terminal inflorescence (appearing at the top of the plant).  Terminal inflorescence form varies between species.  You may see a cymose inflorescence. This is where the central floret opens first and those clustered around open afterwards, as in the Heath rush Juncus squarrosus.   You might clock a loose branched inflorescence (as in the Greater wood rush Luzula sylvatica).
Terminology here is a little patchy.  Different sources refer to these flower clusters in different terms.  The thing to note is how the inflorescence looks, rather than the terms used to describe it!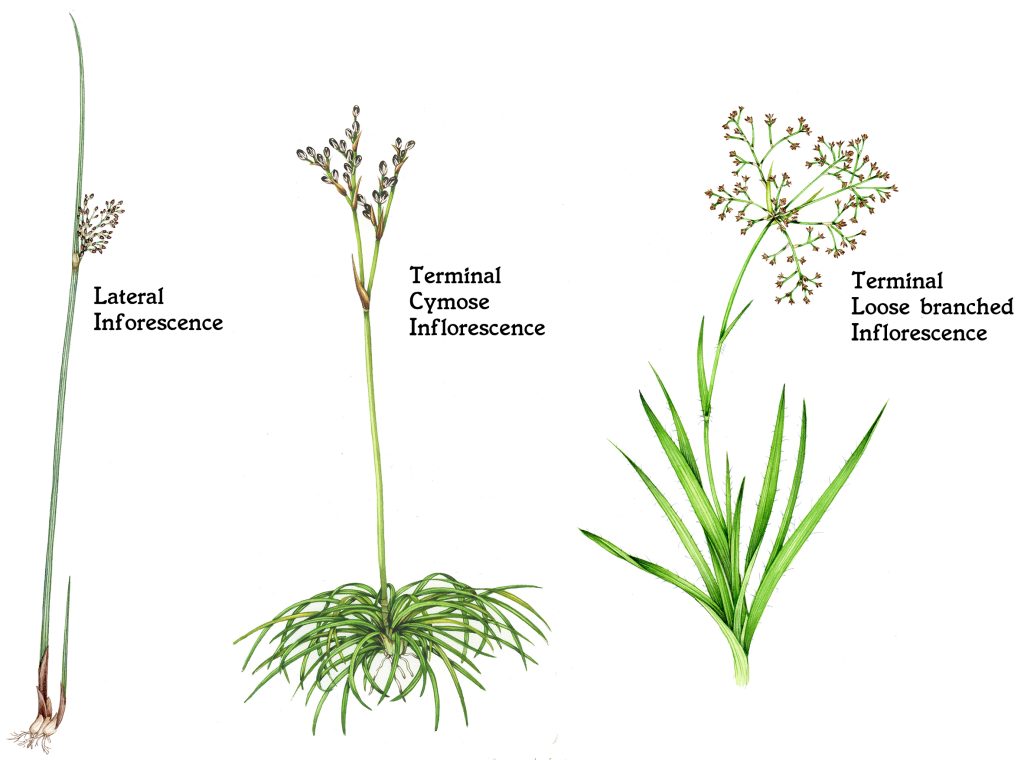 Inflorescence types in rushes (Hard rush Juncus inflexus, Heath rush Juncus squarrosus, & Greater wood rush Luzula sylvatica)
Structure of a rush flower
Each flower (or Floret) consists of six papery tepals, six stamens, and one superior ovary which bears three stigmas.  In rushes, (just to complicate matters) these tepals are often referred to as "perianth segments".
(A tepal refers to a flower part which is neither definitely a sepal nor a petal.  Tepals often look the same whether they're growing in the outer floral whorl where the sepals normally grow, or on the inner floral whorl where one normally finds petals. What we think of as tulip "petals" are often referred to as tepals.)
Rush flowers have 3 outer perianth segments, and 3 inner perianth segments.  Mostly, these look identical to each other and it really is only whether they're in the outer floral whorl or the inner floral whorl that allows you to tell them apart.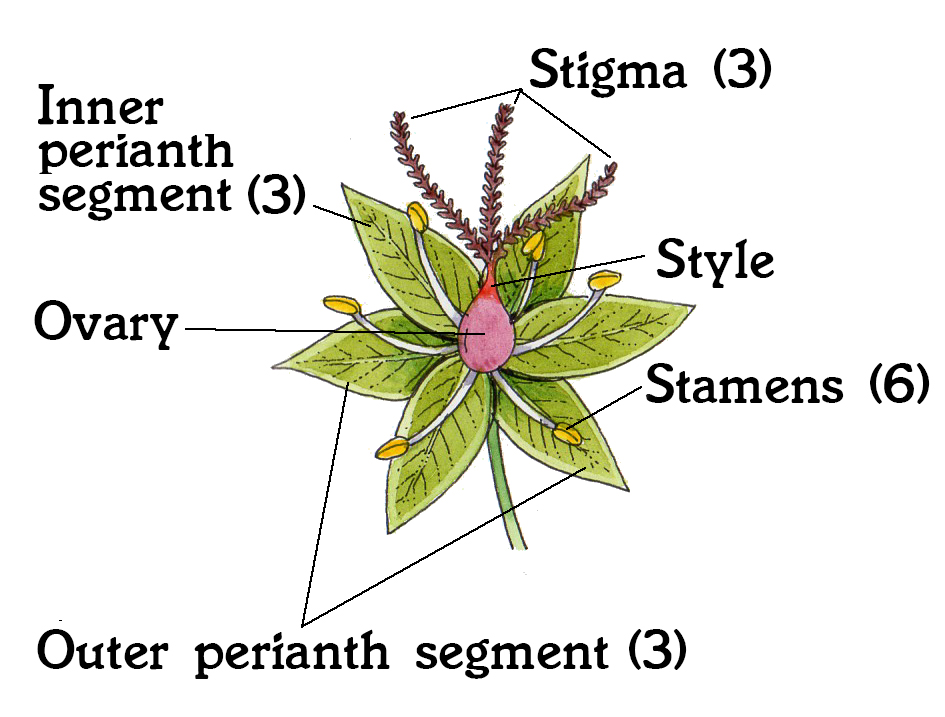 Diagram of the flower of a Wood-rush (in this case of the Field Wood-rush Luzula campestris)
(Image based on reference from "The Cambridge Illustrated Glossary of Botanical Terms" by Michael Hickey and Clive King.)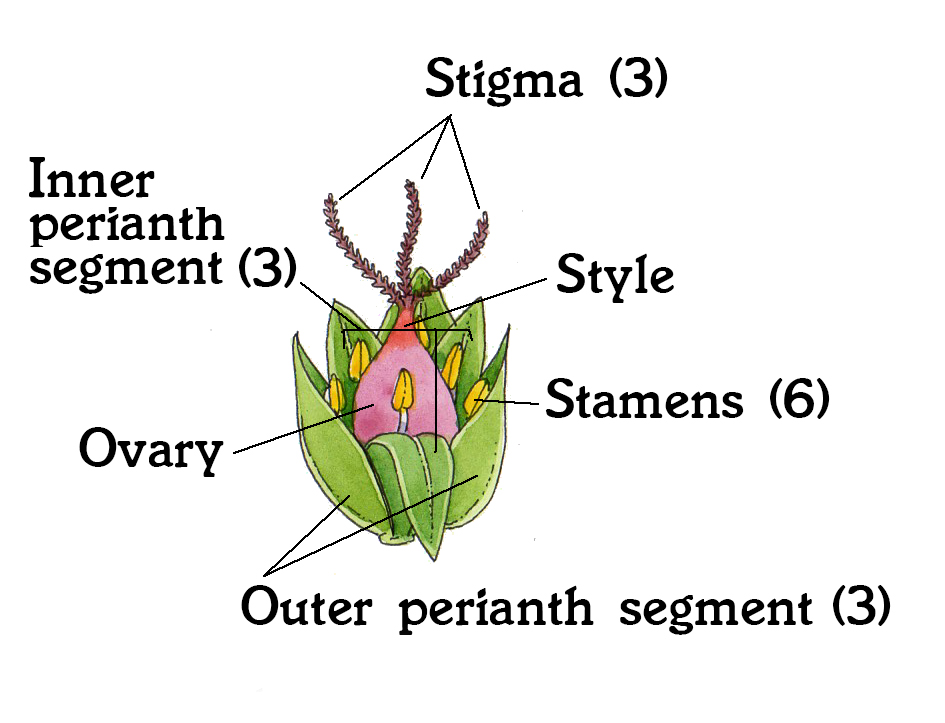 Diagram of the flower of a True rush (this is the Hard rush Juncus inflexus)
(Image based on reference from "The Colour Identification Guide to the Grasses, Sedges, Rushes and Ferns" by Francis Rose).
Why two flower diagrams, which are (in truth) very similar to each other?  Well, rushes are split into two separate genus with different characteristics, and it's important to know which one you're looking at.
True-Rushes: Juncus
True-rushes are familiar to anyone who has been out walking in damp or boggy areas.  They have very smooth, hairless stems which form clumps.  Their leaves, when they have them, are cylindrical, or channelled (as with the Heath rush Juncus squarrosus), and hairless.  In fact, the whole plant is glabrous.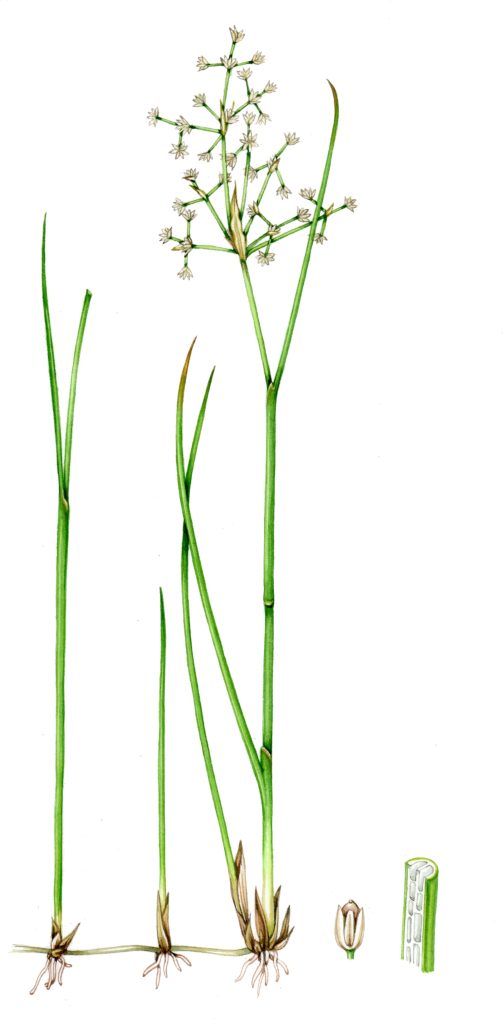 Blunt-flowered rush Juncus subnodulosus
Leaves can be hollow, have internal partitions, or be smooth in cross section.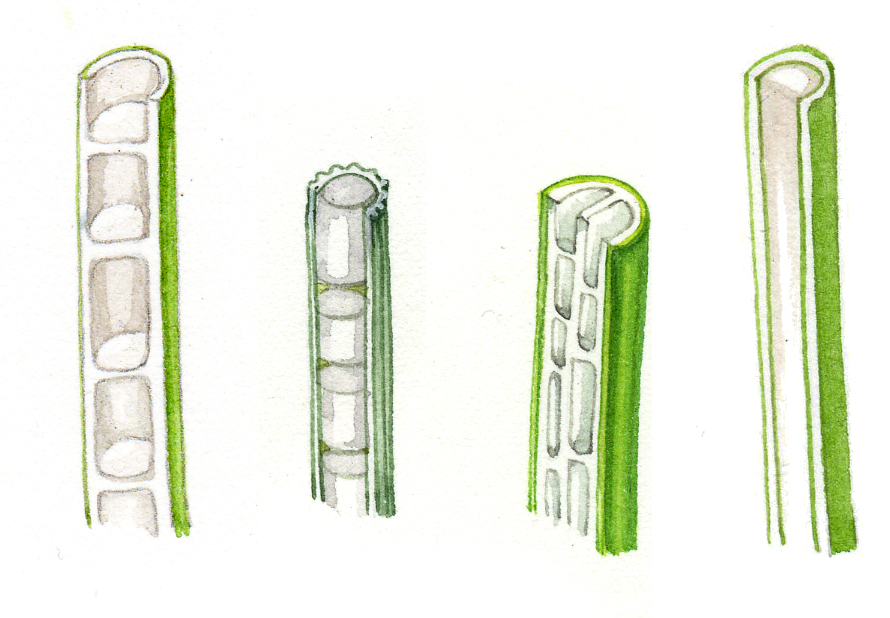 A selection of cross sections of leaves from different Juncus species
In some species leaves are reduced to basal scales.

Soft rush Juncus effusus
The culm is full of pith, a spongy soft white substance.  This may have internal cross walls or structures to help provide strength; so, as with the leaves, a culm in cross-section can be important in telling species apart.

The capsule of the True rushes bears loads of tiny seeds when ripe.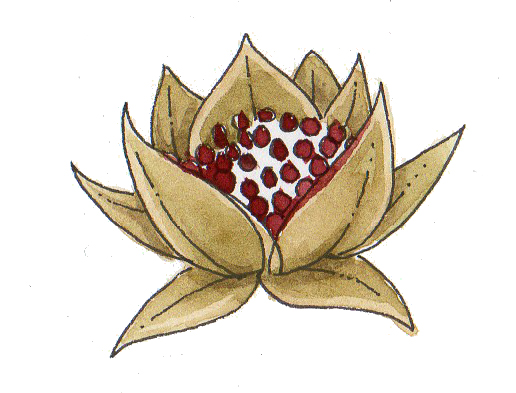 Diagram of the mature capsule of a Juncus species, with numerous seeds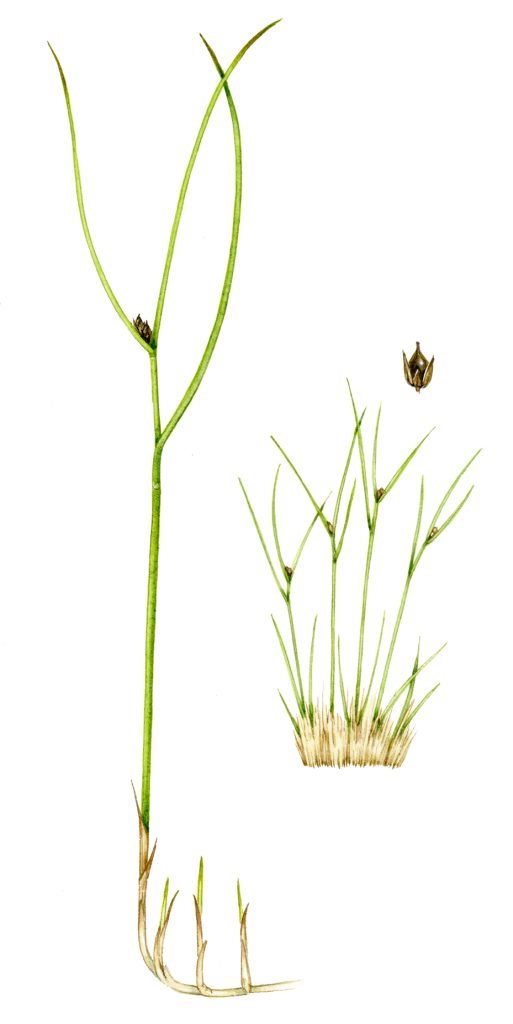 Three-leaved rush Juncus trifidus
Wood rushes: Luzula
Wood rushes, as the name suggests, tend to favour woodland habitats (although they can be found in meadowland).
They have leaves which resemble the blades of grass, and which are often hairy, especially towards their base.  These leaves are flat and comparatively wide, or folded over.  They have short sheathing bases.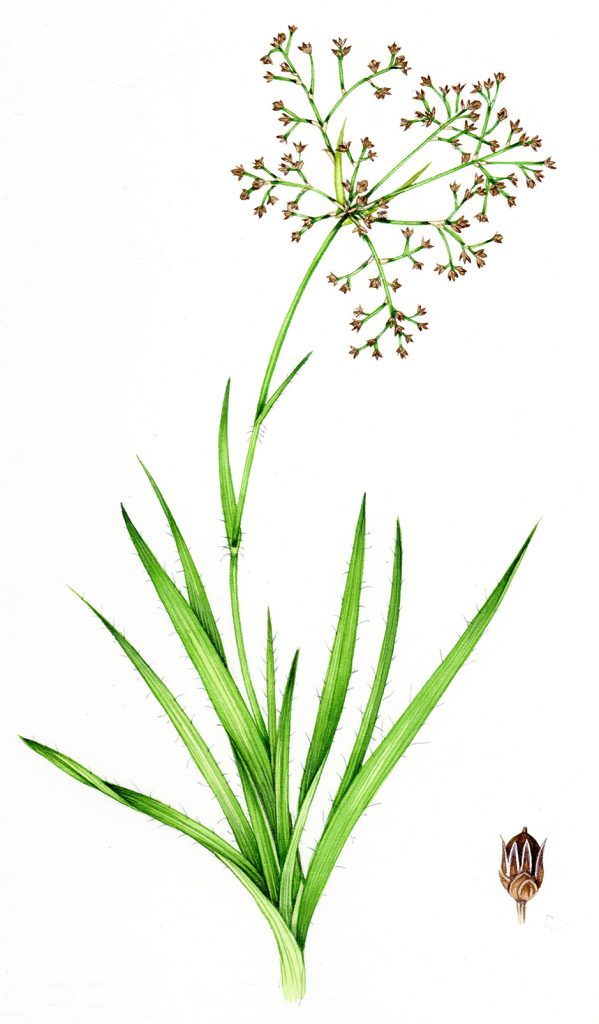 Greater wood rush Luzula sylvatica
The capsules of the Wood rushes have three large seeds at maturity rather than the numerous smaller ones borne by the True rushes.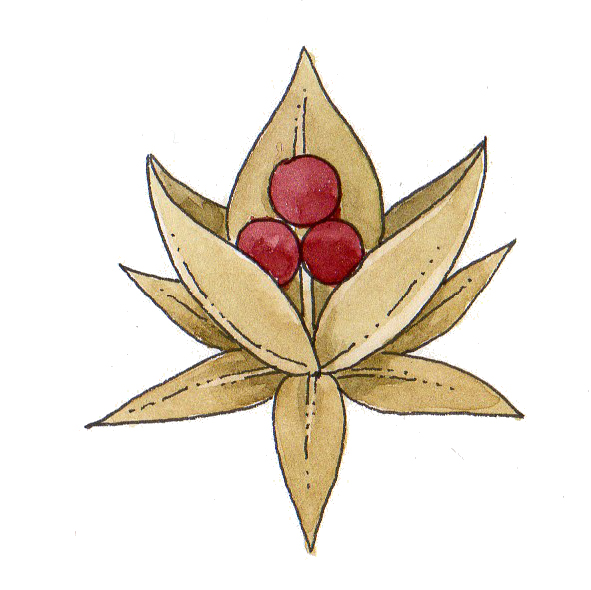 Luzula seed capsule with three large seeds inside
How to Identify Rushes
So what should one look out for in the field, when identifying a rush?
1. Leaves
Are the leaves present?  If so, are they wide and flat or cylindrical?  Do they have hairs?  Are they stem-like, or do they appear as basal scales?
Take a leaf apart and examine the pattern of the pith within, this can be a give-away with Juncus species.
2. Inflorescence
Where does the inflorescence appear, on the top or side of the plant?  Is it a tight cluster or loose and branched?
3. Perianth segments
Check out the shape of these segments, and how they enclose the fruit capsule.  Also look at their length in relation to the capsule.  Colour can be important, but there's often planty of variation between plants, so don't rely on this too heavily.
4. Capsule
What shape and colour is the capsule?  Is it bearing three large, or numerous tiny seeds?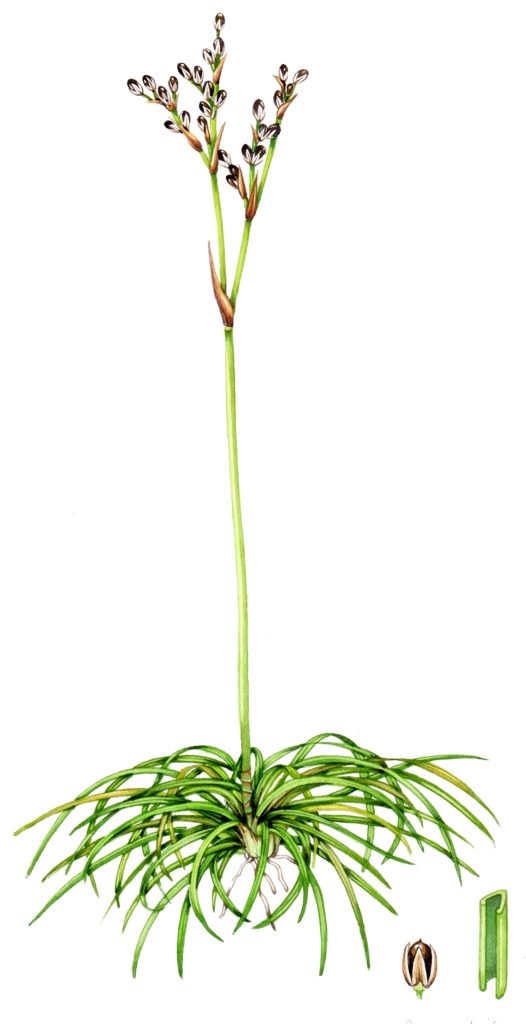 Heath rush Juncus squarrosus
Hopefully this introduction will have peaked your interest about the beautiful rushes we so often overlook.  I only started looking at rushes when I was commissioned by Field Studies Council to illustrate rushes, sedges and grasses for their lovely range of fold-out identification charts (on which many of these illustrations appear).
If you're interested in learning more about British and European rushes, there are some really good reference books: Colour Identification to the Grasses, Sedges, Rushes and Ferns of the British Isles by Francis Rose, Collins Guide to the Grasses, Sedges, Rushes and Ferns of Britain and Northern Europe by Fitter, Fitter and Farrer. You could also look at Collins Flower Guide by Streeter.