Illustrating a Cross section of Hay Meadow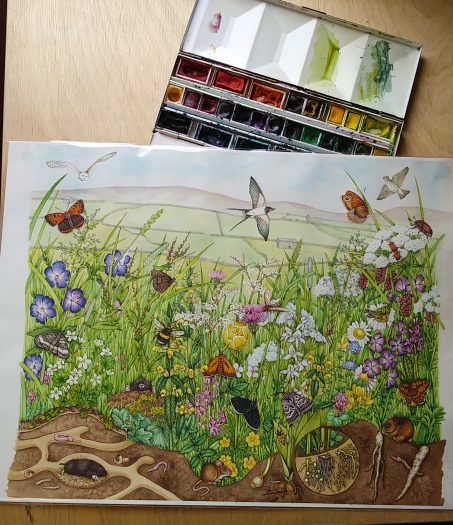 I had a wonderful natural history illustration commission recently, for BBC Countryfile Magazine.  Their article in the June 2018 issue, "The Secret Life of the Hay Meadow" by Phil Gates , needed an image of a cross-section through a busy and idealised hay meadow.  They also needed a selection of grasses commonly found in hay meadows.  I love grasses, and was excited about the cross section.  My dream job!
Brief on the Hay meadow cross section
First, I was briefed on the cross-section.  I was given a paragraph of text saying what elements of the hay field needed including, and what species to put into the image.  It was a complicated one; there's information ranging from tiny nitrogen-fixing nodules on a clover root all the way through to moles and swallows; underground information on root structure and distant views of hills and fields.  And a great deal of stuff to fit in!
I was also given the dimensions of the illustration, and where to put the "gutter" (where the magazine folds.)  It's important to avoid putting crucial elements of the illustration in this zone.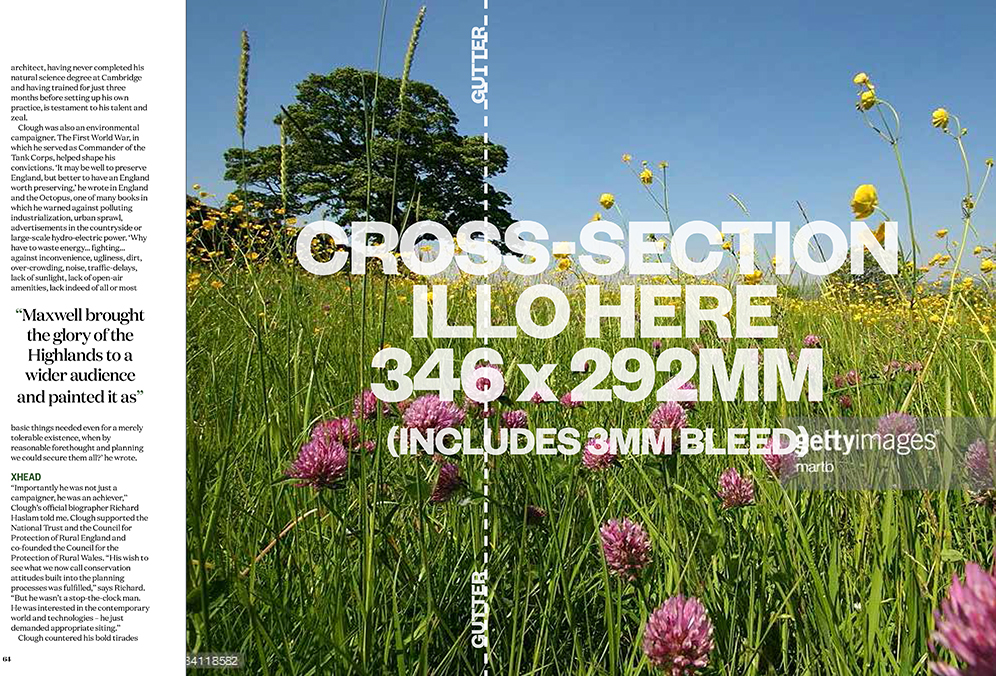 Information on the illustration size and where the magazine will fold, relating to the layout (BBC Countryfile magazine 2018)
Pencil roughs
First up, I do an extremely rough thumbnail sketch.  This helps me sort out where the different elements might all fit in.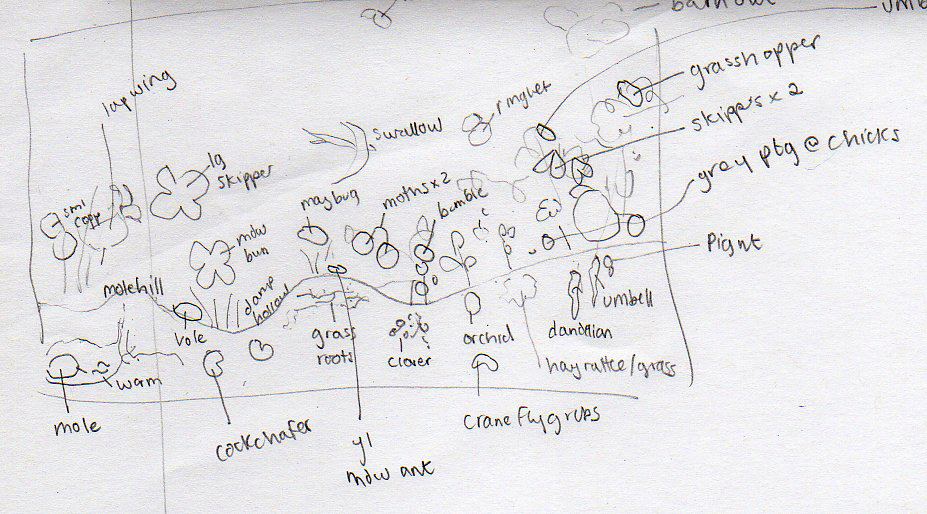 Thumbnail sketch
Next, I put together a species list and collect loads of reference to work from.  This comes from my sketchbooks, my own photos, books, online images, gets picked from the local fields or from my garden…  Every species needs to have reference, so this process takes some time.  If you're using photos, it's vital to alter them so that you neither infringe anyone's copyright or perpetuate possible mistakes that might be due to a dodgy photo.  Every visual reference needs to be cross-checked.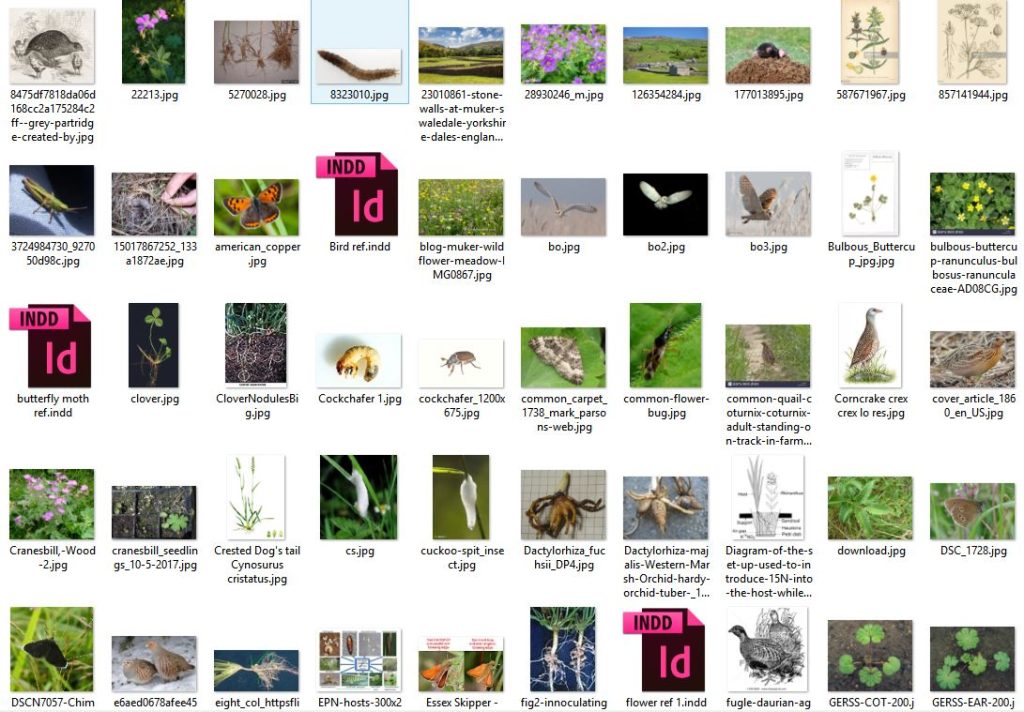 Screen shot of one of the "reference images" folders collated for the job.
Now everything's ready, I work up a slightly more detailed rough.  This is the spring board from which I can draw a very detailed rough.  Once completed, this gets submitted to the art editor at BBC Countryfile Magazine.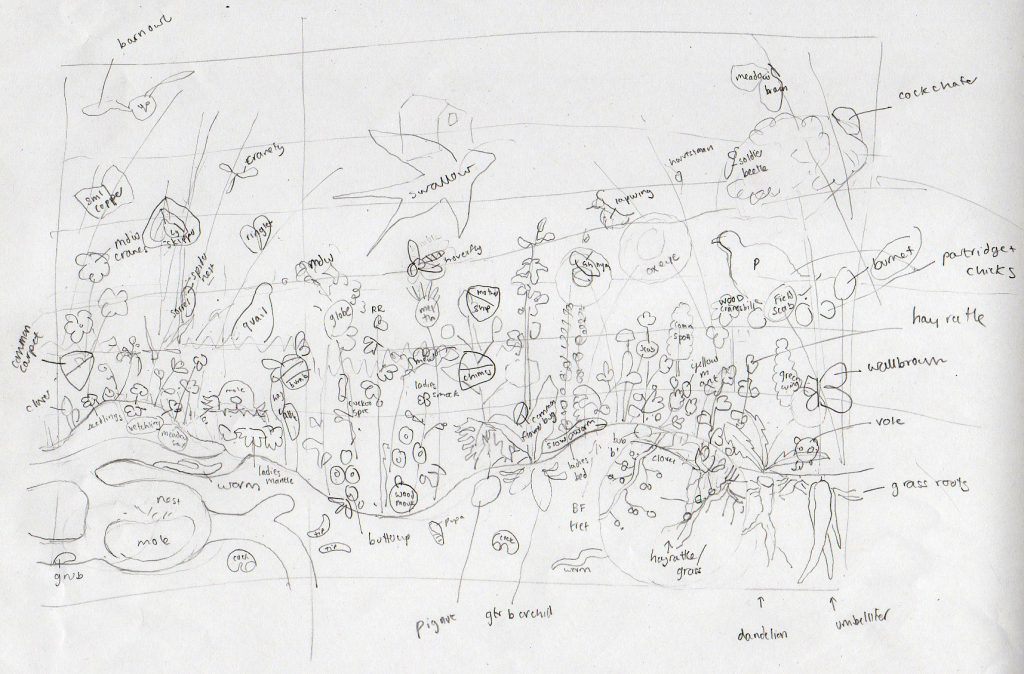 Second basic rough.
The more detailed rough is quite hard to read, so I tend to submit it as two image files.  One is a plain pencil line drawing, and one is annotated.  This means the art director can see what every element will end up being, and can start sorting out where to drop in labels and text for publication.  Each number relates to an item highlighted in the article text.  Annotations without a number tend simply to refer to the name of a plant or an animal.
Detailed pencil rough with annotations.
Changing the pencil rough
After getting feedback, I dropped the lapwing and family of partridges as the illustration was just too busy!   I make all other the required tweaks and alterations.  I had to have quite a complicated chat with Phil Gates about what the haustorium on a hay rattle root might look like.  These are super-cool structures that allow the semi-parasitic wildflower to parasitize the grass plants it grows alongside.   I also did some research on the root structure of the Pignut, and on mole burrow layouts.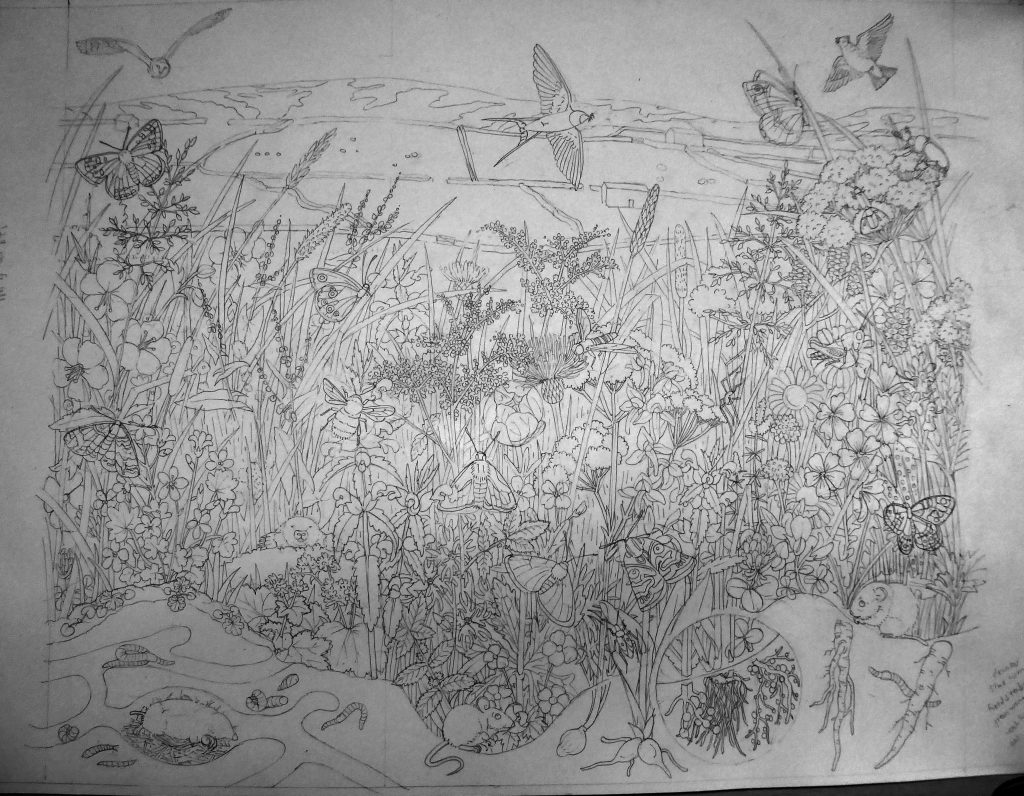 Detailed revised pencil rough (mid ground and partridge and lapwing have been removed).
Starting on the painting: Background
All problems are now ironed out, and it was time to start with the painting.
Firstly, I paint in the background landscape, ever so pale.  It has to be recognizable, but indistinct.  It needs to not distract you from all the other stuff that'll be going on in the foreground.  I'm lucky enough to know the hay fields at Muker in Swaledale quite well, so I based the landscape on that lovely and familiar view.  In fact, Swaledale is one of my favourite places on earth (see my blog on illustrating a golden plover in a Swaledale landscape).  Another reason to love this job.
The underground section felt like a different zone from the plants and butterflies in the meadow, so I worked into this next.  I enjoyed playing with the texture of the soil.  Using salt crystals on the paint as it dried gives a bumpy and soil-like appearance.  I also painted in the grubs and larvae that live underground, along with the moles and their burrow.
In seeing the top view and cross section as separate, I even found that I'd painted in the mouse's tail (which drooped over the earth zone) but not its owner!
Love them as I do, a background of grasses isn't the most fun thing to do, so I paint these in next, leaving white spaces for the wild flowers in the hay meadow, and the wealth of insect species that are to be included.  To avoid the whole piece looking flat, you have to use a wide palette of greens, which reflects the variety of hues in grass meadow species.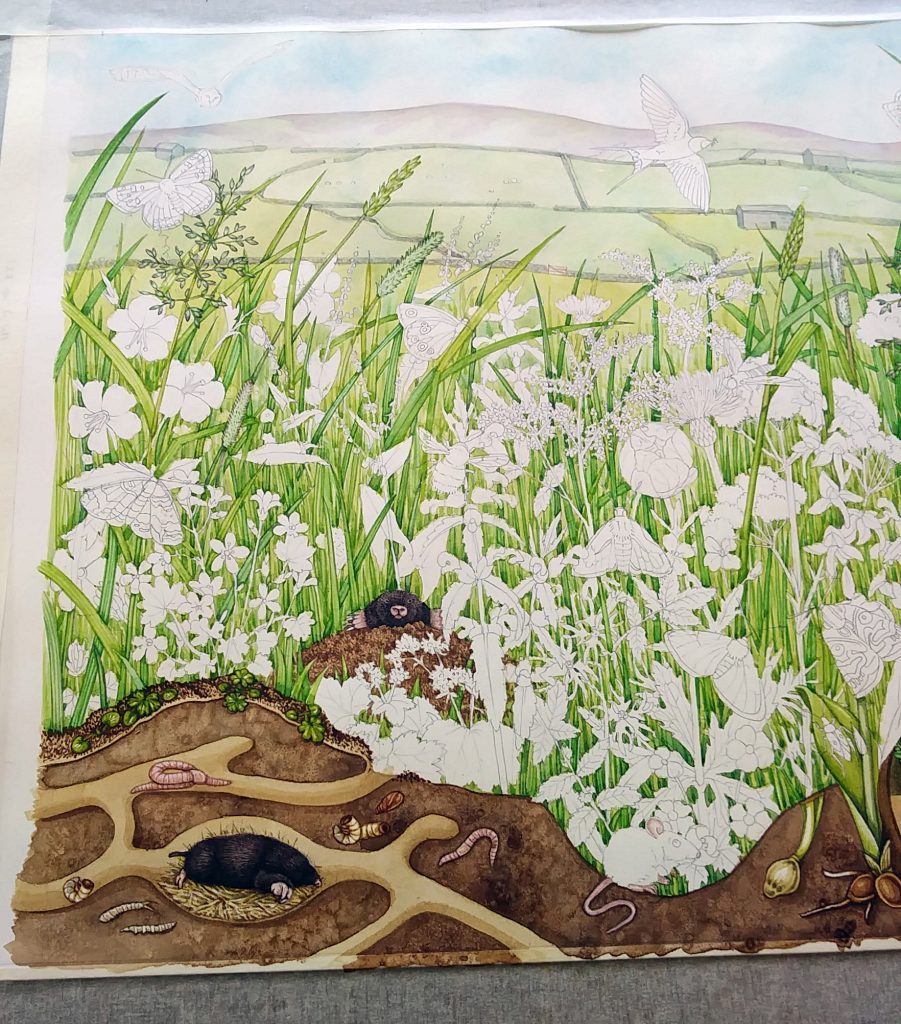 Painting in progress: The cross section underground zone, background, and grasses are done.
Painting the flowers and plants in detail
Then the wild flowers get added.  I also painted in the swallow, lark, barn owl, and more detail on the roots.  You can start to see how the painting looks more and more like a jigsaw, with white spaces where the insect and other animals will be painted in once the flowers are completed.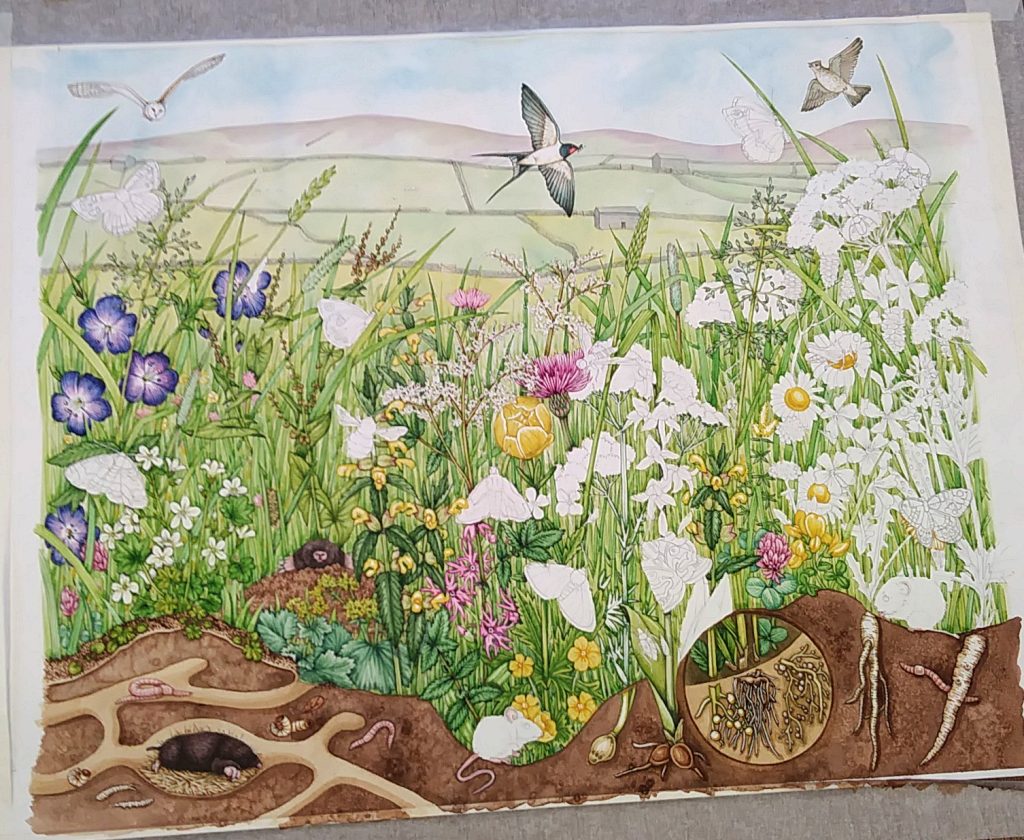 Painting in progress: The wildflowers get coloured in.
In this third photo, almost all the flowers and leaves are completed.  I love this moment, somehow it all feels possible, and I start looking forward to painting in the individual animals.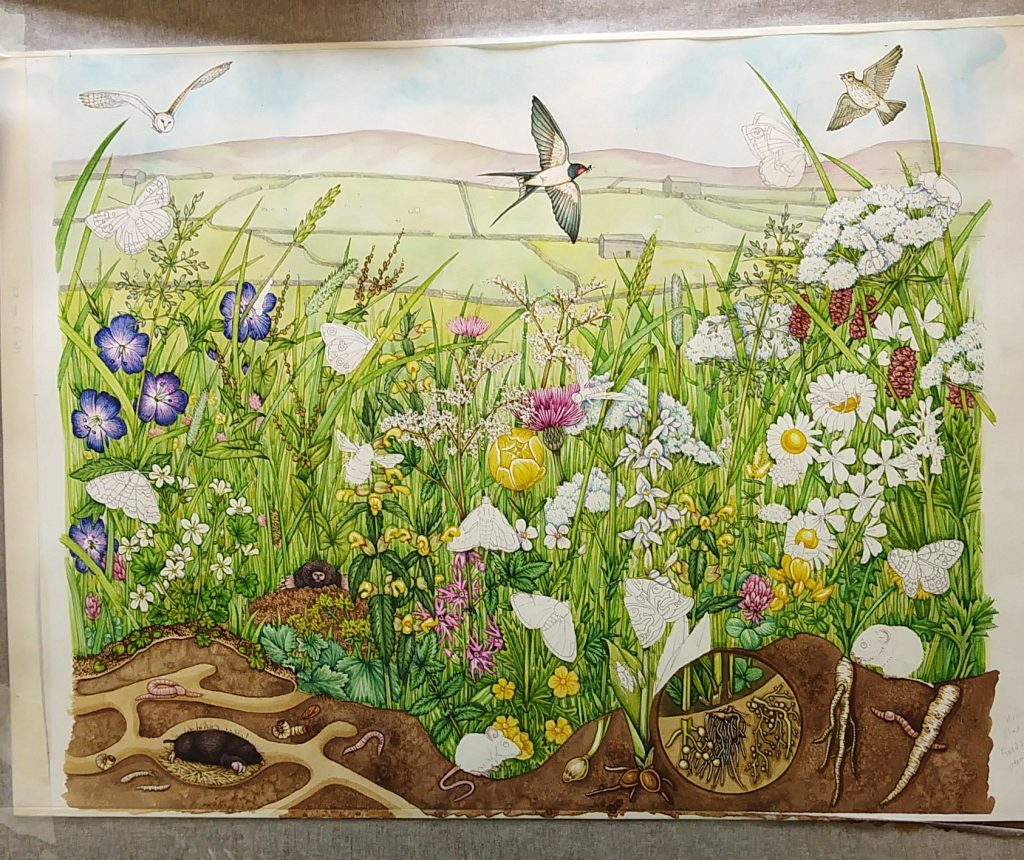 Painting in progress: Only the animals left to do!
Illustrating the animals
Despite the scale including barn owls and moles, it also includes harvestmen and tiny insects which require a certain amount of concentration to illustrate.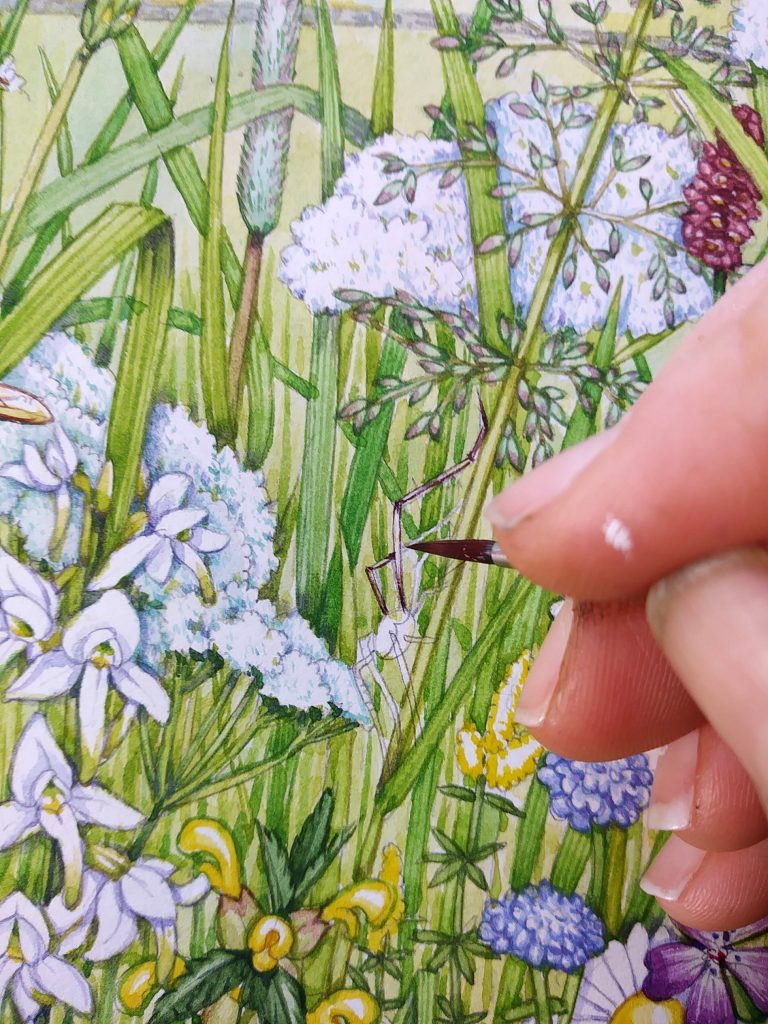 Illustrating the legs of a harvestman with my trusty Winsor & Newton series 7 brush (number 1)
It feels amazing when the last insect wing is coloured, and all the pieces of the jigsaw have slotted in together.  I take a few minutes to tweak the shadows, popping in darker shadows which help give a little depth.  The finished piece looks nothing like reality; but provides a biologically accurate diagram on which to hang the magazine article.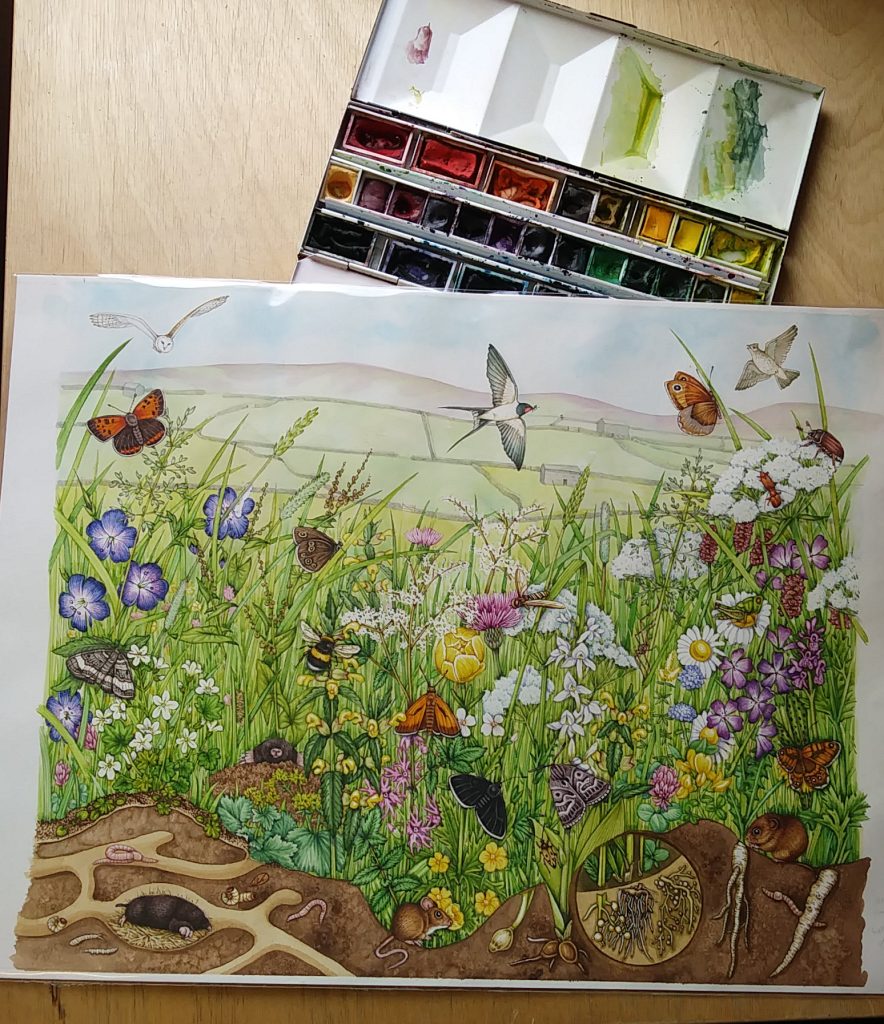 Completed illustration, with my paint box
I then take the painting off to my local printers where they scan it in on their A1 scanner, and then that scan gets passed on to the art editor and I file my invoice.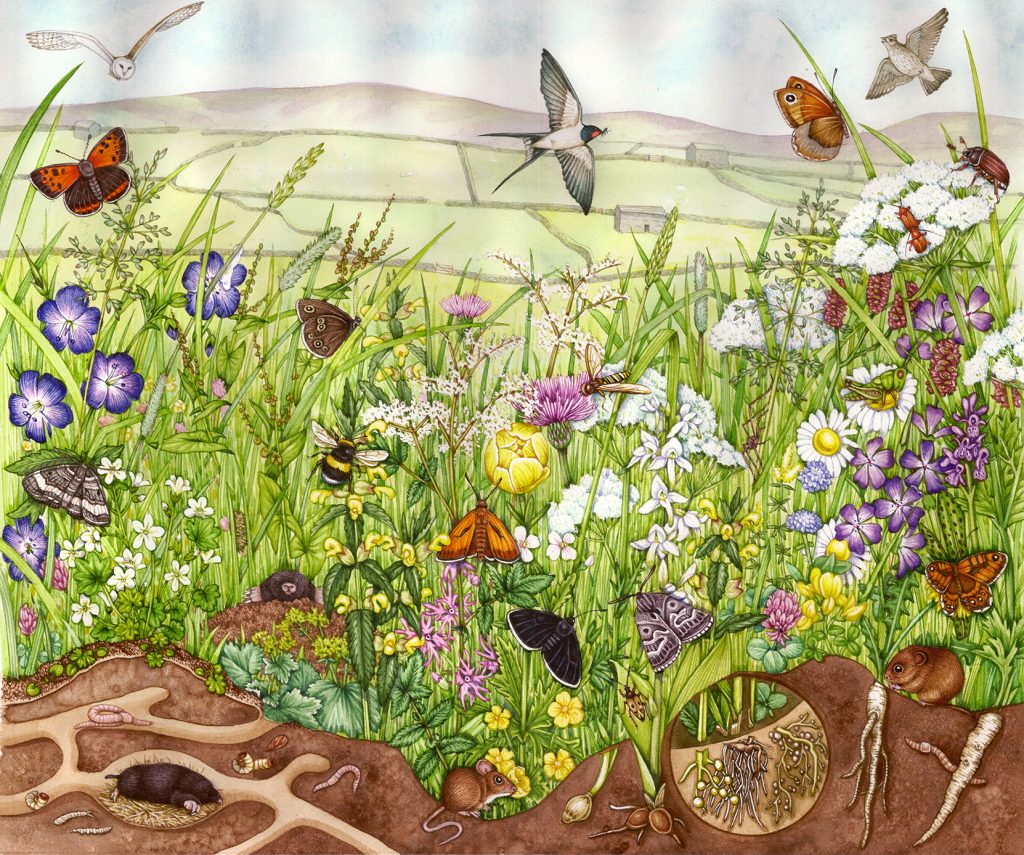 Final illustration of a cross section of a hay meadow in summer
Botanical illustration of two grasses
Meanwhile, I also completed two grass illustrations as they were the only two species from the "Common grass species of Hay meadows" that I'd not already painted and been able to re-use in the magazine.  These were far easier; the Sweet vernal grass grows everywhere (including my garden) and I love Quaking grass and have a plant of it in the garden.  Reference sorted!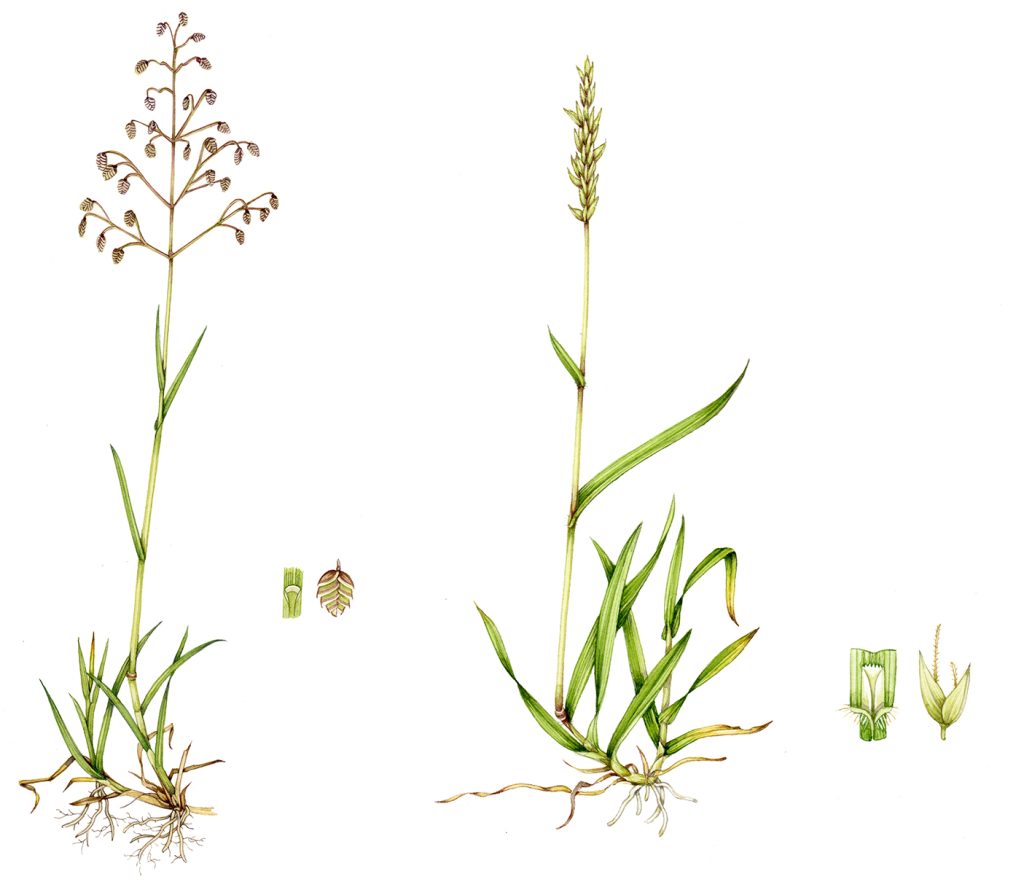 New grass illustrations: Quaking grass Briza media & Sweet vernal grass Anthoxanthum odoratum
The next task is to forget all about it until the magazine came out in June 2018.
Seeing the work published in BBC Countryfile Magazine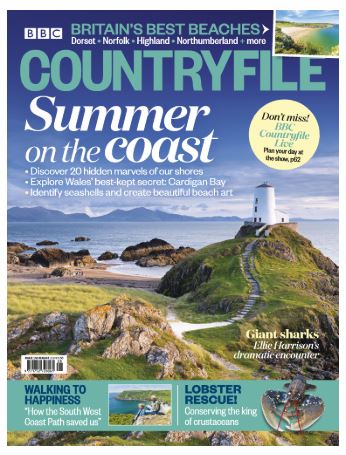 Cover of BBC Countryfile Magazine, June 2018
I love the way they've annotated the illustration, it's very unobtrusive and allows the illustration to stand strong as a double-page spread without being drowned in text.  I think it looks lovely in context (it's always a treat seeing your illustrations reproduced ), and was so pleased to have collaborated both with the magazine and with Phil Gates.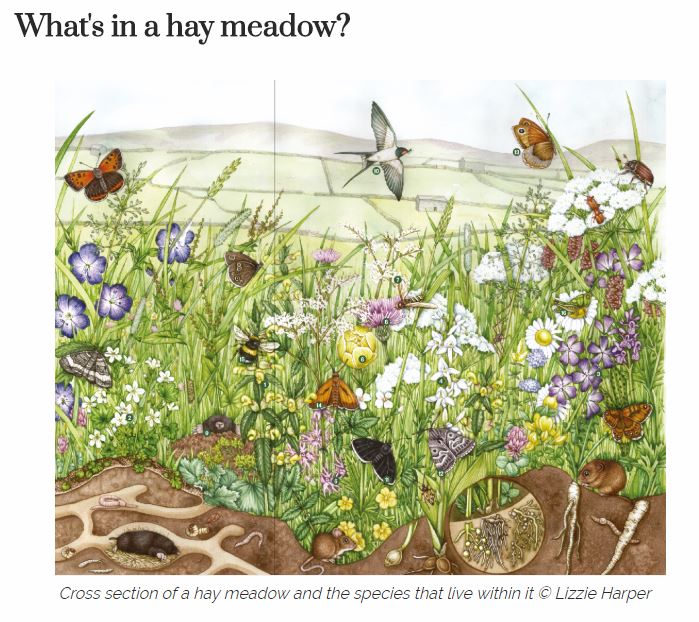 My hay meadow illustration in context; BBC Countryfile Magazine June 2018
They also laid out the grasses species beautifully, and managed to make them look far classier that my original illustrations normally do!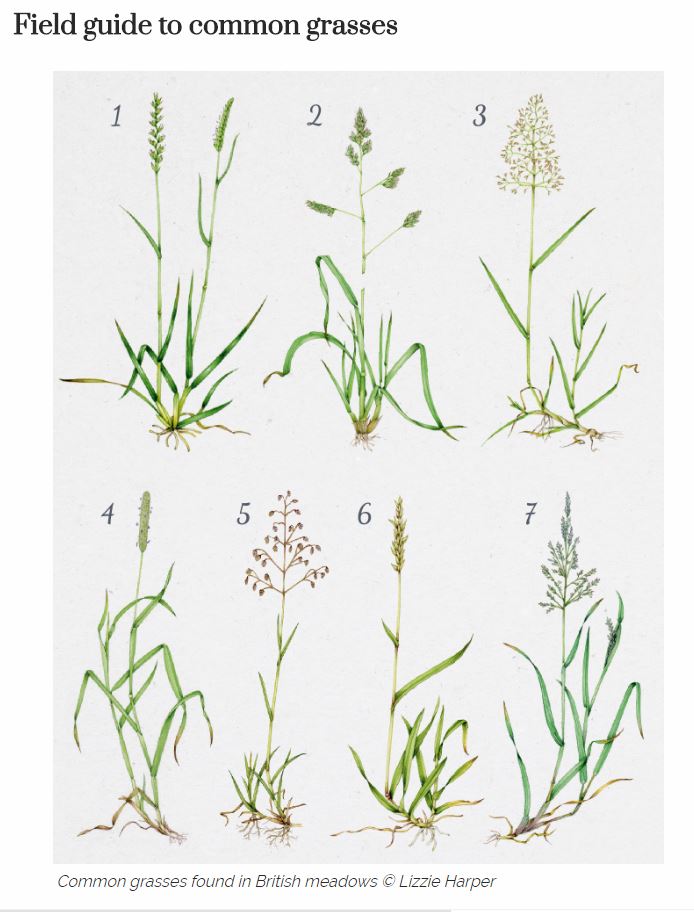 BBC Countryfile Magazine 2018 (click on the link to find what species are illustrated here!)
So that's the tale of a dream job, start to finish.  I loved it; the art editor was enthusiastic and encouraging, Phil Gates was well-informed and generous with his knowledge and his feedback, the reproduction and layout flattered my work…and I sold the original a month later!