Illustrating at the New Naturalist Symposium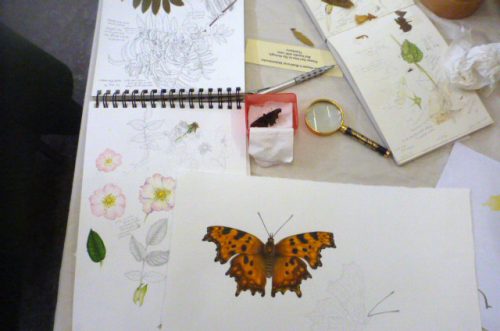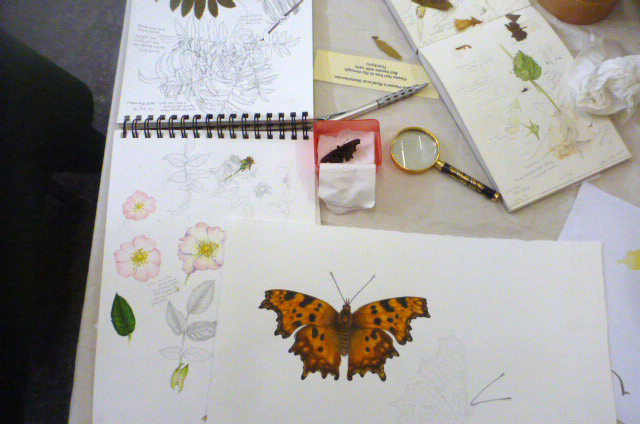 Being a natural history illustrator means you need to draw wildlife, plants, and animals.  You also need to market yourself.  One of the less painful ways to do this is to attend events such as the biannual "New Naturalist Symposium", this year held at the Oxford Museum of Natural History.
What are the New Naturalist titles?
The "New Naturalists" are a fabulous series of books.  They're erudite and accessible, and cover different aspects of natural history.  They're written by experts in the field with a passion for their subject, and are things of beauty.  The New Naturalist books are published by HarperCollins.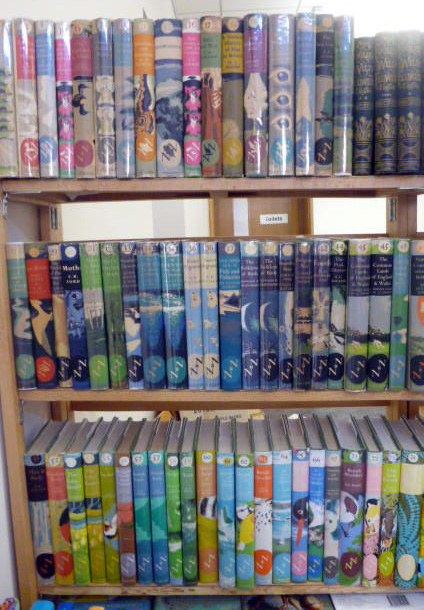 New Naturalist Books on sale at the conference
Demonstrating at the New Naturalist Collector's Symposium
The symposium is a wonderful event.  Authors discuss their writings, discoveries, or favourite volumes.  A phenomenal amount of networking between scientists, publishers, and booksellers goes on; and there are fascinating talks throughout the day.
I was invited to come and demonstrate natural history illustration and sell my wares.  My friend and eminent botanical illustrator Christina Hart Davies came along too.
I set up my stand selling originals from the HarperCollins Flower Guide by David Streeter (who was there and in fine fettle), sketchbook studies of plants, and cards.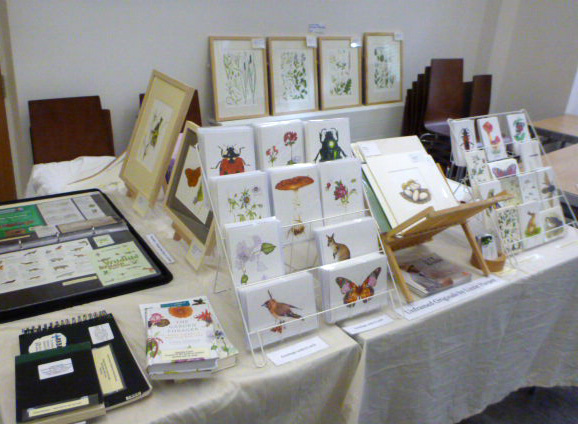 My stand at the symposium
I also worked on a watercolour of the comma butterfly, and got chatting to scientists and emminent entomological illustrators.  Nerve racking, but excting too, to have my work scrutinised by such experts.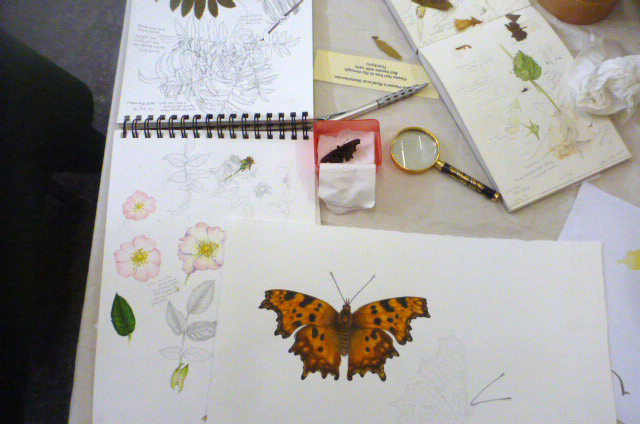 Watercolour of the Comma butterfly with my botanical sketchbooks behind
Lectures at the New Naturalist Collector's Symposium
For me the highlight was attending a talk on the first ever New Naturalist book, "Butterflies" by E. B. Ford.  Not only did I learn about Ford (rather cantankerous and a notorious misogynist), but I also learnt more recent reseach findings.  One species of the Blue butterflies, long known to associate with ants and have "cuckoo" caterpillars which are fed by the ants they predate on, secretes chemicals to mimic the ant grubs.  This explains why it gets fed by the colony.  The caterpillar also "sings", mimicking the noise made by the queen ant, and thus getting attention and protection of the highest order – in times of stress the caterpillar's disguise results in it being fed ant grubs by the ants themselves!
I also learnt that the entire population of the Silver Y moth Autographa gamma migrates to and from Britain every year; a phenomenal feat for such a tiny insect.
Filled with the excitement of these new discoveries, and delighted with the Christina Hart-Davies lichen painting I swapped fro my study of an Aquilegia, I left Oxford.  It was a wonderful day, and a thrill to have been invited to such a fascinating and erudite event.