Crickhowell Art Trail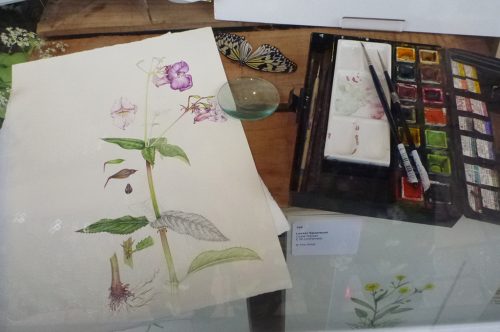 Taking part in Crickhowell Art Trail
It's been a busy few weeks for this natural history illustrator.  Hay Festival, demonstrating at the National Botanic Gardens of Wales (more of which next week), and illustrating and meeting the public during Crickhowell Art Trail.
Bookish is a wonderful independent book shop in Crickhowell.  They asked me to be their artist in residence over the bank holiday weekend, when this bustling and delicious little town is crammed with visitors on the trail of art.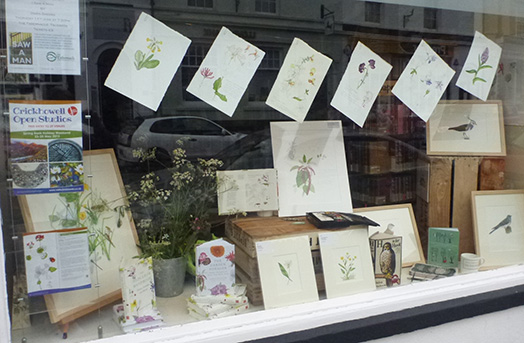 My natural history illustrations in the window of Bookish, Crickhowell
The reason why Bookish invited me to take part in the Crickhowell Open Studios event is because one of their members of staff is Adele Nozedar. Adele is a reknowowned forager and author of both "The Hedgerow handbook" and "The Garden forager".  These are books which I've illustrated with my sketchbook botanical illustrations.  Not only would it tie in with the shop, but it could help promote sales of the book, too.  Everyone's a winner!
Mounted, framed, & loose pages of my botanical sketches in the window of Bookish, Crickhowell
Setting up for Crickhowell art trail
The Crickhowell art trail/Open studios runs over the May bank holiday weekend.  This year took it involved 29 venues and featured the work of over 200 artists.  Printmakers, sculptors, furniture makers, fine artists, and illustrators all are around, showing and selling their work, and discussing what they do with the public.
I was keen to get people involved, not only talk to them, so provided art materials.  A anyone who fancied it could have a go at botanical illustration.
Spare watercolour box and some tools of the trade in the window of Bookish, along with sketchbook study of Himalyan balsam (see last week's blog for more on this plant).
Trying your hand at botanical illustration on the Art trail
Interestingly, the only people who take the opportunity are children.  Tthey seem to love to have the chance to work with really good quality equipment (Winsor and Newton paints and brushes, Fabriano hot press paper) with a little input from me.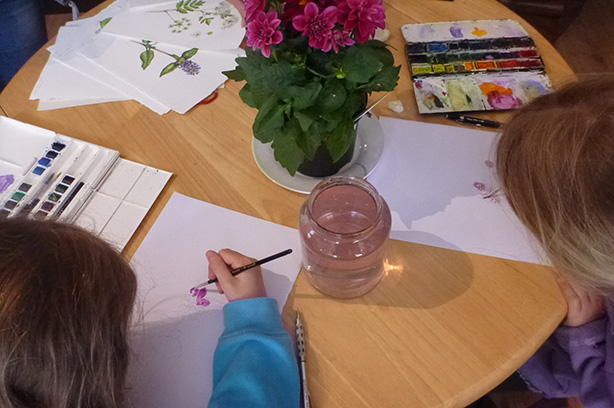 Two children painting a dahlia from life in Bookish, Crickhowell
There was a steady stream of fascinating visitor.  Topics as diverse as saw mills, dryads, and insect egg cases were covered.  Plenty were generous enough to buy my work and greetings cards, which is always a wonderful feeling.  A few came for repeat visits, to see how I was progressing with my dahlia illustration (answer: very slowly).   I got to hear about all the other wonderful things that were going on over the weekend.
This study of a geranium was done by an 10 year old from a potted plant.  Not bad, eh?
Thoughts on Crickhowell Art trail
It's always exhausting demonstrating, but it's a total luxury to meet people who say complimentary things about your work.  What other profession gets to hear positive feedback from total strangers?  I also find talking about what I do helps me consolidate and reflect on the processes involved. Describing my techniques means putting them into clear words.  This is a very useful excersize, and provides focus.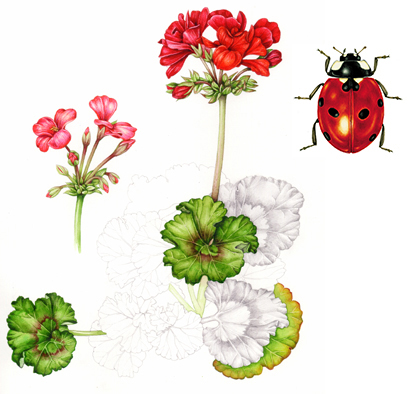 Promotional illustrations used by CRIC to publicise my work during Crickhowell open studios
Being at Bookish, with streams of visitors, the chance to promote The Garden Forager and to sell work, getting to watch the magic of children tackling drawing from life, being given cups of tea and having fascinating chats with both members of the public and the lovely people who work there was a real treat.  Who knew that earning a living could be so thoroughly enjoyable?
Next year, though, maybe I'll be doing the Art Trail rather than demonstrating, I'd love to know who else was out there and what they were creating!