Illustrating at the National Botanic Garden of Wales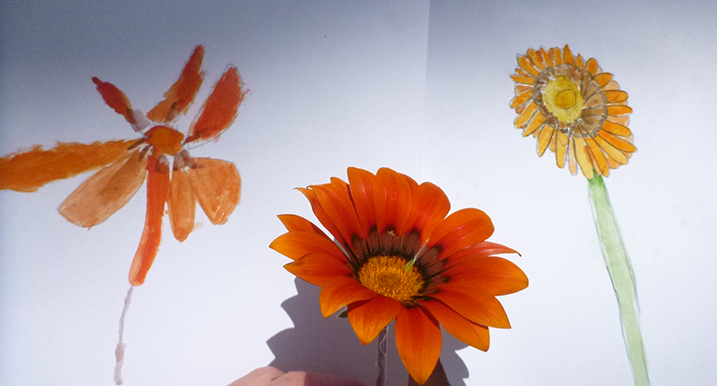 My botanical illustrations have just appeared in The Garden Forager by Adele Nozedar, so we were honoured to be invited to the National Botanic Gardens of Wales to celebrate its launch.  We also took part in a foraging weekend.
Setting up in the Botanic Garden's Glasshouse
The event was based in the glorious glasshouse, and I have rarely been prouder of my stall than I was this time.  Anything looks phenomenal in such a setting, and I'd been given plenty of space to show my work.  I could demonstrate what I do, and encourage visitors to try their hand at botanical illustration.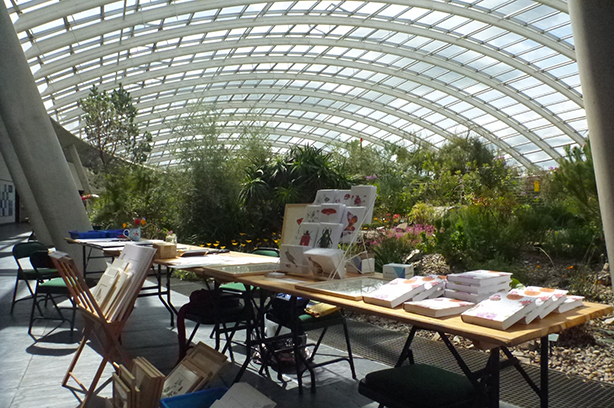 Space for my illustrations, teaching, demonstrating, and to sell copies of The Garden Forager
Teaching Botanical illustration at the Botanic gardens
On both the Saturday and the Sunday there was a steady stream of people interested in trying their hand at botanical illustration.  I'd been permitted to pick specimens from the glasshouse.  This meant I could allow the children who took the time to draw to take their picture and the specimen home with them.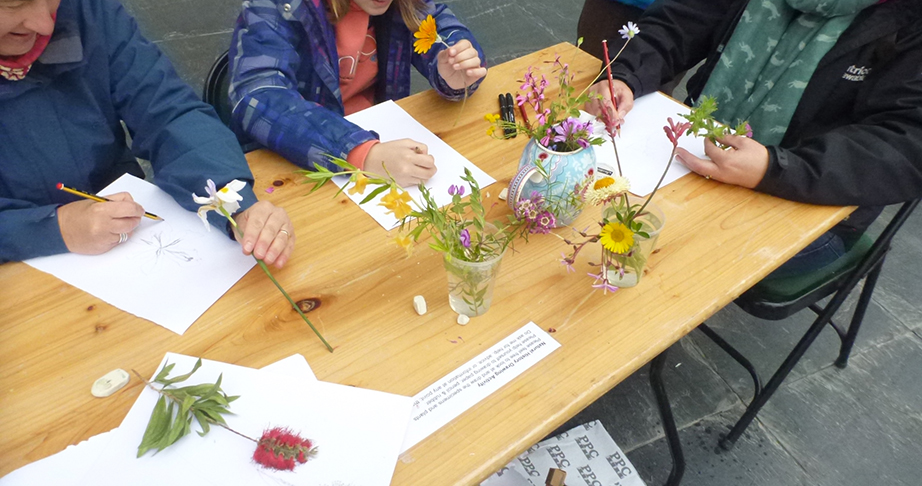 Botanical illustration workshop in progress
I asked them to choose a plant and draw it in detail in atonal pencil first, and then encouraged them to use my paints and brushes to give it colour.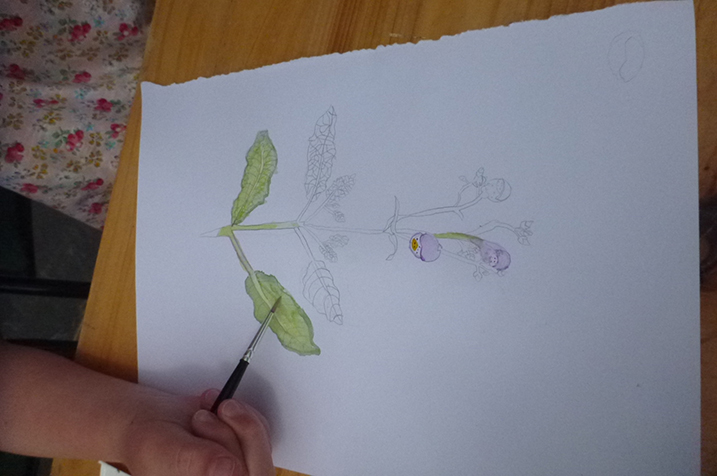 Brilliant illustration of a plant from the glasshouse done by a visiting child, working into leaves
When there were only one or two people at work it was pretty straightforward, but at times I had four children all illustrating different plants at the same time.  This proved tricky with the younger ones, but they all behaved beautifully as they waited for tips and hints and advice on what part of the plant to draw next.  As is often the case, the children became so engrossed in what they were doing that the parents wandered off, bored long before their infants were.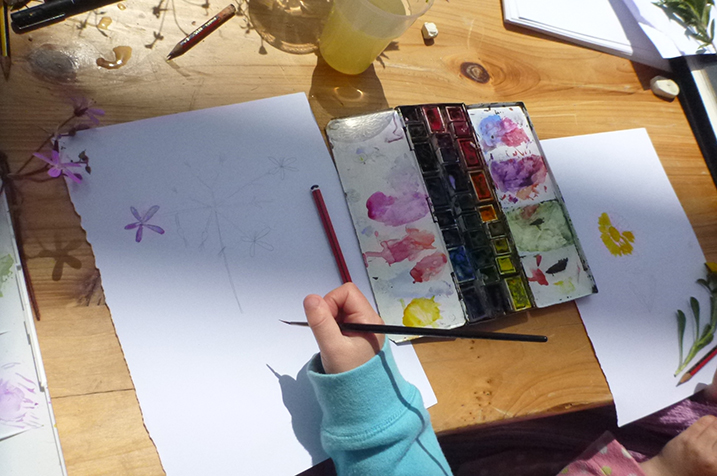 A six year old applies paint to their botanical illustration
Over forty people painted with me, of these only three were over 10 years old.  I still haven't come up with ideas as to why this might be, but it's interesting.
The most popular plant to illustrate was a glorious orange daisy; I fear we rather depleted the stock of these beauties by the end of the weekend, but there were a lot of really proud children going home with a daisy in one hand and their watercolour in the other.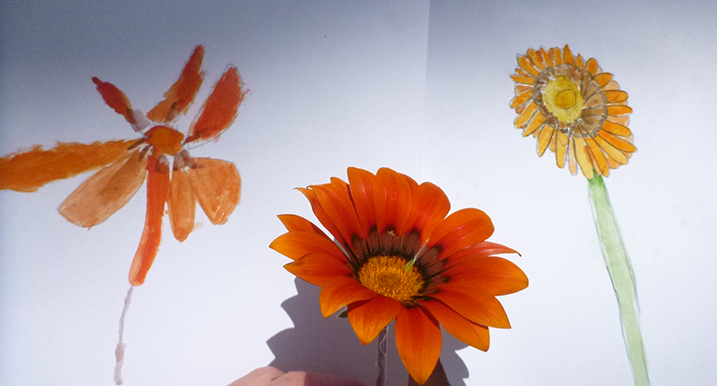 Other fun activities at the Botanic Gardens
The plant and two illustrations
There was a great deal more going on over the weekend than what I provided.  Foraging walks and talks with Adele Nozedar and other experts in the field of foraging took place.  Probably the best pizza I've ever eaten was served from an earth oven on the back of a trailer, garnished with foraged flowers.  There was an amazing array of delicious treats to buy on sale.  Experts on foraged plants and apothecary (and plants' use in modern medicine) were giving guided walks.
My coup was exchanging illustrations of wild garlic and yew for some ridiculously tasty foraged foods, sauces, syrups and cordials made by Jade from Wild Pickings.  Needless to say, these delicacies barely lasted the week once brought back to my family; truly delicious stuff.
Although we were busy, Adele and I were spoiled rotten as we were put up in the incomparably luxurious Llwyn Helyg Guesthouse by the National Botanic Gardens of Wales.  They certainly know how to treat their demonstrators right!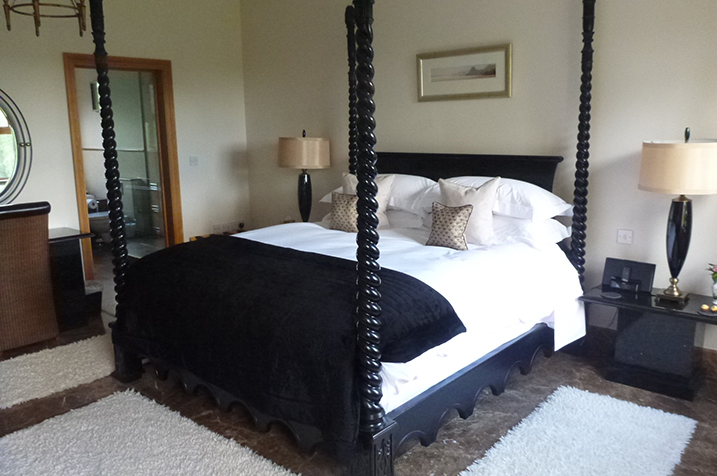 My room at the Llwyn Helyg Guesthouse in Llanarthne
There's every hope that next year will see another foraging weekend at the National Botanic Gardens of Wales; it has to be said that it was a fantastic event in a gorgeous place and I think I'd be very tempted to return…