Inspirations – John Ruskin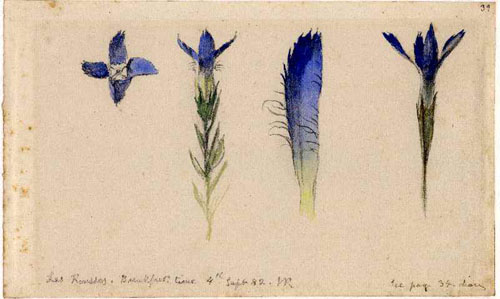 A recent talk on the botanical illustrations created by John Ruskin was informative and inspirational.
The Ruskin Library
Illustrations by John Ruskin are from the fascinating collection at the Ruskin Library, Lancaster University, which is open to the public.
In a full hall in Gloucestershire, members of IAPI (Institute for Analytical Plant Illustrators) and the Gloucestershire Society for Botanical Illustration were treated to a wonderful lecture on Ruskins's flora by David Ingram.
Ruskin's first flower study, done in 1842, was of the Wood Sorrel.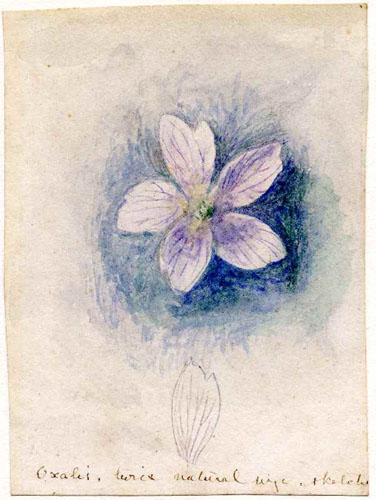 Wood Sorrel Oxalis acetosella 
You can see it's a careful botanical observation, like all his floral studies.
Sketchbooks
These sketches were not meant for display or public viewing, appearing in notes to friends and family, and in sketchbooks.   This milk thistle was painted in the margin of a letter..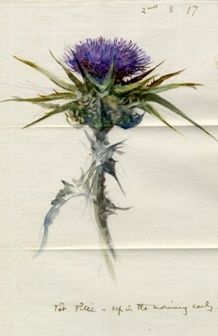 Milk Thistle Silybum marianum
In 1844, Ruskin visited the alps where he collected and pressed flowers.  He became saddened by how fast the colours faded.  Soon he was sketching to record specimens.
An early example is this pine tree twig, painted in his diary.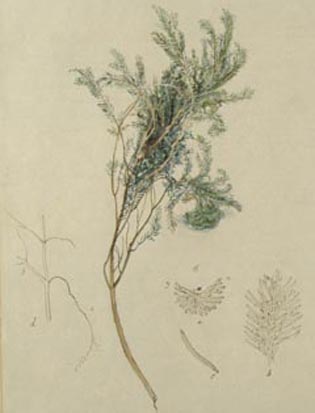 Pine Pinus spc
Learning through drawing
He believed one learns through drawing, and said, "nor can the character of any tree be known until…not only its branches but its minutest extremities have been drawn."
This embodies his attitude to learning from his art, he believed that you could learn to see by drawing.  I couldn't agree more.  (See my blog on this).  On countless occasions I'll discover a hundred new things about a specimen as I draw it, things I wouldn't notice unless I'd been illustrating it.
His studies are inspirational for their accuracy, detail, and passion.  He required his art to show the "…relationship between form and underlying anatomy, physiology, growth and nature" (from Modern Painters by Ruskin)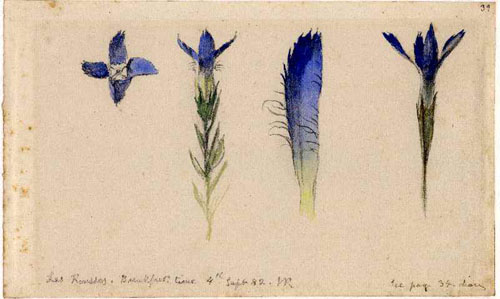 Fringed gentian Gentianella ciliata
In 1875, Ruskin published a book on botany, "Prosperpina".  It set out to replace traditional Linnean classification with a woolier approach relating to plant uses.  Despite the non-scientific approach, his botanical studies remained accurate, exemplifying his observational skills.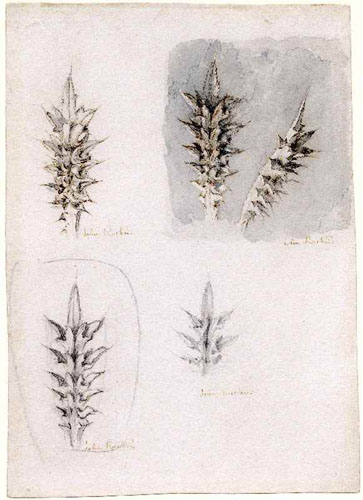 Marsh thistle Cirsium palustre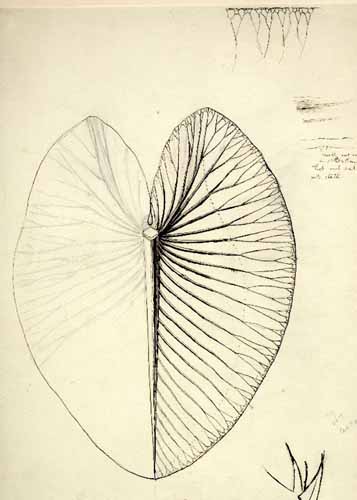 Waterlily leaf
These two studies of Self heal show how he dissected out flowers to examine them fully, drawing all the time.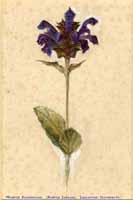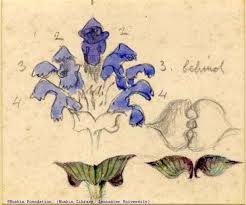 Self heal Prunella studies
The observational skill, examination of minutae, and accurate drawing of botanical specimens is inspirational to me.  It embodies all I hope and want my sketchbook studies to be.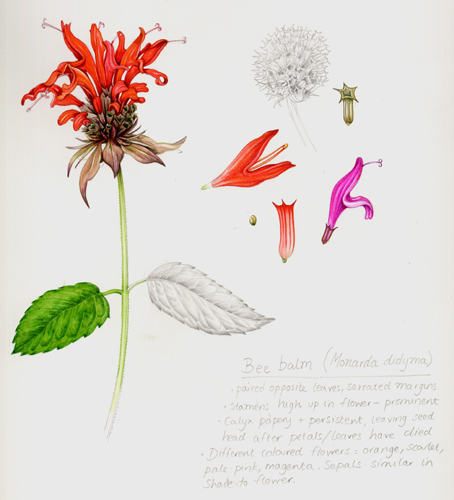 Bee Balm Monardia by Lizzie Harper
I am indebted to IAPI, to Professor David Ingram, and to the collections at the Ruskin Library in Lancaster University for opening my eyes to Ruskin's nature studies, and giving me another role model to emulate.