Natural History illustration at Hay Primary School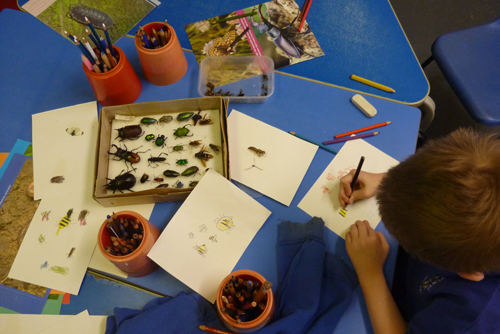 A couple of weeks ago, Hay school (our local school) had a "World at Work" week.. This encourages school parents to come along and explain to the children what their jobs entail.
Talking about being a Natural History Illustrator
I went along to talk about my career as a Scientific illustrator.
I begin by explaining what I did, and why all sorts skills other than simply drawing were vital.  Numeracy (scaling drawings up and sorting out invoices), literacy (sending clear emails and contracts to clients), and not getting to knocked back when things don't work out well…
Drawing insects with children from Hay Primary School
I show my portfolio and explain the process involved in getting from a commission to a final piece (roughs, feedback). Next, I encourage the children in year 1 and year 2 to do some drawing.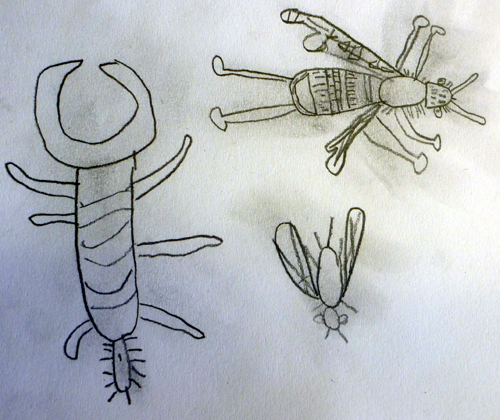 Hay Primary School children draw skulls
The first specimens I get them to draw are a collection of skulls I've amassed over the years.  The only error year 2 made in their identification was between a sparrow and a crow skull; I was impressed.
They draw the skulls in atonal pencil and some of the results are wonderful.  I think the fact that one's not burdened by preconceptions of what a skull "should" look like helps their work.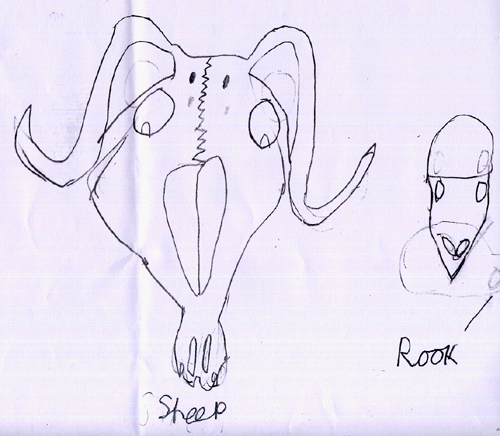 Hay Primary School children draw insects
I also brought in some entomological specimens and asked them to have a go at drawing these; bearing in mind that most insects are symmetrical, and urging them to count legs and add detail to elytra, antennae etc.  Again, the results are great.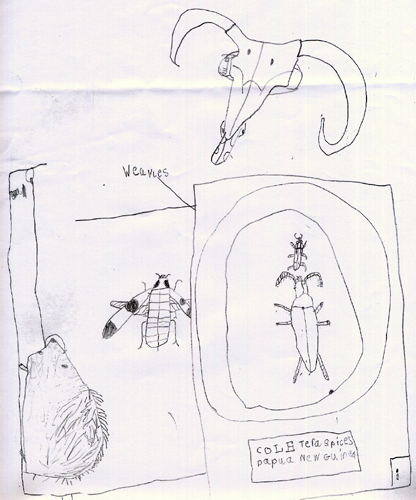 Teaching Hay Primary School kids to love insects
Year 1 are younger, so there was more focus on naming the "minibugs", and I continued in my one-woman campaign to stop kids from being hysterical about bees and wasps ("they only tend to sting you if they feel in danger…")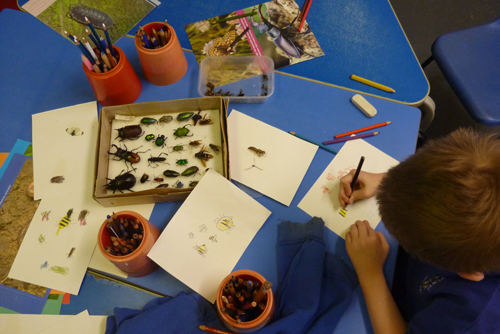 After, for their drawing activity, they drew insect specimens and from photos.  Some of the lads who aren't usually that engaged in drawing were really keen, and there are some lovely pictures.  The teacher encouraged the children to use a wide range of mediums, so they had lots more choice than the older ones.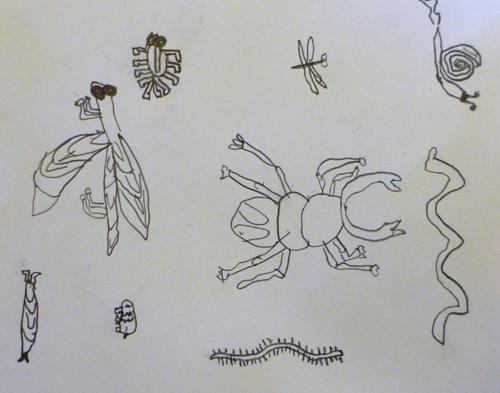 I think the "World to work" week is an excellent chance for us adults to explain a little of what we do to young kids; hopefully to engage them in the jobs we're passionate about, and to demonstrate the links between what they learn now and how they may earn in the future.