Illustration: A working week

Natural Science (or natural history) illustration is like all other jobs, you have good weeks and bad weeks.  Last week was a really happy one; I had  plenty to do (but not overwhelming amounts); I finished up a big project; and I got two smaller jobs completed.  Being able to feel productive and efficient always puts me in a good mood.
Dorling Kindersely Bonsai Book
Monday and Tuesday I finished up the last of the bonsai tree diagrams for the DK/Penguin book being written by Peter Warren.
Here's the whole tree being wired: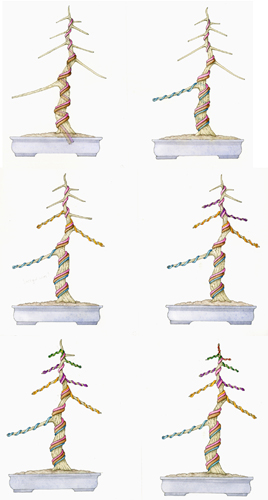 Below, the diagram shows you how to start wiring the base of a trunk:

Revisions were required, which always makes me panic; but it turned out only one needed a complete re-draw, the redraw went fast and well, and I go paid for it.  I did spend quite a long time winding bits of blue wool around twigs in an effort to understand how different wire thicknesses behaved, but (besides making me feel mad) this was fine.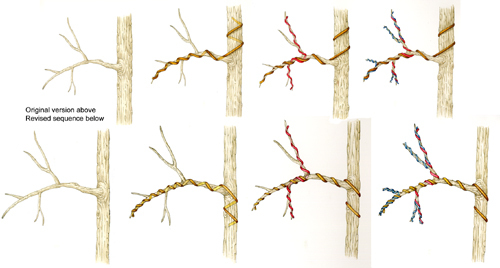 Witch Hazel sketchbook illustration
Mid week was Wednesday, so I worked on more illustrations for The Cultivated Forager (written by Adele Nozedar and the follow up title to The Hedgerow Handbook).  My witch hazel specimen came from outside my son's classroom window.  The children were so horrified to see me cutting a twig from the tree that I brought in the finished sketch to show them.  It was good to draw, and a treat to have a leafless specimen (although I dropped in the leaf shape for info.).  Mainly though, I was amazed by the stench of antiseptic it gave off.  I understand how it may well have medicinal qualities now.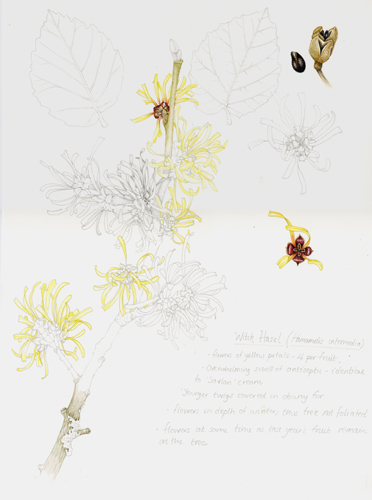 Teaching during the week: One to one tutoring
Wednesday afternoon I had my keen 7 year old pupil over.  She's just finished a lovely painting of fairies and we moved onto butterflies.  Here she's drawing up the patterns on a butterfly wing, taking inspiration from some of my beaten up specimens.  Watching children draw and paint is amazing; their lack of inhibition and the bravery of their lines is something I could definitely learn from.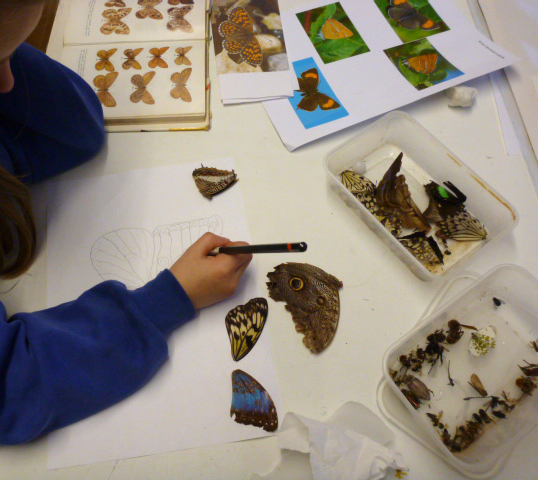 Later on in the week: More sketchbook illustrations
Thursday was another sketch for "The Cultivated Forager", love-lies-bleeding.  The plant isn't in flower, so I was working from reference.   Because you can't rotate the specimens or dissect them out, I find this harder to do..  I don't like the plant much, despite getting to play with dark crimsons and bits of pink.  I was relieved when it was done. To see the illustrations completed thus far for "The Cultivated Forager" book, have a look at my Pinterest board.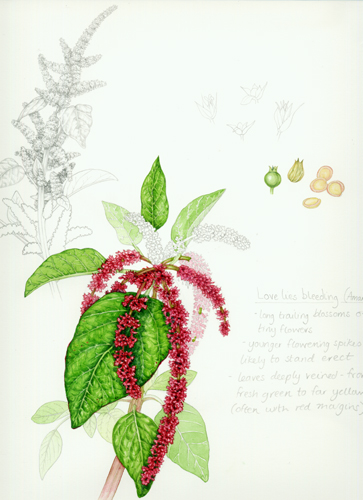 End of the week: St Johns wort and a bumble bee
On Friday I had a rush request for a slender St. John's Wort for Pinecone Design (for the National Trust).  The main stipulation was that it needed to be the same shape that the designer had been working from.  This was a challenge as it was another species all together.  Tricky, yes; but luckily the structure of the St. Johns wort allowed me to play about with placement of buds and leaves.  It worked out ok.

Late on Friday I started a white-tailed bumble bee for Anglezarke Dixon Associates which is to be used for some interpretation on flight.  They've also used my pipistrelle bat and peacock butterfly, which they purchased for re-use from my online image library.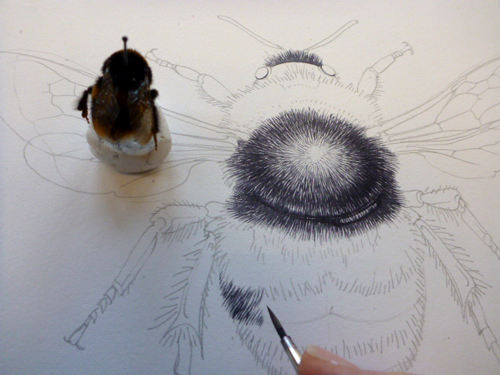 The end of a busy week
So it was a good week.  I got to listen to BBC Radio 6 a lot (which always makes me happy).  Plenty of work was done.  Three invoices were sent!  And I also sorted out two "ancient Egyptian" costumes for my children's school play.  Next week is bumble bees and hops, I think.  Bring it on.