Deer illustrations, watercolours, ducks, and snow!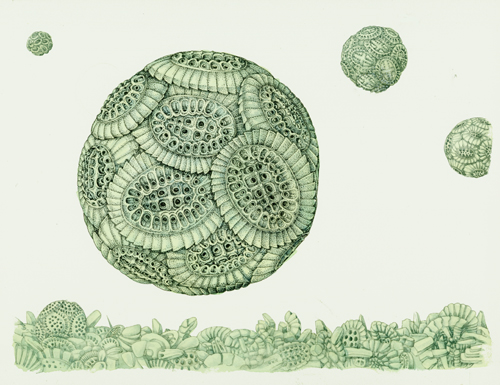 Tweaking the Deer illustrations
There were some alterations required on the Whipsnade Zoo finals, oh the joys of process white gouache.  Here are the "before and after" shots; see if you can tell what's been changed…  For more on this job, check out my blogs on the deer, the mara, and painting a hog deer.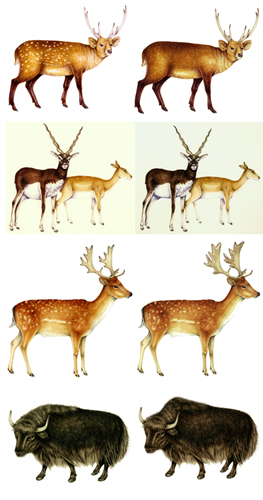 Coccolith
Then on to the coccolith.  First the pen and ink work.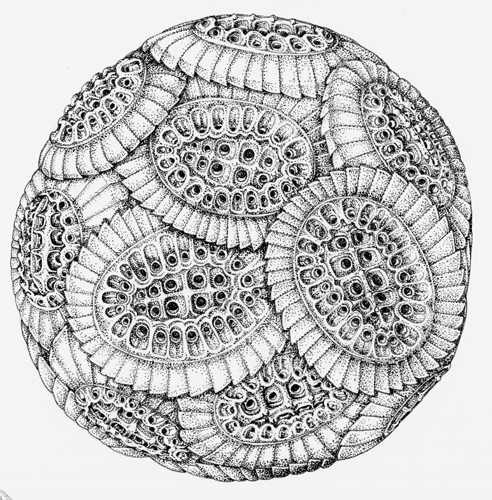 Then the detailing of the background.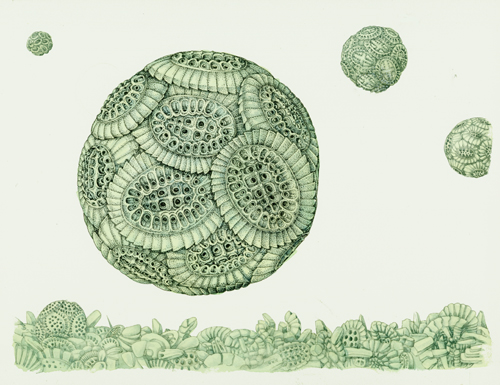 And finally the blue wash, to show the coccolith was bathing in a warm tropical ocean, before dying and lending its little skeleton to make up the calcareous grasslands tended by BBWOT.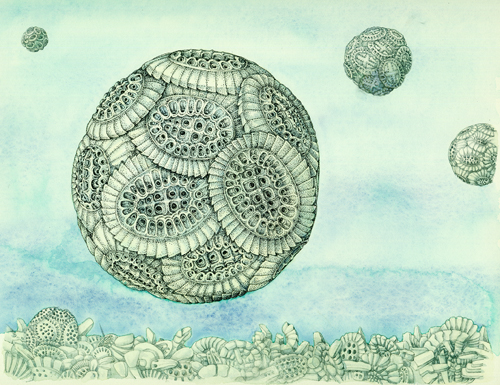 I really enjoyed working in pen and ink again; it's a little repetitive, but I love the detail and it's a very flattering medium, it tends to make finished images look quite good.  I was pleased, and luckily the client was too.
Duckling illustrations
A job came in from Waterlife Magazine the magazine of the Wildfowl and Wetlands Trust.  It relates to an article about ducklings, and is 6 little vignettes of different developmental phases in a duckling's life.
Once I'd got my suggestion to work with a mallard duck approved (finding reference for other species would have been a challenge) I pieced together the pictures.  I have a big soft spot for ducklings, so took a great deal of pleasure in trawling through reference of little fluffly ducks, and in drawing up the illustrations.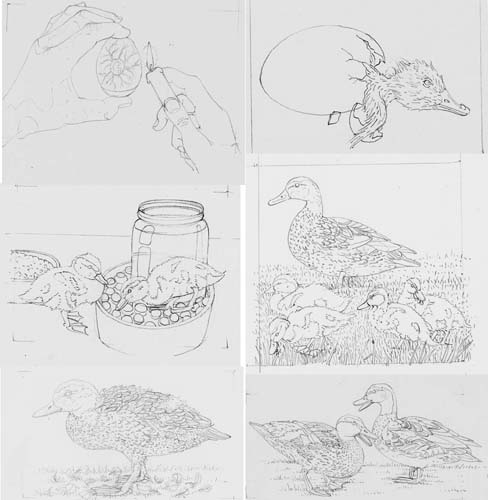 As always, I've learnt from it.  I never knew about "candling", where you shine a bright light behind an egg and thus can see inside, through the translucent shell.  You can tell if the egg is viable by observing the growing embryo (which shows up as a reddish spot) and network of veins.
I also never knew that young ducklings had to avoid getting wet since their downy feathers can't help insulate.  At WWT Duck creches they manage this by filling tubs with water and marbles; the ducklings can still splash about in water but the marbles mean they don't end up saturating themselves.
Illustrating a Poem
I've also got a great job in, to illustrate a poem all about a beautiful patch of shade in a woodland (written by Chris Meredith who also publishes "The Skeletons").  I'm planning on taking a similar approach to the landscape I did last year for RWT.  Luckily, the deadline isn't tight so I'll be able to wait for a window when I can work on it with the care and attention it'll require.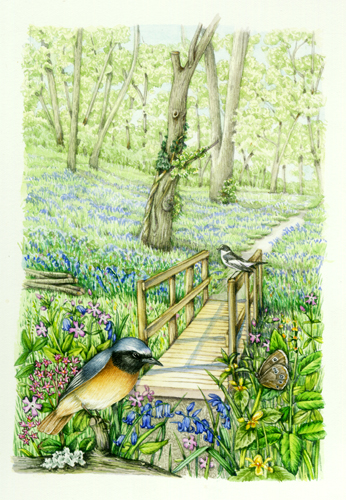 The top secret job is due to be decided by January 26th.  I still want it very much, but with so many other projects going on, I'll probably manage to stave off complete heartbreak if it goes to another illustrator, which I think it's more than likely to do.
Snow!
Snow on the ground this morning, and I've been working in bedsocks with a hot water bottle on hand.  They're forecasting 20cm or more, which is a bonus.  I love the snow and it also brings a dead good flat and bright light into the studio.