Step by step illustration of a Wild Strawberry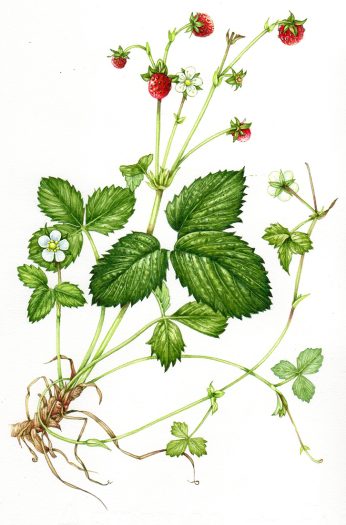 One of the botanical illustrations I've been asked to paint as a natural history illustrator, is the Wild Strawberry .  This will be one of the plants featured on a fold-out identification chart of Edible British Plants produced by the Field Studies Council.  There's also a 2 minute Youtube film of this illustration being completed online, in time lapse.
Drawing up the rough of the Wild Strawberry
I begin by drawing up the rough in pencil, using a mechanical pencil such as the P205.  I draw direct onto the paper I'll paint on, Fabriano Artistico hotpress.  There are lots of wild strawberry plants around, despite it being autumn, and I even found one in flower in the garden!  Very convenient, and it meant sourcing reference was pretty straight forward.  I also used the illustrations of Stella Ross-Craig for back-up; her drawings combine botanical accuracy with a real "feel" of a plant and are an invaluable resource for any botanical illustrator of British plants.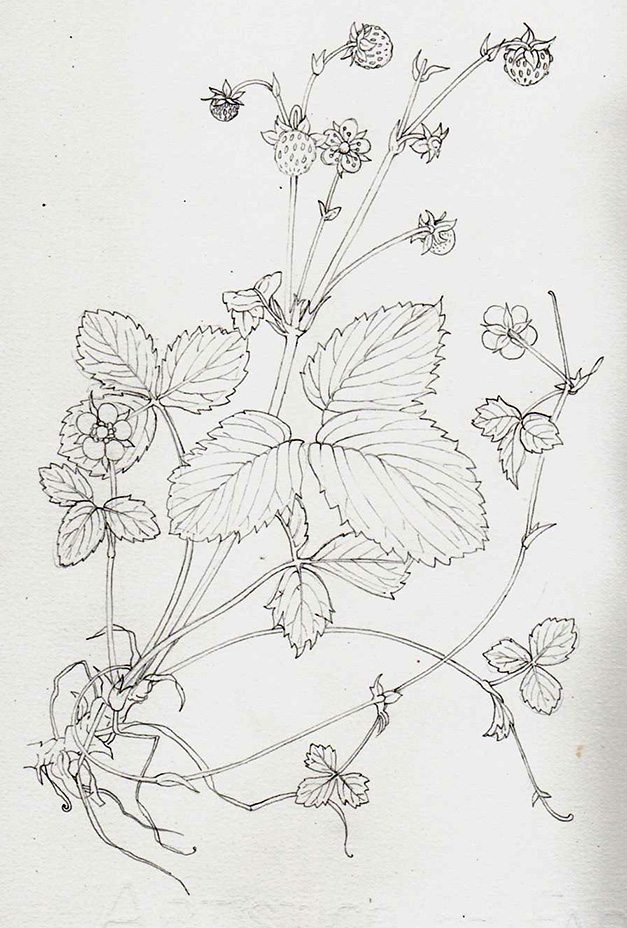 Focus on one leaf: Step by step
Wild Strawberry Fragaria vesca rough
Once the FSC have ok'd the rough, it's time to get the paints out.  I use Winsor & Newton watercolour paints, and a number 1 Winsor & Newton sable series 7 brush.  As always, I begin by plotting in the shadows.  This is made lots easier because I have a leaf to work from, rather than working from photos.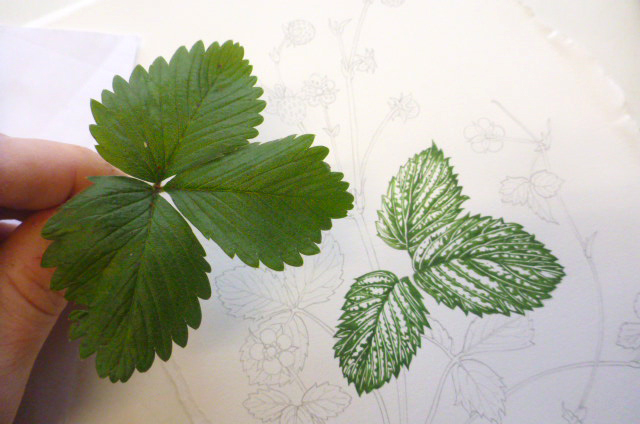 The green of these shadows is quite yellow, so I used hooker green light with cadmium yellow light and lots of yellow ochre.  In truth, the colour I mixed was a little too dark.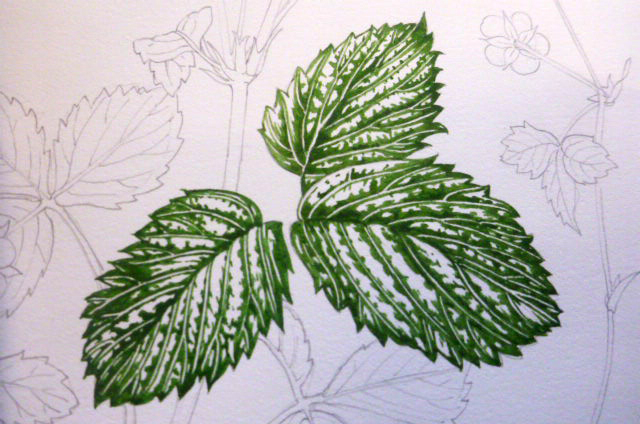 Then I watered the colour down a touch and painted in the edges and some of the other dark areas of the leaf.  I was keen to keep the dentate margins crisp, and allowing the drying of wet paint to supply this sharp edge is a useful technique.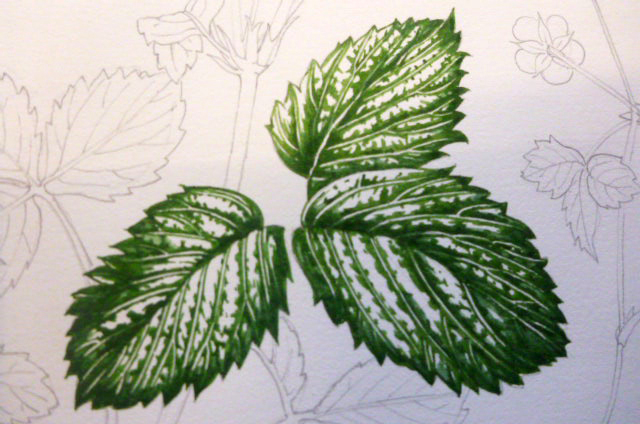 Next I put a unifying wash on the leaf; this one's based on a green but is rich with yellow and yellow ochre.  Only the brightest highlights are allowed to remain untouched by paint.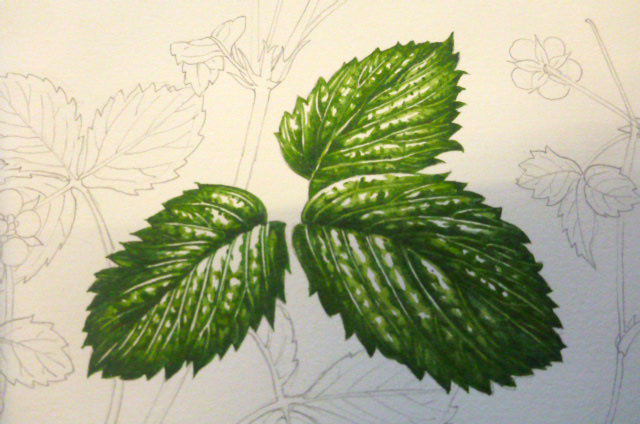 I mix up a darker green to work into the shadows and edges; hooker green light with a winsor blue, a touch of vandyke brown, and a little purple or violet.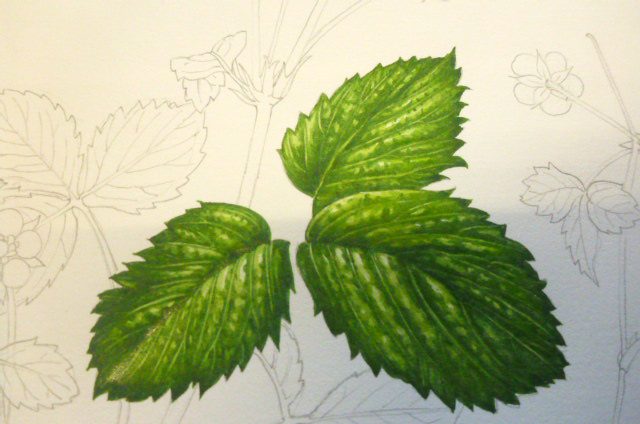 Applying the same technique to all the Wild strawberry leaflets
The same technique is then applied to the other leaflets; although as the smaller, younger leaflets are a brighter green the colour mix incorporates more cadmium yellow light, and I don't take the margins and shadows as dark in tone as with the larger leaf.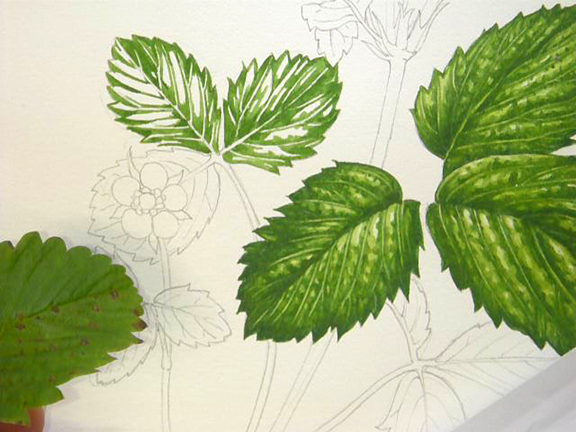 I paint in the stems, surprisingly yellow.  I like to finish different elements of the plant in turn, so for now the strawberry flower is left as unpainted white space.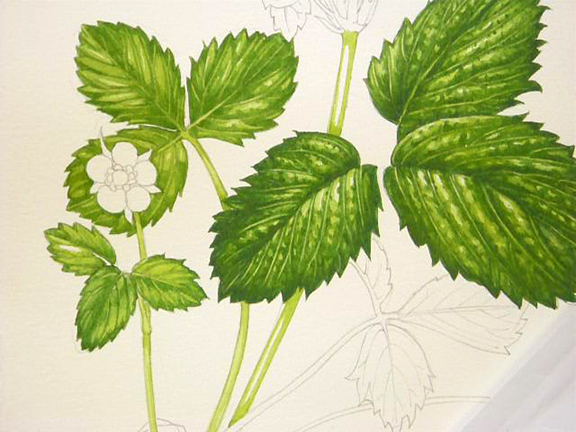 Illustrating the wild strawberry flower
The little flower is tricky; although it's white it needs to have shape.  I used a very light cerulean blue to show the slight shadow towards the centre of the flower, and by making the sepals a rich and slightly dark green you can ensure the petals look starkly white.  Placing a leaf behind a white flower is a good trick, and makes life easier; have a look at botanical illustrations across the board and you'll see how frequently this approach to painting white flowers is used.  For more on painting white flowers, please look at my earlier blog.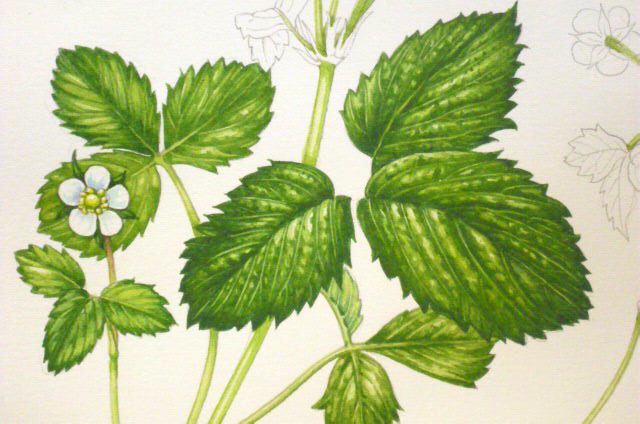 Stems, leaves, and roots
The smallest leaflets and tendrils need plotting in, again, keeping the green light and fresh is important, and remembering where the shadows fall.  I also took the toothed margin of the large leaflet a little darker to make it stand out.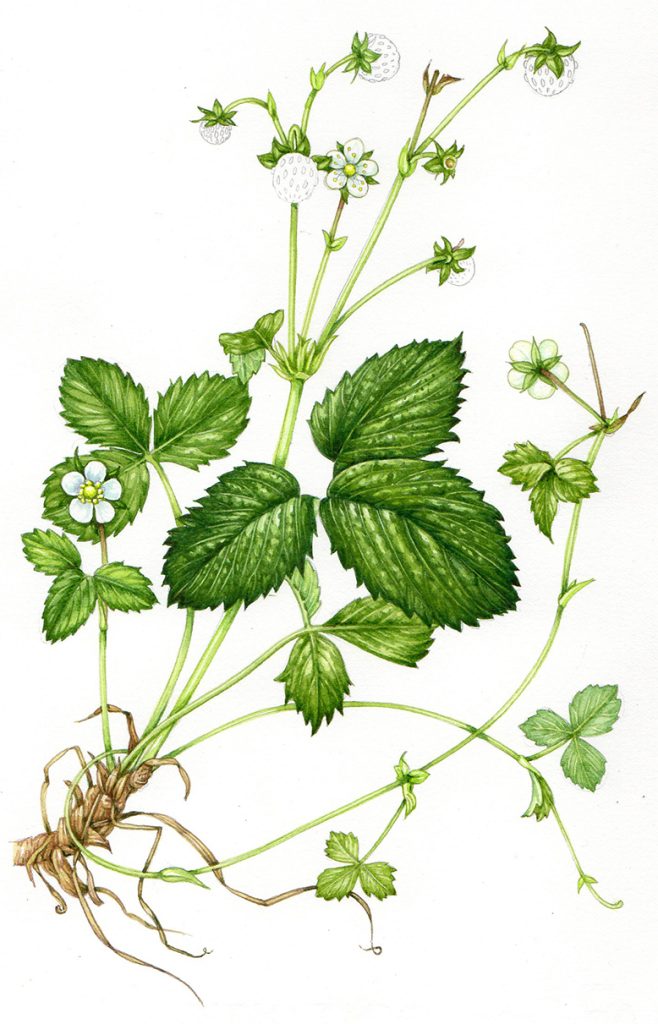 Painting the strawberries
The fruit came next.  Although I love mixing the red of the wild strawberries; scarlet doctor martin ink, alizarin crimson, opera rose and cadmium orange light; I was at a disadvantage as there were no fruit to be seen.  Luckily I could work from my sketchbook study (which appeared in The Hedgerow Handbook).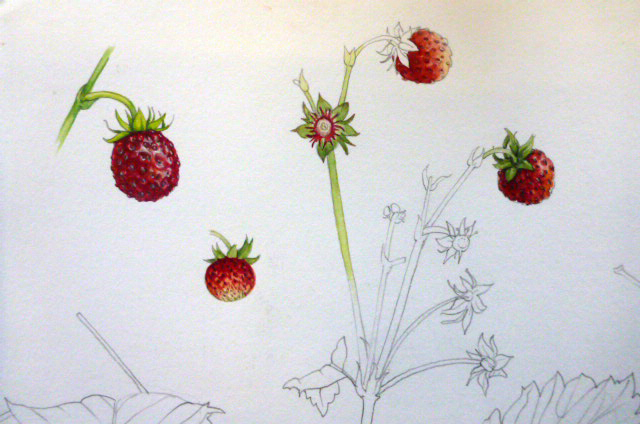 Sketchbook study of wild strawberries
Initially I was miserable with the strawberries.  They looked unappetising, dry, too brown and flat.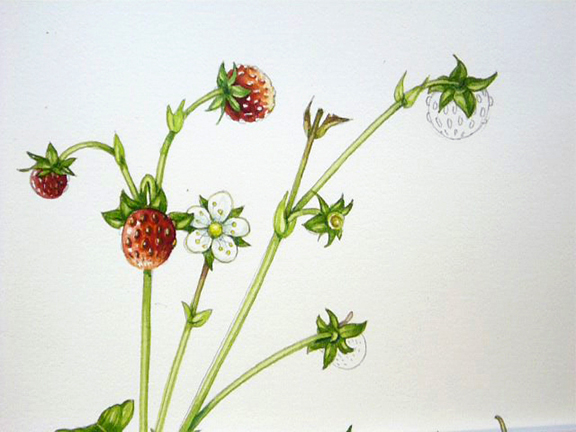 I decided to take the darkest areas of the berries darker still, and to put a rich red wash on top of them, based on doctor martin's scarlet watercolour ink.  It worked!  The berries were redeemed!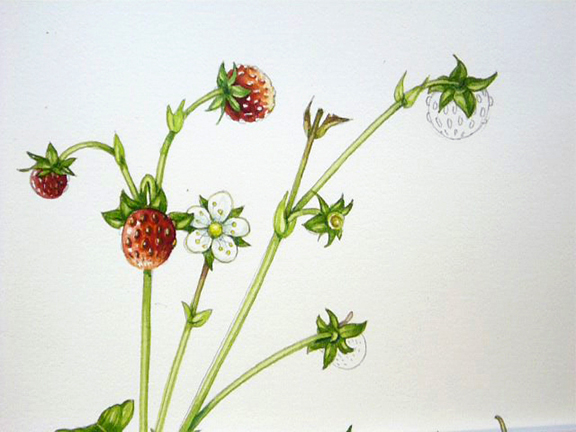 There's almost nothing that fills me with more relief than managing to turn a poor bit of illustration around.  It's never as good as it would have been it you'd got it right in the first place, but to turn it from awful to passable (and thus save a day or two of repeat work as you start all over) is a great sensation.  There are plenty of ways to fix mistakes in watercolour, as my blog on the subject shows….
So, at the end of the working day, here's a photo of my desk.  Bits of strawberry leaf torn up all over the place, sketchbook pored over, paint-box needing a good clean but, most vital of all, a botanical illustration of the wild strawberry plant completed.  Phew.