Ducklings and ducks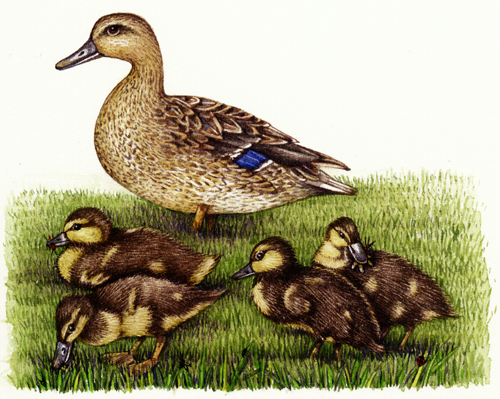 The start of the week was a whirl, desperately trying to get the duckling illustrations done.  Once done, I could concentrate exclusively on this new confidential contract; I'm now up against one other illustrator and we're both doing paid test pieces which are due in March.  The final decision will be made at the end of March.
This is problematic in terms of  this blog; I obviously can't discuss any of my roughs or studies, thoughts or thumbnails, trials or tribulations in the public arena.  I think I'll have to pop up some past work and discuss how I did it.  We'll see how that works out.
Ducklings and Ducks
The duckling series were great fun.  They were difficult too, the most challenging two were definitely the fledging duck (fluffy areas in amongst adult feathers) and the candling illustration.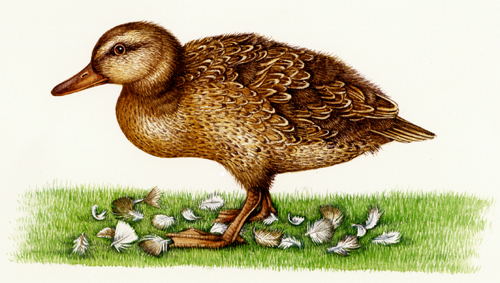 Candling an Egg
I knew the background to the candling image had to be dark to show up the glowing egg, not to mention the candle.  After laying down a brownish purple wash, it just looked rubbish, so I decided I had to work into the dark.  I did this with lots of tiny brush strokes, coming outwards from the candle flame.  The closer I got to the candle, the redder and paler the background was.
Once I'd sorted the background I had to make the candle bright and the egg glow.  Leaving white managed to convey light in the candle flame, and yellows and oranges worked for the egg.
Finally, I popped some of the yellows from the egg onto the hand holding it, to try and unify the image.  It's a very odd illustration, but I think it shows the process successfully, so I'm very pleased with it.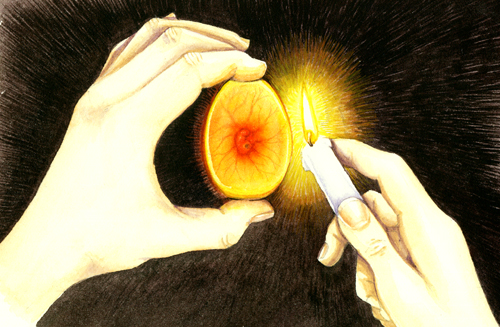 The remaining vignettes were time-consuming but fun and I loved doing them.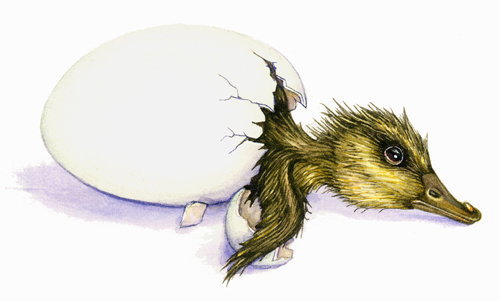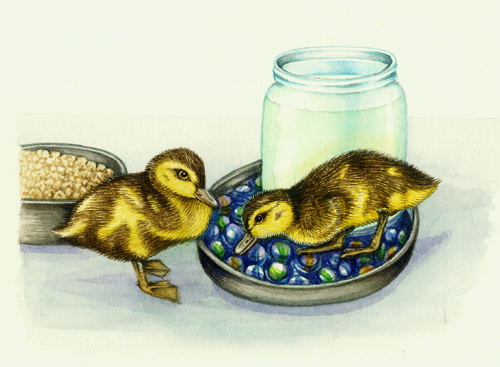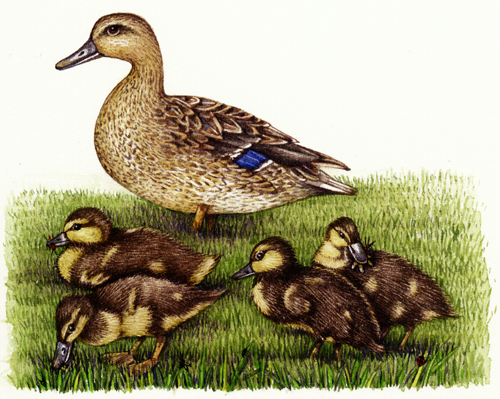 Spring flowers
The snow has melted and various spring plants are appearing; celandine, snowdrops, primroses, forget-me-not leaves.  It's always tempting to ignore work and get out there and collect reference and just draw  them, it's a real relief to get one's hands on fresh specimens after the winter.  Here's a violet I did last year, once the flowers appeared.