Botanical Illustration: Step by step painting of leaves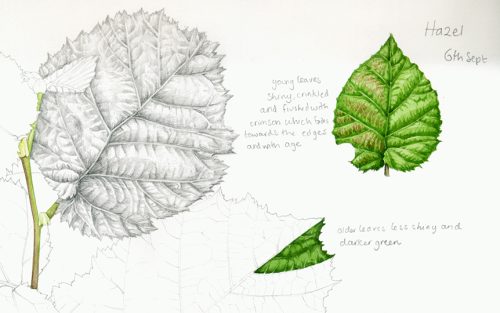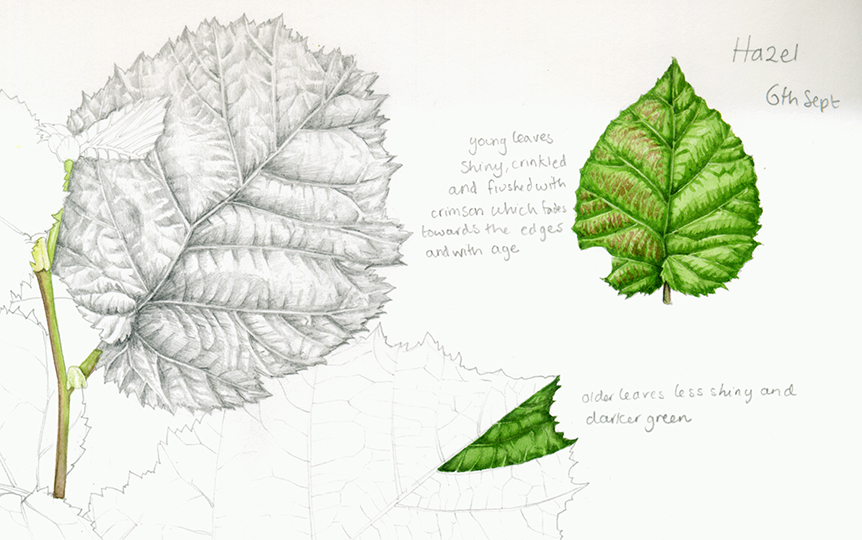 I recently taught a workshop of botanical illustration of leaves.  I broke down the process of painting a leaf into incremental steps.  these were shown on a demonstration painting of a blackberry leaf.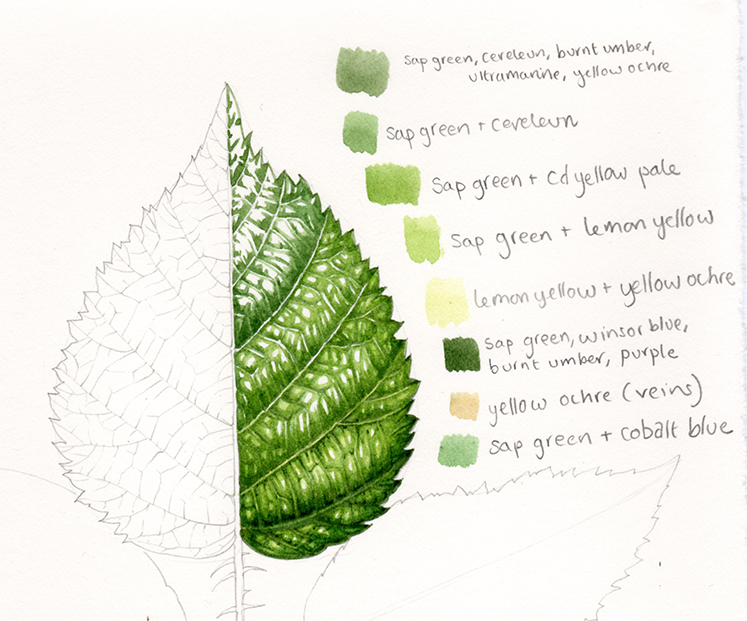 Demonstration illustration showing different steps involved in painting a blackberry leaf.  There's also a breakdown of the colours used to mix the greens that I used for each step.
I thought it might be worth deconstructing and explaining the processes in a blog.  The illustrations below are magnified, and so are a little out of focus.  My apologies.
Explanation of my process
It  needs to be pointed out that the way I use watercolour to illustrate leaves is not true to the methods used by many botanical illustrators.  There are various norms that I seem not to adhere to.  For example, you're never advised to mix more than three colours together for one mix.   Most illustrators work from light to dark, not dark to light as I do.  With these caveats in mind, I thought I'd still go ahead and show the processes I use.  Just remember,  they are a little renegade.  I don not think my approach would gain universal approval or acceptance.
Draw the leaf properly
First step is to draw the leaf making certain that the shape, leaf margin, and position of the most visible side and lateral veins is correct.  I do this in atonal pencil, mostly with an 0.5 or 0.3mm propelling HB pencil (such as the reliably good Pentel P205).
I draw directly onto hotpress watercolour paper, everyone has their favourite, I like Fabriano Artistico or Fabriano Classico best.
Mixing greens
I then closely examine the leaf and mix up a green that matches the leaf blade.  (More on mixing greens can be found in my blog).  I test the colour by applying a spot of it to the leaf itself.   I plot in the shapes of the darkest shadows with my Winsor & Newton series 7 brush (choosing a number 1 or  0).
I use my trusty watercolour box.  It's a mix of Winsor and Newton and Daler Rowney pans.  Colours that get used repeatedly in mixing of greens include: yellow ochre, cadmium yellow light and dark, cobalt blue, winsor blue, ultramarine, cereleun, vandyke brown, violet, sap green, hookers green, viridian, and chromium of oxide green.
I never use a ready-made green without mixing it with other colours.  The colours straight from the pan are nothing like the greens found in nature.
Step 1: Paint in your darkest shadows
I use a mix of cereleun, burnt umber, yellow ochre, and sap green.
A more dilute version of the same colour is used to soften the edges of these blocks.   You can see this on the lowest part of the leaf above.  It's vital to leave plenty of white, and not to swamp the paper with colour.  With watercolour it's always possible to make a colour darker, but almost impossible to lighten it.  Trying to often makes the area look muddy.
Next, I mix up a mid-tone green and apply this to the flat areas of the leaf.  These are areas which are not caught in the bright highlights nor swallowed by the darker shadowed parts.  For this blackberry leaf, this was a mix of sap green and cadmium yellow pale.
Again, it's vital to leave the white of the page.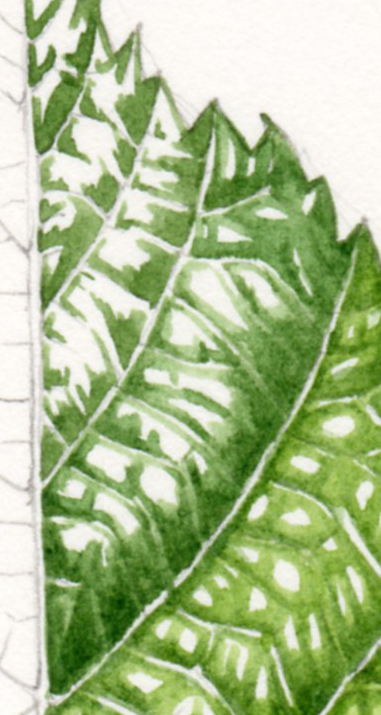 Step two: Working into the midtones with a lighter and yellower green
I tend to leave the veins white.  They are often yellower and paler than the leaf blade.  If not, they may be a very different colour such as crimson or purple.
Next is a third mix, far paler and more dilute than the others.  This knocks the stark edges off the white highlighted regions of the leaf.  In this example I also apply this wash to the veins which are a yellowish green colour.  The mix is composed of a lot of water and sap green with lemon yellow.
I also cover some of the remaining areas of white with this pale shade.  This helps the palest regions of the leaf stand out.  It also adds some shape to the leaf.  The areas closet to the veins tend to receive this treatment as they are often marginally darker than the central highlights between lateral veins.
Next, I'll mix up quite a thick dark colour and pick out the deepest areas of shade with the tip of my paintbrush.  This mix often features browns, purples, and blue.  It needs to be added very carefully to avoid swamping the greens.  For this bramble leaf it was a mix of sap green, burnt umber, winsor blue, and purple.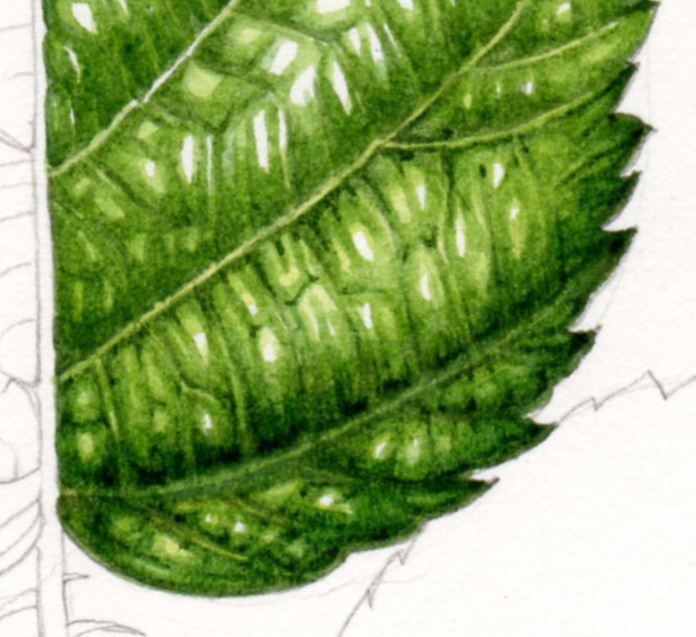 Step three and four: Applying a very pale yellow-green wash, and working into the darkest shadows.
The final step is to put a very very dilute and pale overwash across the entire painting.  You can see this in the lowest area of the blackberry leaf.  Frequently this will be yellow ochre with lots of water.  In this case it was yellow ochre, lemon yellow and plenty of water,.
This last wash tends to help unify the gradations and colours of the leaf.  Yet it is pale and light enough not to compromise the white of the paper which still remains.  This paper shows the highlights on the leaf blade.
The left hand side of the leaf below shows the whole process in play; it was done as a demonstration for students so is far from perfect.   However, it shows how the steps described look on a larger segment of a leaf.  This is the same piece, but for some reason this scan is brighter and yellower than the others.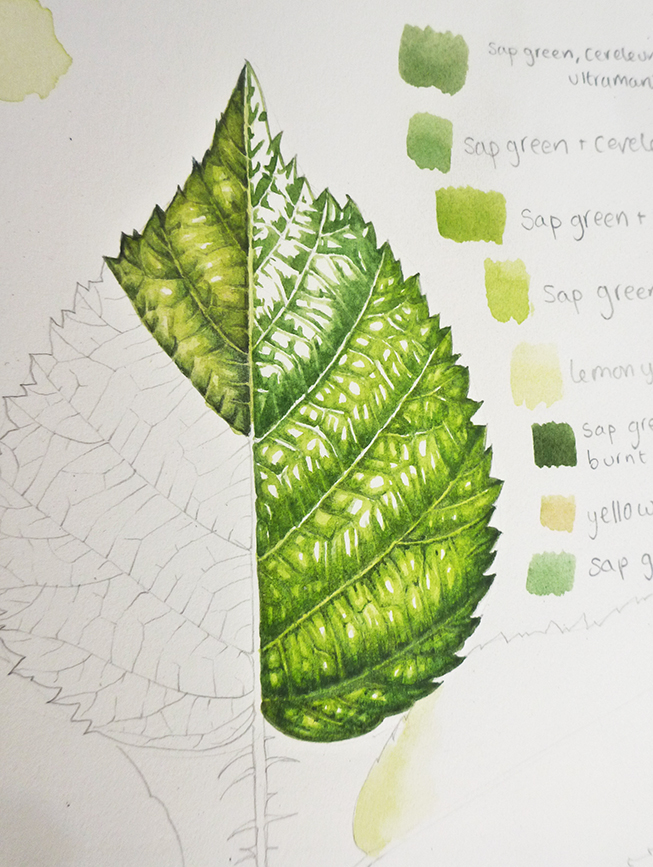 Blackberry leaf with breakdown of steps on the right, and a segment fully painted on the left.
Showing this approach in context
This page of studies of the Hazel shows a graphite study of the lights and darks on a hazel leaf, and a leaf painted according to the methods described above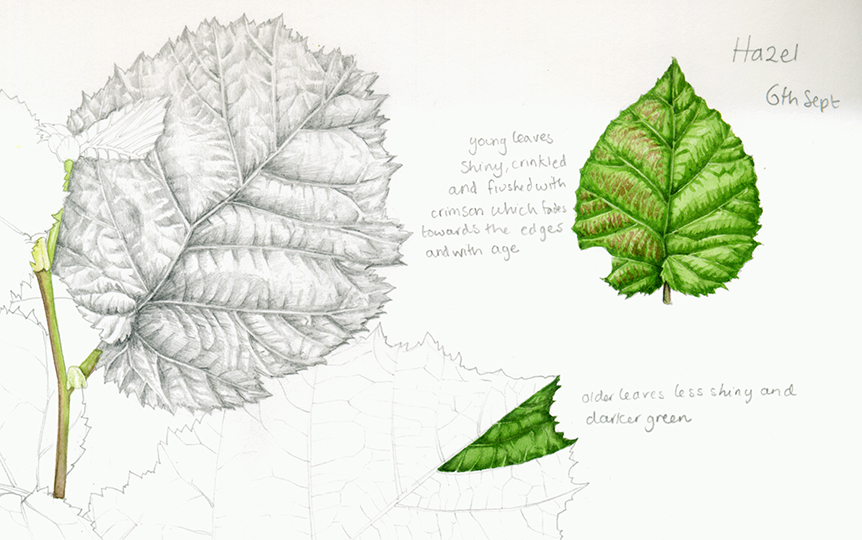 Sketchbook study of the Hazel Coryllus avellana
Leaves with less stark areas of light and dark
Not all leaves have such sharp distinctions between areas of light and dark, and in these cases a more gradual and smoother gradient of shadow is required.  The processes used, however, remain true to the steps explained above.  There's just a gentler approach to the edges of areas of colour (as shown in this study of a Dandelion leaf).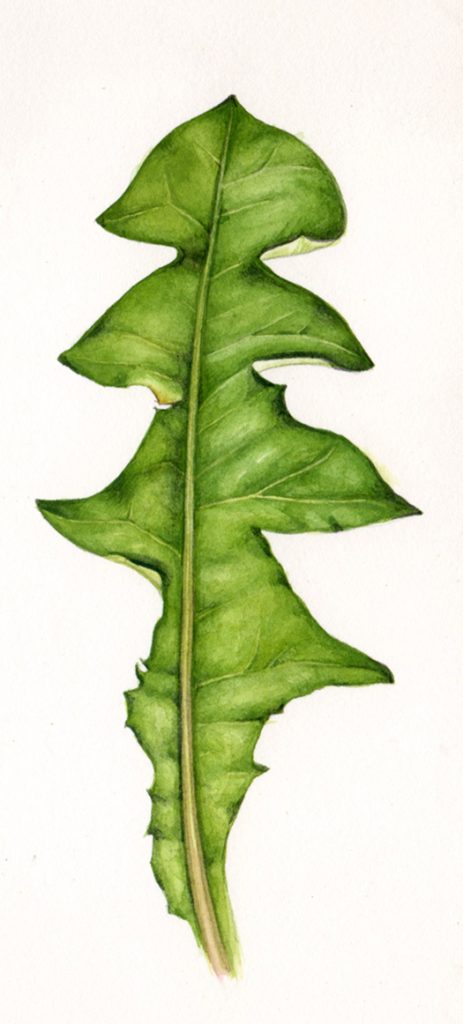 Dandelion Taraxicum officinale leaf showing smoother transition between areas of light and dark on the leaf blade.
Using this technique with all my botanical illustrations
Whether the illustration is for a sketchbook study where I'm gathering reference, simply painting for the joy of it; or whether it's for a commission for a client, the plotting in of darks, tackling midtones, tweaking the darkest shadows and then unifying the entire leaf with a pale overwash remain a constant.  They're pretty evident in this finished illustration of the Hazel done for a Field Studies Council identification chart.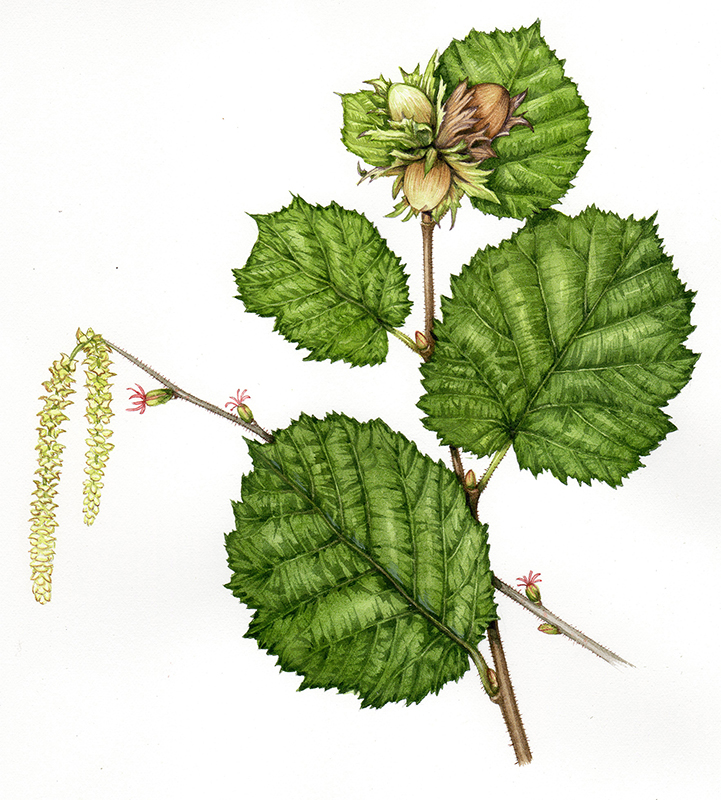 Hazel illustration
As I mentioned, this approach to botanical illustration seems rather different from many traditional approaches, and I wouldn't for one moment reccomend it above techniques which have been tried and tested for centuries.  I just wanted to present a detailed deconstruction of the processes I use to illustrate the beautiful and gloriously diverse leaves which are all around us, in the hope that they may be of use to someone out there, somewhere…