Botanical Illustration Live: Hawthorn
I recently did botanical illustration live for an audience at the Metripole Hotel in Llandrindod.  The event was the annual Barnes lecture,  It's organised as a fundraiser for Radnorshire Wildlife Trust (RWT), and is open to members and non-members.
The success of "The Hedgerow Handbook" and "The Garden Forager" means Adele Nozedar (the author) and I (the illustrator) have been invited to do several of these events.   They're always great fun, and we were honoured and delighted to be able to present 2016's Barnes Lecture.
Although initially scary, demonstrating is always a good idea.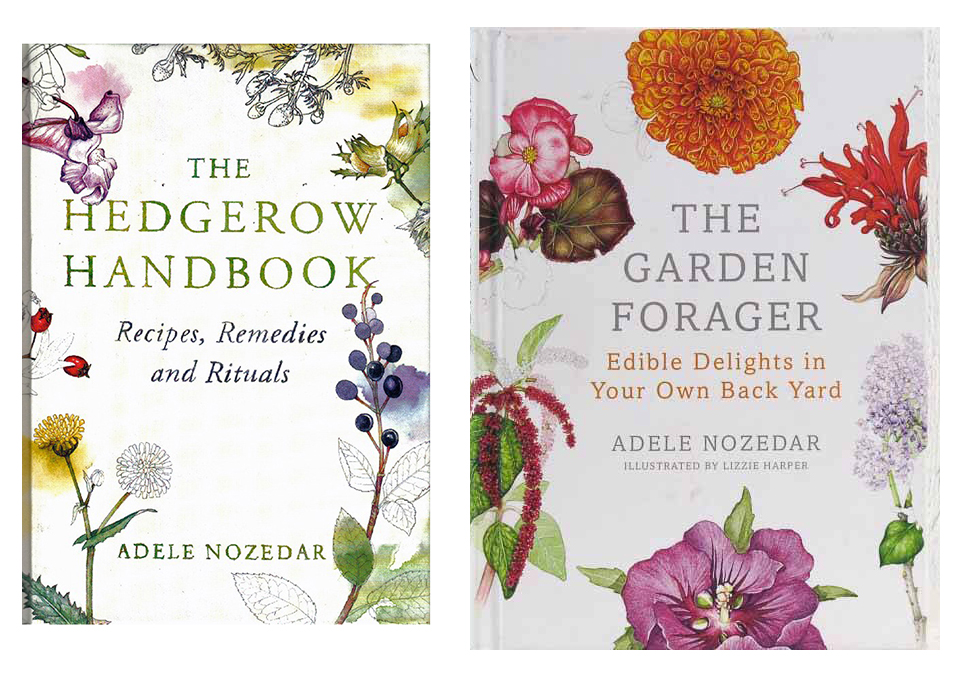 Hedgerow handbook Garden Forager by Adele Nozedar illustrated by Lizzie Harper
I arrived, and with the help of my other half (the cabinet maker Andy Dix) we set up a stall.  We were selling greetings cards, original watercolours, and copies of the book. I also had my sketchbooks and portfolio for people to flick through.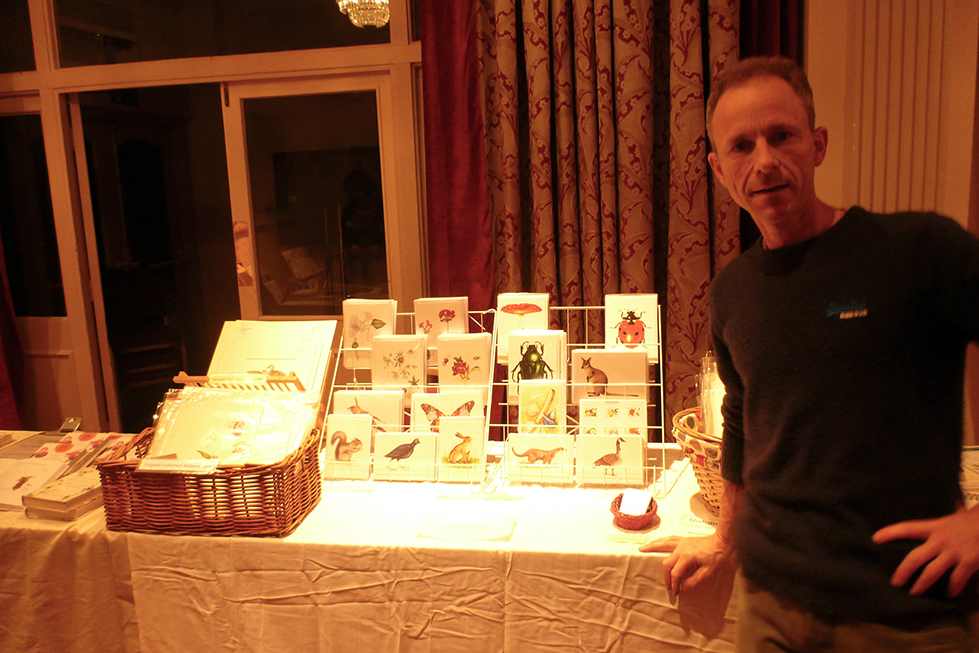 Stall of books, original paintings and greetings cards, manned by Andy
Getting hawthorn specimen to draw
Earlier in the day I went out into the fields and hedgerows to see what was not only growing, but looking good.  It was a no-brainer to settle on Hawthorn Craetegus montana.   This year the berries are a glorious dark crimson, and are ridiculously prolific.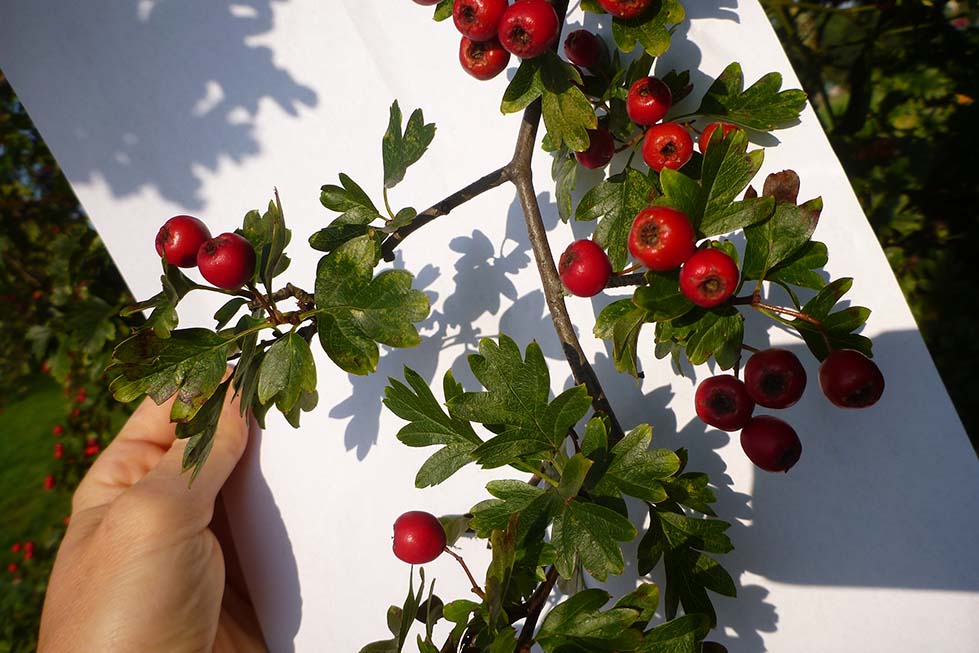 Hawthorn in its autumn glory in a field in Hay-on-Wye
Drawing Hawthorn live
I chose a few sprigs, and then settled down.  Perched on the edge of the stage, I was ready to do a sketchbook style illustration of this plant.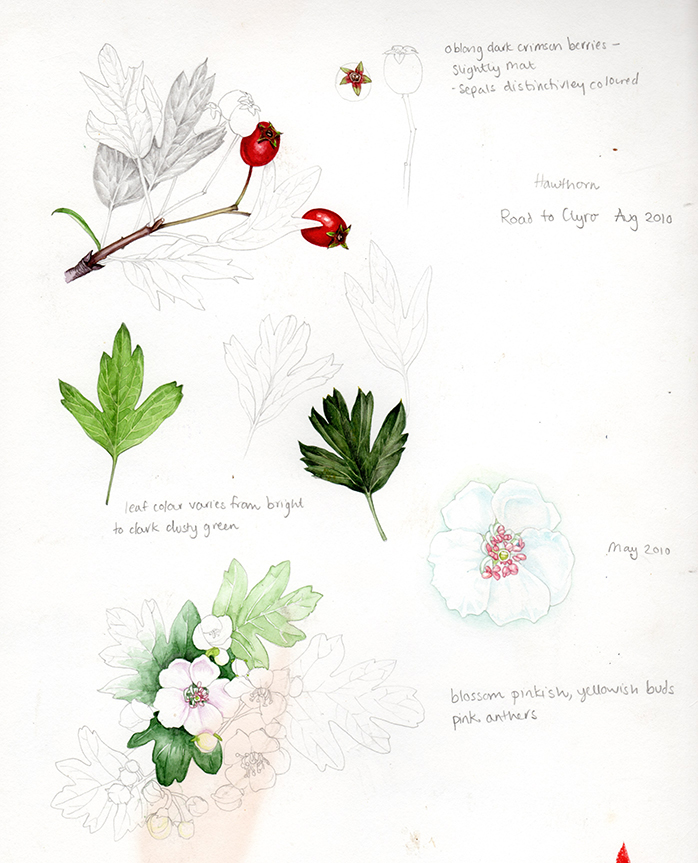 Sketchbook study of Hawthorn
Working with a visualiser
I was asked to draw live into a "visualiser".  This projects my drawings, in real time, onto a screen behind me.  Adele talked about some of the plants featured in the books.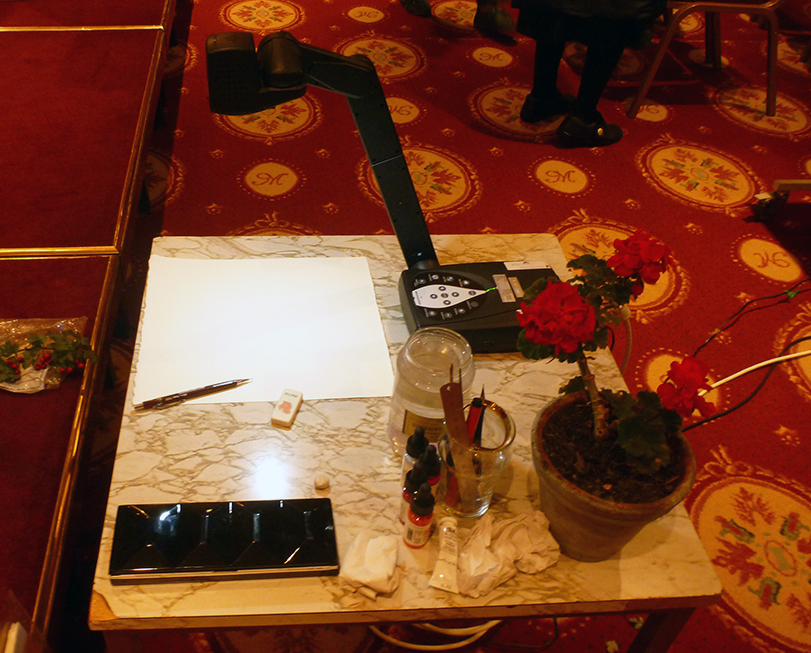 Visualiser, drawing and painting equipment, and plants ready to go.
Drawing and performing
Adele was brilliant. Regaling the audience with tales of foraging and folklore and suggesting all sorts of exciting alcoholic infusions.  She referenced memories of traditional names, and uses of plants we often overlook as weeds. We even joined her in trying to summon a hummingbird god.  (With, if I remember rightly, Love-lies-bleeding or Amaranth).
I love listening to her as I draw.  Despite being on a stage, and in effect "performing";  it feels very much like I'm in my studio at home, listening to the radio and happily illustrating.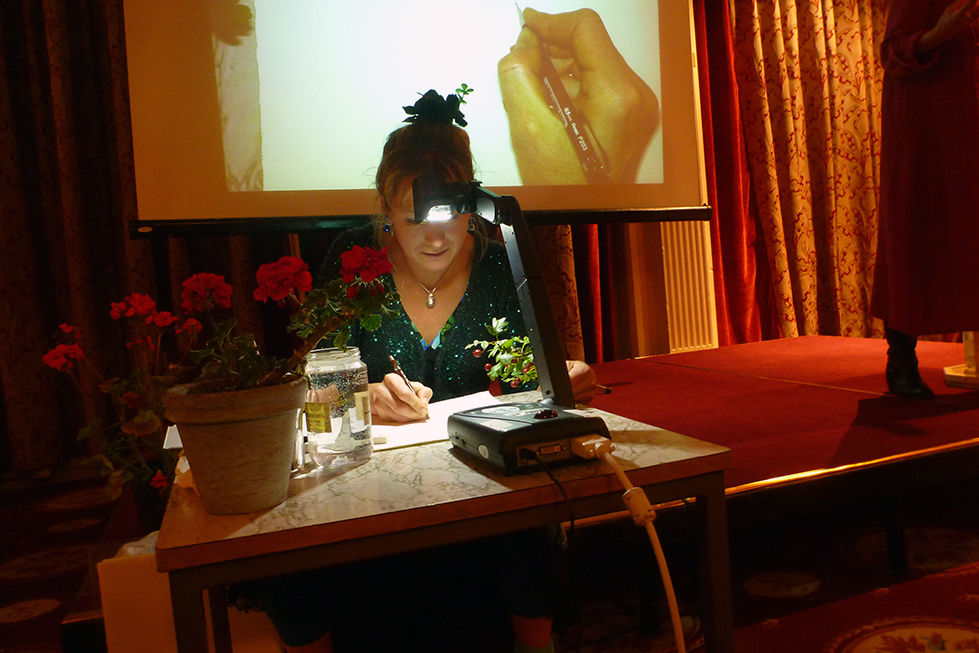 Drawing hawthorn live
I had minor troubles because although there was a light shining directly onto the paper, it didn't illuminate the hawthorn smoothly.  So when I got to putting paint on the drawing it was a challenge to record the tones correctly.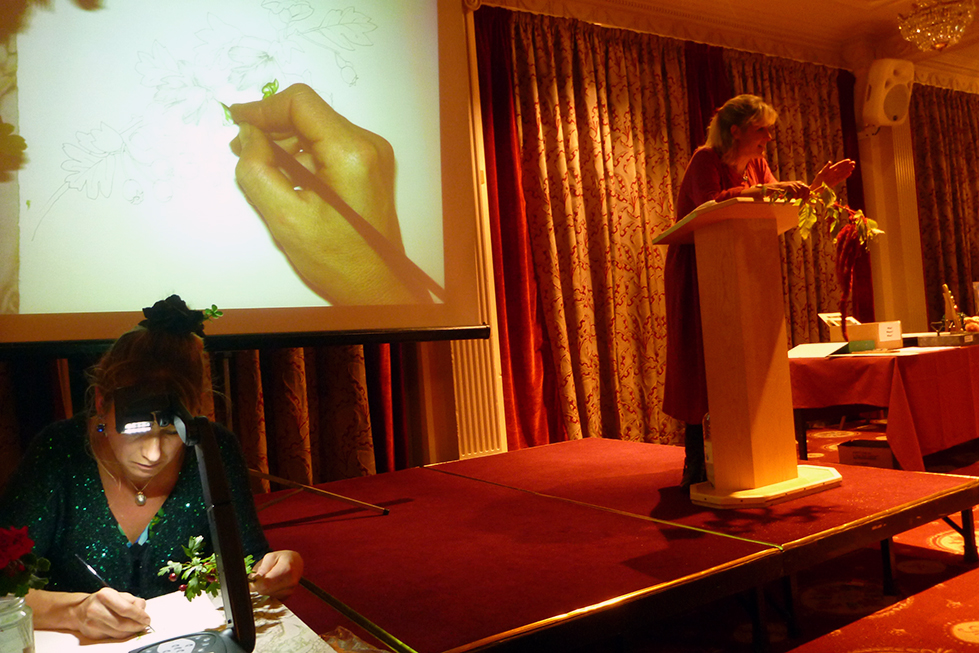 Lizzie Harper illustrating and Adele Nozedar talking at the RWT Barnes lecture
In theory, my finished sketch would have looked a little like the study from my sketchbook.  However time was tight, so I got less detail down than I might have liked.
Over the years I have also completed finished botanical illustrations of hawthorn for clients.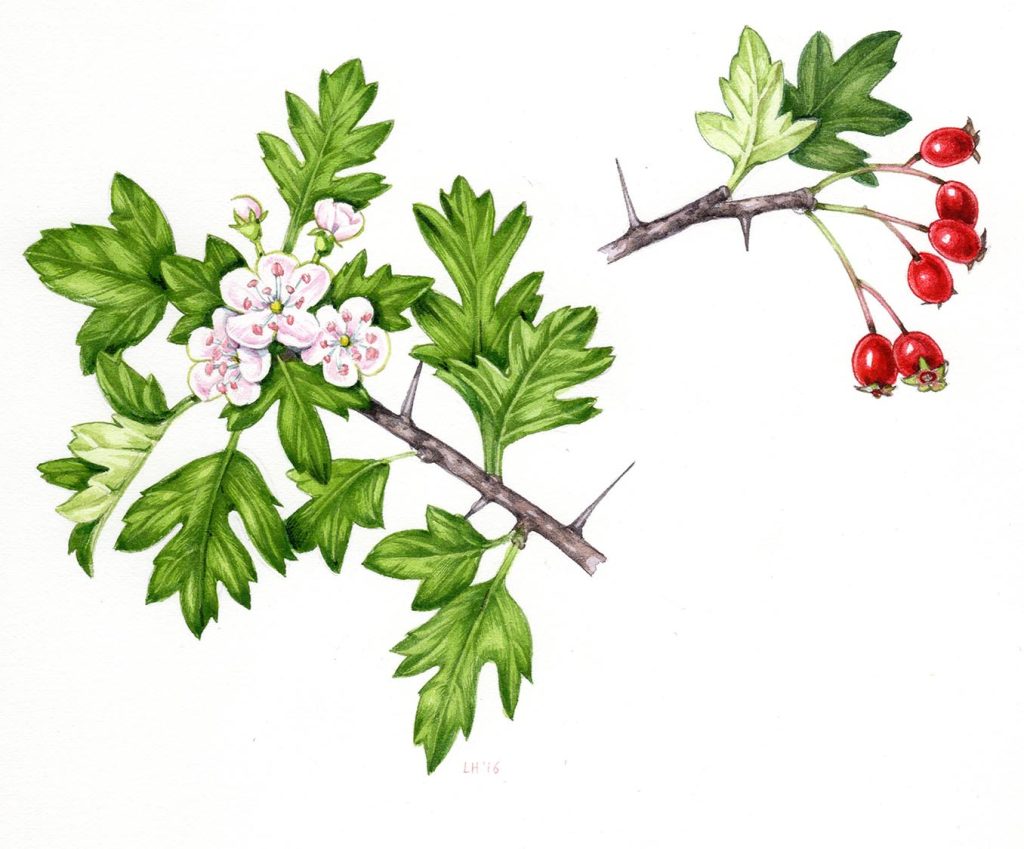 Hawthorn Craetegus montana
After a break where I got to chat to some of the folks that had come along, we sold a few copies of the book and some greetings cards; then it was back to work.  I did a sketchbook study of a geranium (again, not as fully worked as the study below) as Adele talked about lilac, nettles and ground elder, and took lots of questions.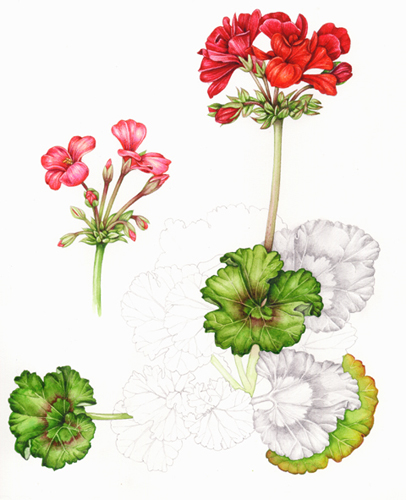 Botanical sketchbook illustration of geranium (from "The Garden Forager")
It was a really good evening; the audience were friendly and engaged, and RWT sold about 70 tickets, which means the fundraising event was a success.  For me, it's always a treat to be on stage with Adele; she's the perfect mix of wise, charming, and funny.  Guaranteed to relax me as I draw live in front of an audience.