Doing Botanical Illustration at Hay Festival
Natural history illustrators are not used to being in the public eye; so the idea of drawing botanical illustrations live at Hay Festival of Literature had been making me nervous for some time.  However, I'm proud of the illustrations in Adele Nozedar's book "The Garden Forager" and since we're good friends, thought it would be fine to "perform" in this way.  I've blogged on why demonstrating is a good idea, so had to live up to my own advice!
Preparing for Hay Festival
Many thanks are due to the numerous people on my instagram, facebook, and twitter accounts who helped me to decide whether to draw from scratch or work into an existing sketch; I ended up doing both; a geranium live and a dahlia from pre-prepared work.
This is the bag I took with to the festival site; it contained a jar of water, paintbox and brush, pencil, rubber, dahlia sketch and both plants I'd be drawing.  I walked the 10 minutes to the site in complete solitude, feeling sick with nerves.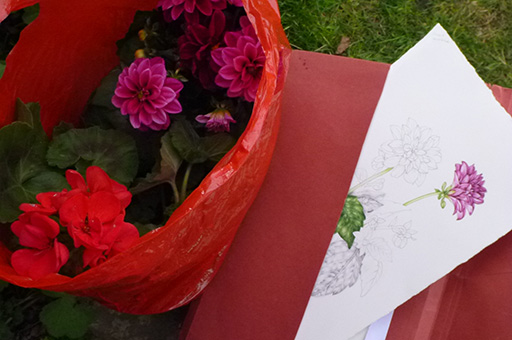 Geranium, Dahlia, half complete sketch and drawing materials ready for Hay Festival
When I arrived Adele was there, clutching lilac.  I thought perhaps she'd lessen my nerves, but she was as anxious as I was; her other half and his splendid son were the only composed people in our corner of the artists' "green room".  We were fielded toward the stage by an extremely soothing and kind member of staff, then had microphones attached; I got to set up my plants and paints, we tested the projector, and almost had a complete melt-down of fear when we were told how many tickets had sold.  NOT just loyal family and friends then.  GULP.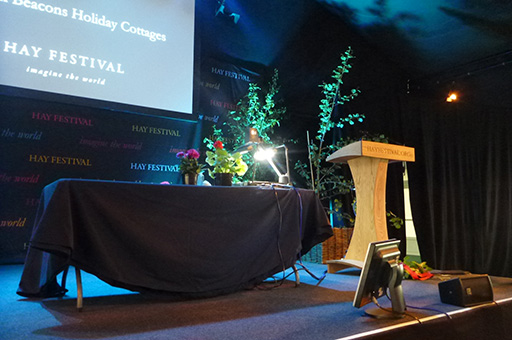 Going live at Hay Festival
The stage all set up, right before we came on.
The introduction passed, then we emerged holding hands and knowing it was too late to feel afraid.  I sat down and pulled out a geranium plant and a blank sheet of paper.  15 minutes of line drawing.  15 minutes of greens.  15 minutes to work on the flower, then onto the dahlia for the last 15 mins.  This time frame was incredibly relaxing, and as soon as I lifted a pencil it felt less terrifying.
The light was tricky, and the flattening effect of the projector meant I couldn't have the plant right in front of me as I would at home.  The drawing suffered as a consequence, but I could see enough to make a competent attempt at recording the bold petals and crenelated leaf margins of the geranium plant.  I even found myself enjoying it; laughing as Adele told some fabulous tale, and putting up my hand when she asked if anyone loved Haribo Tangtastics.  Or didn't like the smell of jasmine.  And feeling smug that I knew the main ingredient of the mystery drink she handed out to everyone as they filed in.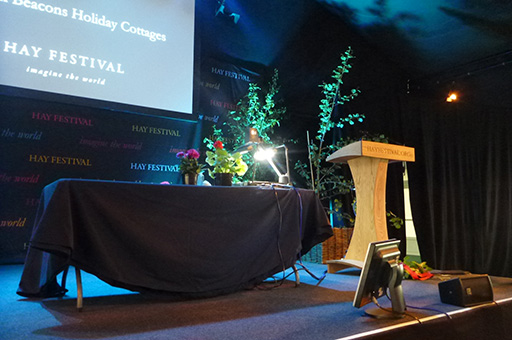 Pencil work on the geranium (0n the screen)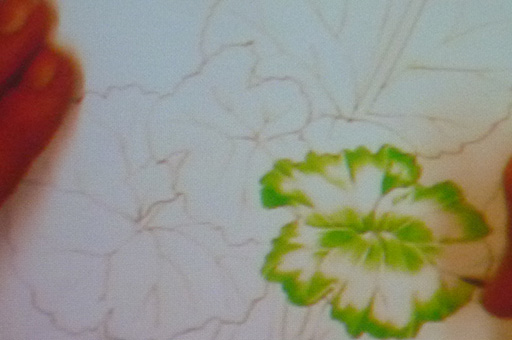 Working into the greens; as always it's just lots of tiny brush strokes following the direction of growth.
Overcoming my nerves
I could see my own children and family in the front row, and the lovely ladies from Brecon Beacon Holiday Cottages who sponsered our event; friendly faces in the darkness made a lot of difference, as did Adele's easy style and fabulous sense of humour.  At one point, relating a tale of a fig tree in Blanaevan, she did such an amazing Italian accent that I had to stop painting because I was literally shaking with the giggles.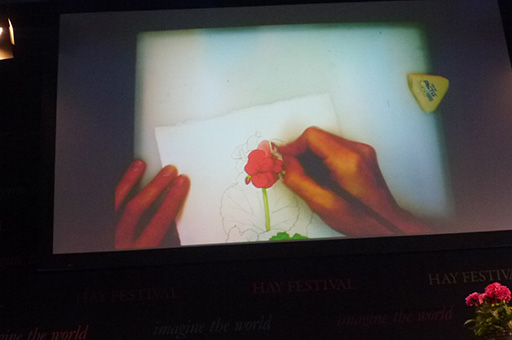 This still shows the moment I made a bad decision; plotting in the petals behind the main flower.  It wasn't so much the action that was wrong but the colour was far too strong and thus subdued the flower below.  This is the one thing I'd change about my drawing live at Hay Festival.
I left 15 minutes for the dahlia and thus managed to finish a leaf and get most of a flower done, then we moved onto questions before it was all over.  A couple more plugs for my exhibition at The Old Electric in Hay (until June 1st).
Finishing, and book signing at Hay Festival
Generous applause, paper roses, and we were hustled off to sign books at Pemberton's, the on site bookshop.
To say we were relived and happy is an enormous understatement.
Adele absolutely nailed it, mixing intimate knowledge of the plants she discussed with fascinating recipes and a charismatically friendly style.  I was so very proud of her.
Signing books and swigging wine, utterly de-mob happy.
Lots of lovely people came and got us to sign the book, and were extremely kind about both the recipes, the talk, and the illustrations.  The sun was out and life was simply glitteringly good.
The photographer from the Telegraph (who sponser Hay Festival) took lots of shots of Adele posing in front of gorgeous pink roses as we cracked inappropriate jokes (and Adele made for a fabulous article the next day), and then we shared a lovely lunch and possibly a little too much wine afterwards with the fab ladies from brecon Beacons Holiday Cottages.
So was it worth it?  Yes, most definitley so.  Was I surprised at how nervous I felt?  Absolutely.  Would I do it again?  Well, with Adele doing the talking, and something I feel as proud of as "The Garden Forager" then who knows, it'd be a definite possibility were the chance to arise ….
Many many thanks to everyone who supported, advised, and looked after us (including close and eternally patient family members!); to those who came and watched, bought the book, and were kind to us.  It was a truly memorable occasion, thanks entirely to you lot.