Benefits of Demonstrating Illustration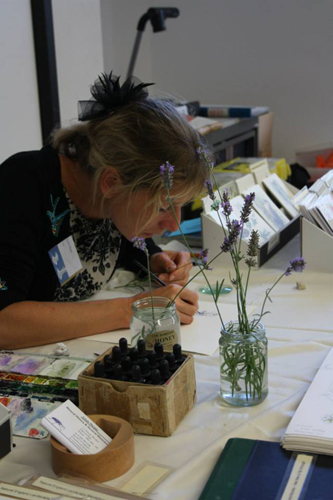 As a natural history illustrator, I sometimes get asked to publicly demonstrate (draw and paint).   These can be at exhibitions of my work, or at events such as the recent New Naturalist Collector's Club Symposium.  Initially, demonstrating at these events would fill me with fear and trepidation.  I have now learned to view them as brilliant opportunities to meet like-minded people and to network.  They are also great opportunities sell artwork and cards, and to get some illustrating done at the same time.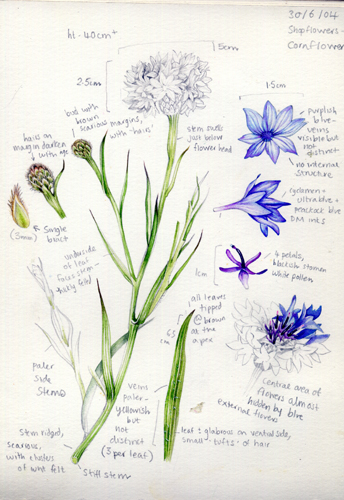 Demonstrating illustration for a book
The cornflower above was done for The Watercolour Artist's Flower Handbook by Particia Seligman.  Various watercolour artists were brought together and interviewed about the processes involved in our painting as we demonstrated how we painted a flower.  The results form the book.
Demonstrating at Conferences and events
On Saturday September 7th, it was the 3rd annual symposium of the New Naturalist Collector's Club.  I set out my stall.  My sketchbooks and portfolio were there to flip through.  I had greetings cards on sale, a browser of originals to buy, and me in the middle painting a plant.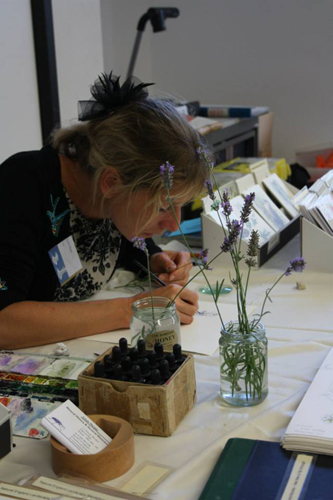 I do choose specimens that aren't too taxing because I know there will be interruptions as I chat to people who are kind enough to take in interest in my work.  In this case it was a lavender plant, which will be used in The Cultivated Forager (working title) by Adele Nozedar; a follow up volume to The Hedgerow Handbook  (also by Adele).

Demonstrating and sharing sketchbooks
I like to make my sketchbooks available for browsing, partly because people like to see the workings behind more polished pieces, and partly because people just seem to like looking at them.  Here's a photo of the wild strawberry from one of my botanical sketchbooks.
Meeting your heroes!
Not only do you get the chance to sell work, and to absorb all the kind things people say (which, believe me, really do help sustain heart and soul during the tough times), but also to meet people with similar interests.  At the Symposium, I met one of my heroes, Richard Lewington.  I got to look at some of his originals (his beetles and lichens are gorgeous), and discuss the niceties of stamp design with him.  A real treat.
I also got to meet a fellow member of the Botanical Art for Beginners facebook group, Sarah Morrish, who paints watercolours of feathers and plants which look like jewels, and was as nice as she is talented.
Demonstrating…and learning
I was lucky enough to listen to some of the speakers, including Dick Potts on his excellent (if sobering) volume Partridges, and about an upcoming New Naturalist volume on the Brecon Beacons (my backyard).
Getting new work from demonstrations
Demonstrating can also lead to commissions; in the past I did some botanical studies whilst manning a shared exhibition at Hiller's.  One of the visitors watched as I put the reds onto this study of an autumn leaf.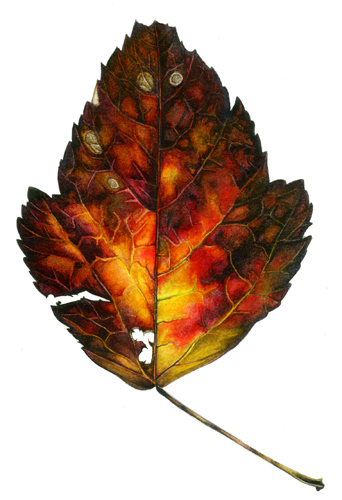 Two weeks later she commissioned two sketchbook studies of plants she loved; namely the milk thistle and the oak.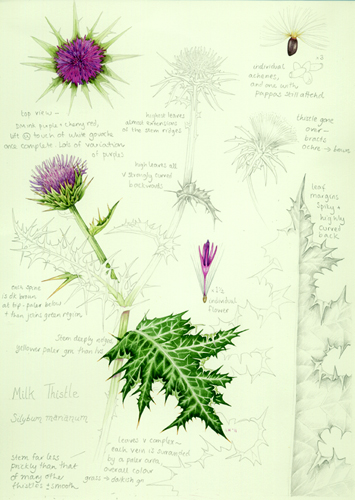 So if you're ever asked to demonstrate your skills in public, be it illustration or some other area of expertise, don't turn the opportunity down.  Although intimidating; ultimately these events have bolstered my confidence, led to sales and commissions, and perhaps most valuable of all, to deep friendships with people who share many of my interests and passions.