Illustrations for Foraging for Edible Plants Chart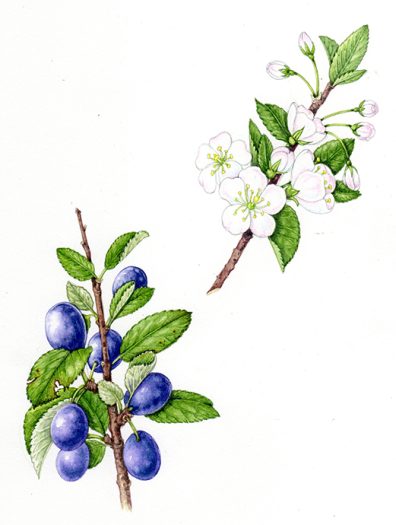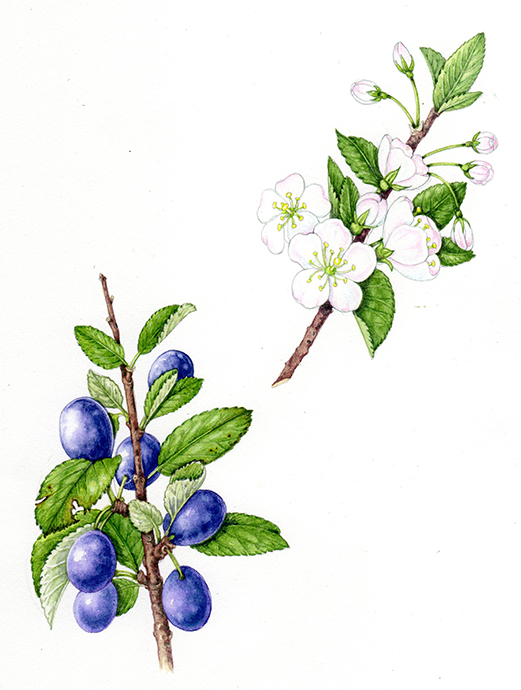 I've recently been working on natural history illustrations for The Field Studies Councils publications department.  They appear on a fold out chart of edible British plants which has only just come out.  I'm delighted with the result.   They've used my illustrations beautifully, and the way the information is included is innovative and clear.
Finding reference
Despite it being November when I began the job, and January when it was completed; I was able to get my hands on lots of the plants needing to be drawn.  It's been a mild winter.  Infact, the BSBI Plant Hunt 2016 results show more plant were clinging on from autumn than ever before.
Some of the illustrations were done for other jobs some time ago.  FSC were happy to re-use these from my online image bank.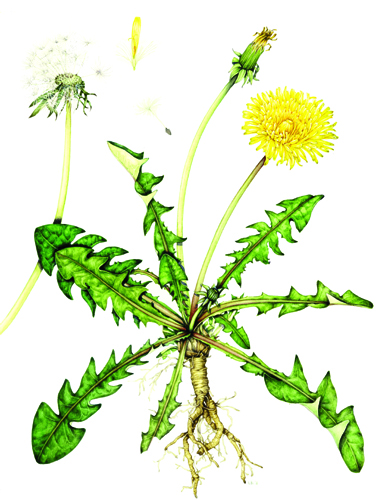 Dandelion Taxacum officinale, from my online image bank
I'm very keen on foraging and eating wild plants.  It's something I've always done and am keenly training my kids to do.  In fact, it's become a big part of my professional life thanks to my collaborations on The Hedgerow Handbook and The Garden Forager with author and queen forager Adele Nozedar.
How the chart works
Many of the illustrations needed doing from scratch.  The wonderful thing about working with Field Studies Council FSC is that they have a team of botanists on hand.  They ensure my illustrations are scientifically accurate.  They also make sure they include all the salient points needed to identify a plant in the wild.
They've structured the chart with a a key.  This instantly tells you what part of the plant to eat: nut, leaves, seeds, roots, fruit, or flowers.  In many cases there's lots of overlap, and the key makes this clear and easily understood.
Plants included in the foraging chart
Hawthorn Crateagus monogyna has edible flowers, leaves AND fruit!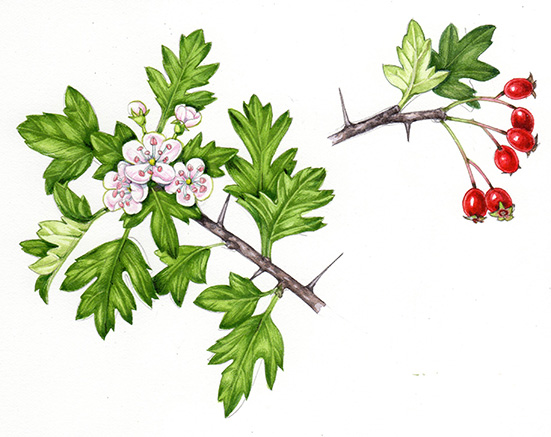 Hawthorn
Nut providers include the Beech Fagus sylvatica and the Hazel Corylus avellana.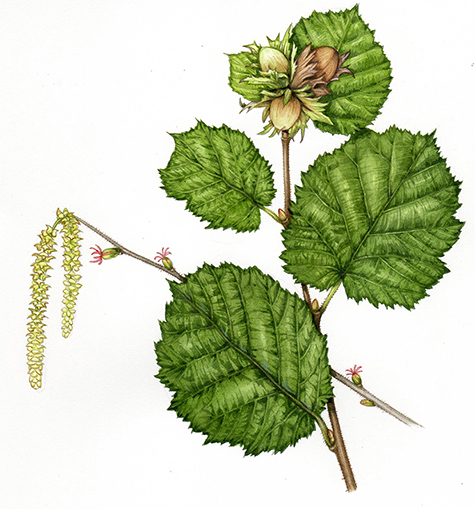 Hazel  (step-by-step blog on creating this illustration available)
Plants with edible leaves range from Water mint Mentha aquatica to Navelwort, Common stinging nettle Urtica dioca to Sorrel.

Navelwort Umblilcus rupestris

Sorrel Rumex acetosa
You can eat different parts of different plants
Cleavers Galium aparine and Common mallow Malvus sylvestris have edible seeds.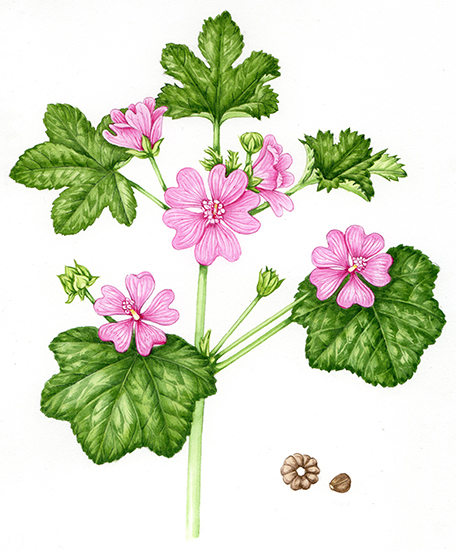 Common mallow
The Dandelion has edible roots as does common mallow.
Some of the fruits to forage for include Crab apple Malvus sylvestris and Wild plumPrunus domestica. Wild strawberry was included too.  (I've also done a step-by-step blog on illustrating this species),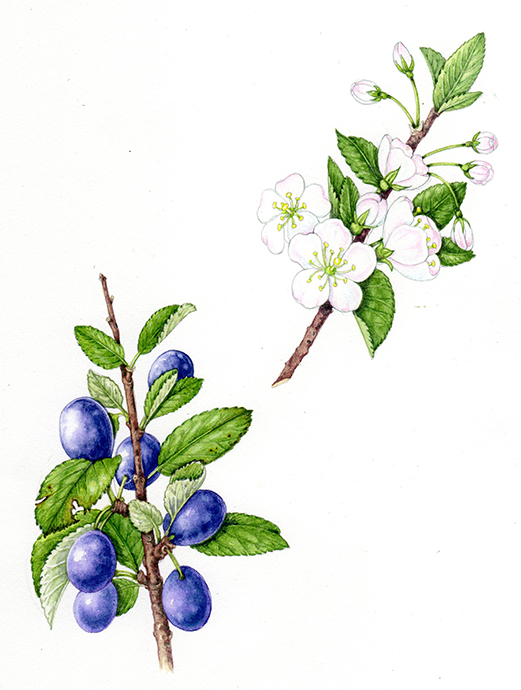 Wild plum Prunus domestica.
Edible flowers
Edible flowers include the Dog rose.  (Step-by-step blog on completing this illustration is available.)  Hawthorn, Dandelion, and the Elder also have edible flowers.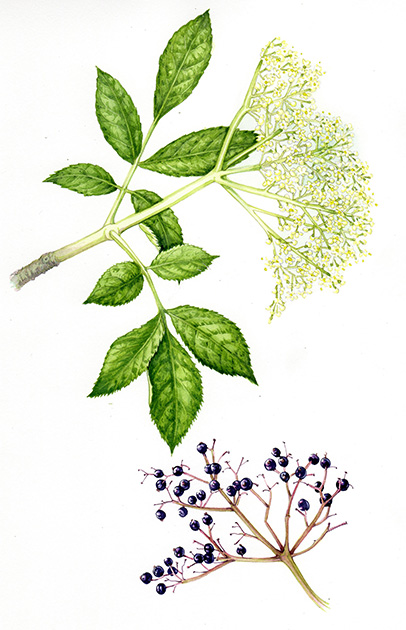 Elder Sambucus nigra (step by step blog available)
…And some NONE edible plants
With edible plants, being able to correctly identify a species is vital. I was pleased that they included a section on "poisonous common look-alikes to avoid".  This includes killers like Hemlock Conium maculatum, Dog's mercury Mercuralis perennis, and Lord's-and-ladies.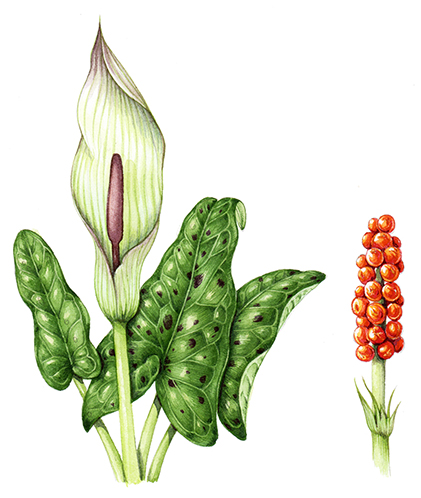 Poisonous Lord's-and-ladies Arum maculatum
On the reverse of the chart is extensive and clear information about when and where to forage, how to use the plants, a few recipes, suggestions on how to involve kids, and some vital information on how to stay within the law as you get the taste for foraging.
Obviously I'm going to sing the praises of a chart that features my illustrations, but I think this is a really useful guide, and has combined information and illustrations perfectly.  And I'd say that even if I' hadn't done the pictures, honest!