Botanical Illustration: Cheating doesn't exist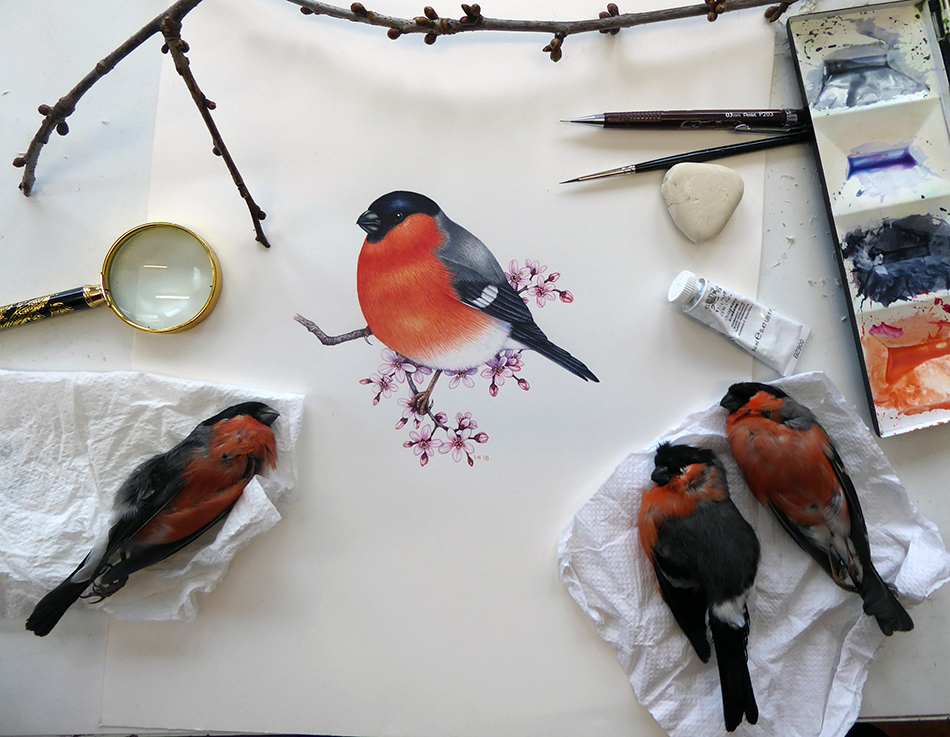 Cheating
When I chat to people who are just beginning botanical illustration, I quite often get questions about whether or not certain things are "cheating".  This annoys and upsets me.  Everyone should be encouraged to draw and paint, and to use whatever tools are available to them.
There seems to be a strange idea that various shortcuts , tools, and techniques which are incredibly helpful to a botanical illustrator are somehow "cheating".  I want to try and dispel some of these ideas.  By so doing I hope to encourage beginners to draw and paint plants and flowers without any unnecessary feelings of guilt or shame. (For more on drawing for the absolute beginner, check out my blog.)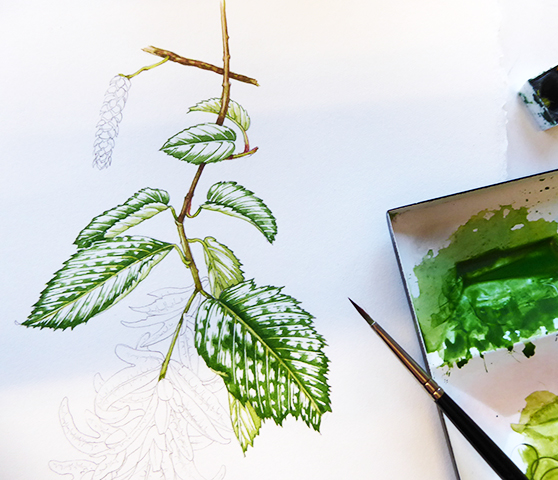 Hornbeam Carpinus betulus
Drawing around things
Quite often, students and beginners are challenged by trying to record the shape of a leaf or flower.  So they draw around the object, then fill it in.
I have no real problem with this, it provides a pretty decent map with elements in good proportion to one another.
If they do this then they can concentrate on the internal structures and the veins and patterns of a flower and leaf.
I wouldn't recommend it as a teaching technique as it doesn't help teach you to translate a three-dimensional object into a two-dimensional object, and because drawing round an object doesn't allow for structural elements like foreshortening or curved surfaces.
However, I'm not going to forbid it either.  It can be useful for flat objects, and in my time I've been known to draw around fronds of a fern to figure out how they relate to each other, when recording the structure itself was doing my head in.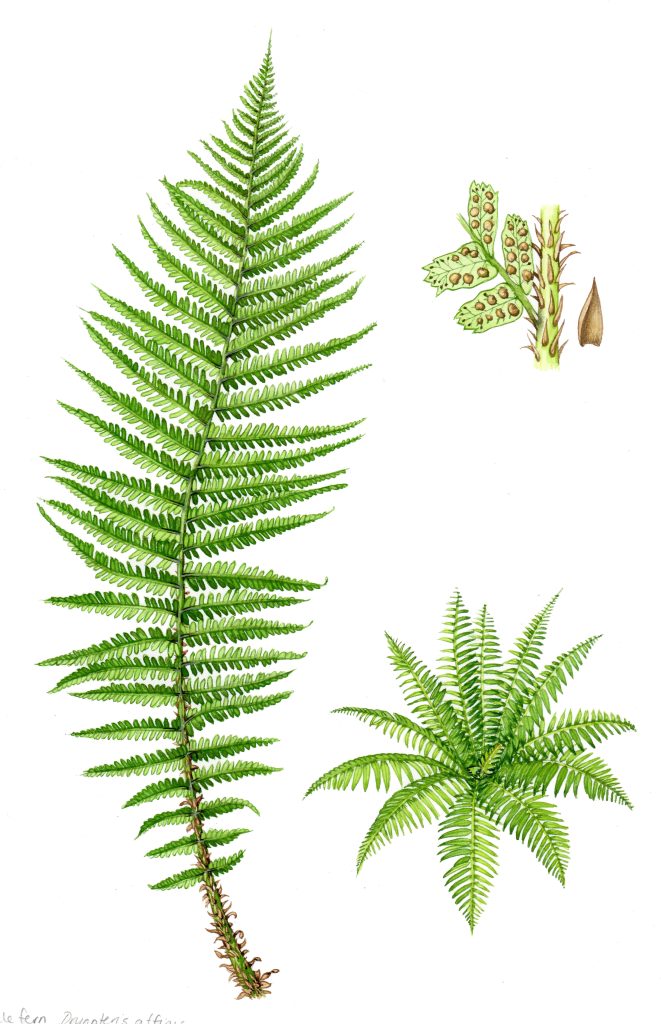 Scaly male fern Dryopteris affinis
So is drawing around things cheating?  Well, it may be of limited usefulness, but no, it's not cheating.
Using photos
Photographs are an incredibly useful resource.  I have no issue at all with people using them for reference, or to work from.
A photo does some of the hard work for you, flattening a three-dimensional object to a two-dimensional one.  It records darks and lights onto a surface in a way that may be easier than trying to plot these differences by looking at a specimen.
Photos have their drawbacks.  The colours on a photo may not be true to life.  It's much easier to figure out the structure of a plant or animal if you have it in front of you, than if it's flattened.  This is because a real plant or flower can be turned.  It can't be looked at from another angle.  Alas, a photo cannot be.
One other really important point about using photos is you must get permission of the photographer before using the photo.  If you don't you're infringing their copyright.  This is not only a bit rude, but also illegal.
I frequently use photographs (see my blog on this for more).
Without photos there's no way I could complete an illustration of a plant which wasn't in flower.  Photos back up my sketchbooks.  They add to information of plants I gather from text books and other illustrators' works.  I have metres of catalogued photos of plants that I've taken, and I refer to these constantly.
Photos allow you to combine different stages of a plant's life, you can add a rosehip to a painting of a rose without having to wait for four months for the rosehip to develop and ripen.  Sure, it'd be lovely to wait for the rosehip to appear, but with deadlines and the understandable desire to get a painting "done", it's often a luxury we free-lancers (and beginners) can't afford.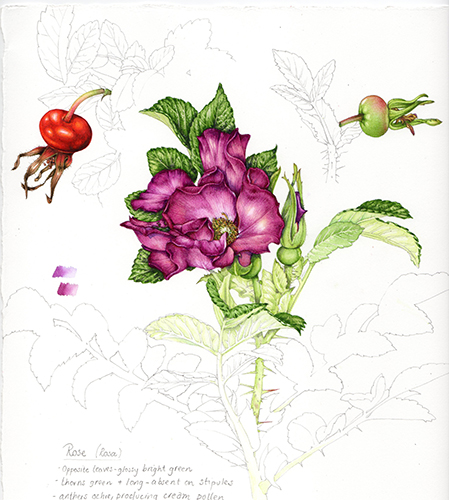 Rosa rugosa
Is using photos cheating?  If you can't get your hands on the actual plant itself then what better resource than a photo?  No, in my opinion using photos is not cheating.
Using projectors
In my studio I have an extremely well-used and invaluable piece of kit.  It's called a "Design master II" projector, and I can't begin to tell you how many hours of my time it's saved.  You pop an image into the top section of it, and can shrink or enlarge the image which is projected onto the table below.  Draw around the image and hey presto! Done.
I find my projector especially useful when I'm building up composite landscapes.   If I've been given a list of 35 species to pop into a habitat, it's invaluable.  Getting them to scale would take months if I couldn't shrink and enlarge them.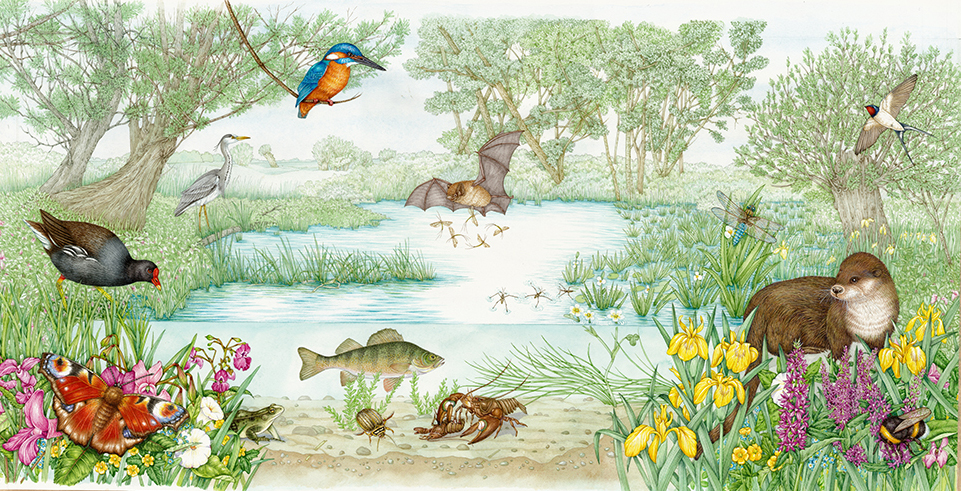 Woodstock water meadow
Using a projector may not be something many beginners do.  Often when I mention this tool, people often ask me if it's not "cheating" to use it.
David Hockney explores this question in his fascinating book; Secret Knowledge: Rediscovering the Lost Techniques of the Old Masters. In this book he examines how many of the great masters used whatever optical tools they had available to construct their paintings.  Artists such as Caravaggio, Jan Eyck, Vermeer, Ingres, Warhol and Cezanne used mirrors, the camera obscura, projectors, and lenses to help them with their work. (See the Guardian's book review for more.
Hockney regards the artists who used these tools as rather intelligent, and so do I.  Why would you choose to eschew a technique or tool that simplifies your life and saves you time?
So no, I do not regard using a projector as "cheating".
Tracing
Another useful technique which is sometimes labelled as "cheating" is the use of tracings.  Again, I want to assure anyone who traces their work that this is totally acceptable, and something that almost everyone within the botanical illustration community does.
There are different reasons for tracing.  I use it if I'm illustrating butterflies or beetles.  Although there are individual variations between butterfly wings, if you get one side of a butterfly drawn up, then trace and flip the trace to complete the illustration, you've found   a good time-saving technique.  Once drawn up, you can re-examine the minute differences between the two sides and edit your drawing accordingly.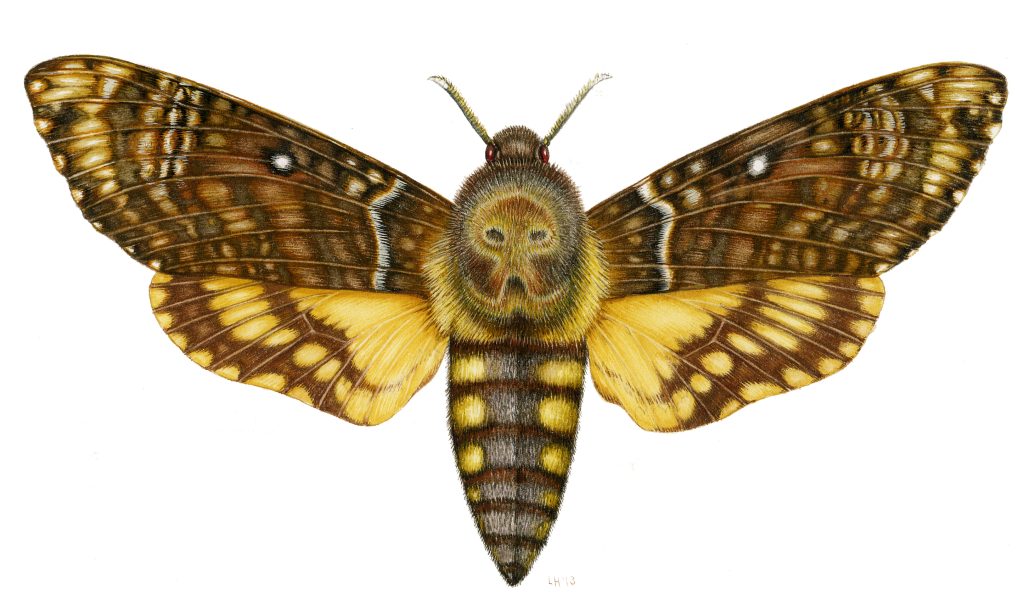 Deaths head hawkmoth Acherontia atropos
Many botanical illustrators will draw up their subject, then use tracing to transfer it to the final surface they'll be painting on.  It means the working drawings can be kept away from pristine fresh paper, and that any mistakes can be fixed at an earlier stage.
Is it cheating?  I can't see how.  It looks like good management to me.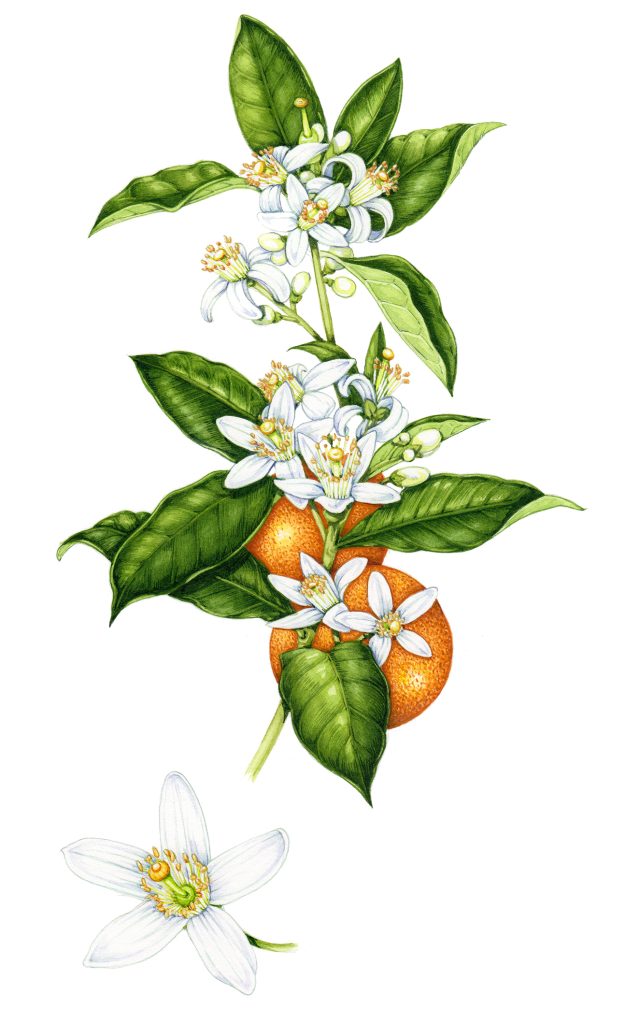 Sweet orange Citrus sinensis
What is cheating?
The Oxford English dictionary defines cheating as: "Acting dishonestly or unfairly in order to gain an advantage."
I can't see how using helpful tools, modern technology, and tried and tested techniques can be seen as "dishonest" or as getting anyone an "unfair advantage".  Everyone has access to these things, and should be encouraged to use them as they see fit.
Is using a magnifying glass or dissecting microscope "cheating"?  It's another use of lenses.  Is working from dead birds stored in the freezer "cheating"? I'm not sure how doing this differs from using a photo (except that it's easier to get your hands on a photo of a bullfinch!)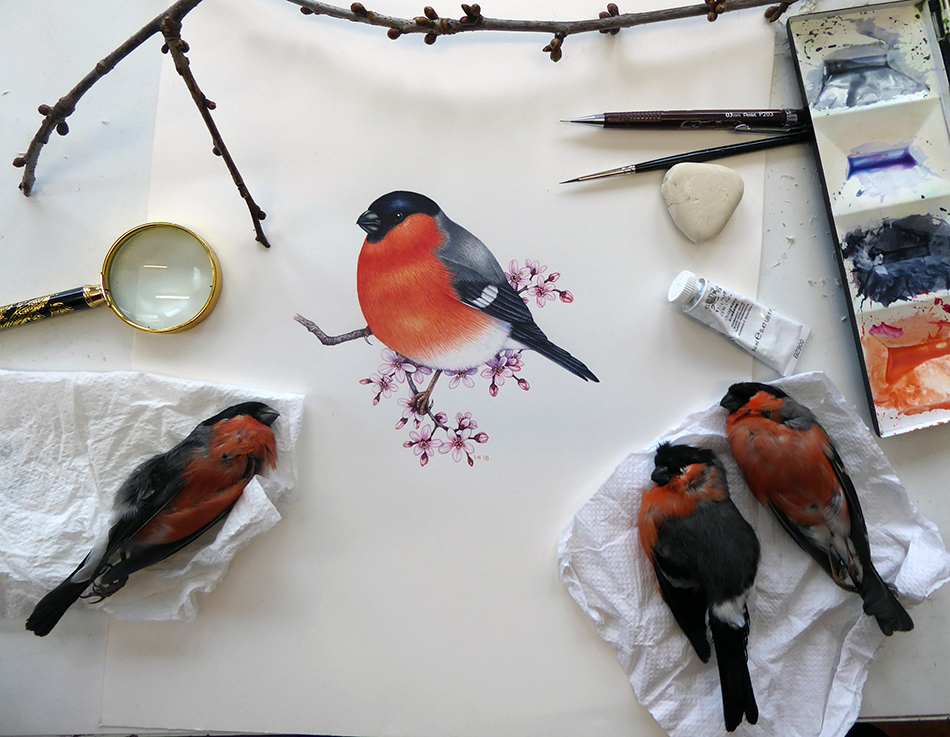 Bullfinch illustration with reference
Why do I get cross when people talk about cheating in art?
My main problem with the use of the word "cheating"  is the effect it has on those starting out, on beginners.
If paralyses them.  They're often so afraid that they're doing it wrong.  They fear they're cheating, that they're going to be frowned on.
They may not be sure of what is, or what isn't seen as "cheating", and simply don't utilise straightforward approaches to creating art as a result.
I do not believe there is any such thing as "cheating" when it comes to drawing.  Whatever tools are available, use them.  Whatever techniques seem to help you, practice them.
The only way you hone and improve your drawing and painting skills is by putting in the hours, and by drawing as much as possible.  To sustain you you need to feel passionate and inspired by your subjects, encouraged and supported by those teaching you, and you need to feel confident that whatever approach you use, you won't be chastised for using it.
So please.  No more nonsense about cheating.  If you love drawing and painting, do it.  Use whatever tools you like, enjoy yourself, learn from doing it.  And if someone accuses you of cheating, just remember, sharing techniques with Vermeer, Hockney, and Caravaggio puts you in rather good company!