An Exhibition of Botanical Illustrations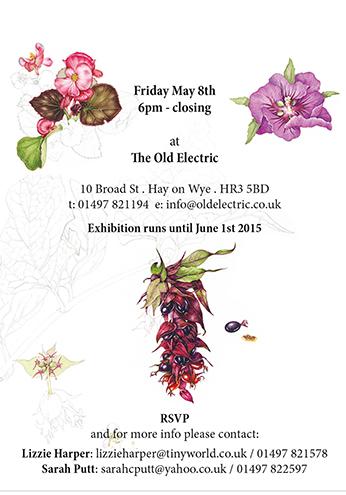 With mine and Sarah Putt's shared exhibition launching tomorrow, I thought today's blog could be a check list of what's involved when you put on a show.
Almost all the work I'm showing is from "The Garden Forager" by Adele Nozedar. Sarah's work includes oils of masked portraits and glowing flowers.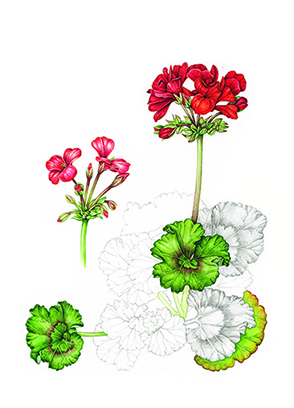 Geraniums Botanical Plate by Lizzie Harper
Venue
Decide where you want to hang your exhibition.  I've chosen a busy shop in my home-town; The Old Electric.   It sells antiques and industrial furniture, classy welsh woollens, and vintage clothes.  It also has a café and a bar, and is a good place to while away an hour or so.  Perfect for an exhibition; you go in looking for a Danish sofa and come out with a painting of a geranium.  At least that's the theory….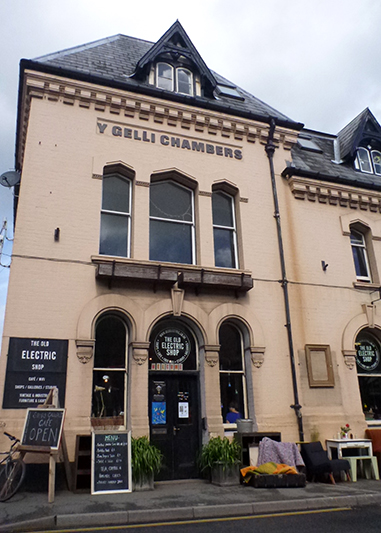 The Old Electric in hay on Wye
Choosing your pictures
This is tricky, it's hard to step back and decide which of your illustrations are appealing and likely to sell.  It's also scary as framing costs are high – although with a good framer like mine (Fitting Frames) at least you're guaranteed a beautiful result.  I ask friends and family to help me choose; they have the distance to be better judges than I am.
Paintings you're not framing can be mounted and sold in browsers; be sure you protect them by wrapping them in plastic.  Framing can take a while, be sure to leave yourself plenty of time before the show to get this done.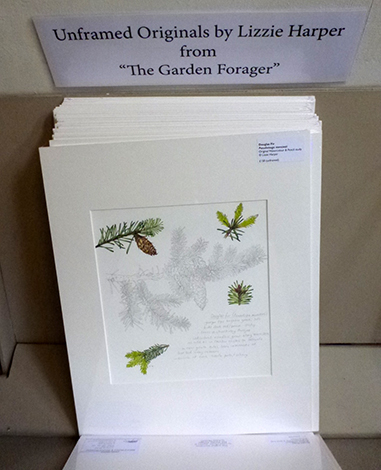 Browser of Unframed Illustrations
When it comes to hanging your pictures, don't rush it and be prepared for set-backs.  Have a kit including essentials like hammer, nails, drill, glass cleaner, blue-tak, and scissors on hand, invariably you'll need it.  And take your time.  And a friend.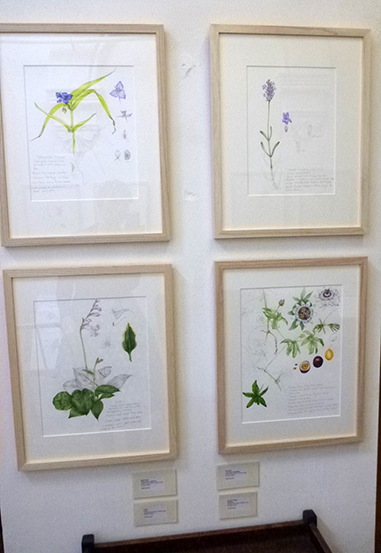 Framed Botanical Illustrations by Lizzie Harper
Labelling and Pricing
Consistent labelling is important if you want your work to look professional.  Stick to one font.  Make the title, medium, and your name clear; include a price.  Remember to add labels with your details on, and any advice (such as keeping watercolours out of bright light as it'll fade them).  Pricing is my biggest nightmare, for the life of me I simply can't decide how to price my work.  Sometimes I think it's all stupidly cheap, sometimes I think it's deliriously expensive.  Often I just doubt anything will sell in any case (see "Self Confidence", below). I end up picking a few prices and applying them to my paintings according to which I love most – my favourites are the priciest.  I'm lucky as my work has already been commissioned and paid for, so extra from shows is a bonus.
You also need to consider labels for any unframed work or prints, price lists (these can go alongside the paintings on the wall), getting a sales catalogue sorted for the seller, and larger lables for browsers saying if the work is original or prints.  Don't forget labels for cards, and name labels to go alongside your framed work too!  It's a good idea to laminate these.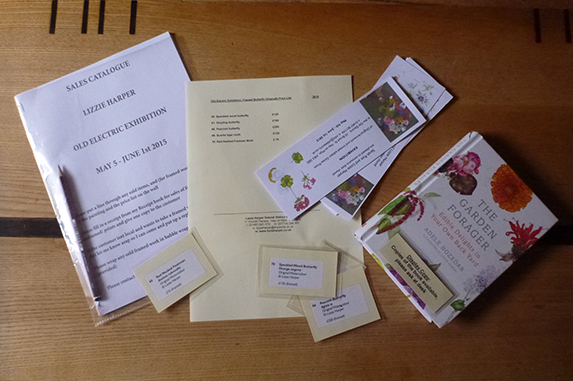 Sales catalogue, Name labels, and a price list for my upcoming exhibition
Cards, prints and sundries
So you've got the artwork you want to sell prepared, good.  It's wise to have some greetings cards made up too; often over the run of an exhibition you'll find you earn a lot more from card sales than from sale of originals!  Make sure these look classy, which may involve buying a card rack (sigh).  If you want to buy Lizzie's cards (or prints) click here, or email her on info@lizzieharper.co.uk.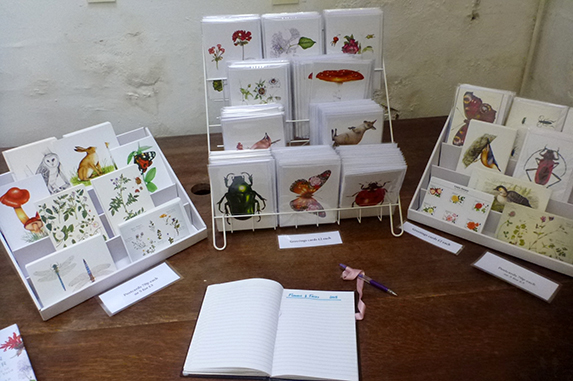 Cards for sale at The Old Electric
Press & Publicity
You need to publicise your show, and I find this particularly gruelling.  Not only is there a lot of effort involved in laying out posters and phoning local press, but it's hard to go on and on about it without feeling like the world's biggest narcissist.  Social media is useful for getting the word out, but be sure to try and get column inches in local papers too as potential visitors may not all be computer-literate.  Put leaflets and posters around the area where the show is to be held, and tell people early so they can plan ahead.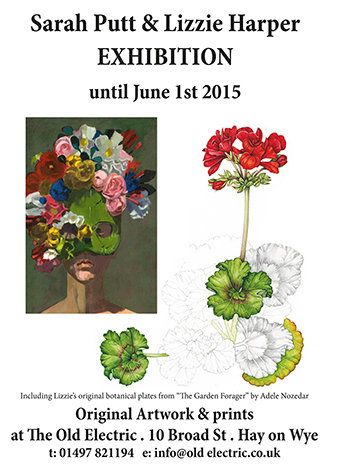 Poster for our Exhibition
Private View
Most exhibitions are launched with a private view, which is a way to drum up visitors and to try and get some sales.  Although they involve a lot of work (and cost a lot!), they can be fun as many friends and family will be happy to show up and support you.  I sent invitations out by email and by post, as did my co-exhibitor Sarah.  I tend not to be too picky about who I invite to the private view; the more the merrier.  I tell people to feel free to bring their family, friends, colleagues…  Make sure you provide them with wine, crisps, and soft drinks; and order in wine glasses too.  Having a friend on hand to pour the wine is a good idea as it frees you up to chat to any visitors.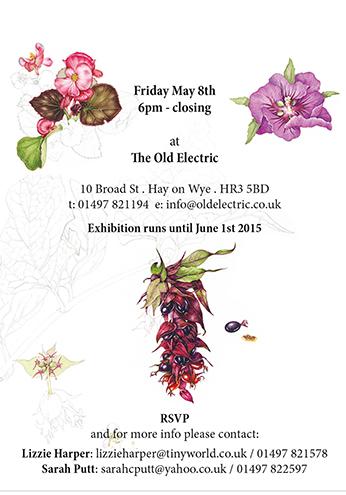 Private view invitation (rear side)
Self confidence
Now this one is the hardest of all to handle.  I've had lots of shows over the years, and invariably the nerves get to you.  And even if everything is prepared in advance, and you're not panicking about buying apple juice or sorting a price list, you still hit the brick wall of needing to believe in the intrinsic value and appeal of your own artwork.  I always lie awake the night before a private view, convincing myself that if nothing sells it doesn't really matter.  And that I've priced everything far too high. I have no solutions for this one.  Have some self-belief, and smile broadly.  Keep your fingers crossed.  Try to relax, and above all , try to enjoy your exhibition.  After all, it's all about you, and you've put so much time, effort, and money into it that to do anything else would be just silly.
Fingers crossed for tonight for both of us artists, and thanks for taking the time to read this blog.  And if you're in the area, do come and join us; The Old Electric's open til 11.30pm and we'd love to see you at the private view!  The exhibition runs til June 1st.