Hereford Art Week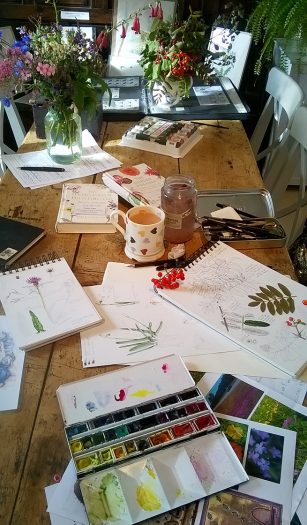 Back in September, I took part in Hereford Art Week for the first time.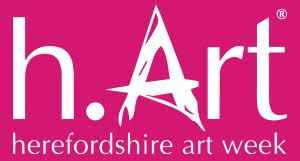 Hereford Art Week logo
Going under the name of Beautiful Botanicals , Lea Gregory (another botanical illustrator) and I set up in her gorgeous hill-top studio.  We opened our doors to whoever chose to visit.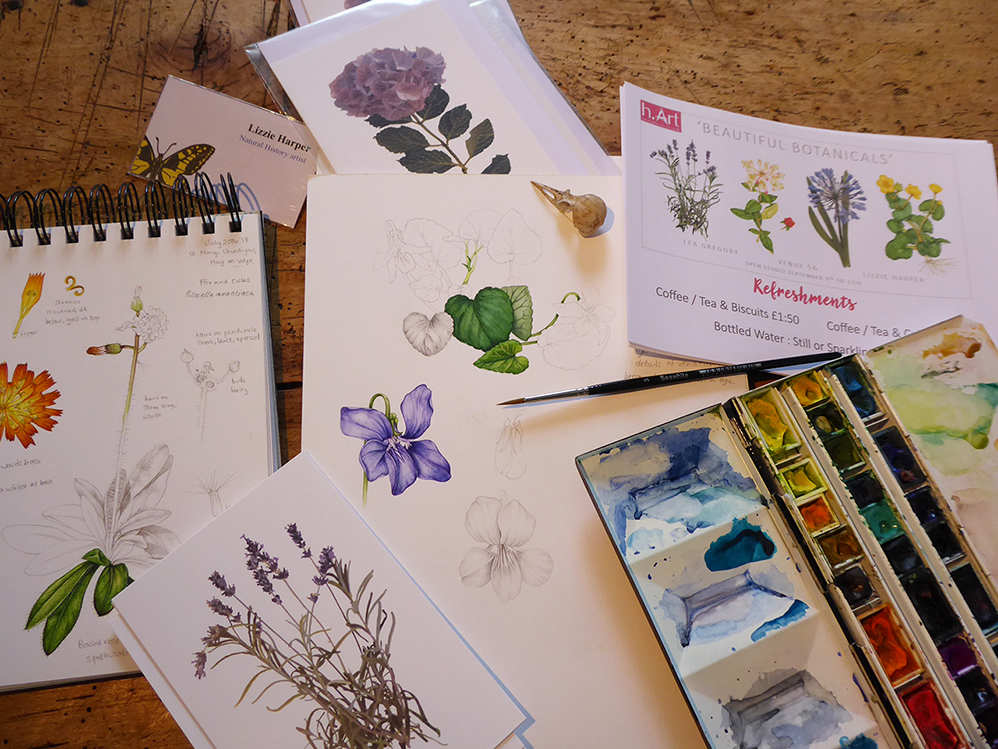 Busy working desk during Hereford Art week
Preparing for Hereford Art week
We decided to have a bit of everything on show, so her flower art prints were on the walls alongside my original framed watercolours.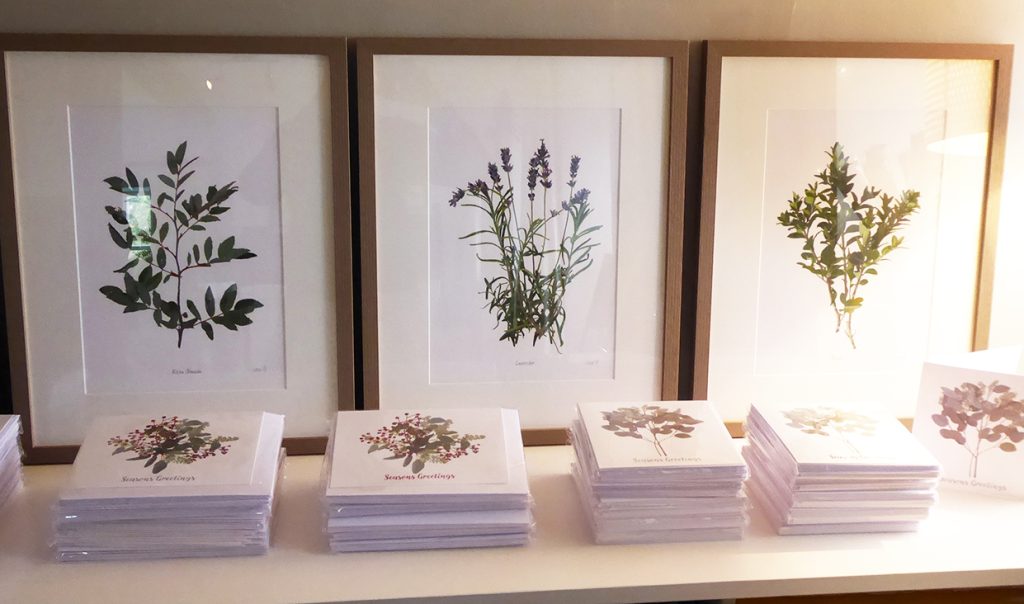 Lea Gregory: Framed prints and greetings cards on sale
Lea does a good line in using her designs as decoration.  She has aprons and tote bags, wrapping paper and christmas cards on sale.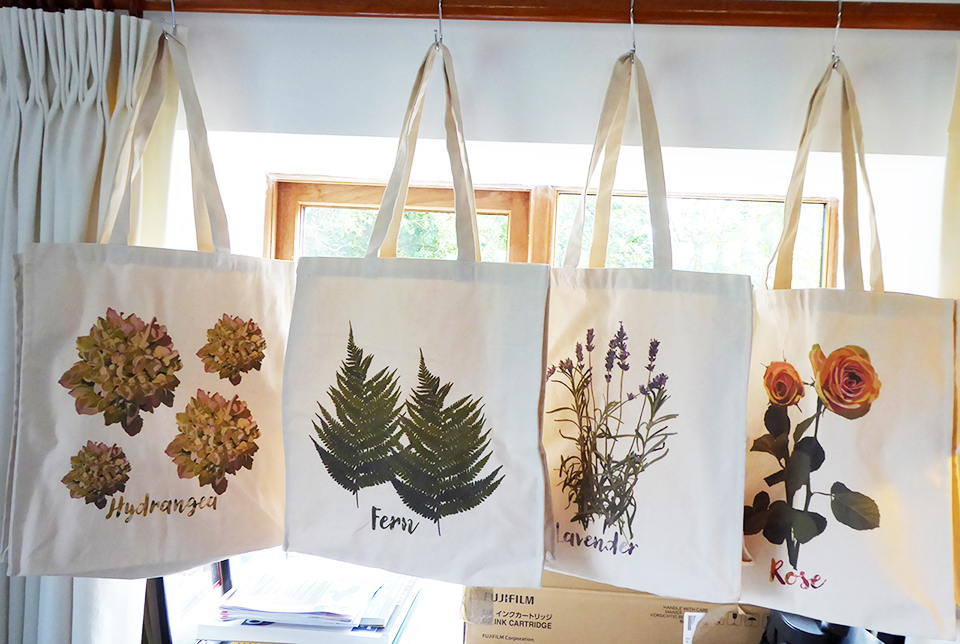 Lea's beautiful botanical tote bags
We both had browsers of limited edition prints, and greetings cards.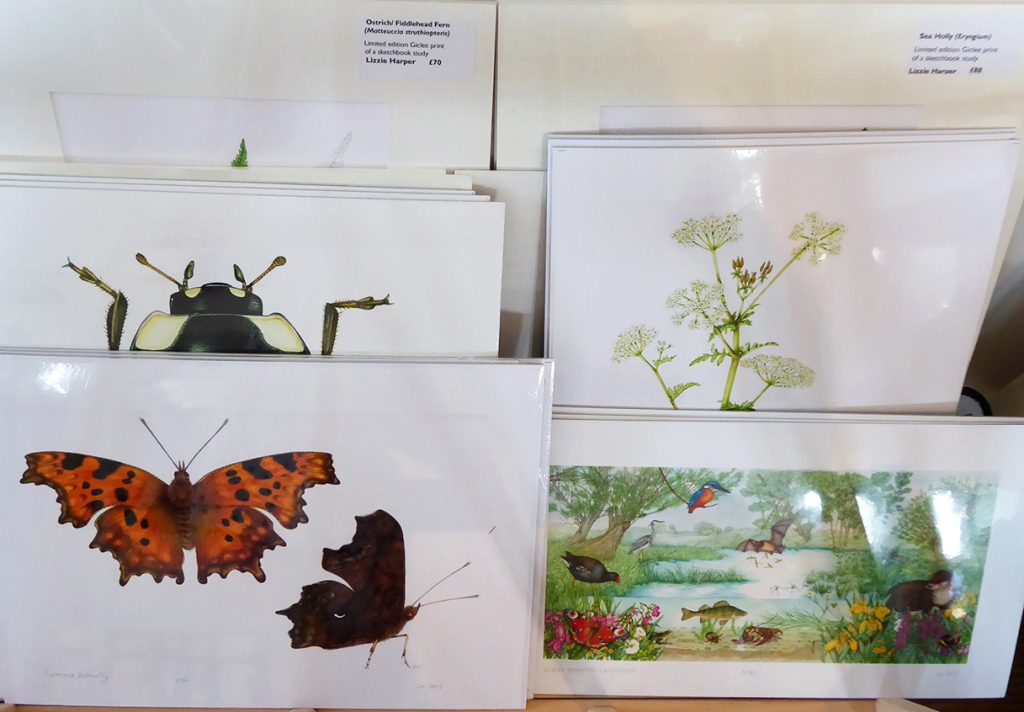 My limited edition giclee prints
I tend to accumulate an awful lot of original illustrations from commissions.  Instead of framing everything, I'll  pop an original in a clear sleeve with a price on the back.  This allows me to sell it at a far lower amount than I could do it it had been framed or mounted.  I had a couple of baskets of original pencil and watercolour paintings available. It was wondeful to see how well pictures from them sold.  I think perhaps there's an immediacy to something so unprocessed that appeals to folk.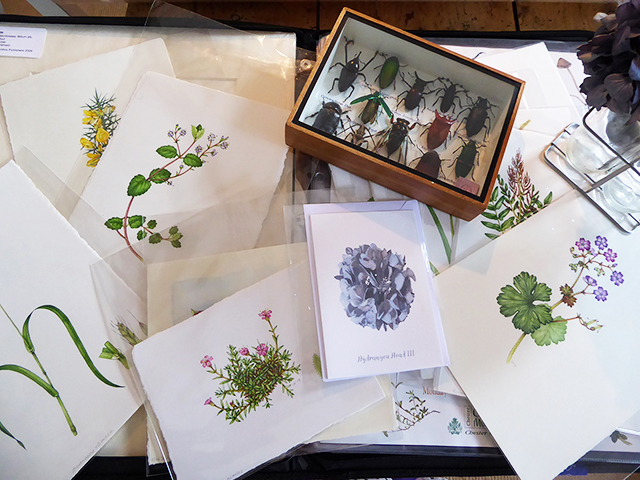 Some of my original illustrations along with one of Lea's Hydrangea greetings cards.   Plus a collection of cool beetles.
Working during Hereford Art week
I decided to bring my sketchbook along so I could do some drawing and painting between visitors.  From experience I know people love flicking through sketchbooks, so I brought some past ones to the studio.  My portfolio showing past work sometimes intrests people, so it came too.
I got quite a bit done over the week. There was a study of a rose, and a hawthorn berry completed.  I did a Common vetch study, an anemone, and a little bank vole that the cat brought in.  People seem to enjoy seeing the working environment.  I believe watching as a painting progresses is interesing, so I was more than happy to work as they browsed and looked around.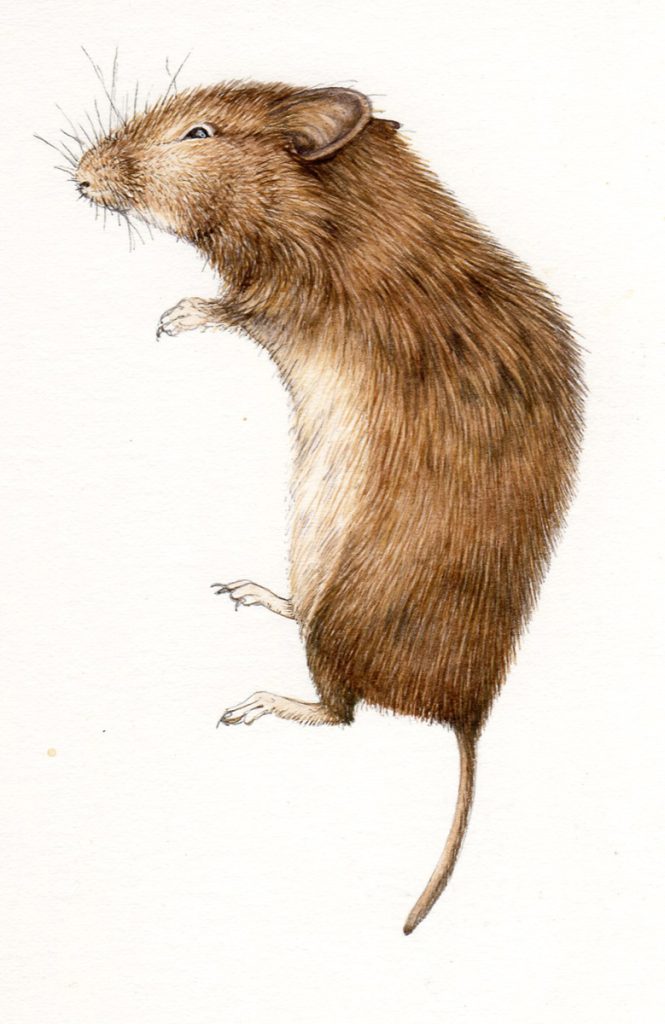 Bank vole sketchbook study
I also had enough time to get on with commissions too, and completed an illustration for a honey producer.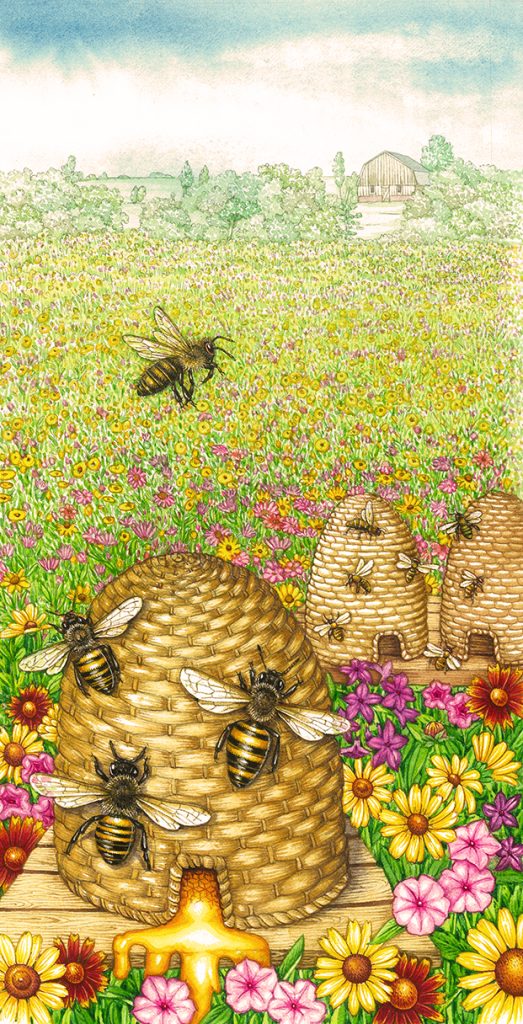 Honey label artwork
I completed an illustration of a Coal tit Periparus ater .  It was a treat when it got sold the day I finished painting it!  Believe me, this is a rare occurance!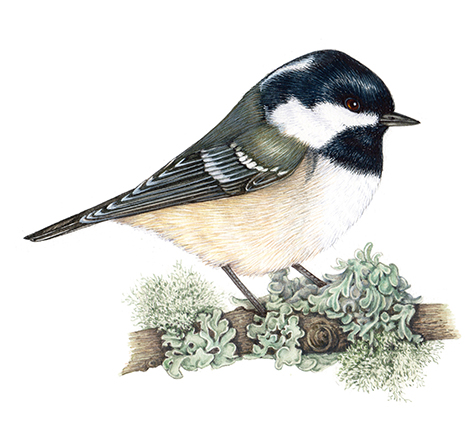 Illustration of the Coal tit Periparus ater
Visitors during HArt
I found the balance of chatting to visitors and getting on with painting rather refreshing.  We had some really fascinating people stopping by.  There was a lady who worked for the Woodland trust and knew an enormous amount about oak trees as habitats.  One man was a draughtsman for OS maps in his youth.  I met an engineer involved in testing Rolls Royce engines, and another visitor who knew exactly where to go to spot snow bunting near Hay on Wye.  Some amateur artists and keen gardeners stopped by.  A couple came from Merthyr to choose several of Lea's framed prints for their lounge.  To a certain extent the visitors are self-selecting, so I shouldn't be surprised by how lovely they were.  However, it certainly made the week fly by!
We were so lucky to make sales and more than cover the costs of participating in Hart.  Luckily, we had more than 200 visitors, which was remarkable considering how remote and tucked away Lea's studio is.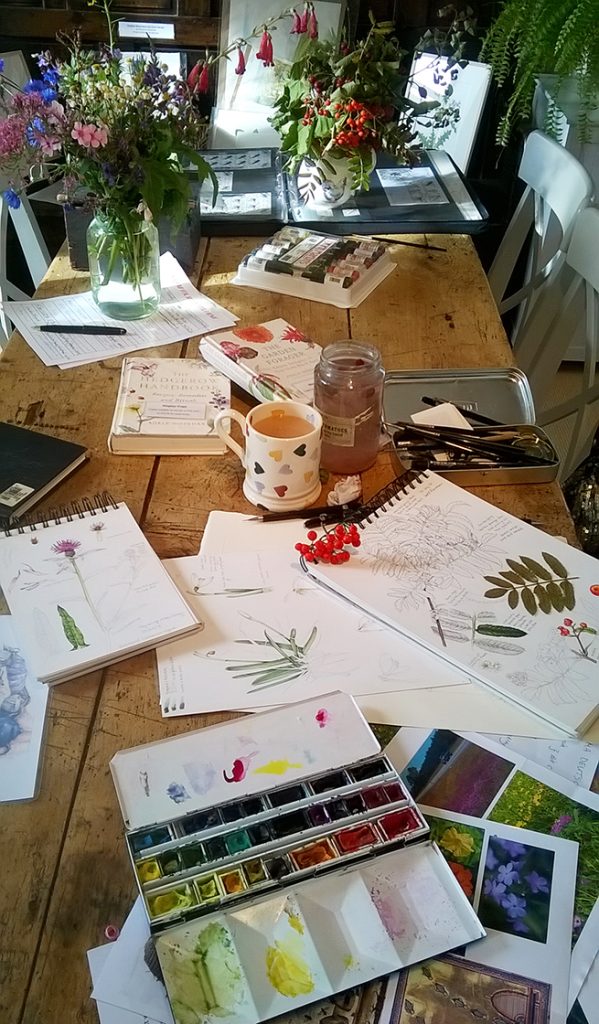 Desk complete with paintbox, flowers, sketchbooks and reference for the honey label artwork
In fact, we were so taken with the event that we've signed up to take part in the Winter Hereford Art Weekend on November 25th and 26th.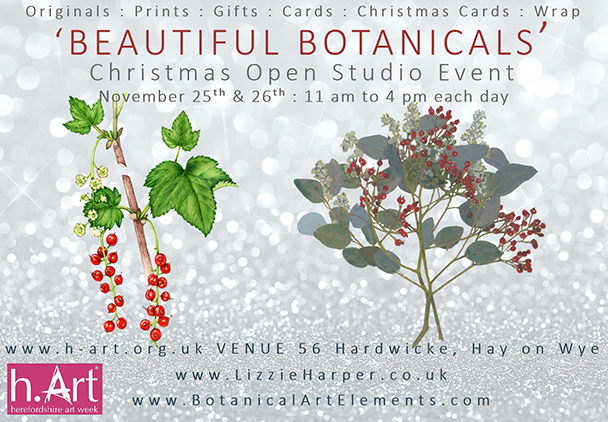 Flyer for Christmas H Art Open studios
We've both been working hard since September, so expect to see some new stuff as well as firm favourites like greetings cards and Christmas gift ideas.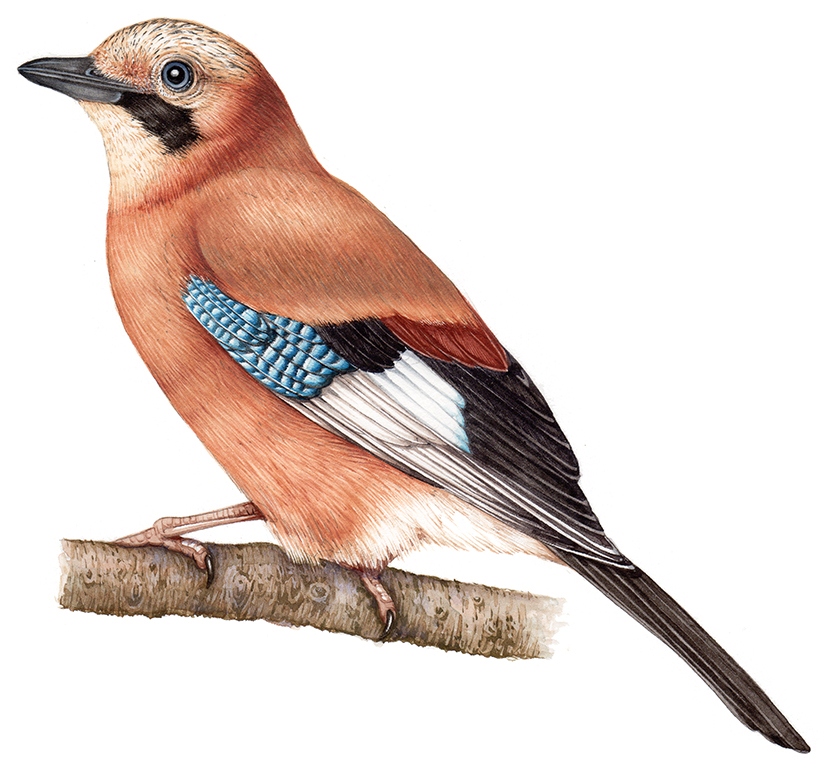 Ornithological illustration of the Common jay Garrulus glandarius
If you missed us in September we'd love to see you next weekend.  It's 11-4pm at Pen Y Lan Granary in Hardwicke (pop HR3 5TA into the sat nav).  Other artists holding open studios this weekend are on the H Art website.
To those who visited us in September, thankyou so much for making it such a fun week.  For those of you planning to come and see us, hooray!  And for everyone else, watch this space. I reckon we might be doing H Art week in 2018 too…..