Natural History Illustration at Art in Action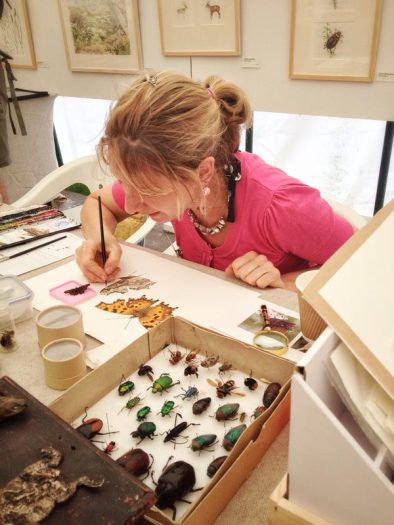 I was honored and delighted to be asked to join the Calligraphers and Illustrators this year at Art in Action.  It's an annual event at Waterperry Gardens near Oxford.  Being a demonstrator gives me the chance to sell my original illustrations and cards to the thousands of visitors who attend this amazing event.  I also got to demonstrate how I work, and talk to anyone who ask about what I do.
Planning for Art in Action
The first thing to establish was which paintings to take, and where to place them.  This required a lot of shuffling about on the kitchen floor til I was satisfied.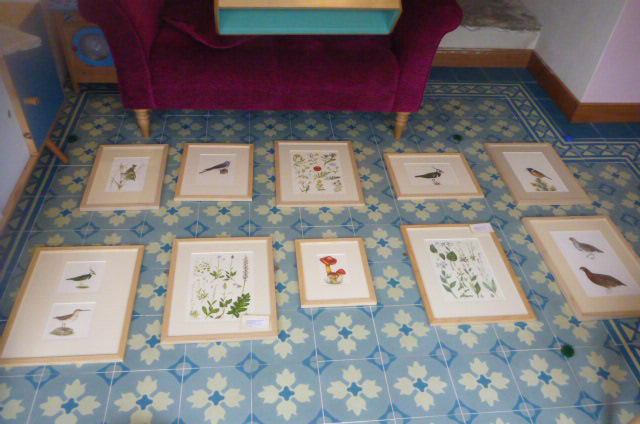 Looking at paintings on the kitchen floor
Setting up at Art in Action
Setting up on site took all of Wednesday, but it was wonderful to see the whole Calligraphy & Illustration tent come together.   Seeing the demonstrators hang paintings and set out their stalls was fascinating.  I was delighted to be opposite Rakhman Bakoev, who paints the most gorgeous Uzbekitstani traditional minatures.  Next to me was Shelley Perkins who creates atmospheric scenes full of natural imagery and animals.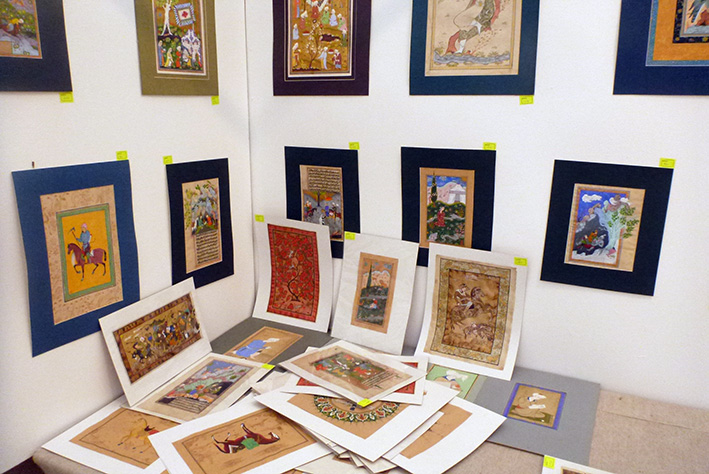 Rakhmon Bakoev's stall
I brought a lot of specimens with me.  Working from the real animal simplifies matters.  So I have a wide assortment of dead insects, bones, and odd bits of taxidermy that I display.  (For more on this please watch my Youtube video "Birds, Bugs, & Bodies in the Freezer", or view it at the end of this post.).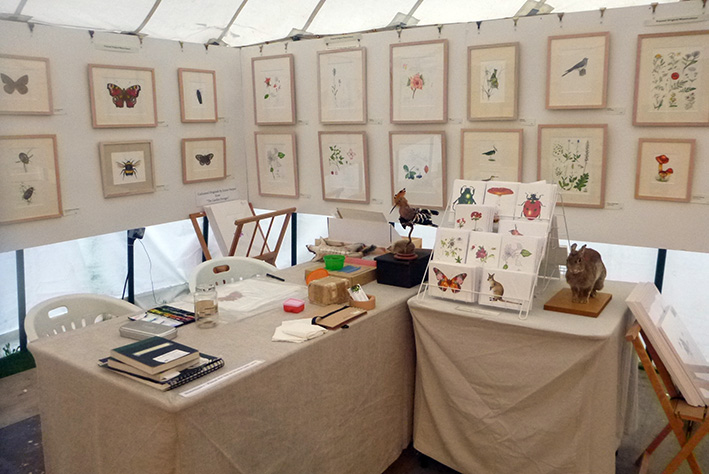 My stall at Art in Action, complete with stuffed rabbit and Hoopoe
Being treated well at Art in Action
We were fed and watered by Art in Action.  Throughout the four days I was brought endless cups of tea, and found my painting water miraculously renewed every morning.  The organisers treat the demonstrating artists like royalty.  We had banquets, wine and a chance to vote for the "Best of the Best" (a juried show of demonstrator's work).  Some of the performing artists on site put on a show for us, in the amphitheatre.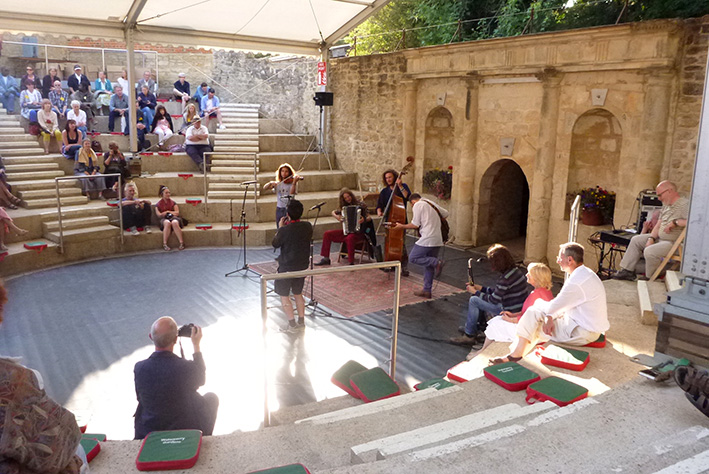 Art in Action theatre show
What's offered at Art in Action
For the visitors, there is the most fabulous array of artists showing how they create their work.  There's the opportunity to talk with and buy from these artisans.  I particularly enjoyed visiting the International tent.  The Nature in Art tent was lovely too.   Wildlife and natural history illustrators creating work in the same field as mine were demonstrating and selling.
There are practical classes available in everything from pot throwing to enamelling.   A dangerous art materials market saw me buy a Rosemary & Co Brush.  I have been told that they're as good as Winsor & Newton Series 7 ones…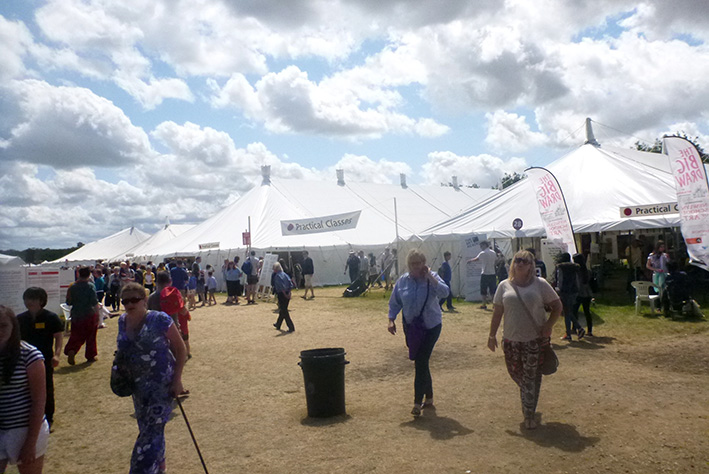 People emerging from practical classes at Art in Action
Between tents there are spaces dotted with sculpture and people chatting, soaking up the sun, or planning what tent to visit next.  Everyone seemed to be in a wonderful mood.  All were generous both with their time, comments, and purchases.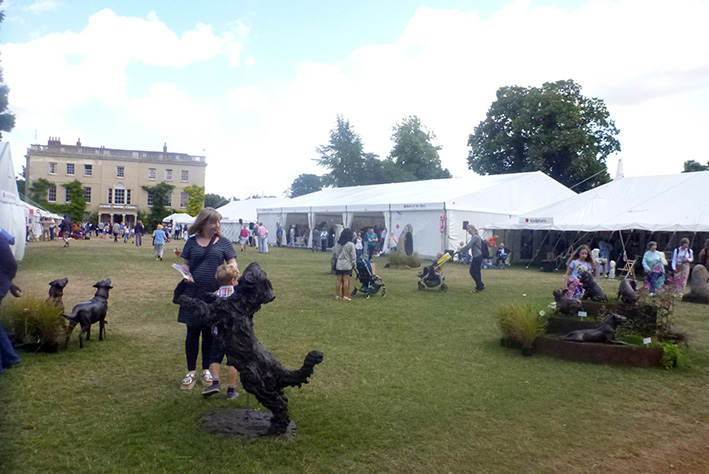 Sculpture outside the lllustration tent
Me working on the Comma butterfly with specimens in evidence…
Other artists I got to meet…
I had some brilliant conversations.   There were lots of fabulous taxidermists like Becky Dick of Taxtiles.  I met another scientific illustrator I only know through facebook and Instagram, Claudia Hahn.  An amphibian zoologist and I had an intense conversation about froglette immunity.  I discussed extracting DNA from a kiwi fruit (worth researching, VERY cool).   Many other botanical illustrators visited, they  had ideas about mechanical pencils and various techniques.  I talked birds with experts.  Enthusiastic children talked with me about dragonfly larvae..  I became rather embarressed by how generous people were in their feedback on my botanical sketchbooks.  Shelley and I did a fair amount of industry talk with co-exhibitors Mark L'Argent and Ruth Rowland.  Icing on the cake was managing to complete (and sell!) a painting of a comma butterfly I'd been working on.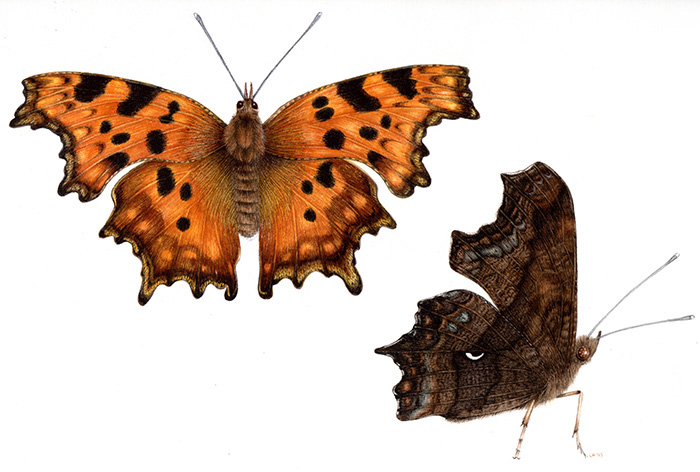 My illustration of the Comma butterfly Polygamma c-album
After the visitors had gone and before I returned to the comfortable on site camping; I wandered in the glorious gardens.   I ate supper next to the thickets of flowers in the borders.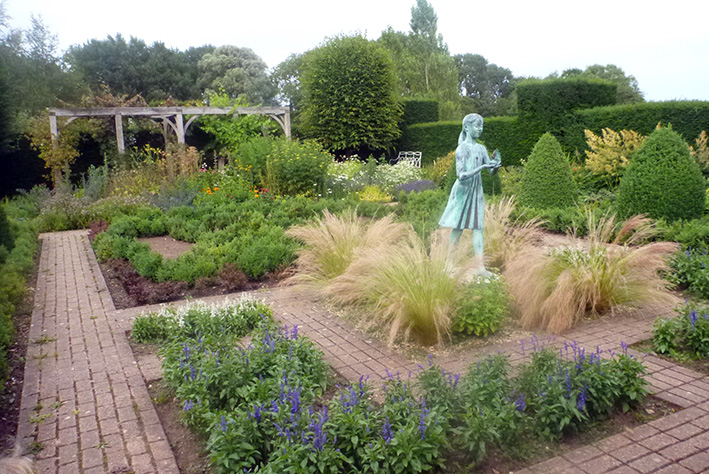 Waterperry Gardens
I was lucky enough to sell.   On the evening after taking down and packing up, the Art in Action volunteers fed everyone an enormous delicious supper.  Full and happy, we took to our heavily-laden vehicles and drove away from the wonderful and dream-like bubble of Art in Action 2015.