Natural History Illustration: Pencil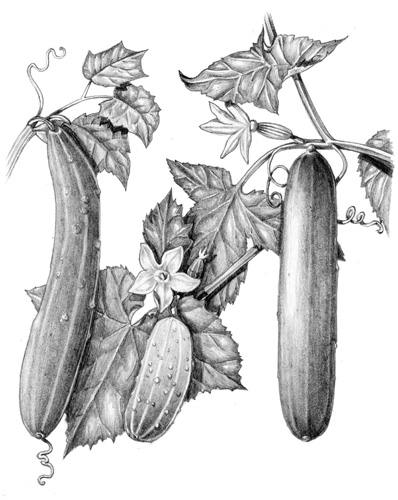 Pencil doesn't seem to be a very fashionable medium for scientific illustration, or indeed for illustration as a whole.  I think this is rather a pity as highly rendered pencil illustrations can be not only stunning but also a true joy to work on.
Materials
I always use mechanical pencils, preferring pentel P205 0.5mm HB or H leads above all else; and a soft eraser rather than the one built onto the end of the pencil.
Using pencil line drawing
I love pencil for quick line drawings, and habit sketches of plants.  The way you can alter the depth of the line by applying varying pressure, and the crisp but visually forgiving feel to the line please me a great deal of pleasure.  Also, if you mess up, you can rub it out which you lose the luxury of when working with pen and ink.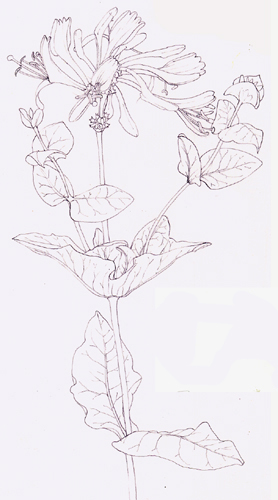 Using pencil for illustration roughs
Pencil is also my preferred medium for working out both thumbnails of compositions and roughs which are submitted to clients before work starts on a final piece (for more on this, look at my blog "Natural History Illustration:When it goes wrong and what to do about it")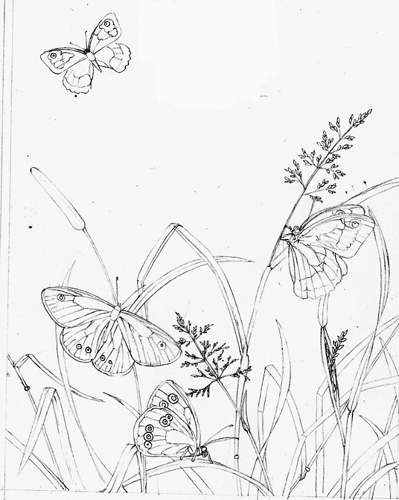 Detailed Natural history illustrations in Pencil
There have only been two clients who have commissioned me to work in graphite, and I loved both jobs.  The first was Wildfowl and Wetlands Trust when they were setting up the London Wetlands Centre.  There were a series of "notes" on species you could see, one of which was the greater reed mace.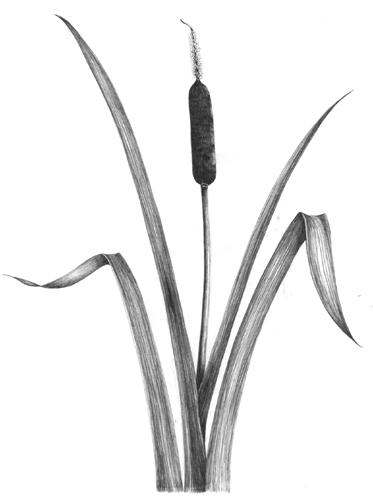 Lots of people call this the "bullrush" but a bullrush is a true rush, and a far less showy plant.  I particularly loved working more and more into the dark seeedhead, trying to convey that thick brown velvety texture it has.
Separately, an exhibit about the threats faced by water voles, and how WWT was trying to encourage them, called for pencil illustrations.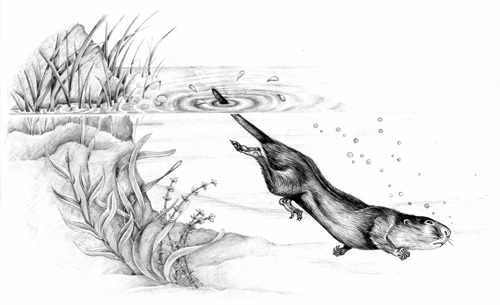 Here, a water vole makes the only evidence most of us encounter of them, the distinctive "plop" as they swim away to safety.
Pencil for final illustrations: Rodale
The other client who commissions pencil work from me is Rodale Publishing.  I've worked on various titles for them over the years, including the Vegetable Garden Problem Solver by Fern Marshall Bradley, and Homegrown by Marta Teegan.  This week I start working on a new project with them, The Rodale 21st Century Herbal.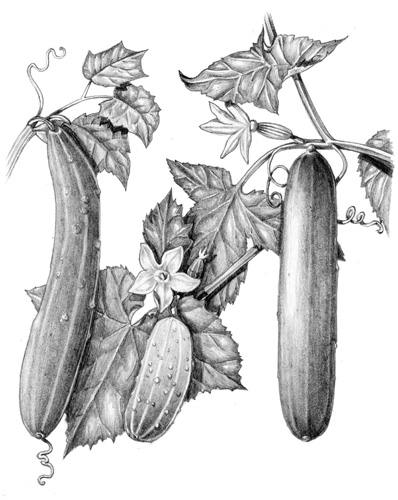 These cucumbers appeared in the vegetable book.  I absolutely loved the tonality of the cucumbers themselves, and my weakness for tendrils is evident (see also my blog Painting a Sweet Pea).  Compositionaly this one works well too, and I was pleased with the way the drop shadows brought out the different tonalities.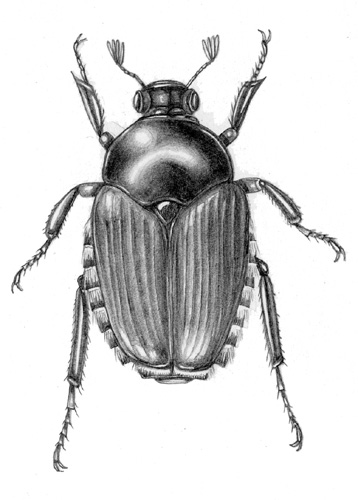 With this beetle, it was the shine on the thorax that I liked, and the way pencil lends itself readily to showing the striations on the elytra without getting in the way of the way the lights and darks fall on the wing cases.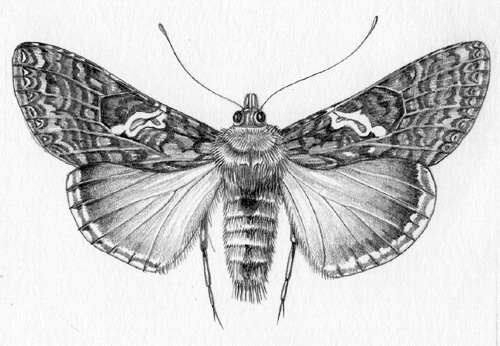 Here I think the medium of pencil works well for the marbled patterns on the wings, but is also the easiest way of showing the fur on a moth's body.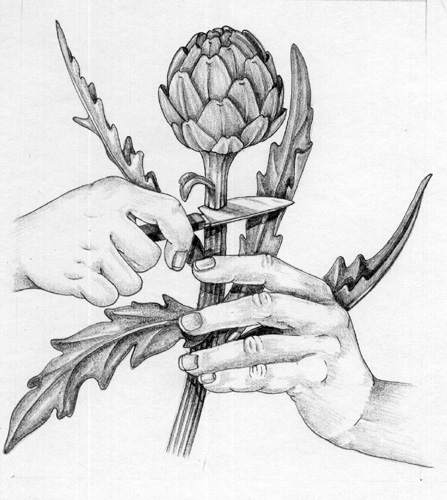 This illustration shows how well pencil adapts to showing hands, which are notoriously hard to draw.  It's so much easier to depict the gentle shade from a knuckle to a finger with pencil than with pen and ink or pure line (which I did for all the Alan Titchmarsh "How to Garden series" series of books).
So as a means of drawing, and hopefully as finished illustrations, I think pencil is a grossly under-valued medium for natural history illustrations.  Here's hoping for more brave souls like Rodale and WWT soon!