Japanese knotweed sketchbook study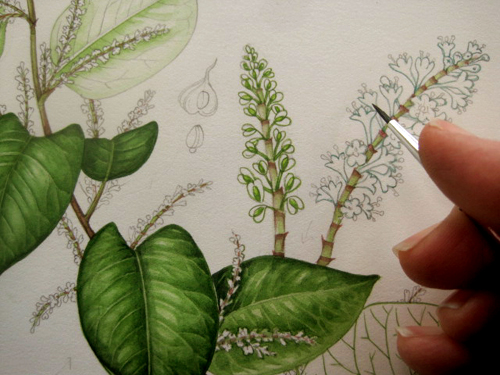 Japanese Knotweed job
I've been working on a series of three scientific illustrations of invasive plants this week, for Summersault Communications.  This blog is about doing a Japanese knotweed sketchbook study.
The article accompanying my illustrations will explain how to identify the plants and why they pose a threat.  I am fortunate in that the commissioning art director has asked for the images to be in my botanical illustration sketchbook style, which is my favourite way to work.
Painting a leaf  step by step: Pencil rough
Having been asked by various people (including some members of the Botanical Art for Beginners group) to explain some step by step processes, I thought I'd break down the stages involved in painting a single leaf of a sketchbook study.  Instead of scans, I've relied on photos, so apologies if the resolution isn't brilliant.
Initially, I draw the plant in pencil line. For this job, I am very aware of where the accompanying text and other elements of the layout will fall.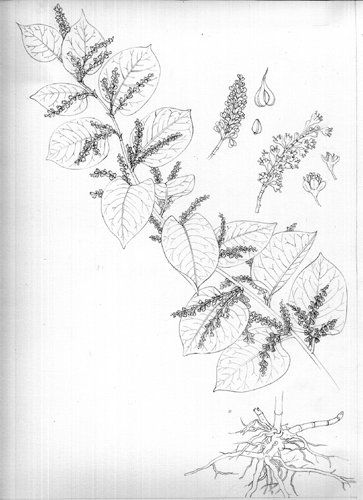 Painting a leaf  step by step: Mixing greens
Then I apply areas of colour. The first step is to mix a green.  For the bright , flat green of these leaves I used sap green mixed with cadmium yellow light, yellow ochre (to take the artificial edge of the colour away), french ultra-marine, and a touch of burnt umber.  I use pans of Windsor and Newton watercolour, and top them up from tubes of the same paint when they run low.
I tend to favour sable brushes, Winsor and Newton series 7 or similar, and probably a no. 1 or no. 2 size.  Today I was using a no.2.
Painting a leaf  step by step: Plotting in the darkest areas
I decide on a light source, and, observing my reference material closely, plot in areas of green in the darkest parts of the leaf.  I do this for one and then for the opposite side of the leaf.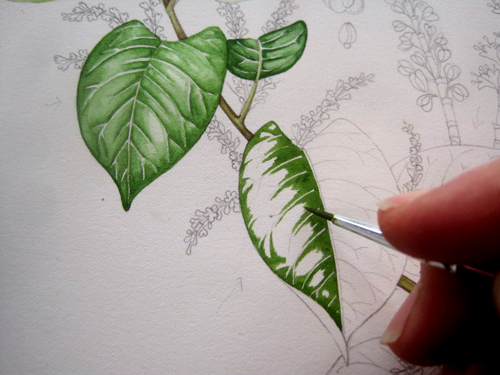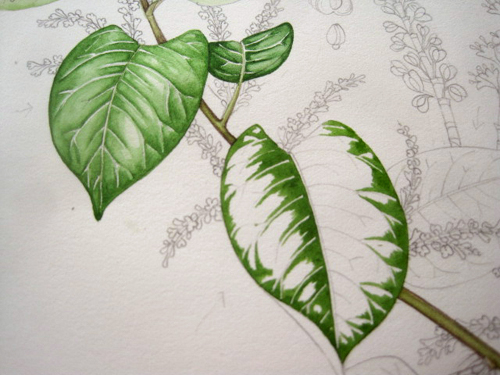 Painting a leaf step by step: Midtones
Next, I water down my green and work gently into the edges of these mapped regions of shadow, softening them and giving colour to the rest of the leaf.  I make sure the lightest areas remain white.  Whenever I make a colour paler I do it by dilution with water as I find that adding white changes the colour completely and often muddies it too.  There's certainly a place for white when using watercolours (adding shine, mixing the blue of a forget-me-not or the yellow of a primrose), but I avoid it when making colours paler.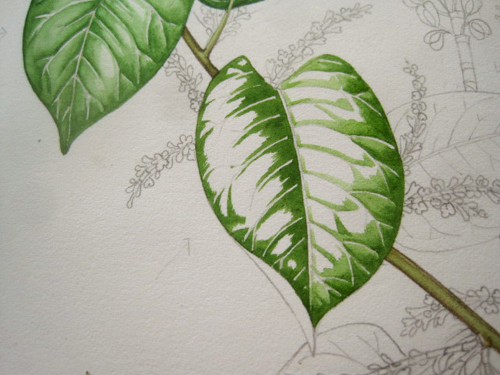 Painting a leaf step by step: Paler areas
Next I work into the remaining light areas, leaving the palest regions and veins white.  I apply a very pale version of the same mixed green to the rest of the leaf.  It's important to see the regions of dark and light both within the detail of the leaf and on the leaf as a whole.  One side of this leaf is much darker than the other; this needs to be remembered.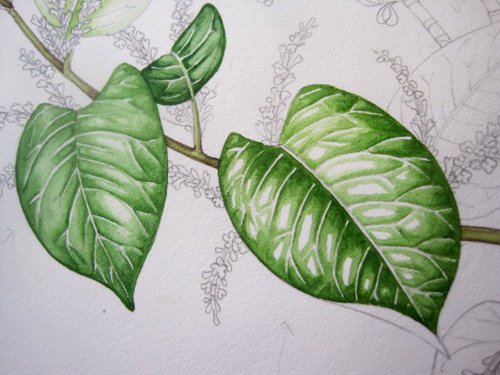 Painting a leaf step by step: Adding yellow hues
The next step is a very light green, with some additional cadmium yellow mixed in.  The different areas of light and dark need to be unified into one leaf, and this wash helps to do this. The veins are still left white.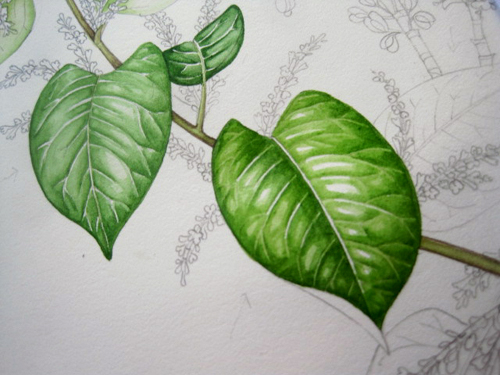 Painting a leaf step by step: Adding shadows
I enjoy the next stages since they help bring the leaf to life. I find the darkest darks and work into them; in this case with a mixture of vandyke brown, french ultramarine, purple, and a touch of sap green.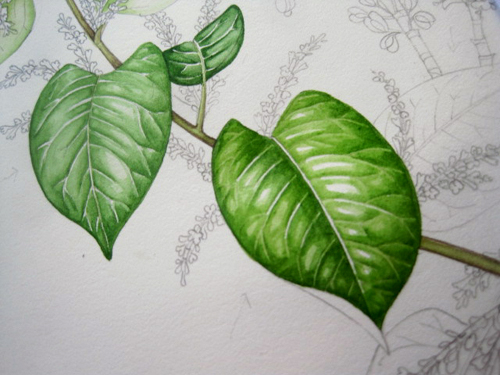 It's sometimes a little alarming and stark to look at the illustration at this stage, but as before, subsequent work will soften the brutal edges of the shadows.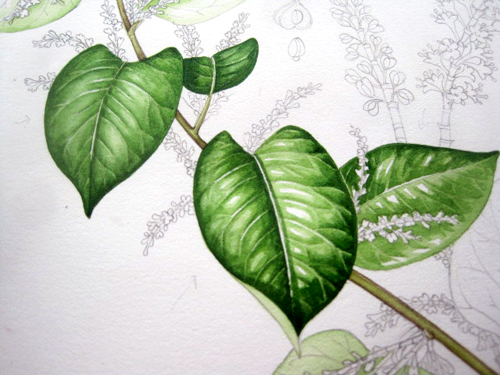 Painting a leaf: Top washes
Once these shadows have been blended in (again, with a more watery version of the same dark colour), it's time to unify the whole leaf.  I tend to do this with a wash of yellow ochre, mixed with a touch of green.  This wash has to be very wet and quite pale, and covers the whole leaf (including the veins).  Those of you with keen eyesight will see the leaf having its ochre wash applied is not the same as the one I've shown thus far.  Apologies, I forgot to take a photo of that one at this stage.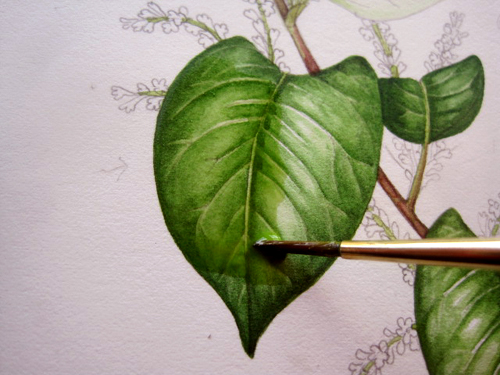 Painting a leaf: Working into the flowers
Once the wash has dried I may work a little more into the deepest shadows, or add a tiny touch of colour (something light and bright like cadmium yellow) to the veins.  Then it's on to the next area of the sketch, in this case the inflorescence and fruiting spike.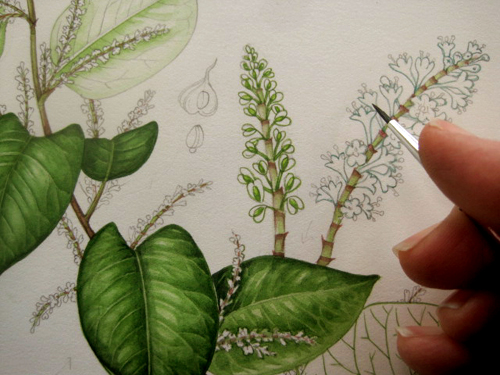 Finished!
The final illustration looks rather different to these photos of work in progress because it's a scan, not a photo, but hopefully you'll be able to spot the leaf I discussed on this detail of the larger image.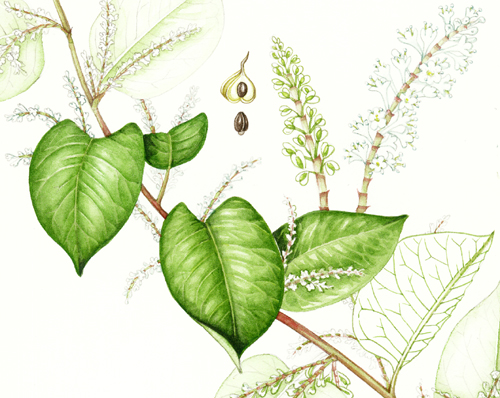 It may sound like a long winded and arduous process, but it gets quicker with practice.  This whole study was completed in 5 hours, so it's not impossible to earn a living from painting in this way.  Not easy, but not impossible.  And just to show that no matter how hard I try, I still have a squalid paintbox; here is mine right after I'd finished the Japanese Knotweed illustration.  And they suggest keeping your yellows pristine, if only…