Botanical Illustration Workshop: The Walled Garden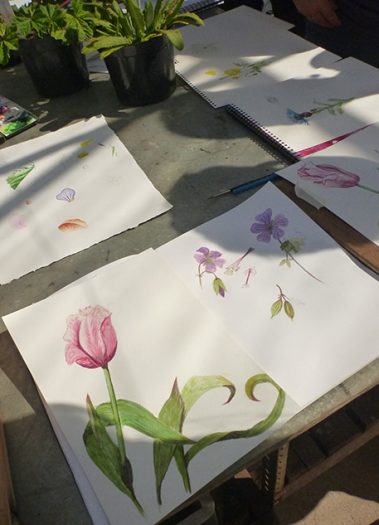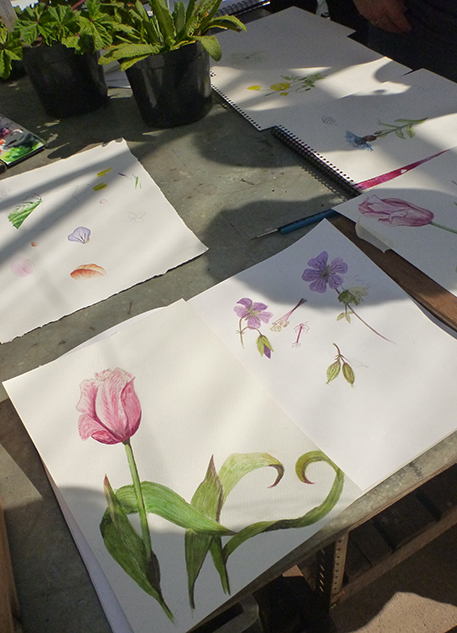 Every now and then I run botanical illustration workshops, teaching the accuracy, drawing, and observation skills required in natural history illustration.
Recently I led a one-day course at The Walled Garden in Treberfydd.  All the admin was done by the wonderful Alison (who also provided delicious cakes decorated with sweet cicely as the students arrived, and later plied us with elderflower cordials, wine, and a delicious lunch).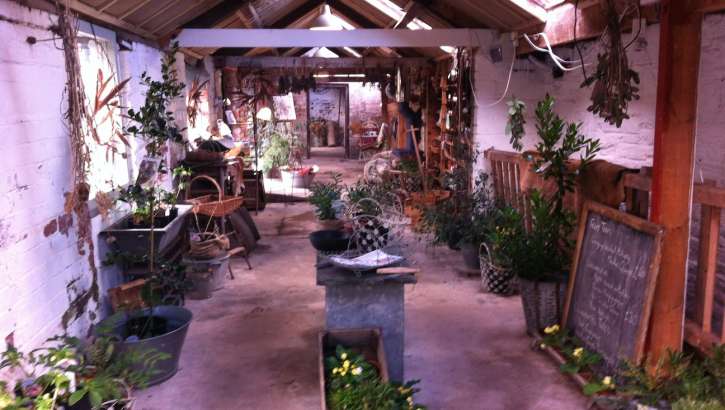 The shop and cafe area at The Walled Garden in Treberfydd
Drawing plants: Looking at shape
This allowed me to focus on the students, many of whom came from the same art group.  I decided to look at variety of form in the morning, and get them to work in colour after lunch.  After a brief chat on plant morphology and giving out some handouts, I sent them to find three diverse plants from the nursery garden to draw.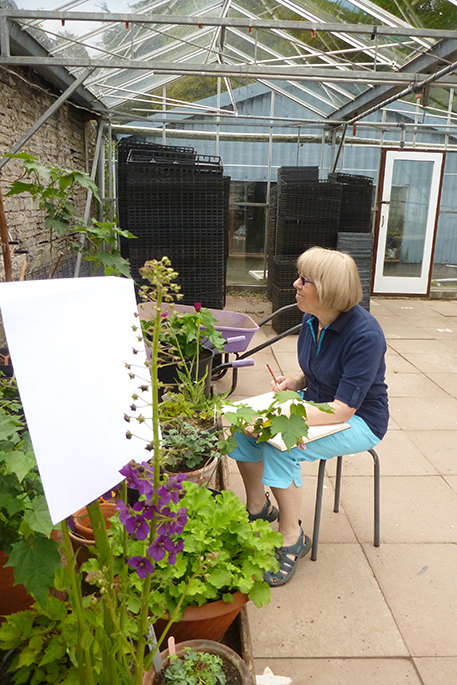 Deciding where to start on a pencil line drawing of a plant
Some drew in situ in the garden.  Many came back to the glasshouse which made wandering around and giving tips easy.  They all had very different drawing styles, but were unified in their concentration.  All were willing to tackle complicated plant subjects.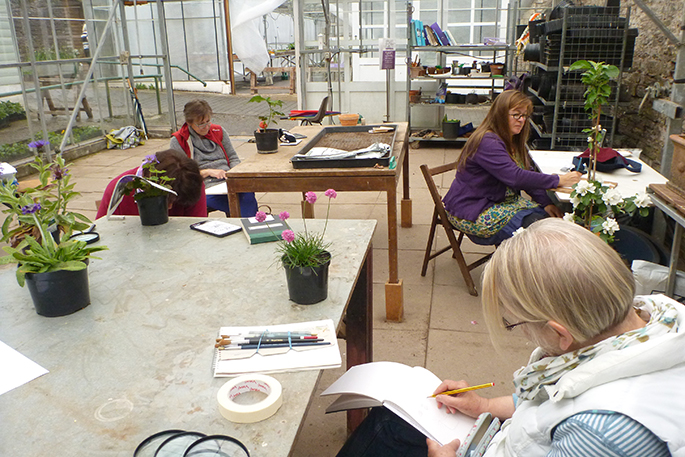 Art students drawing thrift and an apple tree in blossom
I insisted on them keeping away from colour til after lunch, and was really pleased with the line drawing work they produced.
Introducing colour
After lunch, I suggested they choose a plant that they'd drawn earlier in the day, or one that particularly appealed to them.  I did a brief demonstration of my watercolour technique (which we referred to as "working back to front".  Many watercolour artists work from light to dark, and I work from dark to light, plotting in the darkest shadows first – for more on this see my step by step blogs)  Many of them tried this approach and had success with it, which was wonderful.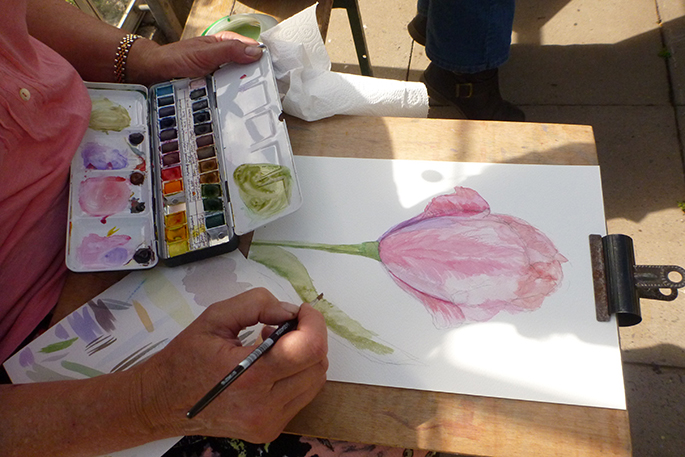 Working on a tulip, plotting in the darks of the leaf before popping a lighter wash on top
I encouraged them to draw with the paint, and tried to get them to stop before they over-worked the painting.  I was a little nervous initially as I've not taught painting workshops before, only drawing ones; and wondered how it'd go without having force fed them colour theory.  Turns out, they did really well.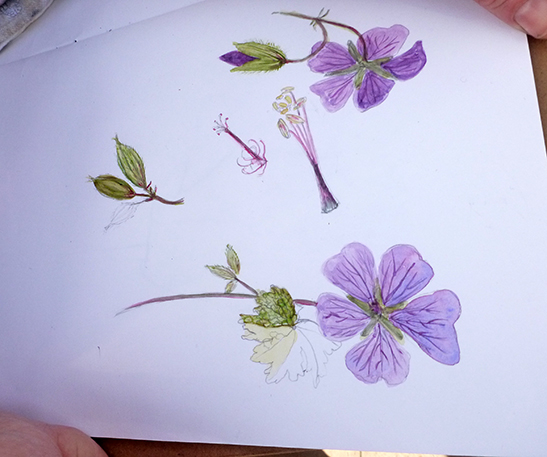 Watercolour study of a Cranesbill including morphological details such as stamens and leaf venation
The challenges of mixing watercolours
Even mixing colours as tricky as the pale pink of a tulip, or the purple-blue of a cranesbill went well.  I feel that they felt daunted by the variety and scope of greens offered by the botanical world (welcome to my life!);  but even these were mixed with intelligence and perception as they tried to make a green "bluer" or more "yellow".  I think telling them diverse colours such as oranges and purples were fine to mix into greens was something of a revelation, so hopefully that'll help them as they paint in the future.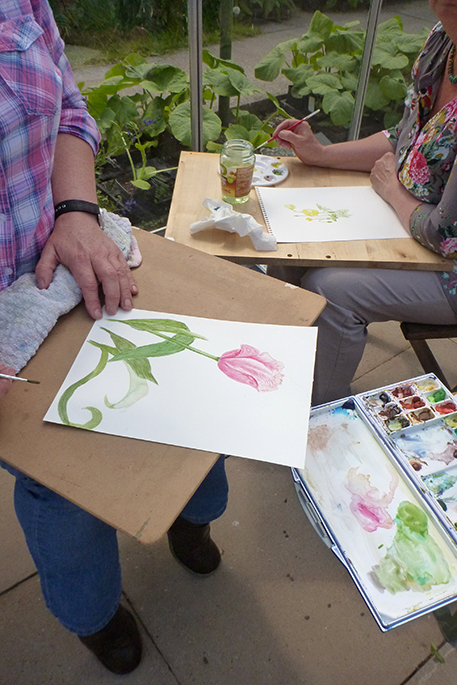 Using water to make a pink paler, instead of using chalky white paint
It wasn't a surprise to see how many focussed on illustrating the blooms rather than the leaves – perhaps a future workshop could focus on mixing greens and looking at the intricacy of detail in a leaf (for someone who spends her life doing exactly this, check out inky leaves' Instagram feed)
The group worked incredibly hard, even when the greenhouse got quite warm in the afternoon sun.  Some stuck to one plant, others took on several.
At the end of the session, not only had they created some marvellous art work (and exhausted themselves in the process!) but I also think they may have picked up a few tips.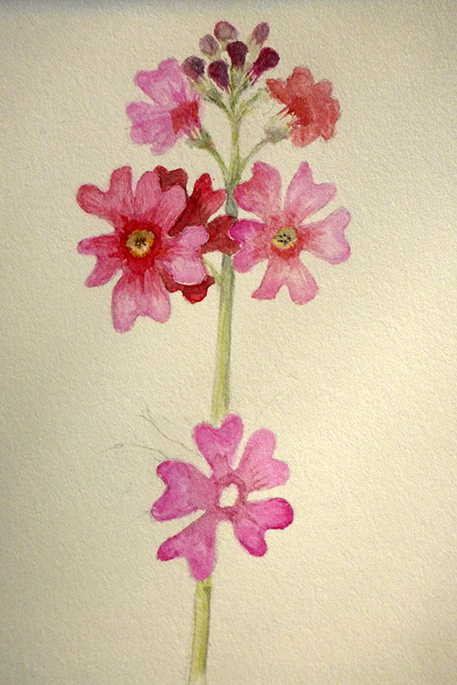 Study of the flowering head of one of Alison's plants
The benefits of taking a day to illustrate plants
Saying that, I honestly believe that the main benefit of a day long course in botanical illustration is having the time and space to dedicate an entire day to studying and drawing,  It is something most people can rarely find room for in their busy lives, and being able to give oneself the temporal and intellectual space needed to illustrate plants can be hugely beneficial both to drawing skills and (I would argue) to well-being too.  Being able to facilitate and tutor such an event is something of a privilege.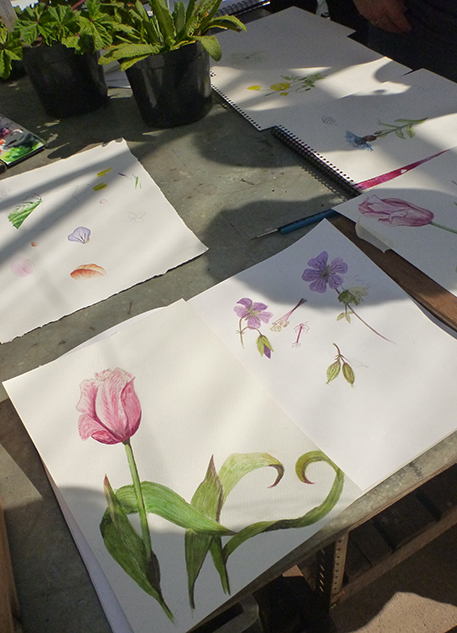 Some of the beautiful final watercolour studies produced by the group.
After such a hard-working day, we were grateful to be plied with cake and tea made fresh form Alison's lemon verbena plants, and then having the opportunity to wander the garden and buy some of the fabulous and hardy plants she raises there.