© Karen Netto (Andrews)
Marram Grass, Ammophila arenaria (Poaceae), grows readily on sand dunes across the UK and helps them withstand erosion from wind and rain.  It is a plant that binds sand together and makes it possible for other coastal plants to colonise dunes.  It dominates mobile sand dunes.
Marram Grass defeats the high tide; the evidence is the irregular channel full of driftwood that runs along the base of the dunes.  I visited Burnham-on-Sea after a winter storm, and was surprised at how heavy some of the pieces of driftwood were, discarded high up the beach. Some were large, long branches. They convey the power of tides and the sea to me.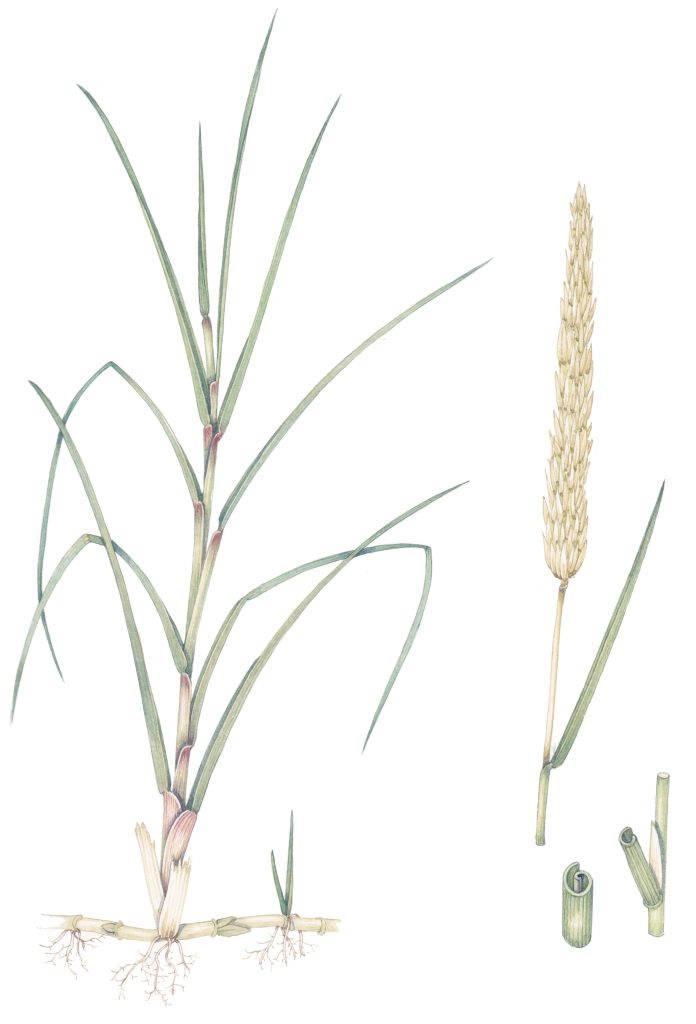 Marram grass roots
A tight network of Marram Grass roots was exposed where the sand occasionally gave way. The Marram Grass was already recovering, putting up fresh shoots. Sand moved by the next wind and storm will bury these roots again.  Roots seem not to be exposed as often in the calmer summer months.
Network of exposed Ammophila arenaria, Marram Grass roots after the stormy weather  © Karen Netto (Andrews)
New green shoot among the exposed roots © Karen Netto (Andrews)
Below is a detail showing the thread-like roots which hold the sand dunes together, along with the rhizome.  These horizontal roots help colonise the dunes, putting up shoots and helping tie the substrate together.
Succession
There are many different levels and stages of vegetation and colonisation in a sand dune.  The plants below are from the dunes at Burnham-on-Sea.
Seasonal variations occur too, there's a wider variety of plants to see in the summer when the salt spray is less fierce and does less damage.  For more on plants which tolerate salty conditions (Halophytes), please take a look at Lizzie's blog).