Botanical Illustration: Ivy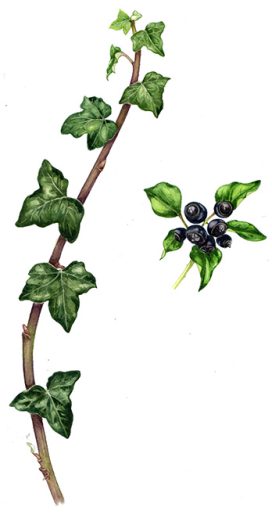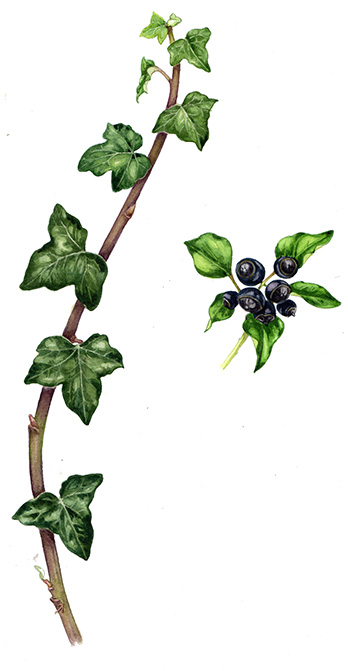 I recently got to illustrate common Ivy Hedera helix.  I'm often asked to do botanical illustrations of this plant, and always enjoy it enormously.  Reference is so very easy to come by!
I had look on the wall at the back of the garden, and decide the shape of this Ivy sprig is perfect; fluid but not extreme.  I pick it, and draw it.  I'm using my new Pentel Graphgear 1000 mechanical pencil.  I try to be as clear as possible with my pencil lines, to include enough information, but no tonal differences.  These come with the painting.  I also chose a sprig of ivy with berries to draw up.  These are always carried on a different part of the  ivy plant with bright green and un-lobed leaves.
Painting the vegetative ivy sprig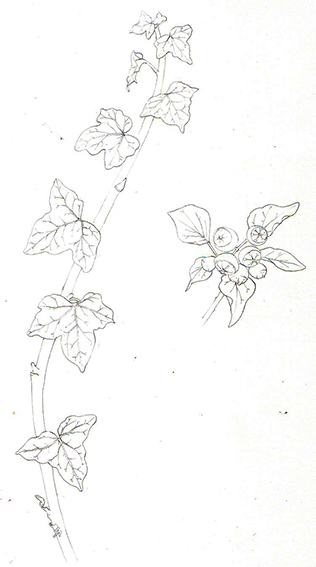 Ivy plant rough (pencil drawing) Hedera helix
Since I've made a film of this process speeded up on Youtube, I'm not going to pop in every stage; you can see it evolve in the video.  However, as an accompanying overview, I thought I'd do a swift blog on my approach to painting this ivy sprig.
I work on Fabriano artistico hot press paper, and favour Windsor and Newton paints and their fabulous Series 7 sable brushes.
When I paint, I start by plotting in areas of dark, and work backwards from these.  This means the whole plant becomes a jigsaw of lights and darks to be plotted in and then included into the rest of the leaf by judicious use of other brighter or paler greens.
I always paint the leaves first, then the stems.  I love painting stems, they're often flushed crimson or purple and so are great fun.  Darkest shadows come in at the end of the process.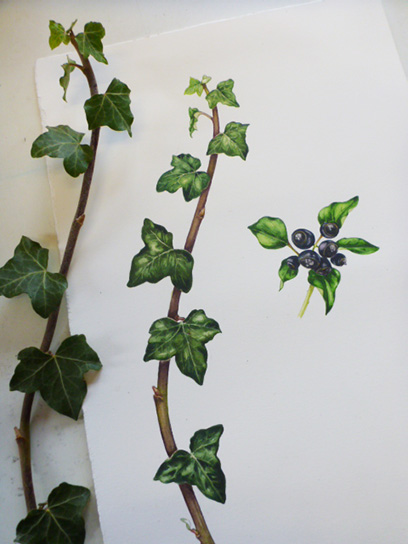 Ivy Hedera helix specimen and botanical illustration alongside
It's always important to leave the veins pale, but not to let them assume too much visual importance.  Especially with the ivy, when the leaf becomes very dark the veins are almost invisible.
Painting the reproductive Ivy sprig
The fruiting sprig followed, and I nearly lost it for a while as I rather rushed at painting the berries.  With careful use of darker blacks and a touch of white gouache I managed to save the day, but it does show that even a moment's lack of concentration can cost you dear.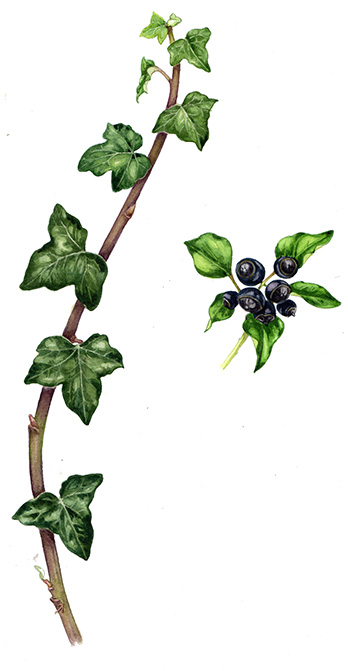 So here's the finished piece.  I'm actually rather pleased with it.  I often have real difficulties getting leaves just right, so I was very relieved that this time they fell into place so obediently.
And if you want to see the whole process speeded up, here it is:
Form more of my step by step botanical illustrations (and with more detail) please follow the link.